French workers are rising up
Nationwide fuel strikes and a gilets jaunes revival are challenging Macron's fragile rule.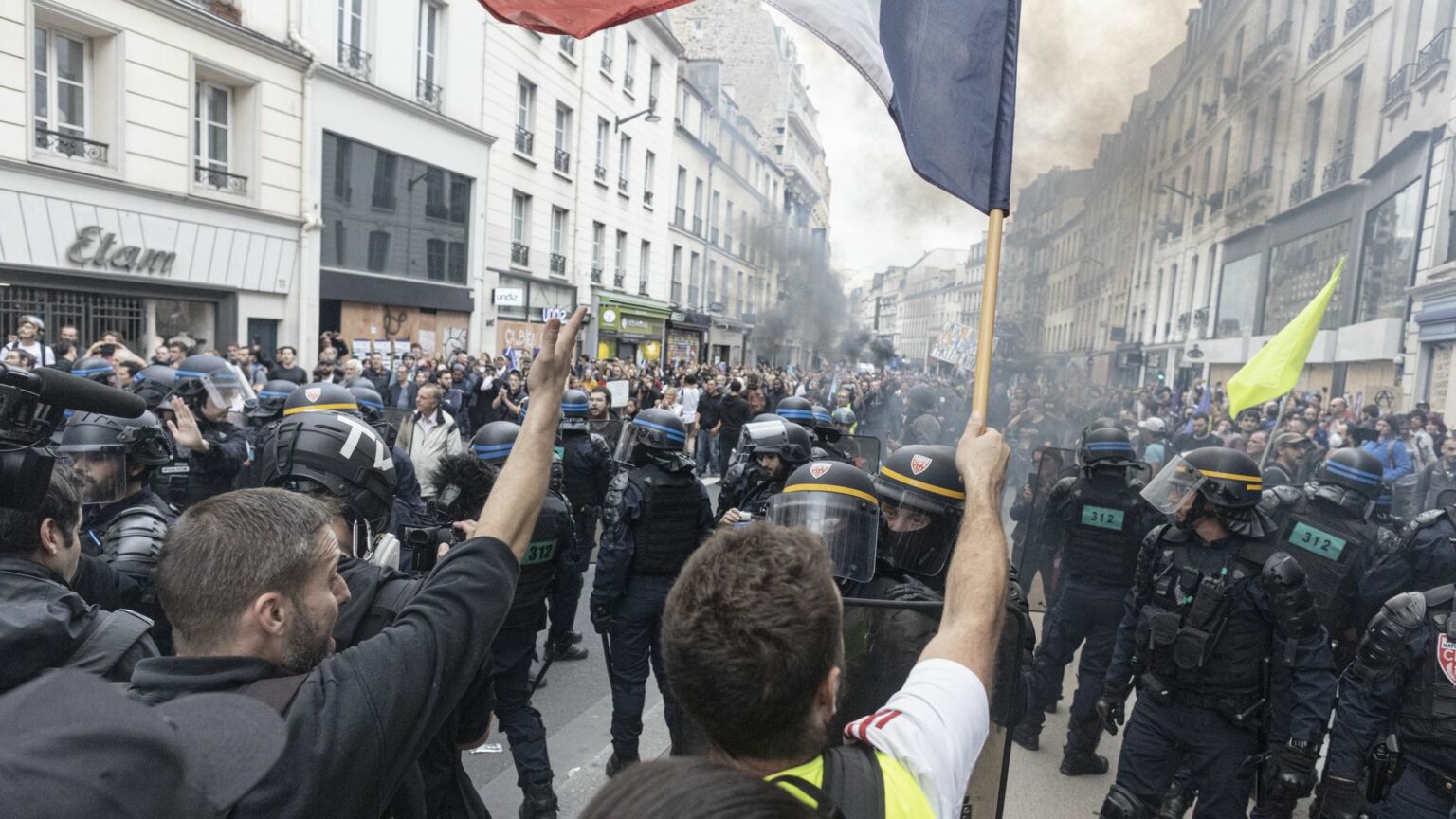 French president Emmanuel Macron failed to get a majority in the parliamentary elections last June. This was a serious blow to his authority – and a public repudiation of his programme. Yet he has still vowed to push through his most controversial economic reforms. After two years of generous public spending amid the Covid lockdowns, Macron now plans to usher in a period of austerity. Resistance to these reforms is growing and is now spilling out on to the streets.
The spectre of the yellow vests is haunting Macron's second term. In 2018, the gilets jaunes took to the roundabouts of France in their hi-vis jackets, protesting in their hundreds of thousands, stopping traffic every Saturday for over 60 consecutive weeks. The initial spark for the protests was a plan to raise taxes on fuel. This soon turned into a broader complaint about the high cost of living, or la vie chère. The gilets jaunes were so determined and relentless that they managed a rare feat: they forced Macron to back down on some of his policies. In effect, the gilets jaunes were the real opposition during Macron's first term in office.
Today, workers throughout France are organising against the withering away of their wages to inflation. Many are, once again, adorning the yellow vest as a symbol of popular resistance. Led by two of France's most militant trade unions, workers at oil refineries have gone on strike. They are blocking this critical industry until their employers, petroleum giants ExxonMobil and TotalEnergies, meet their demands of a 10 per cent pay rise. Tensions are especially high at a time when oil companies are cashing in on high oil prices and are reporting record profits. These profits are also subsidised by the public purse, via a government rebate on fuel worth 30 cents per litre.
Nothing brings a country to a halt faster than running out of fuel. Thanks to the strikes, up to 30 per cent of French petrol stations are facing shortages. Vast queues have formed outside petrol stations, with motorists waiting for up to four hours to fill up at the pump. Many stations have had to close down after running out of supplies. Panic buying has led some petrol stations to limit the amount of fuel they sell to just €30 at a time.
Given the massive disruption the strikes are causing to everyday life and to the economy, you might expect Macron to try to pressure the two sides into reaching a compromise. Yet his government is siding with the oil companies and is trying to crush the strikes by state decree.
Last week, the government announced it will requisition oil workers. It plans to use a wartime emergency power, in effect 'nationalising' the workers, in order to make the strikes illegal. Oil workers who refuse to turn up to their shifts – that is, those who carry on striking and follow the mandate of their union – could now face six months in prison and a €10,000 fine. Macron seems desperate to confirm the adage of the billionaire Warren Buffett: there is a class war – and it is the rich who are waging it.
Macron's preferred mode of rule is best described as 'liberal authoritarianism' – it involves sidelining democracy and using the repressive powers of the state to push through a 'liberalising' economic agenda. Now that Macron is ruling in a minority government, he may have to resort to the anti-democratic Article 49.3 of the French constitution to push through the government's budget. This provision allows the government to pass a law without a debate and without a vote in the National Assembly.
The 49.3 manoeuvre could backfire, however. The opposition can only counter it with a no-confidence vote in the government as a whole. There is a chance that Macron's politicking may lead to the downfall of his prime minister, Élisabeth Borne, if opposition parties unite against him.
With added austerity measures promised for 2023, the budget may end up being the straw that breaks the camel's back. It could end up pushing all opposition forces in parliament – from Marine Le Pen's right-wing Rassemblement National to Jean-Lec Mélenchon's left-wing La France Insoumise – to bring down Borne's government.
Macron has made a mockery of democracy with his abuse of executive power. He regularly bypasses other elected officials and refuses political dialogue. And compared to his first term, when he controlled the National Assembly, he is now much more politically vulnerable.
It remains to be seen whether the opposition forces in parliament can gather enough strength to counter him. NUPES – a left-wing coalition of parties from the greens to the communists, including Mélenchon's party – has been slow to make its mark in parliament.
However, as the cost-of-living crisis becomes more acute, there is a real opportunity for the opposition. Last Sunday, NUPES organised a large demonstration in Paris against the cost-of-living crisis. Organisers claim that 140,000 people joined, enough to almost rival the early gilets jaunes protests of 2018 – though the authorities cite a much lower figure. NUPES hopes to build a popular front that casts a wide net across political movements, trade unions and civil society. Even the gilets jaunes, who generally shy away from such political rallies, were present at Sunday's demonstration. Jérôme Rodrigues, a key figure of the movement who lost an eye during a protest in 2019, was among those who joined forces for the occasion.
With the French economy already crippled by fuel shortages, pressure will mount on Macron to avoid further industrial action that could bring France to a standstill. Just as during the gilets jaunes protests, the most significant opposition to Macron's rule will likely come from the streets.
To enquire about republishing spiked's content, a right to reply or to request a correction, please contact the managing editor, Viv Regan.