We must not give up on Ukraine
The West is becoming dangerously distracted from Russia's ever-escalating invasion.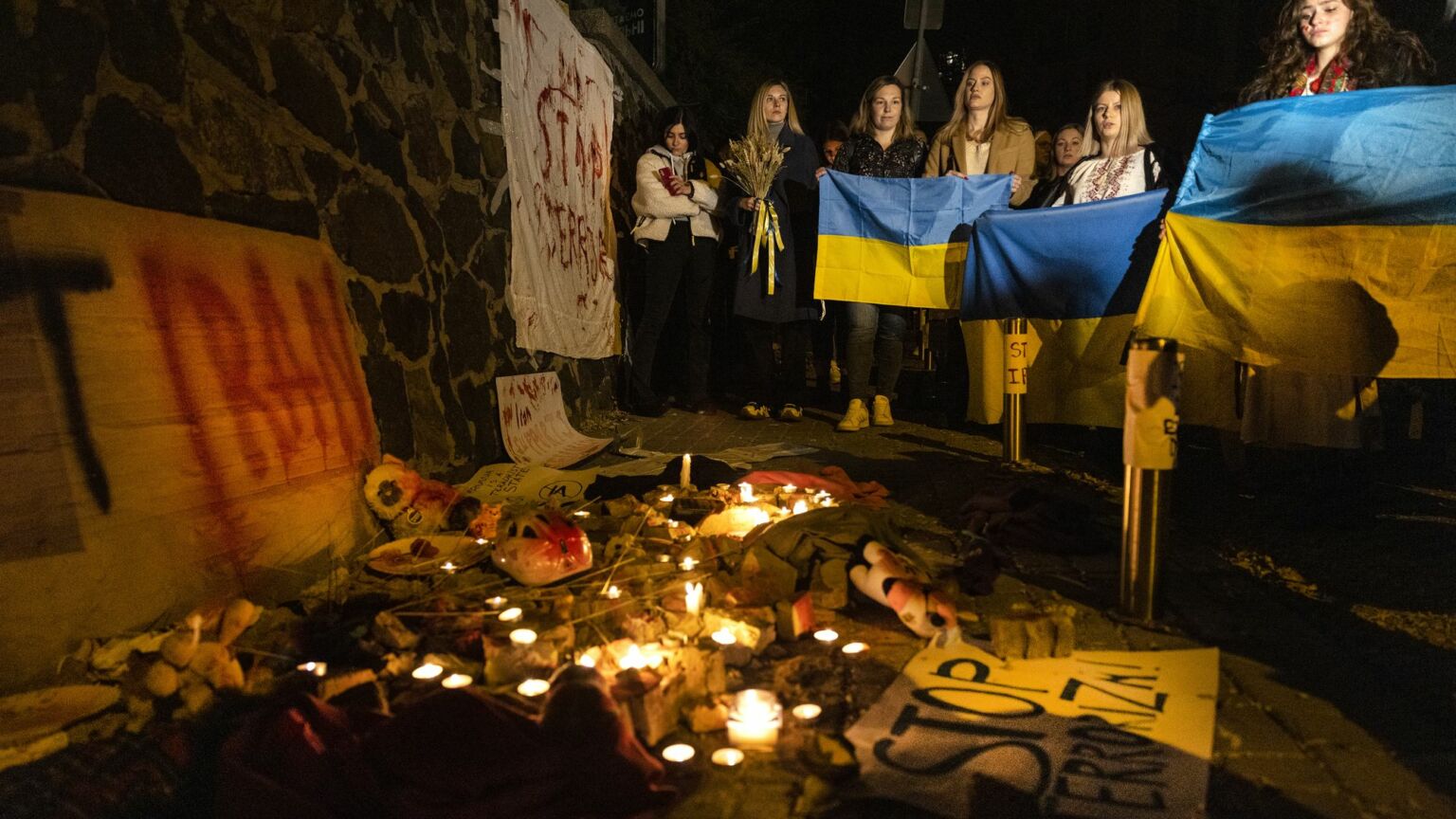 According to Ukrainian president Volodymyr Zelensky, speaking earlier this week, 30 per cent of Ukraine's power stations were destroyed in the space of just eight days. The grim intent of this attack on Ukraine's energy-supply network is clear. As winter approaches, Putin is trying to freeze soldiers and ordinary civilians alike into submission. We should be very clear: the barbaric strikes on Ukrainian energy systems are potentially some of the most catastrophic attacks so far in the war.
Yet Ukraine remains unbowed. As the history of strategic bombing of civilians suggests, Putin is unlikely to gain any military advantage. Ukrainians, united in resistance to Russia, are reacting to the bombings with anger, not sadness or war weariness. They continue to resist with all available means, demonstrating the spirit of collective defiance that has defined their resistance so far. Indeed, so many ordinary citizens have been trying to shoot down the drones with standard rifles that the government has had to advise them to leave air defence to the military.
Sadly, it seems that Ukraine's defiance no longer inspires the West as it did in the early stages of the war. In fact, Putin's decision to escalate the war seems almost calculated to coincide with a moment when Western leaders have taken their eye off the ball. The UK, perhaps Ukraine's most important international ally, has entered a period of zombie government as the technocrats take over. Boris Johnson's instinctual, unreserved support for Ukraine – born surely of the same instinct for national sovereignty that allowed him to grasp the appeal of Brexit – is gone. In its place is a government that may support Ukraine in principle, but now lacks the bandwidth to keep making the case for it.
The US has lost focus, too. Joe Biden has chosen this moment to pick a fight with China, restricting exports of important computer chips. Biden has always viewed Ukraine as, at best, a distraction from the bigger aim of isolating China. When Russia's invasion began to be beaten back on the battlefields of Ukraine, Biden seemed to come to the view that the US can now concentrate its energies elsewhere.
In the EU, the mood is truly dark. In a remarkable speech last week, EU foreign-policy chief Josep Borrell gave vent to the pessimism and anguish that now grips Europe's elites. 'We Europeans', he said, 'are facing a situation in which we suffer the consequences of a process that has been lasting for years, in which we have decoupled the sources of our prosperity from the sources of our security'. It was an honest, if hopeless, assessment of the EU's current malaise.
But the war is not about to go away. Quite the opposite. As Ukraine's battlefield advantage of recent weeks ebbs away in the coming winter mud and snow, Russia may well gain the upper hand. Headlines of liberated towns and cities are likely to be replaced by frequent reports of Russian strikes and Ukrainian hardship. At such a time, Western politicians may struggle to muster popular support for Ukraine – especially when the economic costs of this support become more obvious.
One thing remains certain. Ukraine has the courage to see this through, however brutal Putin's attempt to terrorise the people into submission becomes. If the West is to stay the distance, however, Western politicians will have to show much more courage and much more vision than they are currently doing. Today's world leaders have not yet managed to articulate what is really at stake in the conflict. Ukraine is fighting not only for its own national survival, but also for the universal principle of national sovereignty. In a world where many regional powers are looking to redraw the map, this is a principle that needs defending.
Millions of ordinary Ukrainians recognise what is at stake, and are prepared to fight for it. It's time the rest of us woke up to this, too.
Jacob Reynolds is partnerships manager at the Academy of Ideas.
To enquire about republishing spiked's content, a right to reply or to request a correction, please contact the managing editor, Viv Regan.