Russia is terrorising Ukraine
Putin is bombing playgrounds, but has the nerve to call Ukraine a terrorist state.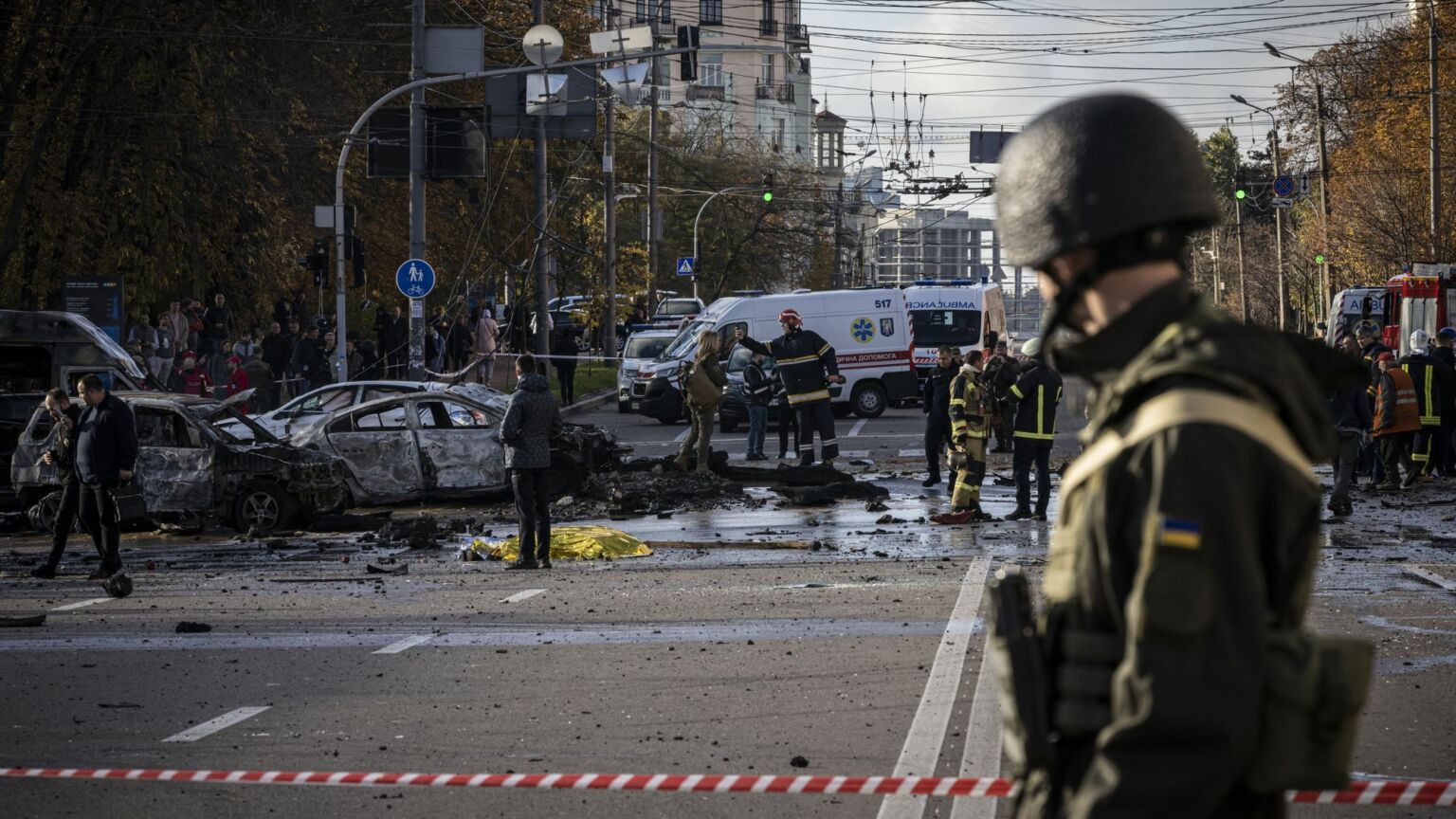 Russia began its latest escalation early on Monday morning. Cruise missiles, 'kamikaze' drones and other rockets were sent thudding into cities and towns across Ukraine, from Kharkiv in the east to Lviv in the west. It was the largest scale missile attack since the war began, and there was no let-up on Tuesday until an announcement later in the day from the Russian defence ministry: 'The purpose of the strike has been achieved. All designated facilities have been hit.'
If by all 'designated facilities' the defence ministry means critical elements of Ukraine's civil infrastructure, then it really was mission accomplished. As of this week's attacks, Ukraine's electricity network has been damaged significantly – there have been blackouts across Ukraine and continued reports of a lack of running water in certain areas. Not content with depriving Ukrainians of the means to power their homes and other basic utilities, Russia's attacks on 'designated facilities' also took out a children's playground and the German consulate in Kyiv, and caused significant damage to city and town centres. Thankfully, the death toll has so far been limited to double figures.
The Kremlin has dressed up this escalationary move as payback for the attack on the Kerch Bridge – a bridge that connects Crimea to the Russian mainland. 'There's no doubt [the bridge attack] was a terrorist act directed at the destruction of critically important civilian infrastructure of the Russian Federation', said Vladimir Putin on Sunday, two days after the a section of the bridge was destroyed, most likely by a truck bomb.
A 'terrorist attack' on Russian 'civilian infrastructure'? Putin certainly has a way with words. It's true that the bridge, opened by a truck-driving Putin to much fanfare in 2018, does have a civilian function. But it also has a clear military function, as a crucial supply route for Russian military forces in southern Ukraine. This is why it is a legitimate target for Ukraine – not to strike terror into the heart of Russia, but to weaken the Russian invasion into the heart of Ukraine. (That is, assuming Ukraine is behind the attack at all – one of President Zelensky's most senior advisers has suggested the Russians did it themselves.)
If anything has been terroristic here, it has been the decision to rain missiles down on cities and towns across Ukraine. These didn't hit political and military centres. They hit, to use Putin's own words, 'critically important civilian infrastructure'. They also hit a kids' playground, a symbolic glass bridge in a park (which survived) and traffic at rush hour. Quite what military purpose any of that serves is unclear. If we must classify any acts as 'terrorist' – acts designed to have an emotional and psychological impact on a society – it is these attacks on the vital, ordinary stuff of Ukrainians' everyday existence. Not the bombing of a military transit route.
Of course, Putin knows this. After all, this week's military escalation was more a response to growing internal pressure from hawkish sections of Russia's political and military elite than it was a carefully calculated response to Ukraine's military successes. After the bridge attack and the success of Ukraine's counter-offensive, Putin had to be seen to be doing something. As Sergei Mironov, a bellicose parliamentarian, put it after parts of the Kerch Bridge fell into the sea, '[Russia] needs to wage war' and Ukrainians 'must live in fear'.
And what better way for Putin to answer these hawks than with a shock-and-awe-style missile spectacular, eagerly and easily broadcast on Russian state media.
It has worked insofar as cheerleaders of the invasion have been given something to cheer. Having led the criticism of the war effort for its lack of brutality, Chechnya's leader and Putin favourite, Ramzan Kadyrov, has this week said that he is finally 'satisfied with how the special military operation is going'. Sergei Aksyonov, the Kremlin-appointed head of Crimea, said he was happy that Russia's approach to the war had changed, claiming that if Russia had struck at Ukraine's civilian infrastructure 'every day since the first day of the special military operation, we would have ended it all in May'.
These are dangerous moments. Of course, Western critics of the war blame Russia's continued escalation on the US, its allies and Ukraine itself – for, it seems, the crime of attempting to repel an invading force. They paint the Ukrainian resistance as itself escalationary, a craven attempt on the part of Kyiv's Western backers to 'weaken' Russia. And no doubt there are some in the West who are more interested in Russia's defeat than in Ukraine's victory. But that's not why Ukrainians are continuing to fight back. Their cause is that of their own national survival. They are not 'escalating' a war in some far-flung territory. They are resisting an invasion of their homeland.
Furthermore, continuing to blame the West for every escalationary step taken by Russia denies Russia any agency. And it ignores the internal dynamic that is fuelling the escalation. For it is precisely the palpable failure of the Russian invasion, its sheer folly, that is now generating hardliners' demands for Putin and his rotating cast of generals to do more, to go further and to go bigger. And with each escalationary step taken by Putin, he makes it increasingly difficult to step down. Just think about what has happened over the past month alone: Russia has announced a partial mobilisation, annexed regions in eastern and southern Ukraine and is now showering the rest of Ukraine with explosives. Just as Russia wasn't forced into invading Ukraine in the first place, it has not been forced into escalating the conflict. These are Moscow's decisions alone.
And with every escalation, with every response to the fundamental folly of this 'special military operation', the more inextricable Putin's situation becomes. This means that the only way out for Putin is through, with all the bloodshed and destruction that could entail. As one Russia analyst observes, 'there is no turning back'. Indeed, long-time Putin ally and former president Dmitry Medvedev continues to insist that Russia must aim for nothing less than the 'complete dismantling of the political regime in Ukraine'.
This is the reality of the war in Ukraine at the moment. The continued success of Ukraine's counter-offensive has understandably emboldened Kyiv, while the continued failure of Russia's special military operation has encouraged Moscow's almost nihilistic warmongers. So to suggest Moscow is open to talks with the West over the future of Ukraine, as Russian foreign minister Sergei Lavrov did on Tuesday, is absurd. First, because Ukraine's future should be in the hands of Ukrainians, not Moscow or Washington, DC. And second, because any talks depend on Russia's willingness to de-escalate and withdraw its forces from Ukrainian territory. Given the ascendency of hawkish thinking in the Kremlin right now, that possibility seems further away than ever.
Tim Black is a spiked columnist.
To enquire about republishing spiked's content, a right to reply or to request a correction, please contact the managing editor, Viv Regan.