Why Joe Biden can't stand Brexit Britain
The president should focus on fixing his own economy rather than criticising ours.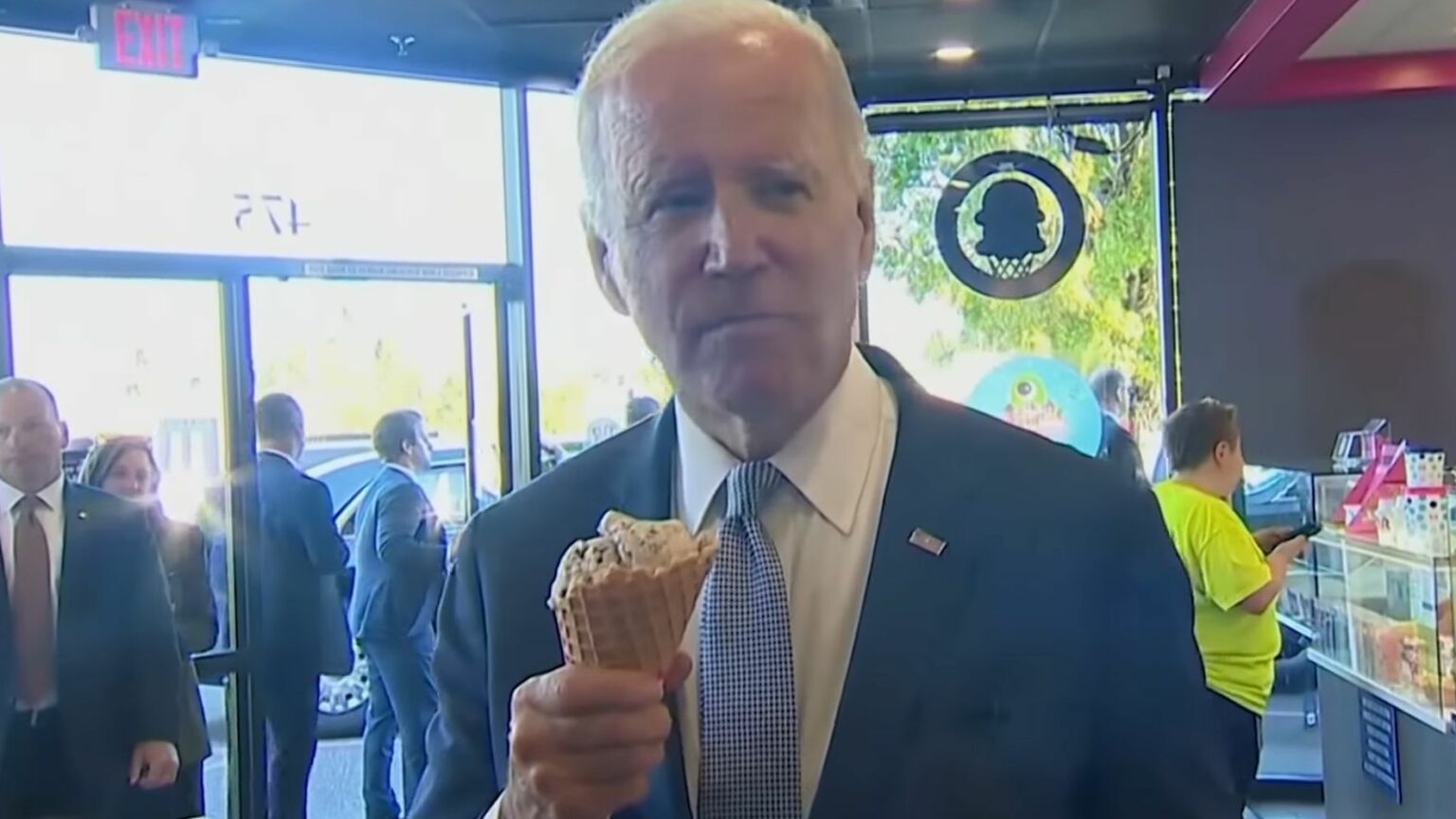 So, Joe Biden in an ice-cream parlour in Oregon slagging off Liz Truss's economic policy – was it a gaffe or was it his administration's official view on Trussonomics? With Old Joe, you can never really tell. Either way, whether he was rashly running his mouth off again or making a considered critique of the UK government, it was extraordinary. And completely unacceptable. Britain is none of your business, Joe. You need to butt out of our internal political affairs.
Biden was in a Baskin Robbins in Portland when a journalist asked him what he thought of Truss's mini-budget. And instead of saying 'It is for the British government to set Britain's agenda' – as diplomacy and good political sense dictate – he had a pop. Truss made a 'mistake', he said. 'It's predictable. I mean, I wasn't the only one that thought it was a mistake.' He then turned around to get his ice-cream cone and continued: 'I think that the idea of cutting taxes on the super wealthy at a time when… anyway, I just think, I disagreed with the policy.'
When he was finally done with making what even the BBC admits was an 'unusual intervention' in the affairs of a sovereign nation, he said: 'But that's up to Great Britain to make that judgment, not me.' That's what he should have said to begin with. And it's all he should have said. A more seasoned, switched-on president of the United States would have known that. Sure, behind the scenes all sorts of tense discussions are held between the representatives of nations. But in public? In an ice-cream parlour in the middle of the day with TV cameras rolling? You pipe down. It was inelegant, and arrogant, of Biden to pass judgement on the British government in such a breezy fashion.
Of course the anti-Tory set in the UK is lapping it up. Journalists are dying that Biden mauled Truss while 'casually buying an ice-cream'. It was 'further evidence', said a writer for the Independent, that Biden is 'cool as ice'. Is Biden known for being cool? That's a new one for me. Labour MP David Lammy no doubt spoke for many in the chattering classes, who love nothing more than seeing Tory-ruled Blighty being bashed by powerful foreign actors, when he said Biden's ice-cream diplomacy was 'utterly humiliating for Liz Truss'. Britain's economy has become an 'international punchline', he said.
This echoes the excitable response of Britain's not-very-liberal elite to the IMF's equally extraordinary decision to criticise Truss's mini-budget. The IMF slammed the budget on the basis that it would lead to further price increases and would 'increase inequality', too. Quaint as it was to hear this notorious globalist punisher of hard-up Third World countries hold forth on the issue of equality, the IMF's meddling was also an outrageous intrusion into internal British matters. But of course Britain's Truss-sceptical, anti-Brexit cliques loved it. It was 'uniquely bold' of the IMF to make such a statement, crawled the Evening Standard.
It seems likely that Biden was emboldened to publicise his opinion on Truss precisely by the IMF's earlier intervention. That was probably what he was referring to when he said he 'wasn't the only one' who thought the mini-budget was a 'mistake'. And here we can start to see what is really going on with all these 'uniquely bold' – ie, completely out of order – brickbats against the UK. These people are still mad at us over Brexit. World leaders and world institutions of a more globalist bent, for whom sovereignty is passé, are still reeling that we left their club. This is why they seize any opportunity that arises essentially to say: 'Ha, Brexit Britain is screwed.'
So the BBC reports that foreign diplomats and ministers around the world now openly say that they want 'the Britain of old' back. There is 'international unease' about the 'political turmoil' in the UK, apparently. What is striking is that even the diplomats of countries 'suffering their own economic turmoil', as the BBC politely puts it, now feel free to bash Britain, to 'break one of the first rules of diplomacy and criticise the domestic policies' of an ostensibly friendly nation.
This is indeed one of the most remarkable things about the global mockery of Trussonomics, where we have apparently become the 'laughing stock' of the world, according to one British diplomat: it is coming from the leaders of nations whose economies are far from fighting fit. So Biden takes a swipe at Britain's economy despite subjecting his own to soaring and destructive inflation. As for the German ambassador to the UK expressing concern over Truss's mini-budget – that was not only a violation of virtually every rule of diplomacy, it was also hilariously hypocritical. Germany is heading for a pretty severe winter recession. Its elites have been so obsessed with bowing down to the green agenda that they forgot how important energy production and food security are, leading to a situation where they might not be able to keep the lights on, and industry going, for very much longer.
It really needs to be said that, however much Truss and her team might be short on good ideas for reviving economic life, Britain's so-called 'turmoil' is far from unique. What is unique, though, is that we broke from the globalist system. That's the real reason it's open season on us. Biden cannot abide Brexit Britain because we split from the pack in that part of the world where he still has some semblance of influence. That's why he bristles against everything from Britain's efforts to reform the Northern Ireland Protocol to our pursuit of economic polices that do not chime with the consensus in Europe – because it's all a reminder that we uppity Brits had the temerity to upset the postwar order of globalised politics.
Truss's mini-budget was indeed naff. The churn of chancellors is an embarrassment. But we the British electorate will deal with this ourselves, thank you Mr President. We don't need foreign leaders whose own economies are on fire to pontificate about ours.
Brendan O'Neill is spiked's chief political writer and host of the spiked podcast, The Brendan O'Neill Show. Subscribe to the podcast here. And find Brendan on Instagram: @burntoakboy
Picture by: YouTube / The Telegraph.
To enquire about republishing spiked's content, a right to reply or to request a correction, please contact the managing editor, Viv Regan.