The confected fuss over the Girls in Green
We should be celebrating their success, not condemning them for singing a rebel song.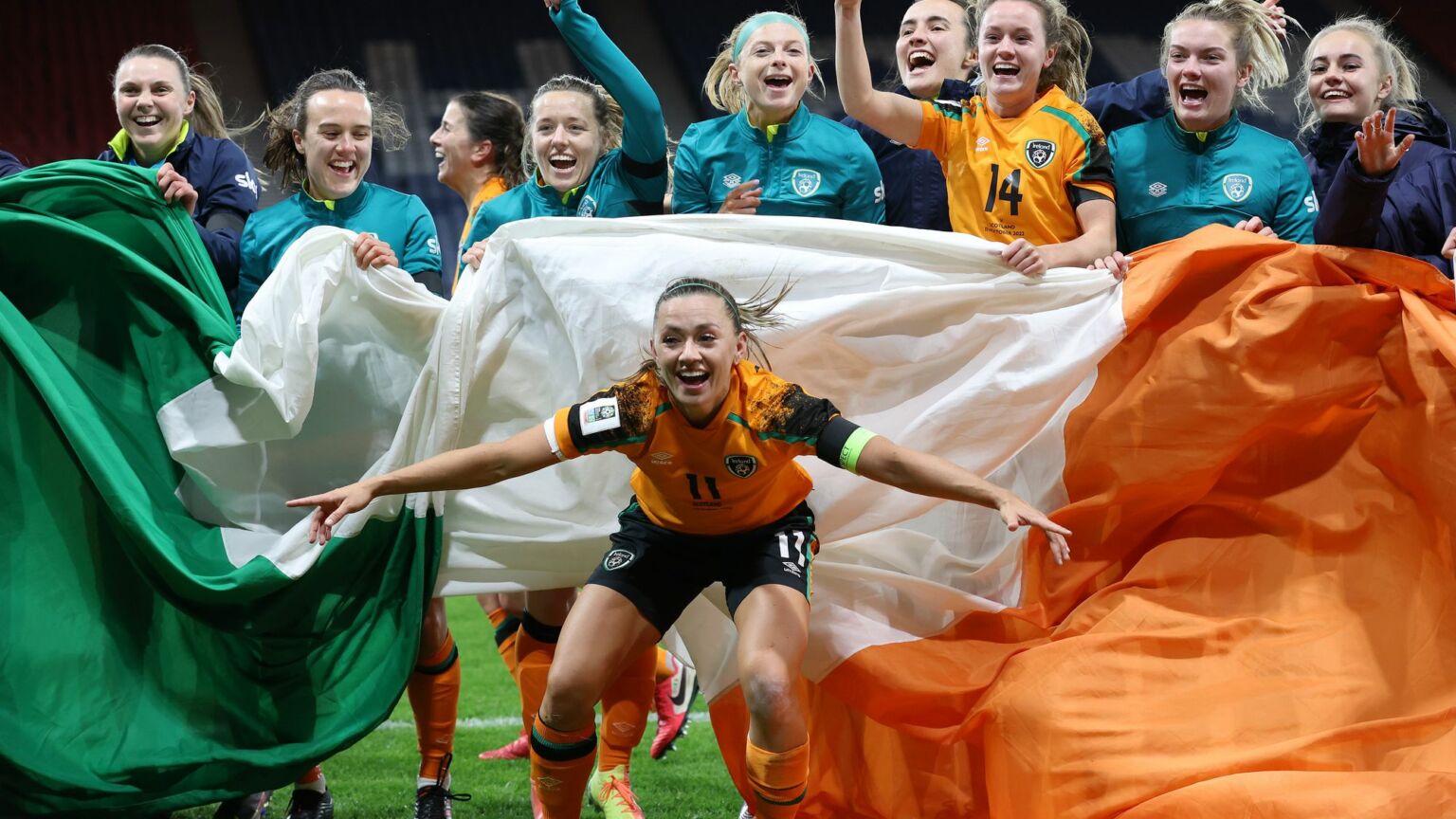 During a period of what seems to be almost unrelenting misery (although the current Liz Truss Reign Of Error provides a certain grim humour), we often turn to sport for a much-needed escape.
The Irish women's team gave us exactly that on Tuesday, when it beat Scotland in a World Cup play-off to qualify for next year's tournament in Australia and New Zealand. It's the first time the so-called Girls in Green have made it to this elite stage. And the fact that many Irish people have been forced to emigrate Down Under means that we could well be the second most heavily supported team at the tournament.
To paraphrase Irish football pundit Eamon Dunphy, this wasn't just a good news story, it was a great news story. Particularly when you consider that the scorer of the winning goal, Amber Barret, is a Donegal native, who immediately dedicated the win to the 10 people who had died in the awful gas explosion in Creeslough last Friday, many of whom she knew.
So, happy days – a slice of history and the prospect of a trip to Oz next year. What could go wrong? Well, that's where social media comes in and, as usual, utterly ruins everything.
During their joyous post-match celebrations in the dressing room in Hampden Park, one of the players posted footage on her social media of the team singing 'Celtic Symphony' by the awful Irish rebel band, the Wolfe Tones, which contains the chant 'Ooh ah, up the ''.
And all hell broke loose.
To put the achievements of the team into some sort of context, it wasn't that long ago that players were forced to change in airport toilets and had to hand back their official Football Association of Ireland (FAI) tracksuits after every match.
But under the management of Dutch coach Vera Pauw, the girls have achieved something which was simply unthinkable even a short 12 months ago. Unthinkable to most of us, perhaps, but obviously not to the players. And they delivered one of the greatest results in modern Irish sport.
Yet before the post-match celebrations had even finished, social media and the press were on their case. The Daily Mail fumed that the chant 'is associated with support for the Irish Republican Army, who carried out a series of bombings and assassinations in its long campaign of terror'.
Meanwhile, Sky Sports News scented blood in the water. Presenter Rob Wotton made himself the most unpopular Englishman in Ireland – which is no mean feat, in fairness to him – when he started quizzing Irish defender Chloe Mustaki on the terrible sin of an Irish team singing an Irish rebel song.
Despite the fact that the manager, the players and the national association had all issued profuse and obviously genuine apologies for their taste in music, he cynically wondered if the players needed an 'education ' about Irish history.
That was a bit rich coming from a guy who himself once had to be 'educated' by Irish rugby player Brian Carney, when he consistently referred to the Great Britain and Ireland rugby league team as simply 'Great Britain'. But the deranged reaction wasn't confined to the more ignorant members of the British media.
Condemnation was rife here in Ireland, as well. Radio stations went to town on the micro-controversy. People called for the players to, yes, receive 'education'. Others went further and suggested that those involved should be banned from ever playing again. Why not lock them all up while we're at it?
Far from them being players who wear balaclavas when they're not donning the green jersey, this is a group of young women who grew up in the post-Good Friday era. This infamous old chant simply doesn't have the same relevance to them as it does to those of us who remember the Troubles with horror, in all their squalid glory.
In fact – and this is a point which seems to have been strangely missed by many of their critics – the chant is virtually identical to the popular terrace refrain of 'Ooh ah, Paul McGrath', arguably the most beloved and popular Irish player of all time. I honestly believe that half the players in that Hampden dressing room thought that was the chant they were singing.
But there is also an air of stinking hypocrisy surrounding this ridiculous story. After all, when Jack Charlton was leading our national team to unprecedented heights, he used to insist that the team played rebel songs on the bus on their way to matches. It fostered solidarity and a sense of historical pride, which motivated those players to such great success (although the less said about the football they played, the better).
So, everyone involved was quick to issue sincere apologies. A baffled Pauw admitted that she didn't understand the historical context though she promised it wouldn't happen again.
But an apology wasn't enough, apparently. These days a mere apology never seems to be enough.
It's always the little details that stick out in an event like this and the person I feel most sympathy for is the player who posted the footage. I won't mention her name because she has been the subject of a truly vicious pile-on. Her coach admitted that she had spent the next day in tears in her hotel room. In other words, a young woman had just enjoyed the greatest day of her life – but rather than celebrating that achievement, she spent the next day sobbing as the jackals came after her.
It was all so deeply obnoxious. For once, in a world where misogyny is often seen where it doesn't exist, there was an undeniable stench of old-fashioned chauvinism in the commentary.
To the surprise of absolutely nobody, loyalist politicians in the north were quick to spot the opportunity to have a pop at these uppity Fenian women.
Someone called Lorna Smyth from the TUV (Traditional Unionist Voice) refused to accept the apology, snootily declaring that the 'bland apology' was clearly insufficient, adding for good measure: 'Saying sorry for any offence without clearly spelling out why a song glorifying the IRA is offensive isn't enough.' It was all completely deranged.
It also resulted in an even more unfortunate development. 'Celtic Symphony' is now sitting proudly at the top of the Irish charts, and is doing well in the UK also. The players made a mistake. They apologised. Time to move on. But, to be honest, I probably won't be able to forgive them for propelling the obnoxious, rabble-rousing dinosaurs of the Wolfe Tones back into the public sphere…
Ian O'Doherty is a columnist for the Irish Independent.
To enquire about republishing spiked's content, a right to reply or to request a correction, please contact the managing editor, Viv Regan.