Labour's Anglophobia problem
The posh left still looks down on the English working class.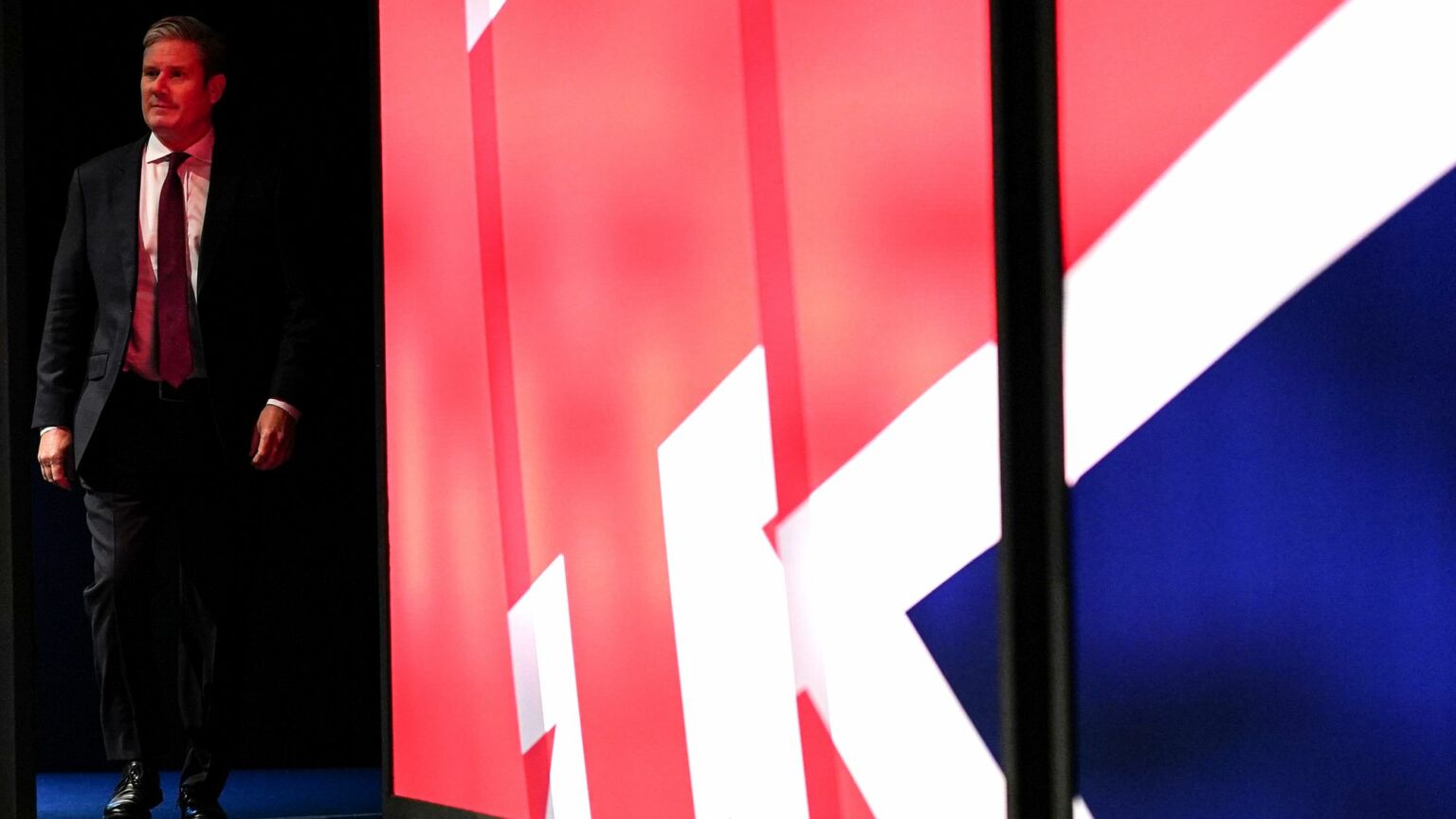 Watching the Labour Party sing the national anthem for the first time in its history at this week's conference in Liverpool, I had to laugh. Talk about a tin ear! Labour missed a chance every year for 70 years to show its loyalty to the most respected and unifying monarch the world has ever seen, and instead it chose to tug the forelock only after a petulant, overgrown adolescent took the throne. I thought they'd had enough of Jeremy Corbyn?
Seeing the self-consciously grown-up faces of stern-but-fair top-sir Mr Starmer ('You're letting yourself down, you're letting the school down – but most of all you're letting me down, hanging about on that picket line with those rough men') and the fiery-but-caring Ms Rayner ('You can always come to me about boys, luv'), it struck me that the People's Party now resembles a sink school in a BBC drama – Sad-Sackley Bridge, perhaps – which has been given one more year to turn itself around before sinister-but-effective Mr Mandelson sends the academy goon squad in: 'I don't actively wish to excise you, Starmer, but when your pupils ran wild and knocked down the Red Wall – which was, by the way, holding the entire school up – the board told me to tell you that your days as head are numbered. Fix it!'
Of course, the expelled Absolute Boy sought to ruin speech day by describing the singing of the national anthem as 'very, very odd' and 'excessively nationalist'. And there always has to be one pupil who spoils it for the rest of the school, as Clive Lewis did, when he poked his head out of detention to snipe: 'I'm definitely more comfortable singing "The Red Flag".' But now that the head has the school back on track, even a troublemaker like Lewis seems to be backing the beak: 'Do you know what? It took place and it went off without any problems.'
Could this flagrant patriotism really herald the return of a Labour Party more concerned with the plight of Grimsby than Gaza? And what took Labour so long to sing the national anthem? It seems incredible that a favourite of the queen's, like Harold Wilson, or a smoothie like Tony Blair never instructed conference to do so – it would have been such a perfect fit for those slippery customers. Yet both of them were happier cosying up to popstars (the Beatles for Wilson, Oasis for Blair), something it's quite amusing to imagine the arch-square Starmer trying to do.
'It is a strange fact, but it is unquestionably true that almost any English intellectual would feel more ashamed of standing to attention during "God Save the King" than of stealing from a poor box', George Orwell famously wrote. It is odd that the British left has such a problem with wrapping itself in the flag compared with, say, the French. Allegedly, Mrs Thatcher was once asked how she could get on so well with President Mitterrand and replied: 'Unlike our socialists, he is a patriot.' No French socialist would ever have argued in favour of stripping their country of her nuclear arsenal, as our Labour left did for so long. Mitterrand went so far as to approve the bombing of an unarmed Greenpeace ship, the Rainbow Warrior, anchored in a New Zealand harbour, before it could set off to protest against French nuclear tests in the Pacific. Of course, the French did do away with their monarchy and 'La Marseillaise' is a rousing revolutionary anthem. But there is more to it than that.
The reason is that a certain section of this country – what we might call the 'great and the good' or, more recently, the 'metropolitan elite' – suffers from Anglophobia, a real hatred of the state of being English. Ever since the British left caught what Arthur Koestler called 'French flu' in the 1950s, postwar liberals have always believed that things are better in Europe.
Anglophobia is sometimes benign. Take the cookery writer Elizabeth David's dismay at the state of postwar English food compared with that of France, although the fact that we fought a war and had food rationing while the conquered French were freely swapping cheese with their Nazi overlords might have had something to do with that. Often it is dim. Think of Emma Thompson writing off everything this small and dynamic nation has achieved – long before the EU was a twinkle in some Hun's eye – by dismissing it as 'a cake-filled, misery-laden, grey, old island'. Sometimes it's downright deplorable. Think Emily Thornberry tweeting a photograph – 'Image from #Rochester' – of a working-class driveway displaying the England flag and a white van during a by-election, for all the world, as though she had spotted a fascinating new species of sub-human being.
When people say how awful this country is, I often ask: 'Compared with what other country?' There can't be any doubt that this is one of the most pleasant places in the world to live, which is surely why the left wants us to let in the near-limitless amount of refugees who seem so keen to come here. If this country was as bad as the Anglophobes say, surely they wouldn't be mean enough to want to impose our lousy way of life on those poor boat people?
They actually mean compared with Europe, about whom they have a set of stereotypical beliefs that, if displayed by the right, would be called out as simple-minded or even racist. They really do believe that the Swedes have lots of sex and worship the welfare state, and that Italians are cheery folk who idolise their families. It's a matter of sneery fact for Anglophobes that when English people vote for the right, they do it because they are 'uptight' or 'joyless' or 'fearful'. Which affords me snarky amusement at the idea of what Europhiles are now feeling on seeing European nations as different as Sweden and Italy – both high up in the Europhile Top10 – vote for the right.
The Anglophobes will find some sneaky way to excuse it, but it will rattle them. Of course, they won't try to understand why millions of people in many nations who have always voted for left-of-centre parties eventually have a collective change of heart – how people can wake up to the fact that their class, the working-class, is no longer courted by the parties created to represent it, but instead corralled and head-counted like cattle. They won't understand because they have no understanding of themselves and how snobbish they are. They don't realise that when the Emmas and Emilys say nasty things about 'the English', they don't refer to themselves and their loved ones at all – they mean 'the English working class'. And then they wonder why their politics of contempt is rejected.
Back to the Labour conference, where I read that even the pressure group Labour for a Republic has issued a warning to members not to mention the (Civil) War: 'Never refer, even jokingly, to Charles I's beheading as a solution, or to how Russia dealt with the Tsars.' Yes, Sir Keir did make quite a convincing fist of the national anthem, even if the way he teared up at the 'Send him victorious, long to reign over us' bit indicated that he was obviously thinking about himself. But it's such a conventional, acceptable dirge. I personally won't believe that he really has control over Albion Comp till he forces Red Ange to sing 'Rule Britannia'.
Julie Burchill is a spiked columnist. Her book, Welcome To The Woke Trials: How #Identity Killed Progressive Politics, is published by Academica Press.
To enquire about republishing spiked's content, a right to reply or to request a correction, please contact the managing editor, Viv Regan.