The narcissism of 21st-century republicanism
'Not my king' is a slogan that reflects the self-obsessions of our age.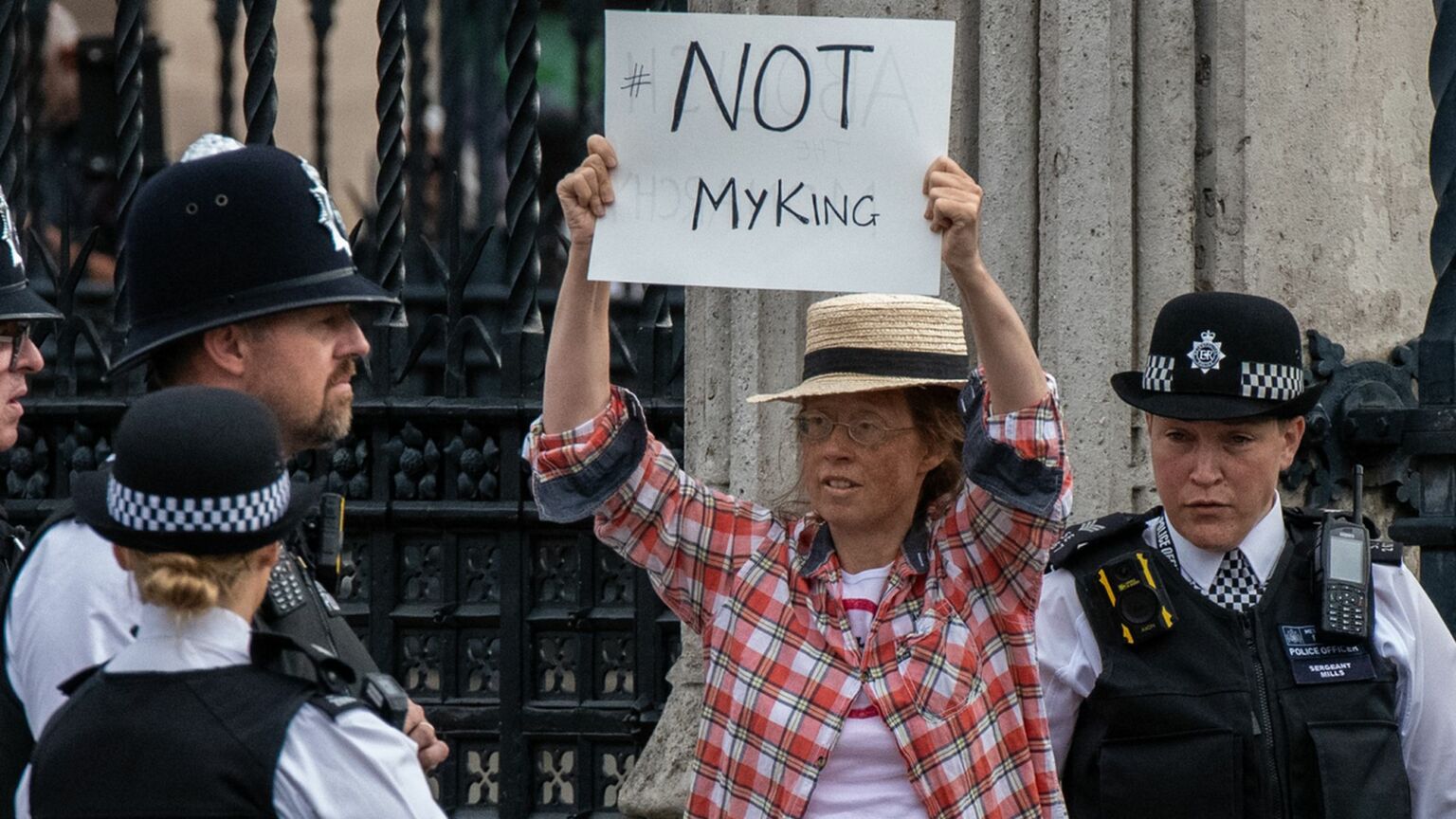 You would be forgiven for thinking it all sounds familiar. In 2019, the words 'Not my prime minister' became popular on social media upon the appointment of Boris Johnson as PM. As with the voices of opposition today, the ostensible point of this protest was that this man was appointed to his position, rather than elected to it. Were it not for the fact that our new unelected head of state has overwhelmed the headlines, we would hear more outrage about our new, now also unelected head of government, Liz Truss.
Yet the slogan rings familiar for another reason, in that these words refer back to the self. Sure, you're angered about a democratic deficit, but why does it have to be about you? In this regard, 'Not my king' has its semantic origins in that seminal slogan of 2003, in anticipation of the invasion of Iraq: 'Not in my name.' That slogan proved to be a signifier and watershed in our culture, as to how the political really has become the personal. Today, current events are invariably about the self.
This should not surprise us. We live in a culture of narcissism, one consumed by identity politics, in which most things do not merely refer back to the self, but begin with the self, too. This is most starkly illustrated by trans ideology. It is logical that trans ideology has become mainstream. The cult of trans, with its introspection and obsessive self-reinterpretation, emerged in a narcissistic culture.
Trans ideology has become so normalised and entrenched that this month a teacher in Ireland, after refusing to use a pupil's preferred pronouns (and after consequently finding himself in contempt of court), was sent to prison. His jail sentence, and those protesting 'Not my king' in defiance of the law, show how dominant is the cult of self – the demand for the self to be respected, and the demand for the self to be heard.
This cult of the self is on full display in the new series of Naked Attraction, which began on Channel 4 this month. If you think the behaviour of vexatious anti-monarchists this week 'just looked like attention-seeking', behold this desperate, cloying spectacle. Witness this circus of exhibitionism and self-worship, with its boastful contestants and their carefully curated bodies, with those twin signifiers of bodily idolisation or provocative disfigurement – tattoos and pierced jewellery. The contestants bring to mind those female PETA campaigners who from time to time deem it tactically genius to raise animal-rights awareness by getting their breasts out in public. These PETA campaigners are usually young, shapely and pretty – and they know it. They represent the nexus between the personal and the political, between the TV show-offs and the shouty, sixth-form anti-monarchists.
Narcissistic identity politics is everywhere. There is no escape. And sometimes it comes with a dash of self-pity and victimhood, in the timely spirit of whiny Meghan Markle. As a headline to an Observer feature on actor Samira Wiley on Sunday put it: 'I'm black, I'm gay, I'm a woman. My country hates me!'
One of my most joyous discoveries this year has been Richard Madeley's 'Agony uncle' column in the Saturday Daily Telegraph magazine. Not just for his sound advice, but because Madeley writes exactly as he sounds: the full proto-Partridge.
On 3 September, we read about the distress of 'Paul'. He finds himself becoming ever-more right-wing, leading, alas, to growing tensions in his marriage, between him and his left-wing wife. 'I'm starting to find her attitude condescending and annoying. She says she'll only engage with me "if I want to educate myself".'
'Educate yourself.' This is indeed a most irritating phrase, and transparent woke-speak. It is presumptuous, patrician, conceited and condescending, uttered as if from an elevated plateau of enlightenment, an Elysium where reside the chosen, the beholders of gnostic wisdom. You can almost hear it spoken with high-minded weariness and disdain, addressed to us base, lackey peasants. It is pronounced as if there is only one sacred truth, which you must gain access to through this mystical process of 'education'. It is a slogan that treats opponents not as erroneous, as people who might be persuaded through reason or evidence, but as hollow souls in need of salvation.
Madeley himself thought Paul was 'in danger of being cancelled'. He continued: 'She's free to espouse her worldview; you listen respectfully to what she says, but when you proffer an alternative take on things, she sticks her fingers in her ears. Not on, frankly.' Spot on, Richard.
The arrest of anti-monarchist protesters, the conduct of some anti-monarchists on social media – and the umbrage and offence some have taken at their irreverent, coarse and rude remarks – have once more brought to the fore the perennial issues at the heart of our culture wars: censorship, cancelling, taking offence, free speech. The only difference now is that for the time being the roles have been reversed. It is the self-styled radicals who are now being silenced by the law, with many gloating so-called conservatives at the vanguard of cancel culture.
The tables may have turned, but I have for years now held the same opinion – that censure is better than censorship, and that taboo is preferable to law enforcement. Wherever possible, people should be allowed to say what they want, even if some might take offence at it or feel affronted. That's the price of an open, free society. Equally, people should be allowed to speak back, to condemn and even shame others for their opinions and beliefs. If 'shaming' hurts their feelings in turn, tough. That is also the price of a free and open society.
Society demands such a compromise. That's because life is about give and take. We must be free to do the former and be prepared to accept the latter.
Patrick West is a spiked columnist. His latest book, Get Over Yourself: Nietzsche For Our Times, is published by Societas.
To enquire about republishing spiked's content, a right to reply or to request a correction, please contact the managing editor, Viv Regan.