I love you Ireland, but it's time to grow up
Britain's monarchy is not to blame for Ireland's problems.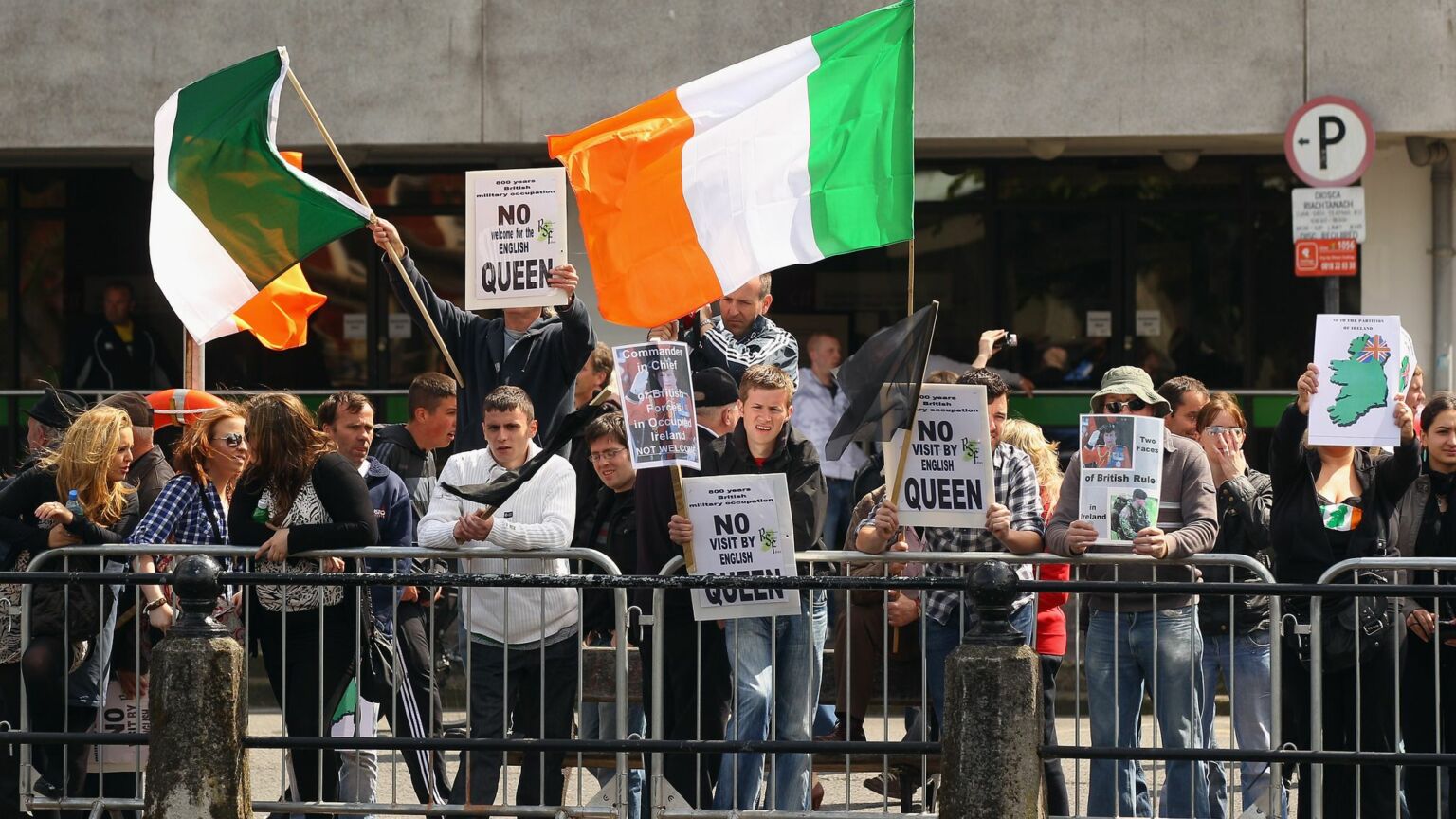 Ireland once had Pádraic Pearse, Joseph Plunkett, James Connolly. Now it has Jedward. The weird sexless twins from Dublin who were briefly famous in 2009 for not being able to sing are the rebel heart of modern Ireland, apparently. They're being fawned over by 'Irish Twitter' for their daring mockery of Britain's royals. Sure, Pearse and his comrades may have stormed the GPO and declared a new republic, but John and Edward went online and said: 'Not My King.' Raise the tricolour, clear a space on O'Connell Street for a statue – there are two new Irish revolutionaries in town!
It is almost too ridiculous for words. The only things Jedward have got angry about in the past were Louis Walsh (who they called a 'cold-hearted, two-faced bitch') and Piers Morgan ('You get a D for being a Dick', they tweeted at him). Yet we're now expected to believe they're raging republicans squaring up to British imperialism. 'King Charles should hand back the six Irish counties', they tweeted. When people told the tuneless muppets to pipe down, they cried: 'Victims of colonisation are entitled to express how they feel!' Quite how middle-class twins born in a free republic and educated at the posh King's Hospital School in Dublin count as victims of colonialism is anyone's guess.
The retweets for Jedward's camp online re-enactment of the Easter Rising came thick and fast. Who could have guessed that a couple of X-Factor failures 'would be taking a stronger republican line than Sinn Féin', asked one Irish republican news source? (To be fair, that's not hard.) It all rather revealed how infantile the online reaction to the death of the queen has been in Ireland. 'Like Black Twitter, Irish Twitter Has a Lot to Say About Queen Elizabeth's Passing', said one woke publication with delight when it spied Irish folk sharing queen-mocking memes. It does have a lot to say, that's true – and almost all of it has been hernia-inducingly embarrassing.
Some of it has just been depressing. 'Why Queen's Death Prompted Irish Twitter to Discuss Potato Famine', said a headline in Newsweek. I can tell you why the death of the queen prompted 'Irish Twitter' to talk about the Potato Famine. It's because there's a certain kind of Irish person who needs no excuse whatsoever to talk about the Potato Famine. They're the political equivalent of vegans who can't go three minutes without proselytising about their cause. They'll corner you in a pub and completely out of the blue say: 'It wasn't a famine, you know. It was a genocide. The Brits exported food from Ireland.'
Lo, Queen Elizabeth – who was born 74 years after the famine ended, FYI – dies and the famine bores are swarming social media. 'The Potato Famine was a major event in modern Irish history', Newsweek informs us. Thanks. It reports that one Irish tweeter asked why she should feel 'emotional' about the queen's death given 'the English EXPORTED food from Ireland to England during [the famine]'. Okay, but what does that have to do with the queen? She didn't export the food. She wasn't alive. Another said the famine was a 'deliberate campaign by the British to deny the people of Ireland the food they needed to survive'. And that's Elizabeth II's fault how exactly?
The famine – which was in the 1840s, just to remind you – trended so much over the past few days that even the Washington Post ended up covering it. 'For some Irish people, Queen Elizabeth II's legacy is complicated', its headline said, though it did clarify that 'Elizabeth wasn't queen during the Irish famine'. That an almost two-centuries-old famine could trend upon the death of a modern monarch confirms how central that calamity now is to the Irish middle classes' view of themselves and their nation. Time-rich Irish liberals are now more comfortable talking about the famine than something like 1916. The famine was pure victimhood, you see, the ultimate act of colonial degradation. It bolsters their narrative about Ireland being a traumatised nation – a narrative which in turn allows them to position themselves as technocratic therapists to the Irish people, assisting them with their historic hurt. Where 1916 is too much about independence and self-sufficiency, the famine is all about pain and hunger and needing help. The elites prefer that tale. This is why the famine is omnipresent in modern Ireland. Monuments abound; there's a national museum; there are statues of emaciated, bedraggled peasants. It's actually gross.
This is the point: the trending of the famine after the queen's death told us very little about the queen but an awful lot about Ireland's middle class. The Washington Post enthusiastically quoted one of the post-Elizabeth Irish tweeters, a social worker, natch, who said that Ireland suffered a 'collective trauma' under the boot of the British Empire. 'Unresolved trauma can become generational', she said. 'Colonisation is trauma', she continued. Now we know why Jedward can claim to be 'victims of colonisation' – it's because they've inherited the pain of their oppressed ancestors. This idea of 'generational trauma' is widespread in the Irish intellectual elite. They speak of 'multigenerational trauma' and 'ancestral trauma'. 'Did the Irish famine trigger mental illness in the Irish?', asked one Irish historian recently. It all confirms how regressive 'anti-colonial' thinking has become. Anti-colonialism was once about making a strike for independence, à la 1916. Now it's about depicting oneself and one's nation as the damaged goods of past misdeeds. It wasn't anything done by Elizabeth II that led to the trending of the famine after her death – it was the Irish middle classes' own craven desire to present Ireland as a nation in psychological distress. This doesn't only elevate the inhumanity of the famine over the thwarted glory of 1916. It is actively anti-1916, in that it depicts the Irish people as the child-like sufferers of historical pain – less autonomous citizens than mental-health cases.
So this goes far beyond Jedward. Far beyond the Liz-bashing memes of 'Irish Twitter'. Rather, it speaks to the intellectual poverty and self-abasement of 'postcolonial' and 'woke' politics. The Huffington Post published a piece on the 'incredibly clever tweets' of the 'descendants of the colonised', including on 'Irish Twitter', following the death of Elizabeth II. These 'clever' people, it said, rightly view royalty as 'instrumental to our generational trauma' (my emphasis). Can I just say, as a descendant of the colonised myself, as someone whose ancestors died in that famine you all obsess over, whose great-grandparents were harassed by the Black and Tans, and whose grandparents grew up in the 'terrible beauty' that was poverty-stricken postcolonial Ireland, that I feel no 'trauma'. That I blame Elizabeth II for nothing in my life. And what's more that I think it is incredibly narcissistic and extraordinarily presumptive of modern generations to seek to appropriate the pain of the long-dead in order to add a lick of exotic suffering to their otherwise cushy lives. The Irish famine is not your prom dress. Your starving ancestors are not your passport into the realm of victimhood. Have some respect for the dead – and yourselves.
This is my issue with the queen-bashing on 'Irish Twitter' that has been lapped up by the mainstream media. I don't mind the disrespectful memes. I don't even mind the viral videos of Irish football fans chanting 'Lizzy's in a box'. Certainly none of that should be censored. No, it's what this all tells us about modern Ireland that has got me worried. It suggests Ireland has been subsumed by the cult of victimhood. It suggests Ireland cannot escape its past. The postcolonial ideology of permanent trauma actually grates against the aspiration to independence of real anti-colonialism. The former seeks meaning in cynically appropriated historic pain, where the latter sought to rise above historic pain to create a genuinely free and equal nation. Modern Ireland was founded by aspirational anti-colonialists – depressingly, it is now governed by traumatised post-colonialists.
Britain has become the whipping boy of Ireland's postcolonial elites. From the current rage against Elizabeth for, erm, the Potato Famine to Fintan O'Toole and Co's ceaseless slamming of Brexit Britain, many in Ireland seem to be engaging in displacement activity. Instead of examining their own political and social failures, they bash the punchbag of Britain, which hasn't ruled Ireland – well, the 26 counties – for a hundred years. The irony, of course, is that many of these people have sworn unflinching allegiance to a new empire – the European Union. They fume against the old empire while warmly welcoming the new empire's incessant interference in Ireland's economic and political affairs. Britain-bashing becomes a way of distracting attention from the obsequiousness of Ireland's elites in relation to their new masters in Brussels.
A final point. Most Irish people are not saying 'Lizzy's in a box'. They certainly aren't banging on about the famine. They don't see Elizabeth II as the cause of their 'generational trauma'. They don't think they have 'generational trauma'. Where I am, in Galway, most people are just sad and reflective about the death of the queen. They know she was a very popular foreign monarch, not their oppressor. 'Not my oppressor' — that's the slogan that should trend. This culture of respect and self-respect gives me hope. The Irish elites might view Ireland as the fuck-up of imperial history – many Irish people respectfully disagree.
To enquire about republishing spiked's content, a right to reply or to request a correction, please contact the managing editor, Viv Regan.