Trans activists are taking the piss
That urine-soaked protest outside the EHRC might just be the nadir of the trans movement.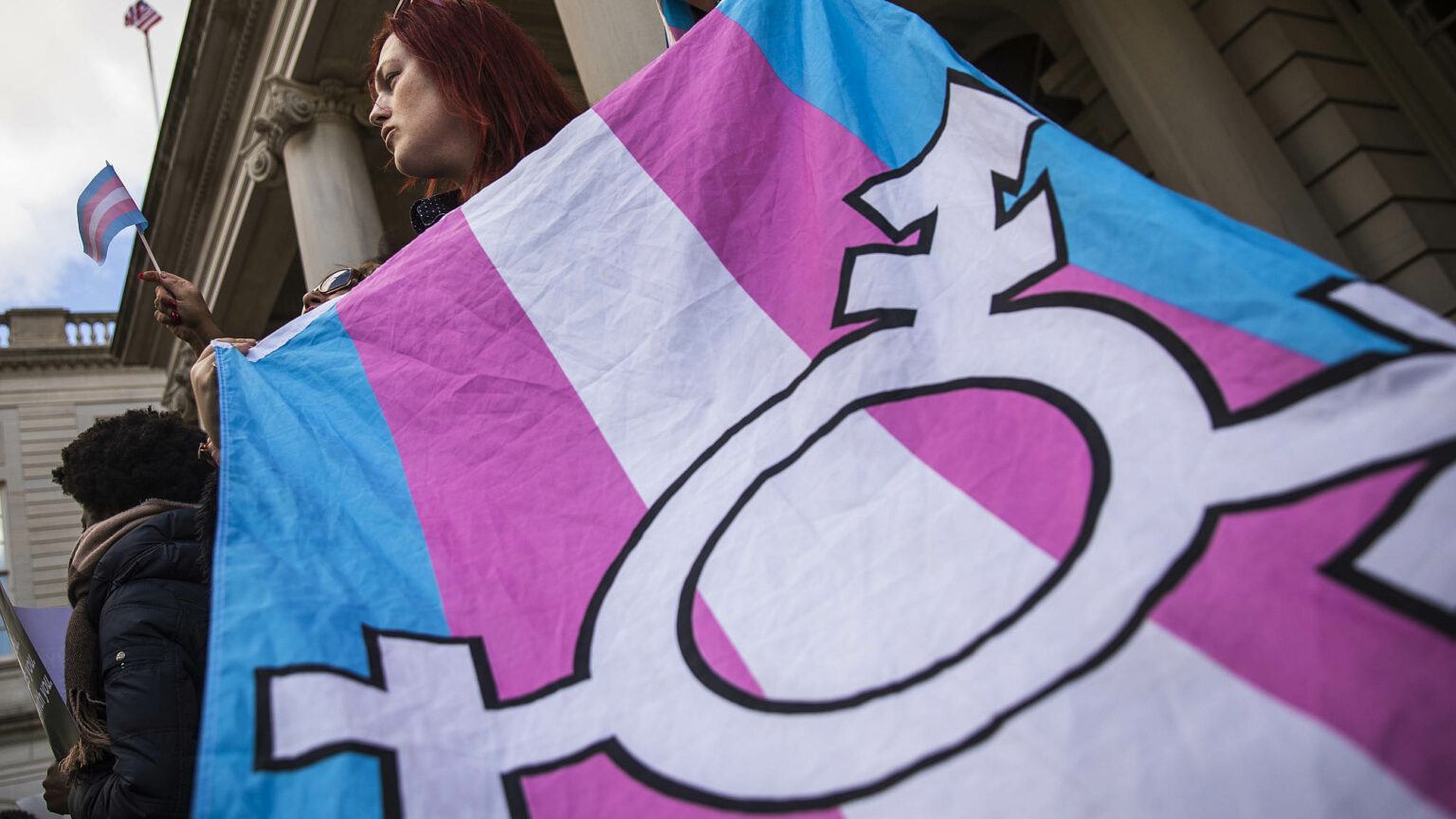 What says 'trans rights' more succinctly than a piss-covered activist with his penis on show shouting in front of a government building?
This was the bizarre scene yesterday outside the headquarters of the Equality and Human Rights Commission (EHRC) in London. An exhibitionist representing a group called 'Pissed Off Trannies' stood, dressed in a ballgown and balaclava, began to wet himself. He then deliberately poured a bottle of urine over himself, while shouting: 'The EHRC has blood on its hands and piss on its streets.' All the while, his demure lady penis was visible under his sheer dress.
As part of this 'political action', the small band of what might be termed 'piss artists' also filled 60 bottles with urine, which they then placed around the EHRC building.
A member of Pissed Off Trannies told Vice, the only outlet to cover the protest at the scene, that the point was to show 'an extreme version of the public embarrassment that trans people experience on a daily basis, using the toilet that either doesn't fit with their gender or using the one that does, and then facing the backlash of people's judgement'. Essentially, this was a protest in favour of opening up women's toilets, changing rooms and other spaces to males who identify as women.
For nearly a decade, trans-rights activists have presented themselves as being at the mercy of a hostile world. They have used their supposed victimhood to emotionally blackmail policymakers into adopting their demands. At first, women's rights and women's private spaces were all too readily sacrificed and opened up in the name of 'gender self-identification'. But a backlash has been building. Even the remarkably tolerant British public is growing increasingly tired of the excesses of the trans movement. And so the government has been forced to respond.
The Pissed Off Trannies activists targeted the EHRC because it was among the first government bodies to explicitly recognise that trans rights and women's rights can often come into conflict. In March 2021, the EHRC cut ties with trans lobby group Stonewall. In January this year, it urged the Scottish government to pause planned reforms to its gender-recognition process, citing concerns about women's sex-based rights. And most significantly, in April this year, the EHRC released guidance clarifying that single-sex services and spaces are lawful and they do not have to be opened up to accommodate someone's gender identity. This was later echoed last month by then attorney general Suella Braverman, who reminded public and private bodies that the rights of people who identify as trans do not trump those of the wider population.
Tellingly, when told 'No' by those in authority, trans campaigners are unable to make a cogent case in response. Some, like Stonewall chief executive Nancy Kelley, end up flailing around accusing their ideological opponents of being like anti-Semites and racists. And others, like Pissed Off Trannies, indulge in pant-pissing tantrums.
Oddly, those paid to speak on behalf of the so-called 'LGBTQ community' have yet to pass public comment on the piss protest. This is particularly surprising given that only a few weeks ago, when lesbian group Get the L Out protested at Pride Cymru in Cardiff to defend their right to have same-sex relationships, plenty of LGBT luminaries were on hand to denounce the protesters. Even those lobby groups that have previously slammed the EHRC for clarifying the law in ways they don't appreciate – like Stonewall and the LGBT Foundation – are yet to make any statement on the piss protest. Presumably, they have enough wit to recognise that there is nothing good they can say. Standing with piss-soaked performance artists might be bad for public relations. But if they denounce any form of trans activism, no matter how absurd, this could land them in the urinal crosshairs next.
The activists of Pissed Off Trannies have done their opponents a huge favour. No one sane could look at the image of a man wearing a balaclava and urine-drenched ballgown and think: 'Yes, that is exactly the kind of person who should be let into the ladies' lavatory along with little girls.' Indeed, most tolerant people would be prepared to accept that such performances have a place on niche fetish websites – but not in women's changing rooms, toilets or hospital wards.
Those trans activists really exposed themselves yesterday. This was a dirty protest, organised by infantile activists who don't like being told the word 'No'.
Jo Bartosch is a journalist campaigning for the rights of women and girls.
To enquire about republishing spiked's content, a right to reply or to request a correction, please contact the managing editor, Viv Regan.