Will Germany bring down the Eurozone?
Europe's strongest economy is being decimated by the energy crisis.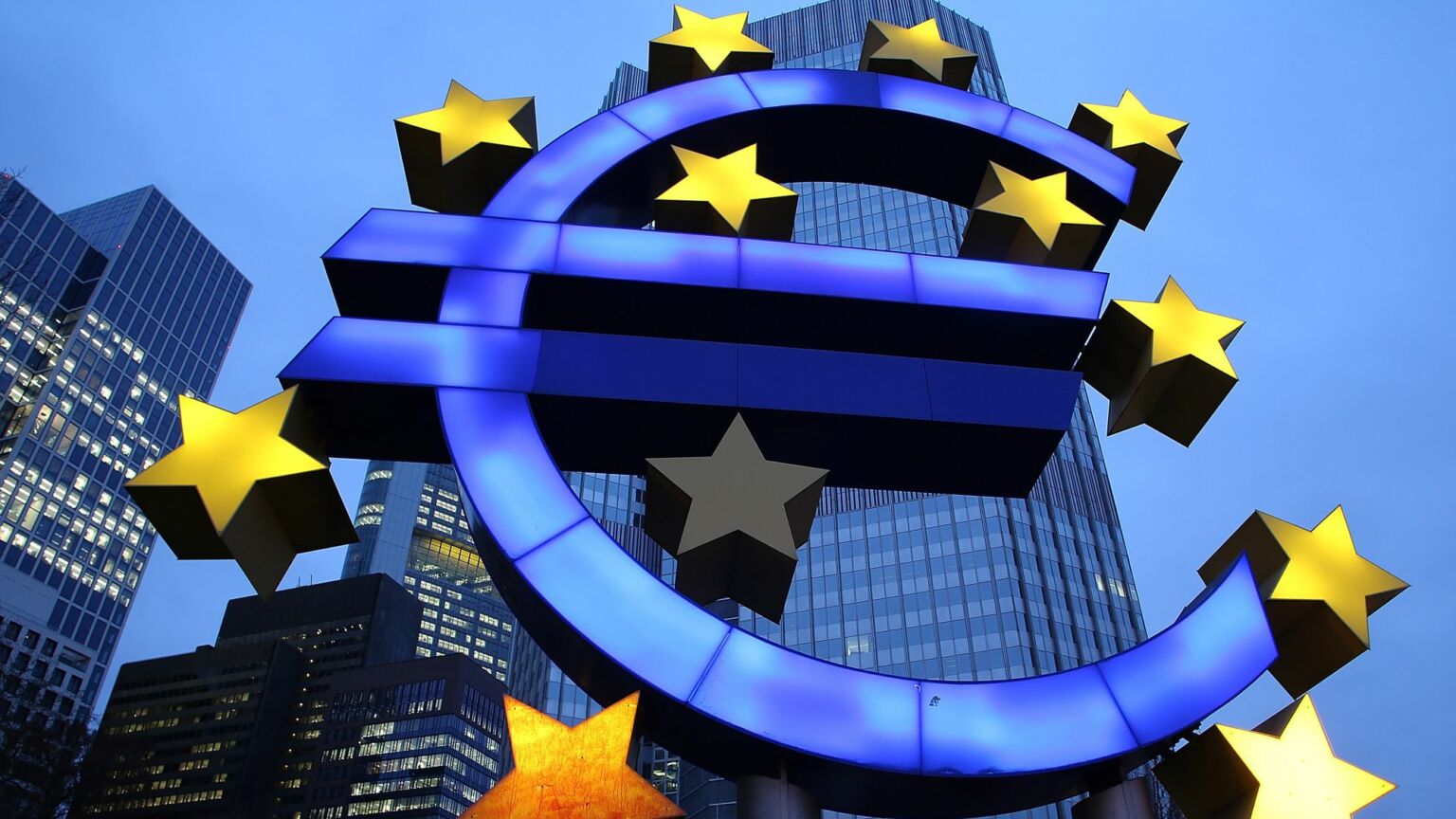 In Germany, several looming crises have dominated the headlines this summer – in particular, the energy crisis, the so-called climate crisis and the broader economic crisis. But there is one emerging crisis that barely gets a mention – the Eurozone crisis.
The outlook for the Eurozone is bleak. Last week, the Euro fell below parity with the dollar, its lowest level in 20 years. And in July, the Eurozone's inflation rate reached a record high of 8.9 per cent, and it continues to rise. As a result the ECB is expected to raise interest rates by 0.75 per cent on Thursday, the fastest hike in its history. The Eurozone also reached a record trade deficit in June, which rose to €30.8 billion (up by €3.6 billion from May). This caught economists by surprise, as they had expected the trade deficit to shrink.
The Eurozone is clearly in big trouble, yet in Germany, there is very little discussion about it. As far as Germany's elites are concerned, you can understand why. First, because so much of what is dragging the Eurozone into this crisis stems from Germany's own bad decisions. And second, because a debate about the future of the Eurozone is the last thing the pro-EU establishment needs.
Fundamentally, the growing Eurozone crisis is an extension of the crisis in Germany itself. So dependent on Germany is the Eurozone that the economic shocks hitting Germany will soon be felt across the continent. 'If the Euro fails, Europe fails', said former German chancellor Angela Merkel at the height of the Euro sovereign debt crisis in 2010. Now it's a case of, if Germany fails, the Eurozone fails.
German politicians tell us that Russia's shameful invasion of Ukraine is responsible for the current economic crisis. But this is only part of the story. The causes go back much further. The Eurozone's inflation rate, for example, has been rising since last summer (in January, it was 5.1 per cent, well above the European Central Bank's target of two per cent). More importantly, Germany has been struggling with sluggish growth rates for years. German GDP grew by a paltry 1.1 per cent in 2019. The following year, thanks mainly to the pandemic lockdowns, Germany's GDP shrank by 3.7 per cent. Although Germany's economy grew again in 2021, by 2.6 per cent, its recovery was far slower than economists had expected.
Nevertheless, despite these lingering problems, it still came as a shock when it was announced in July that Germany had, for the first time in decades, recorded a monthly trade deficit. The last time this had happened was in 1991 – the turbulent year of reunification. Though a current-account deficit of €1 billion might not sound very high, it's a bad omen for Germany, whose growth has depended primarily on its exports. This is bound to affect the Eurozone, too. As Matthew Lynn writes in the Spectator, until this year Germany had been the only major member state with a consistent trade surplus. So it is no wonder that as Germany falters, the Euro as a whole is quickly losing value, not only against the US dollar, but even against the Swiss Franc, too.
Unlike in 1992, when Germans were largely optimistic and positive after the fall of the Berlin Wall, the mood this time around is dire. The German public is being told to brace itself for very hard times. As a piece in economics magazine Wirtschaftswoche puts it: 'Material shortages, energy bottlenecks, high inflation rates and rising interest rates – the headwinds for Germany's economy are fiercer than ever before.' Joachim Nagel, president of the Bundesbank (Germany's central bank), is predicting that the inflation rate will rise to 10 per cent in autumn due to rocketing gas and electricity prices. To prepare for what is around the corner, households have been warned to take last year's energy costs and multiply them by a factor of 2.5.
Of course, none of these problems are unique to Germany. But as Germany slumps, the inherent weaknesses of the Eurozone will also become ever more apparent. For years, we have been told that the sovereign debt crisis in the Eurozone had been resolved. But it hasn't – a fact that is now slowly dawning on more and more people.
In 2010, the sovereign debt crisis brought the Euro to the brink of collapse. This was widely blamed on the likes of Greece borrowing too much money. Back in 2009, Greece's sovereign debt ratio reached 128 per cent of GDP. Yet, for all the harsh austerity measures inflicted on Greece by the EU since then, its debt has only increased. Last year Greece's national debt was 200 per cent. And after two years of on-off lockdowns, debt levels in Spain and Italy have also climbed to 120 per cent and 155 per cent of GDP respectively. In June, Italy's public debt reached the dizzying height of almost €2.8 trillion.
Clearly, the Eurozone is in a perilous position. However, it is still too early to predict its collapse. European elites, having tied themselves ever more closely to the EU and its flawed structures, will do anything to preserve it. But as the Eurozone crisis unfolds in Germany, public confidence in the foresight of the pro-EU elites will continue to fall.
Germany's political establishment are trying to blame the war in Ukraine for the profound problems that Europe now faces. In doing so, it is trying to dodge responsibility for its past mistakes. After all, it was Angela Merkel's foolish decision to abandon nuclear power in 2011 that led to Germany's fateful dependence on Russian gas – a leading cause of today's energy crisis.
It will be normal citizens who will have to pay the price for these past mistakes. But who will pay the bill if the Eurozone itself collapses, especially if Europe's leading economy is struggling with its own crises? This is a crucial question that we may soon need to answer.
Sabine Beppler-Spahl is spiked's Germany correspondent.
To enquire about republishing spiked's content, a right to reply or to request a correction, please contact the managing editor, Viv Regan.