The attack on Salman Rushdie is an attack on us all
We must stop giving in to this evil. Time to fight for freedom of speech.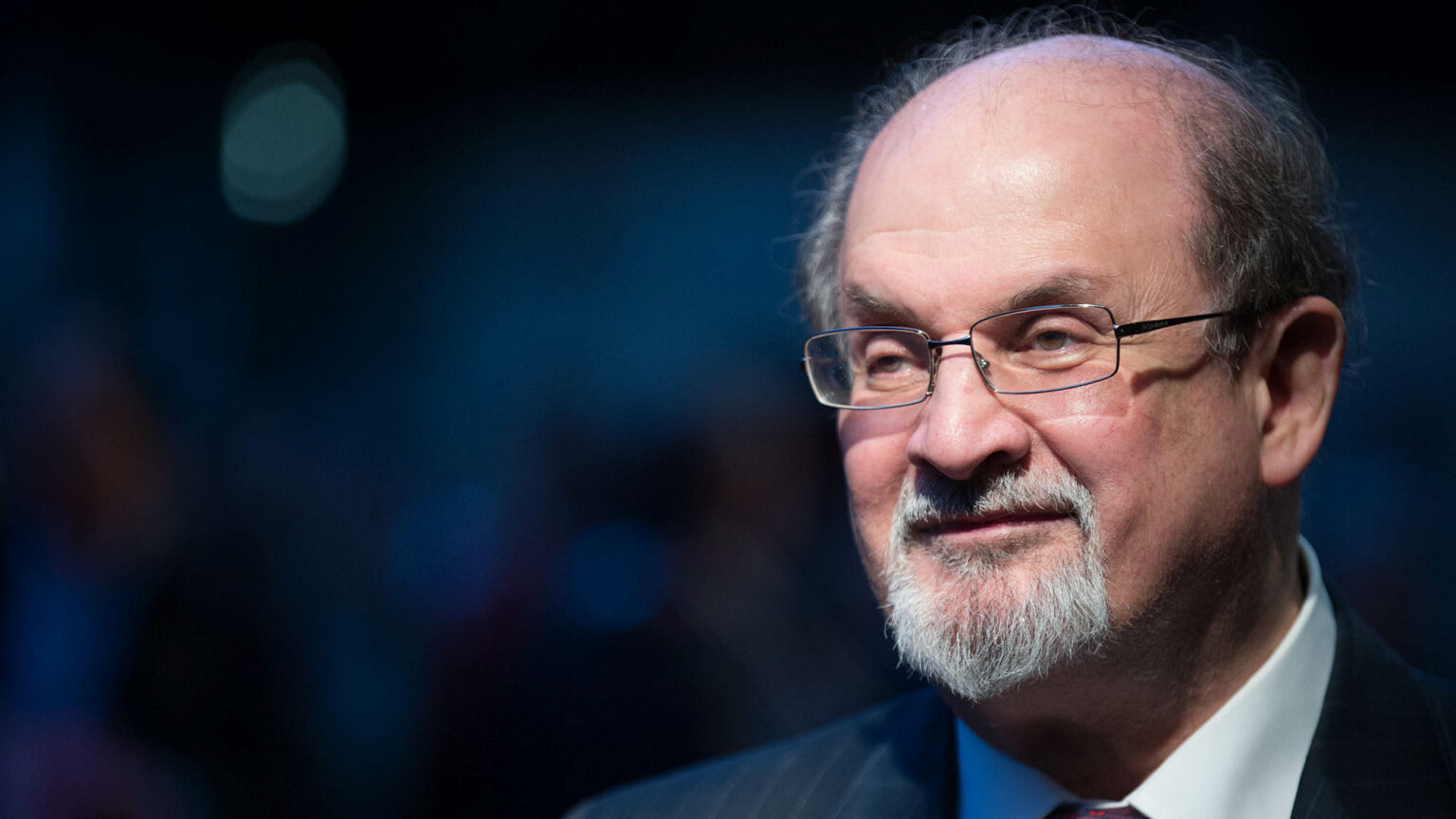 The thought of it turns the stomach. A man stabbed for writing a book. And not just any man, but Salman Rushdie. The author with the price on his head. The author of the The Satanic Verses, the novel burned by Islamists around the world. The author whose act of 'blasphemy' at the tailend of the 20th century showed us just how deep the problem of Islamist intolerance is – and just how deep Western liberal cowardice is in the face of this most violent and unhinged variant of cancel culture.
We are all praying for Salman Rushdie today, even us godless types. He was airlifted to hospital yesterday after being stabbed multiple times in the neck and abdomen on stage at an event in New York. Rushdie's agent, Andrew Wylie, says he is on a ventilator and unable to speak. 'Salman will likely lose one eye; the nerves in his arm were severed; and his liver was stabbed and damaged', he says. Those who believe in freedom the world over are willing him to pull through.
We are not yet sure why the suspect – 24-year-old Hadi Matar from New Jersey – rushed on stage and stabbed Rushdie in reportedly crazed fashion. But we can make an educated guess. For more than 30 years Rushdie has lived under an execution order. On 14 February 1989, Iran's Ayatollah Khomeini issued a fatwa against him and anyone involved in publishing his 'blasphemous' fourth novel. He went into hiding for nine years. The book's Japanese translator was stabbed to death in 1991. Its Turkish translator narrowly escaped an Islamist arson attack in 1993, which claimed the lives of 37 others.
Rushdie has been leading a relatively free life in recent years. 'It feels like ancient history to me', he said of the fatwa in an interview in 2018. He said then he was happy that The Satanic Verses could now be appreciated on its own terms. 'Now, after all this time, it's finally been able to have the ordinary life of a book.' But the threat was always there. While the Iranian government has distanced itself from the fatwa – and is silent on Rushdie today – it remained in place. The $3million bounty was topped up by another $500,000 in 2012, by a 'quasi-official Iranian religious foundation'.
Now – quite probably – Rushdie has finally paid a most awful price for his right to freedom of expression. One cannot overstate the significance of this. Islamist intolerance has spread like cancer since 1989. Yesterday it may well have come perilously close to chalking up one of its most symbolic victories. The attack is a reminder of how barbaric, backward and yet also pathetic this ideology is. A 75-year-old man stabbed by some scumbag a third of his age. Over offence. Over hurt feelings. Over a book.
Enough. We have put up with this evil for far too long. First there was the fatwa. Then there were the Danish cartoons. Then there was Charlie Hebdo. Then there was Samuel Paty. Even where guns and knives and bombs aren't involved, we see Islamist censorship being meted out in Western societies with alarming effectiveness. In Britain, the Batley Grammar teacher remains in hiding after showing Muhammad cartoons to his class over a year ago. A few months ago cinema chains across the country pulled screenings of a 'blasphemous' film because a bunch of lunatics showed up to protest outside of their branches.
Worse still, we don't just give in to the sensitivities of Islamists, for fear of violent reprisals. We've internalised them. Our cultural elites pretty much share in them. In 2008, Random House dropped plans to publish The Jewel of Medina, a novel by Sherry Jones, which tells the story of Muhammad's relationship with his 14-year-old wife Aisha. All because it 'might be offensive to some in the Muslim community'. If you too stridently criticise or mock Islam, you'll be accused of Islamophobia – a term popularised by Islamists. A Belfast pastor was put on trial in 2015 for a 'grossly offensive' sermon. His speech crime? He called Islam 'Satanic'. We're all ayatollahs now.
Our new blasphemy laws were inked in liberal cowardice. And the Rushdie affair revealed the scale of that cowardice. Too many in public life failed to defend him in 1989. They ummed and ahhed and caveated their condemnation of Khomeini with condemnation of Rushdie. Former US president Jimmy Carter called The Satanic Verses an 'insult' to Muslims, less than a month after the fatwa was issued. When Rushdie was given a knighthood in 2007, there was uproar. The late 'Liberal Democrat' peer Shirley Williams said it was 'not wise and not very clever' to give a man who had 'deeply offended Muslims' such an honour.
This censoriousness is not just some foreign import, of course. The Rushdie affair exposed the West's homegrown culture of censorship and its drift away from liberal values, towards an ideology of multiculturalism that patronises the very groups it claims to protect, treating Muslims as though they are fundamentally unlike us, incapable of being tolerant, free citizens. Across the West, the conviction that words wound and that heretics must be dispensed with has fostered a climate that is almost absurdly censorious. People often say The Satanic Verses wouldn't be published today. Which is almost certainly true. But if we're being honest Harry Potter probably wouldn't be published today, either – not for its occultist content but for the unspeakable views of the series' gender-critical author.
The Islamist vengeance that Rushdie has suffered shows us where you end up when you abandon free speech. When giving offence becomes a moral crime. When you say that speech is violence. You end up with violence and unreason and terror. So to all those who have looked at their shoelaces as this poison has built up, it is time to pick a side. Those who believe in freedom and humanity need to speak up for Salman Rushdie – and all the other heretics. And do not even think of saying 'but…'. The attack on Rushdie is an attack on us all. Let's make freedom of speech, the cause of his life, the cause of our time.
Tom Slater is editor of spiked. Follow him on Twitter: @Tom_Slater_
To enquire about republishing spiked's content, a right to reply or to request a correction, please contact the managing editor, Viv Regan.