You can't be independent and in the EU
The SNP's rampant Europhilia shows it cares nothing for democracy.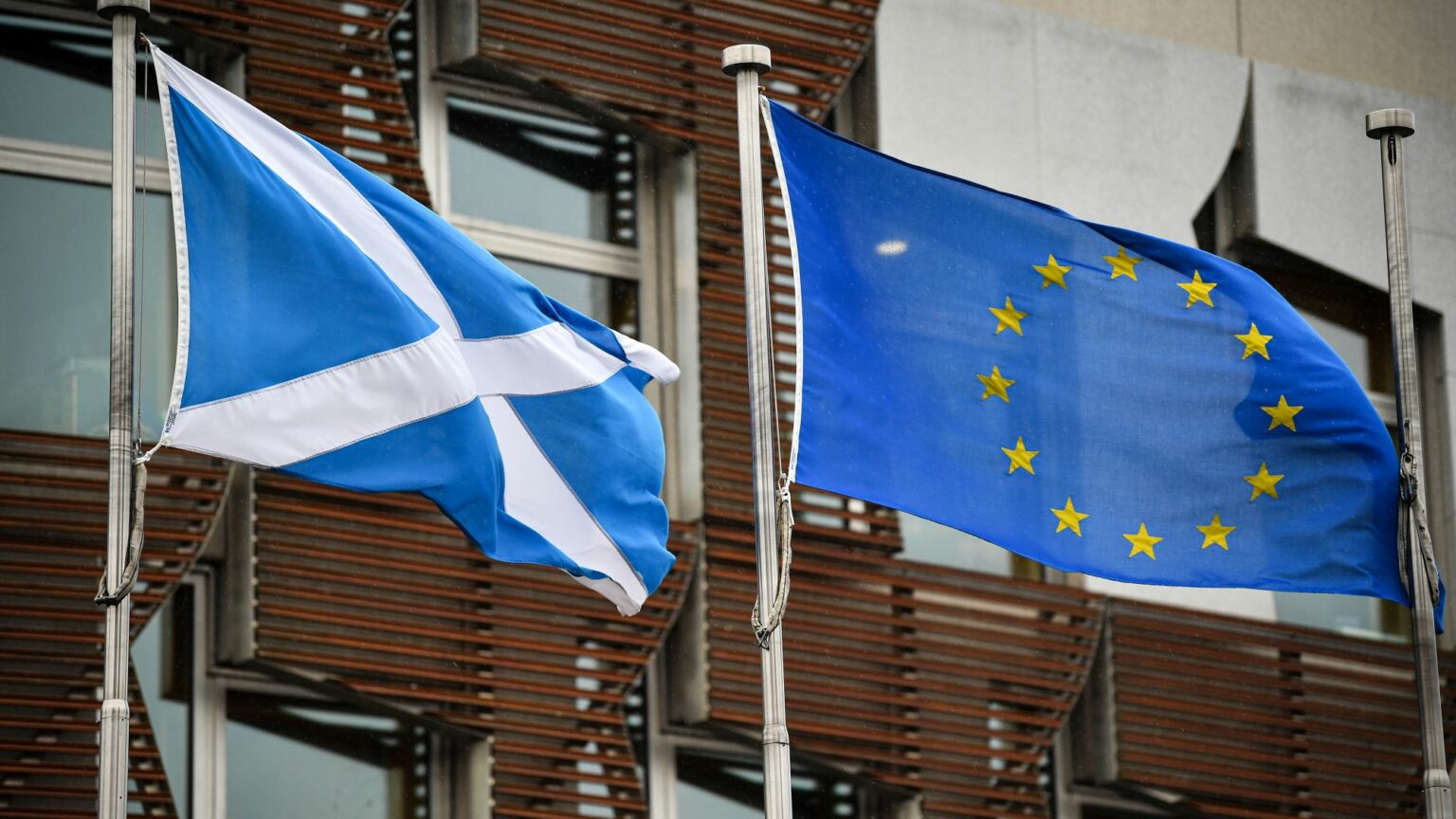 Nicola Sturgeon loves to talk about independence – the only question is, independence from what? Alongside her Scottish Greens ally, Patrick Harvie, the Scottish first minister announced in June her intention to hold a second referendum on Scottish independence, proposed for October 2023. This came alongside a glossy Scottish government White Paper on the benefits of voting to leave the UK, modestly titled Independence in the Modern World.
However, there is one gaping hole in the SNP's independence prospectus – it wants an independent Scotland to join the EU. This is a problem for the independence campaign. Not only would this present a barrier to true independence, it would also anger a substantial though largely ignored section of the pro-independence electorate.
Despite the fact that there was no visible campaign for Brexit in Scotland in the run-up to the 2016 referendum, over one million Scots still voted Leave. Subsequent polling revealed 36 per cent of SNP voters favoured being outside the EU. That is over 366,000 Scots – a crucial bloc of voters.
I call these voters 'double outers', and I count myself among them. Although I have never voted SNP, I voted Yes in 2014 and Leave in 2016. Most Westminster politicians are too out-of-touch with Scotland for my taste – and the technocrats in Brussels are even worse.
But Scottish independence will be an uphill battle. In 2014, the independence campaign lost the referendum by a margin of 383,937 votes, a 45-55 split. And despite a tumultuous decade of UK politics, the dial has barely shifted in the years since. Indeed, of the last 10 polls conducted, only one showed a majority for Scottish independence. By my count, that means the independence side needs support from at least 200,000 more voters to succeed. So for Scottish nationalists, there is still a lot of work to do.
So there could hardly be a worse possible time for the SNP to be alienating potential Yes voters. Yet Sturgeon and Co have spent much of their time in power focusing largely on fringe issues only a coterie of woke SNP activists are interested in. The SNP's obsession with the EU is causing the party to haemorrhage support from Eurosceptic Scottish nationalists. But this is just one area where the SNP has lost its way.
The Scottish government's reckless Net Zero plans, supported by its Green coalition partners, threaten to cut over 100,000 oil-and-gas jobs. The SNP government, also thanks to the Greens' influence, has even come out against expanding Scotland's nuclear-power capacity – despite the fact that nuclear is a carbon-free energy source.
What's more, the SNP has taken an extreme stance on trans issues. The SNP is currently seeking to impose a code of conduct on independence activists, in an effort to ban gender-critical feminists from taking part in the next referendum campaign. As one critic summed up the move: 'If you call a transwoman a biological man… you're guilty of transphobia [and] you're expelled from the Yes movement.'
Eurosceptic nationalists are especially turned off by the SNP's Europhilia and its woke posturing. Jim Spence, a BBC Sport broadcaster and former SNP member and candidate, told me: '[The SNP] wants independence within the EU and that's fine. That's its prerogative. I happen to believe that is not independence. Bluntly, I'd remain within the UK before I'd do that.'
Spence still remembers the days when the SNP was a staunchly Eurosceptic party. In the 1975 referendum on the Common Market, the SNP campaigned to leave. Then party leader Billy Wolfe warned that continued Common Market membership would mean 'a political dark age of remote control and undemocratic government' for Scotland. While Donald Stewart, another party grandee, went even further in his condemnation of Brussels: '[The EEC] represents everything our party has fought against: centralisation, undemocratic procedures, power politics and a fetish for abolishing cultural differences.'
Yet from 1990, under Alex Salmond, the SNP switched to a position of independence within Europe. Ostensibly, this was about 'modernising' the party. But many older and former SNP members maintain that there can be no true Scottish independence while accepting EU diktats.
Even Nicola Sturgeon, today an arch Europhile, has historically argued for a more Eurosceptic form of nationalism. In 2004, as a Glasgow Times columnist, she condemned further EU integration, calling for an 'immediate withdrawal from the Common Fisheries Policy'. She also warned of the 'creeping EU influence in our criminal and civil legal systems' – a familiar refrain for Brexiteers appalled at the power of unelected Brussels bureaucrats.
As it stands, Sturgeon's dream of a 2023 referendum is likely to remain just a dream. She currently has no route to holding an internationally recognised or legally binding referendum – an unwelcome fact that the Supreme Court will likely remind her of soon. And so any referendum that is held would only be advisory, risking a Unionist boycott.
As things stand, Sturgeon does not have the people of Scotland on side – and her posturing is only driving them further away. Scottish independence feels more unlikely than ever.
Ewan Gurr is a columnist for the Evening Telegraph, advisor on social security in Scotland and the treasurer of Restore Scotland.
To enquire about republishing spiked's content, a right to reply or to request a correction, please contact the managing editor, Viv Regan.