The American dream is over
The most basic hallmarks of middle-class life have now fallen out of reach for millions.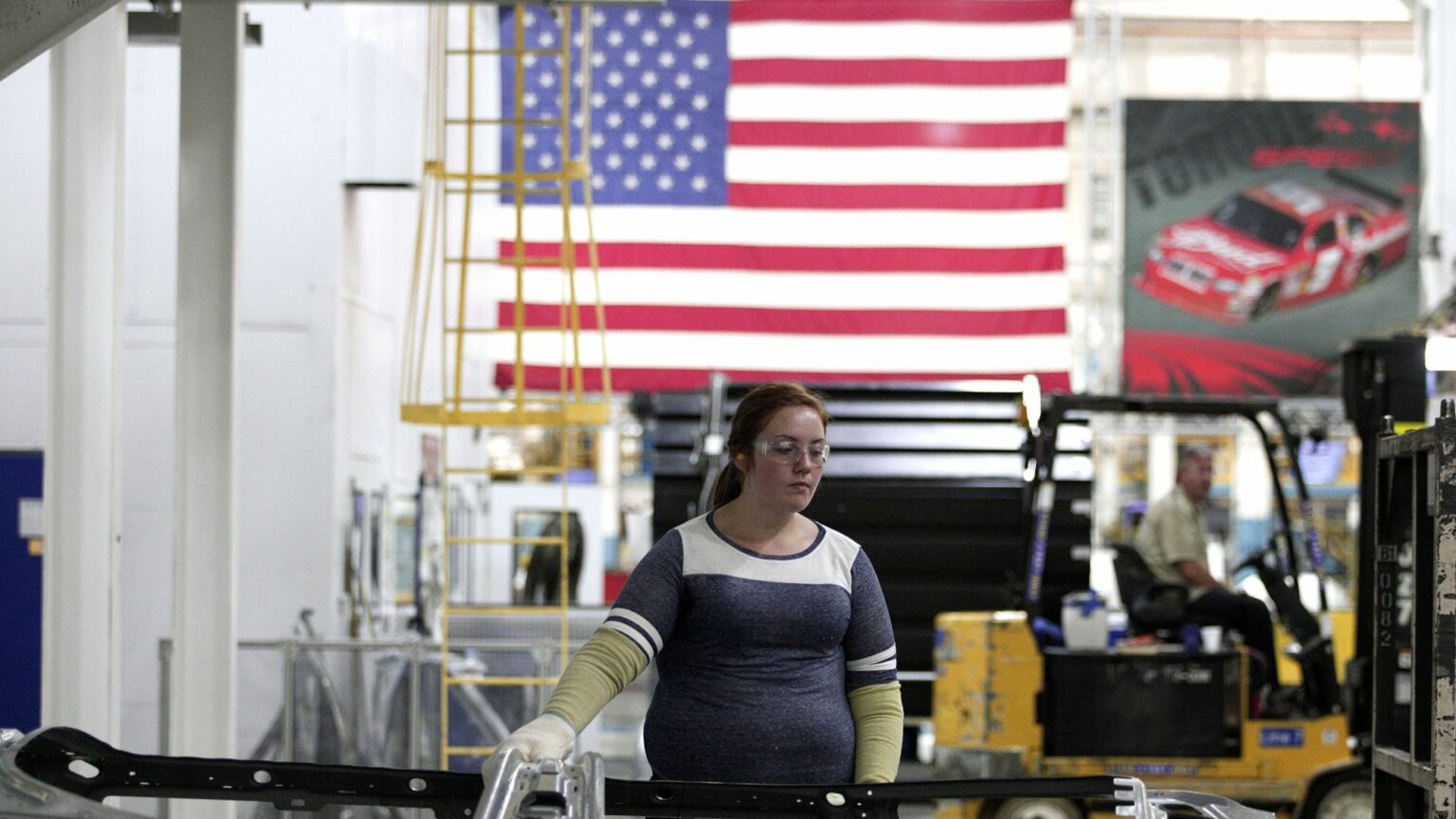 Much of last week was taken up with arguments over the definition of a 'recession'. After Thursday's GDP report revealed that the US's economic growth fell for the second quarter in a row, by 0.9 per cent, many pointed out that this meets the technical definition of a recession – a fall in GDP in two successive quarters.
But the White House pushed back, pointing to the strong labour market as evidence that we shouldn't view this as a recession, but rather as 'transitioning from a historically strong recovery into a period of more stable and steady growth.' Critics accused the White House of gaslighting – something the Biden administration does often and with abandon. But in this case, I think the Biden administration has a something of a point. This is not a normal recession.
It is right to say that the US labour market is strong. There are 11million unfilled jobs, and the economy has been adding about 400,000 jobs a month. Spend five minutes walking around your neighborhood talking to local business owners and you'll learn that everyone is struggling to find workers. It seems extremely unlikely that this recession will lead to major layoffs. For now the opposite seems to be happening.
What's more, US labour costs increased in the second quarter of 2022, boosting higher wages. Pay in construction has grown by four per cent since last year. In manufacturing, it has grown by 5.1 per cent. Manufacturing also has a vacancy rate of 6.7 per cent. Meanwhile, pay in leisure and hospitality grew by 7.8 per cent. If it weren't for inflation, these numbers would represent the highest wage growth that workers have seen in 40 years. Instead, inflation is driving down real wages and devastating American families. When inflation is 9.1 per cent, you are still bringing home less money, even if you manage to get an eight per cent raise.
There is an awful irony to the fact that people are finally seeing a wage increase after 40 years, only to have it eaten up at the gas pump and the grocery store. Whether we call this a recession or not, people are feeling the pinch.
We need to understand what's happening to the US economy on its own terms and in its full context. I spoke to Rana Foroohar, a business columnist and associate editor at the Financial Times, and she pointed out that pre-pandemic, the US had been in the longest expansionary period it has had since 1845, essentially when we started keeping records. The reason for this prolongued period of 'growth' is that since the 2008 global financial crisis, the Federal Reserve had been keeping interest rates low and engaging in 'quantitative easing' – that is, it was pumping money into the economy. The effect had been to artificially stretch out the business cycle by bolstering asset prices and making it easier to borrow. 'The Fed can't build a new factory, but it can make rates low and make it easy for you to borrow money and cheap', Foroohar explained.
But this period of extended growth was due to come to an end in 2020 – and then the pandemic hit, which added a huge wildcard to the expected slowdown. It meant that across the world, countries formerly tied together by the global market were out of sync, closing down and opening back up again at different times, causing havoc with supply chains. And then, there was a third wildcard – the war in Ukraine, which has fueled a global energy and food shock.
Another unusual side to this recession is that the S&P 500 recently reported its biggest monthly gains since 2020. Stocks rallied when investors began to believe that the Federal Reserve might not be as aggressive in raising interest rates as they had feared. And even as GDP has fallen, exports have expanded, rising at a whopping 18 per cent on last year.
So if the labour market and Wall Street are not in crisis, where is the recession really making itself known? Where has GDP contracted?
Remember those struggling American families? It's there. The constricting areas of the economy are in inventory, energy and housing.
Families are pulling back on buying electronics, furniture, food and gasoline. Consumer-goods giants Unilever, Kraft Heinz and Procter & Gamble are all bracing for consumers to cut back. Arm & Hammer is seeing more demand for low-cost laundry detergent and cat litter. Store-brand goods are gaining market share over brand name items – every little bit helps. McDonald's and Chipotle have said that low-income customers are coming in less and buying cheaper menu items.
As the Wall Street Journal puts it: 'Many consumers who weathered the pandemic, with the help of government stimulus and fewer expenses of their own, are running out of steam. Some of them now face the return of commuting costs, a need for new work clothes and steeper child-care expenses.'
With Americans buying fewer goods, companies have had to cut prices and accumulate less merchandise. The result is that inventories of food and cars are responsible for a large bulk of the slowdown.
In addition to gas and private inventories, a housing downturn is gathering steam. We all remember how housing prices surged throughout the pandemic. Between April 2020 and April 2021, the price of the average home increased by 16 per cent – the largest single year increase since 1992. As people fled cities during lockdown, you started to see stories about couples desperately bidding $50,000 over the asking price to buy homes they'd never even visited.
That period of runaway price growth is over, but problems still remain. Home sales have fallen by 20 per cent this year, and builders and agents are dropping prices to encourage new customers.
Nevertheless, housing is now the least affordable it has been since the 1980s. The average house price is more than six times the median household income, and interest rates for mortgages are now at an obscene six per cent. This has led developers to pull the brakes on building new housing, with residential investment falling by 12 per cent. This will only increase the mismatch between supply and demand, at a time when the US is already facing a huge housing shortage. Last year Freddie Mac estimated a shortage of 3.8million housing units.
This isn't a recession so much as a total assault on the middle class. From car-ownership and home ownership to being able to afford energy bills and eating out, the hallmarks of a middle-class life are being pulled further and further out of reach for millions and millions of Americans.
This is a longer-term problem, too. Yes, inflation is going to come down at some point. Gas prices are going to improve. But the one piece of this puzzle that's not going anywhere is the price of a home relative to wages.
While Democratic-leaning metro areas tend to have a higher wage floor, these are also the same places where the housing crisis is concentrated. Meanwhile, the mass migration from blue states to red states of the past few years has driven up the housing market in places like Florida and Texas – though not by enough to offset the red-blue housing divide. One study found that the average house sale price in 2019 in Democratic-leaning counties was $428,958, compared to nearly half that in Republican counties, where it was $245,085.
One thing these blue states have in common is their strict zoning laws, designed to protect both the environment and the character of elite neighbourhoods. The result has been much less investment and construction, leading to soaring prices. Middle- and working-class New Yorkers and Californians now find themselves competing with lawyers and software developers for a limited number of homes and apartments that no one feels they can afford.
And when liberals and the left do talk about housing and the need to build more of it, these conversations are almost always focused on the dependent poor. They often seem indifferent to the fact that most Americans aspire to home ownership. In elite left circles, there is a palpable antipathy for the American dream.
Left-wing compassion seems to be totally compatible with pulling up the ladder to a middle-class lifestyle from their working-class neighbours – like the people delivering their Amazon packages, the ones driving them home in an Uber or those stocking the shelves at their local grocery.
Which brings me back to the question of a recession. What we're seeing is less a normal recession and more of a radical acceleration of the pressures squeezing the middle classes that have long been at play. The housing market has long put home ownership out of reach for much of the working class. Combined with stagnant wages, this has eviscerated social mobility. And for those that do count themselves as middle class, these same pressures have eroded their spending power to the point where the current high inflation cannot easily be absorbed. It means that things like eating out are now no longer affordable, while gas prices are now limiting the mobility of middle-class families in a very literal way.
None of the trends that led here are new. It can't all be pinned on President Biden. The reversal of social mobility has been decades in the making. And it seems that our leaders on the left and on the right are struggling even to acknowledge the part they have played in this – let alone to offer solutions to it.
Batya Ungar-Sargon is deputy opinion editor at Newsweek and author of Bad News: How Woke Media is Undermining Democracy.
To enquire about republishing spiked's content, a right to reply or to request a correction, please contact the managing editor, Viv Regan.