A roar for women's rights
The Lionesses' victory is a reminder of why we must defend women's sport.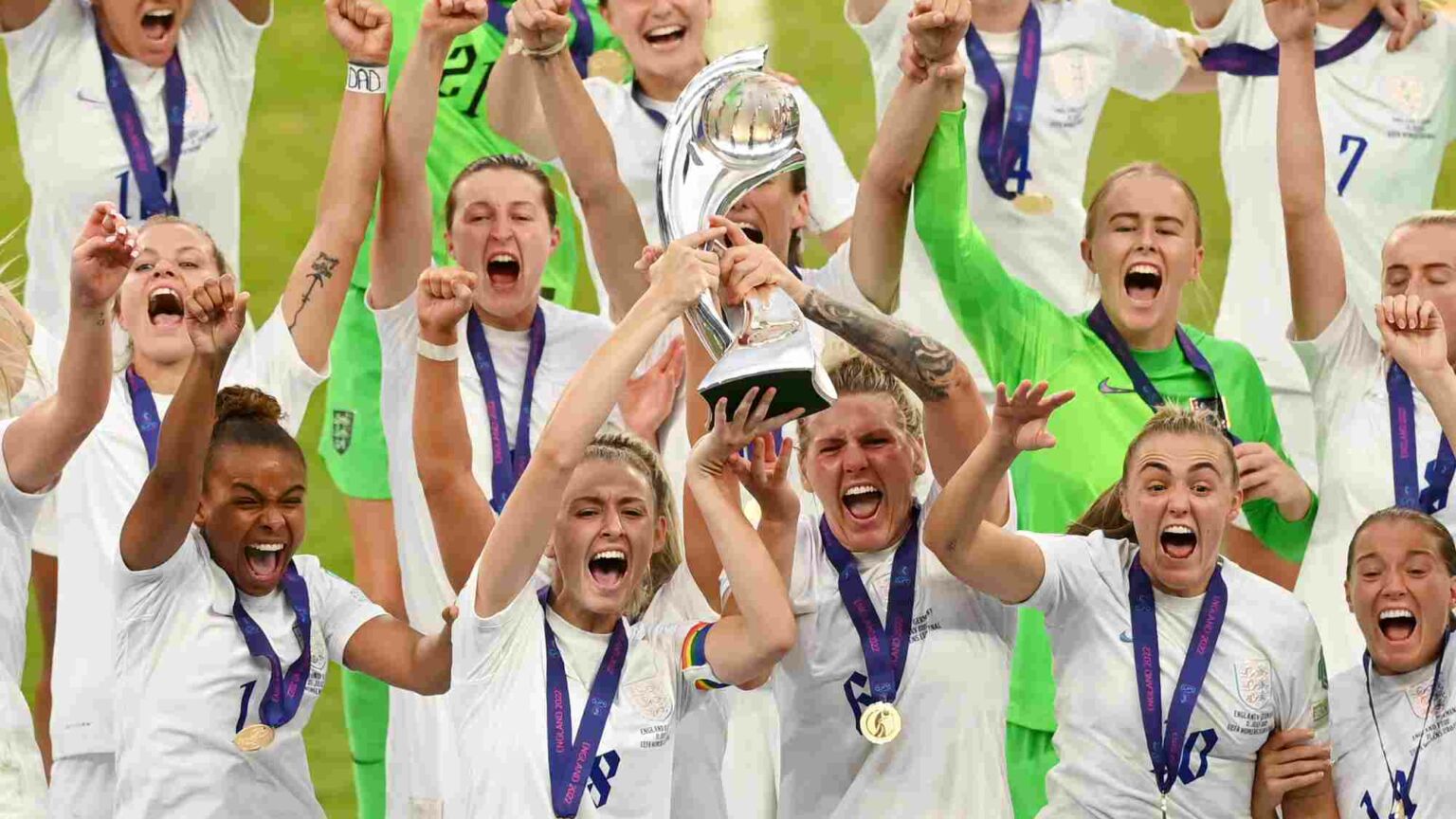 So it's come home, at last. The men couldn't do it, but the women did. In front of a packed-out Wembley Stadium of 90,000 spectators, and millions of viewers across the land, the Lionesses have won Euro 2022. They beat Germany 2-1. This is something really worth celebrating – England's first major football trophy since 1966, when the men's team also beat Germany, and also at Wembley. It is exactly what the doctor ordered for our otherwise troubled nation: a moment of pure sporting joy. Who could fail to be moved by the sight of these brilliant footballers celebrating their victory as heaving crowds of fans sang 'It's coming home, it's coming home…'? 'I'm buzzing me head off!', screamed goalscorer Ella Toone after the match, and we all know how she feels.
There are two things to cheer here. The first is the skill and flair of the footballers on that pitch. From Toone's perfect lob as she scored England's first goal to Chloe Kelly's miss and then hit as she nailed England's second goal, this was great play. Then there was Alessia Russo's powerhouse playing (I was exhausted just watching her), Leah Williamson's steady captaincy, and goalie Mary Earps' numerous suave saves. And how about Beth Mead? Top scorer of the tournament, and top assister too. Winner of the Golden Boot. A genuine European football champion. Not bad for someone who was omitted from the GB team at the Tokyo Olympics just one year ago. She showed them. The whole team did, in fact, proving beyond all reasonable doubt that women and football is a great combination.
And the second thing we should cheer is women's sport more broadly. It is thriving right now. Women are storming into sports that were traditionally seen as male pursuits, like horseracing, with the brilliant Rachael Blackmore, and darts, with fan favourite Fallon Sherrock. (All those sniffy observers who have long considered darts to be a gammon sport will surely have been taken aback by the sight of portly blokes on their seventh pint cheering Sherrock to win.) Then there's women's boxing, spearheaded by the likes of Nicola Adams, and of course women's athletics, which we'll see a lot of at the Commonwealth Games over the next week or so. The claim that England's victory over Germany today will put women's football on a par with men's football is no doubt a tad premature, but it is unquestionable that women's sport is being taken more seriously than it has ever been.
And that's great. But it is fragile, too. Because, sadly, women's sport is under attack right now. And not from old-style, leather-elbowed, monocle-wearing sexists who think a woman's place is in the kitchen rather than on the football pitch or in the boxing ring, but from supposedly right-on politicians, activists and thinkers. Anyone who claims to be a woman is literally a woman, these people madly believe, and that warped ideology has had predictably dire consequences for women's sport. There are some sports which, unlike horseracing or darts, must be divided by biological sex, because of the unfair advantages of strength and bone density conferred on men following the testosterone rush of male puberty. Which means that if blokes can say 'I'm a lady!' and then enter themselves into women's sports, sportswomen will be sidelined, forced into second and third place and robbed of their sporting glory by born males who ridiculously fantasise that they are women.
The alarming situation we find ourselves in right now is that we live under cultural elites that cheer on the Lionesses in one breath and then say 'What is a woman anyway?' in the next. Elites that congratulate the England women's team for their victory at Wembley while also believing that someone with a cock and balls should be allowed to play for the England women's team if he (it's transphobic to say 'he', I know) wants to. Consider Keir Starmer. This evening he congratulated the Lionesses for inspiring 'a generation of women and girls'. Are those women and girls with vaginas or penises? Starmer has previously decreed that the phrase 'only women have cervixes' is 'something that shouldn't be said… it is not right'. He was later flummoxed when a radio presenter asked him if a woman can have a penis. In the eyes of those co-opted by wokeness – a disturbing number of people in positions of power and influence – gender identity now trumps biological sex, which means that a man who feels like a woman can literally be a woman. And play in women's sports.
The impact of this eccentric, flat-earth ideology on sport has been terrible. We have seen six-foot-four men like Lia Thomas steal medals from actual women in collegiate swimming competitions in the US. Thomas was ranked No462 among male student swimmers – then, following a 'gender transition', he was ranked No1 among female swimmers. In the Eighties we frowned upon East German female swimmers who were pumped full of synthetic testosterone; now we cheer pretend female swimmers who are pumped full of natural testosterone. In cycling and weightlifting too, mediocre blokes have taken opportunities from hard-training women by identifying as female – and being accepted as such by the trans-corrupted elites.
This is the thing: some of the politicians and observers cheering the Lionesses hold to the idea that a lion can literally be a lioness if he identifies as one. Which makes their support for the women's team, and for women's sport more broadly, completely pointless. Just imagine if the German team had born males in it. Someone who was born Otto but now calls himself Ute, with more muscle and greater speed than our Toone or Kelly or Mead. Some would call that diversity. I would call it cheating. I would call it a misogynistic upending of the women's game. So if you are really on the side of the Lionesses, and of women, then you need to call out the cult of genderfluidity and the pernicious ways in which it undermines women's sport, women's spaces and women's rights. It was women who won this evening. If you don't understand what that means, then go away and have a serious word with yourself.
To enquire about republishing spiked's content, a right to reply or to request a correction, please contact the managing editor, Viv Regan.