Why Joe Biden must never declare a climate emergency
A state of emergency would be bad for democracy, freedom and living standards.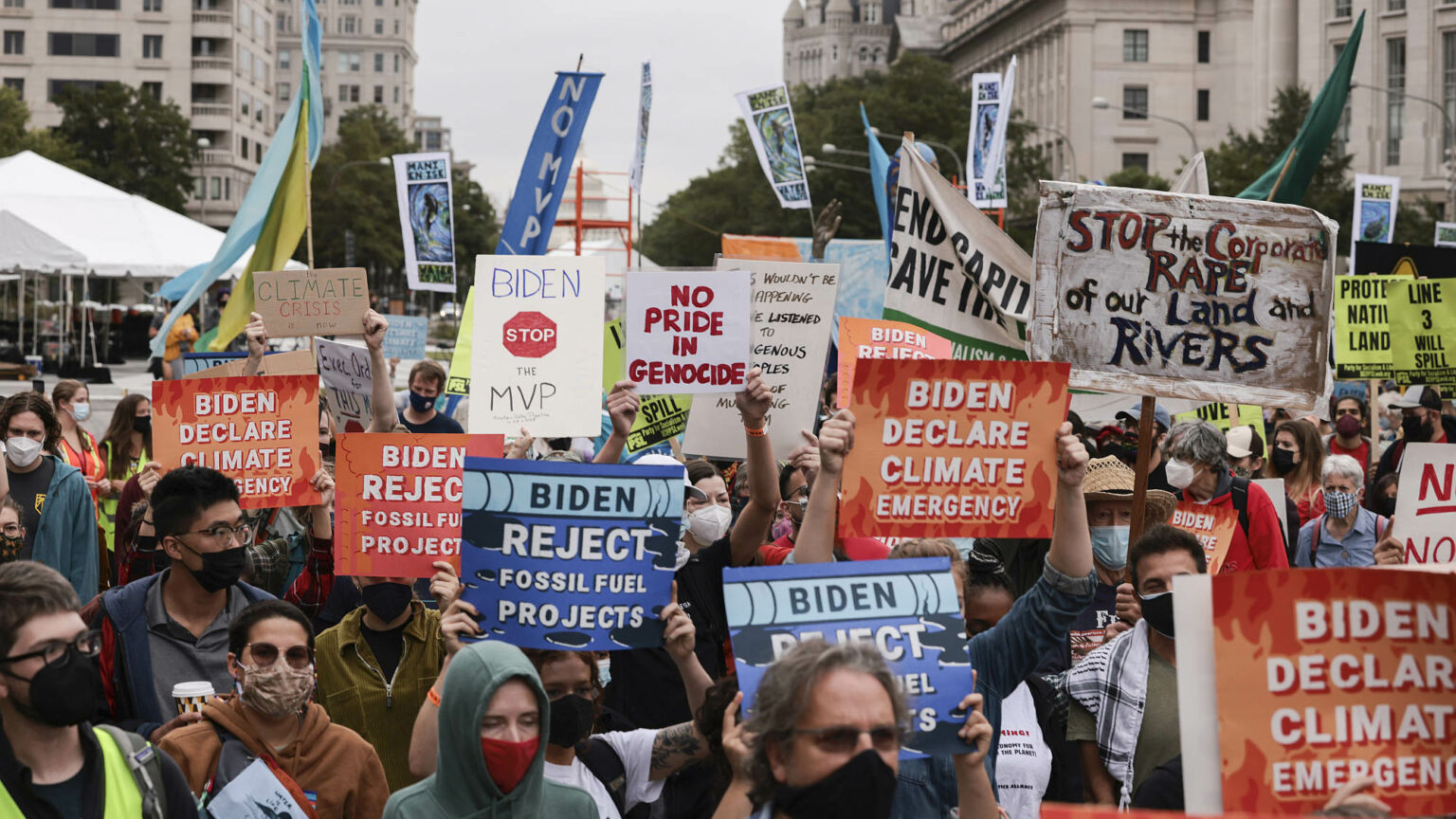 One of the most curious sights of the 21st century is radicals taking to the streets to demand a state of emergency. There was a time, back when politics was less crazy, when leftists and liberals were wary of emergency legislation. If a politician so much as uttered the word 'emergency' they'd be readying their placards and practicing their slogans. And with good reason. An 'emergency' is a deeply authoritarian affair. It involves suspending the normal political process on the basis that there's a threat on the horizon that is so massive – whether it be terrorism, war, disease or some political 'enemy within' – that it cannot be dealt with by mere democratic means. No, only swiftly enforced brute law will do; only the rescinding of civil liberty will suffice.
Why would anyone actively campaign for such an abnormal and illiberal style of government? And yet here we are, in the 2020s, watching the supposedly right-on line up in their hundreds of thousands to plead with officialdom to put us all under emergency measures. There is now a global campaign for governments to declare a 'climate emergency'. Green-leaning youths and their cheerleaders in the professional managerial elite march behind banners saying 'THIS IS AN EMERGENCY'. They gather outside parliament buildings waving placards saying: 'Declare a climate emergency!' We've come a long way since the generation of 1968. Back then, when West Germany threatened to introduce emergency legislation to deal with radical revolts, students and workers rose up in fury. 'Freiheit für alle!'' ('Freedom for all!') was their slogan. We've gone from youthful agitation against emergency laws in '68 to youthful pleading for emergency measures in the 2020s, and it beautifully sums up the decline and fall of the radical outlook.
The weirdly pro-emergency movement is currently angry with President Biden. Last week he stopped short of declaring a climate emergency. In a speech at a former coal-power station in Massachusetts – you have to love the anti-Industrial Revolution symbolism of it all – he said: 'Let me be clear: climate change is an emergency.' But he didn't declare a state of emergency. And that massively ticked off the eco-authoritarians. 'If this isn't a climate emergency, what is?', asked the New Yorker. Green activists were 'underwhelmed' by Biden, it reported. Hysteric-in-chief Al Gore said Biden needs to catch up because 'Mother Nature has already declared [climate change] a global emergency'. It is amazing to me that people like Gore don't get more flak for their regressive anthropomorphising of nature as an angry mother wagging her finger at humanity for its noxious ways.
To be clear, Biden did not stop short of declaring a climate emergency because he's a lover of liberty. In fact, he made it clear to reporters that he's not opposed to enforcing an eco-emergency over the land of the free – he just needs to weigh how much power he has to do such a thing. 'I'm running the traps on the totality of the authority I have', he said. Now that is what should get radicals on to the streets. Not the fact that Biden has thus far refused to declare a climate emergency but the fact he is taking advice on the 'totality' of his political power and whether it will allow him to do what apparently needs to be done. A president threatening to exercise total power in the name of combatting an allegedly evil menace is really worth protesting about.
And make no mistake – if Biden were to declare a climate emergency, it would have disastrous consequences. For democracy, liberty and living standards. Indeed, the pro-emergency lobby openly celebrates the fact that an eco-emergency would allow the president to rise above pesky democracy. Biden's environmental agenda is currently stalled in the Senate, thanks in part to the interventions of Democratic senator Joe Manchin. But he can force it through anyway, they say, via the authoritarian tool of an emergency. As Democratic senator Jeff Merkley says, it 'unchains the president from waiting for Congress to act'. Politico says a state of emergency would 'unlock potent tools for Biden', allowing him to take drastic unilateral measures to cut emissions. Democratic debate be damned – let's just act.
And what actions are the emergency agitators dreaming of? The suspension of offshore oil drilling, a ban on US exports of crude oil, and measures to encourage people to 'cut… back on driving'. Yes, all of this would impact on people's livelihoods and bank balances, but tough luck, say the emergency set. 'Higher energy prices will eat into consumers' pocketbooks and slow the economy', says a writer for the Washington Post. '[But] what's important for the president to understand is that we have no choice.' No wonder they're so keen on the politics of emergency – they know their immiserating, liberty-crushing measures would not be popular, and so they long to force them through by diktat in place of democracy. The elites' dream of enforcing a climate emergency is the best proof one could ask for that they have completely lost touch with the needs and concerns of ordinary people.
Climate emergencies are being declared all around the world, from Scotland to New Zealand to Japan. And it is precisely a suspicion of democracy that underpins them. For years now, leading greens have been insisting that democracy is not up to the task of combatting climate change. Chief green ideologue James Lovelock says human beings have not yet 'evolved to the point where we're clever enough to handle a complex situation [like] climate change'. And because we're so dumb, it may be necessary 'to put democracy on hold for a while'. Democracy is the main barrier to effective climate-change measures, leading greens claim. This is why we need 'hard government legislation', writers insist. It is the elites' loss of faith in democratic deliberation, and their lack of care for how people live, that draws them to the ideology of emergency and to the tyranny that would flow from it.
We seem to live in a permanent state of emergency, from terrorism to Covid, all of it entailing new laws restricting liberty and choice. A climate emergency would be even worse because it would last far longer. Indeed, there's a book titled The Long Emergency. A climate emergency potentially empowers governments ad infinitum to take whatever steps they deem necessary to hold back the eco-apocalypse they claim is just around the corner. And don't even bother trying to challenge their warnings of imminent eco-doom by pointing out, for example, that deaths from extreme weather have fallen dramatically over the past century, and that life expectancy has risen, and poverty declined, in tandem with the industrialised modernity they so despise. You'll only be called a 'denier' and threatened with expulsion from polite society. That's another function of the politics of emergency – the censure of anyone who dares to dissent, and the branding of them as 'friends' of the menace that society is trying to tackle.
We are constantly being readied for the shrivelled existence of life under an eco-emergency. The hysteria over last week's heatwave in Europe was the latest effort by officials and agitators to terrify us into believing that the end is near and that only emergency measures can save us. It is all so dispiriting. The fear of climate change is now a larger threat to humanity than climate change itself, since it encourages a culture of dread that is clearly not conducive to the confidence and sense of connectedness that society needs in order to thrive. One is reminded of the words of CS Lewis, who believed fear of the atomic bomb had become a debilitating malady. The cure is simple, he said: we must 'pull ourselves together' and stop living 'huddled together like frightened sheep and thinking about bombs'. Let's now do the same with climate change.
To enquire about republishing spiked's content, a right to reply or to request a correction, please contact the managing editor, Viv Regan.