Can Penny Mordaunt be trusted on trans ideology?
The Tory leadership hopeful was once a fierce advocate of gender Flat Earthism.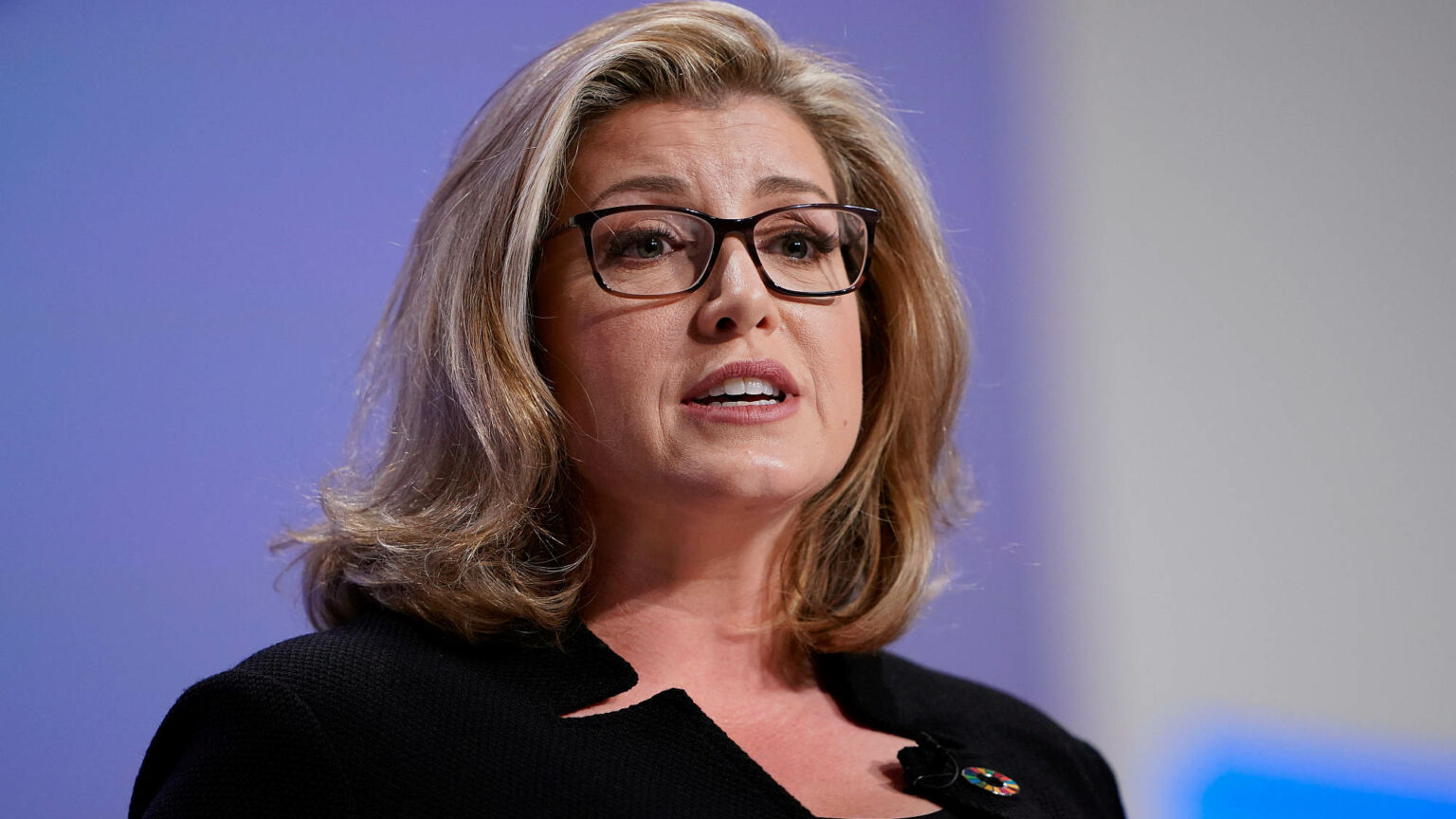 'What is a woman?' This straightforward question can send even the most straight-talking politicians crashing into the rocks. Where politicians once feared a doorstepping from journalists demanding to know the price of a pint of milk, now they are terrified of being asked 'Can a woman have a penis?' or 'Do only women have cervixes?'.
These are the questions that could – or really should – torpedo the chances of Tory leadership hopeful Penny Mordaunt. Infamously, Mordaunt once stood up in the House of Commons to declare that 'transwomen are women'. And in the past, she lobbied hard for the law to be brought into line with the new gender ideology.
The trade minister, MP for Portsmouth North and Royal Navy reservist has emerged as an unlikely frontrunner in the Tory leadership race. Few non-politicos will have heard of Mordaunt, despite her past roles as defence secretary, equalities minister and international-development minister. Perhaps even fewer watched her bomb as a contestant on ITV's Splash. Yet she is currently first in Conservative Home's polling of Tory members, and second in the bookies' odds, behind ex-chancellor Rishi Sunak.
Mordaunt has pitched herself as a pragmatist and a patriot – almost to the point of parody. Indeed, the video launching her leadership bid – soundtracked with 'I Vow to Thee, My Country' and featuring montages of Captain Tom, past Tory leaders and grateful, smiling subjects – bears more than a passing resemblance to Chris Morris's spoof emergency broadcast on The Day Today.
'Our leadership… needs to become a little less about the leader and a lot more about the ship', Mordaunt announces in the video. But she has spent much of her campaign so far trying to turn around the tanker when it comes to the trans question.
'Do I know what a woman is?', Mordaunt tweeted on Sunday, anticipating the attacks on her past stances. 'I am biologically a woman. If I have a hysterectomy or mastectomy, I am still a woman. And I am legally a woman. Some people born male and who have been through the gender-recognition process are also legally female. That DOES NOT mean they are biological women, like me', she wrote.
This was then followed by a thread on various pro-women interventions she has made. She listed standing up for women's sport, questioning the medical transitioning of teenage girls and changing maternity legislation to remove gender-neutral language and replace it with female-specific terms.
Except, on the last point, Mordaunt was caught sailing close to the wind. The maternity law in question was introduced to allow cabinet minister (and now rival leadership contender) Suella Braverman to take maternity leave without having to resign her post. But the bill was held up over rows over its use of gender-neutral language like 'pregnant people'.
Contrary to Mordaunt's claim that she stood up against this, according to Braverman and others it was Mordaunt who fought fiercely to retain the term 'pregnant person' and who bitterly resisted her colleagues' attempts to use phrases like 'pregnant woman' and 'expectant mother'. The gender-neutral language was eventually dropped against Mordaunt's express wishes.
As well as this, in her role as minister for women and equalities, Mordaunt pushed heavily in favour of overhauling the Gender Recognition Act, backing the Theresa May government's failed proposals to make 'self-identification' the sole criterion for someone to legally change their sex. Self-ID is the holy grail of the trans lobby – it would instantly open up women's spaces to self-declared women. It is no wonder then that one Tory pressure group described Mordaunt as 'a committed warrior for the trans lobby'. Yet this same Penny Mordaunt now claims to have 'challenged the trans orthodoxy with real and genuine concern'.
Mordaunt's woke leanings are not limited to trans issues, either. Charles Moore of the Telegraph has unearthed an extract of a book co-authored by Mordaunt, in which she denounces 1970s comedy It Ain't Half Hot, Mum for its 'bingo card' of sins – including 'casual racism, homophobia, white privilege, colonialism, transphobia, bullying, misogyny and sexual harassment'. The language alone is enough of a giveaway.
Whatever the truth is about Mordaunt's views, none of this looks good. If she was initially swayed by the trans lobby in favour of self-ID, but has since changed her mind as the wind has changed, that would hardly be a sign of great leadership. And if she does still buy into the Flat Earthism of gender ideology, then that surely raises questions about her judgement on all other issues. Should someone who thinks women can have penises really be prime minister?
'Penny Mordaunt is no woke warrior, she's more of a liberty lioness', one of her allies has hit back amid the scrutiny. Mordaunt herself has dismissed the depiction of her as 'woke' as nothing more than an attempt to damage her reputation. But at the risk of presuming Mordaunt's gender identity, perhaps the lady doth protest too much.
To enquire about republishing spiked's content, a right to reply or to request a correction, please contact the managing editor, Viv Regan.