The 'Stop Brexit man' should have the right to bray
Freedom to protest is for Remainer bores and annoying pillocks, too.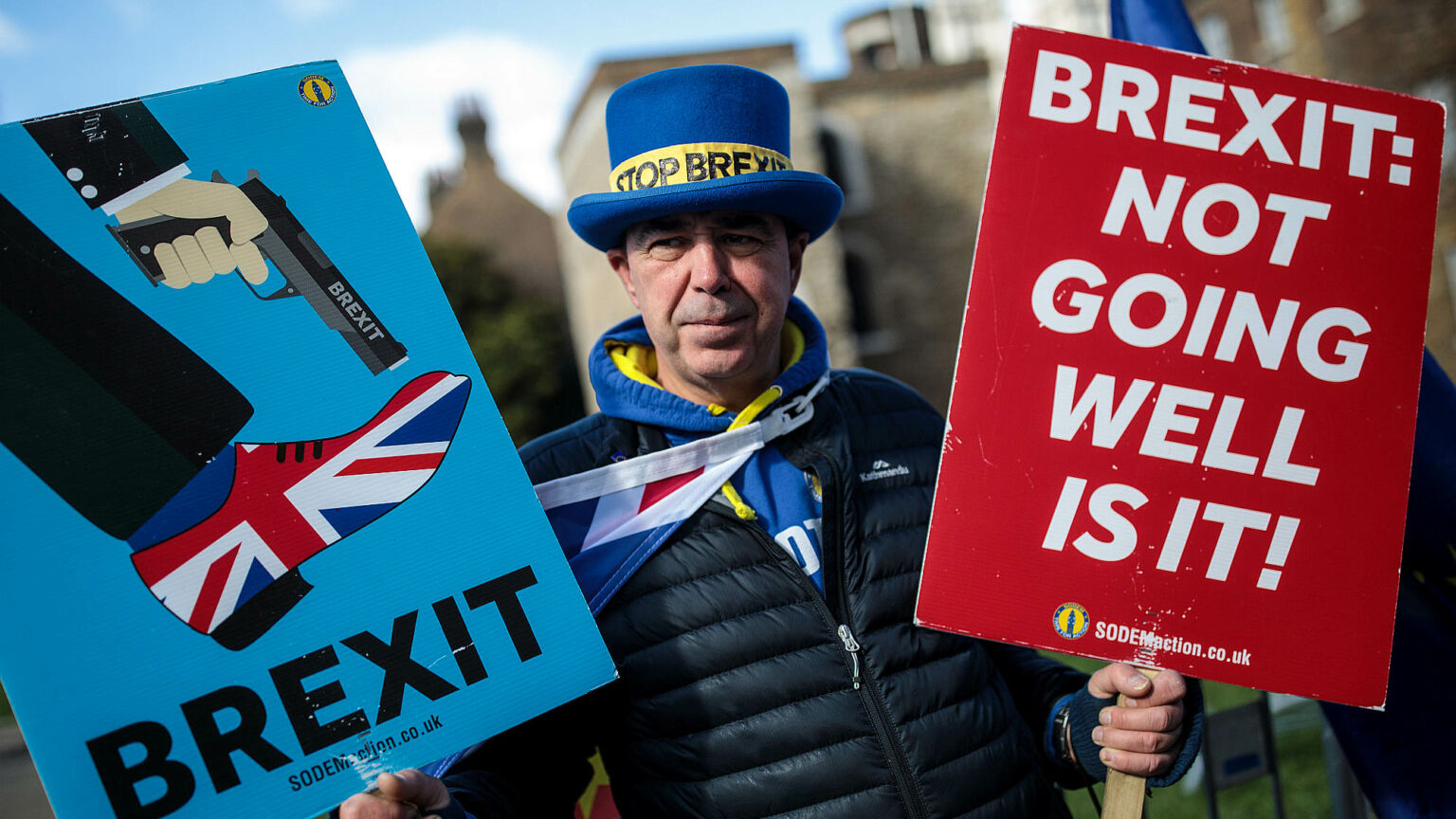 Time for another round of 'Can we hold more than one thought at once?'. One: it is outrageous for the Metropolitan Police to use their new powers to try to stop Steve Bray, the 'Stop Brexit man', from protesting outside parliament.
Two: it is ridiculous for Bray and his supporters to claim that the Met confiscating his amplifiers means that we are 'heading down the path to fascism'. And it is more than a bit rich for these hardcore Remainers to start banging on about democracy, having spent six years trying to subvert the democratic vote for Brexit.
Steve Bray is the former coin dealer who, thanks to crowd-funded support from fellow Remoaners, has spent years in Parliament Square, waving EU flags and shouting 'Stop Brexit' through an amplified megaphone. Apparently, he has now added some songs to this boring repertoire, including the Bay City Rollers' Seventies toe-tapper, 'Bye Bye Baby', the chorus altered to 'Bye Bye Boris'. (Do you see what he did there?)
Bray is undoubtedly an annoying pillock, an eyesore and a pain in the ear / arse for anybody who has to endure his daily one-man exhibition in Westminster. His 'career' as a full-time caterwauler looks like a strong case of nominative determinism, viz: 'Bray (verb): to make the loud, harsh cry of an ass, or loud, unpleasant noise.'
But so what? Like it or not, freedom of expression and the right to protest have to apply to braying idiots like Steve Bray, too. That's what makes them universal liberties. Otherwise, we risk our freedoms becoming selective privileges, to be permitted only to those deemed deserving.
The Metropolitan Police, in their wisdom, have now decided that Bray is undeserving of those freedoms, so have confiscated his amplifiers and threatened him with prosecution. They have been emboldened by the Tory government's new Police, Crime, Sentencing and Courts Act 2022, which came into force this week.
One petty-but-repressive section of this law says that an individual will commit a criminal offence if guilty of causing people 'serious distress, serious annoyance, serious inconvenience or serious loss of amenity'. The act also expands the existing area around parliament from which protests are excluded, which gave the Old Bill the fresh excuse to grab Bray's amps.
A law which makes it a crime for protesters to cause 'serious annoyance' or 'serious inconvenience' looks like a blank cheque for the police to round up the usual suspects. What protest worth its salt does not annoy or inconvenience somebody? The authorities claim the Police Act is necessary to stop the likes of Extinction Rebellion blocking roads and disrupting public services. But the police and courts already have more than enough powers to deal with those few self-righteous poseurs.
No, we should defend Steve Bray's right to make a right spectacle of himself, in defiance of the Police Act. What we should not do, however, is allow him to pose as a hero defending democracy against the creeping threat of fascism.
'I think we're heading down a path of fascism in this country', Bray told the BBC on Tuesday, after the Met impounded his amps. 'I hate to use the f-word, but we certainly are.'
That might be enough to make any reasonable person tell Bray to f-word off. A new illiberal law 'certainly' does not a fascist regime make. As a general historical rule of thumb, if you're free to go on the national TV channel and complain about a police state, you almost certainly aren't living in one.
We should let Bray sound off about Brexit. But we don't have to listen. And we certainly don't need any lectures about democracy from Remainer zealots such as him and his friends inside parliament, who have spent six years since the 2016 EU referendum trying to subvert, stop and overturn the Brexit revolt – the biggest democratic vote in British history.
We might wish that the 'Stop Brexit man' would shut his mouth and finally stop his moronic Braying. But if we permit the police to stuff annoying protestors' mouths with the Tories' Police, Crime, Sentencing and Courts Act, we will be facing a far bigger headache than his amplifiers might cause.
To enquire about republishing spiked's content, a right to reply or to request a correction, please contact the managing editor, Viv Regan.