The Supreme Court is a blot on democracy
A tiny clique of unelected judges should not have so much power.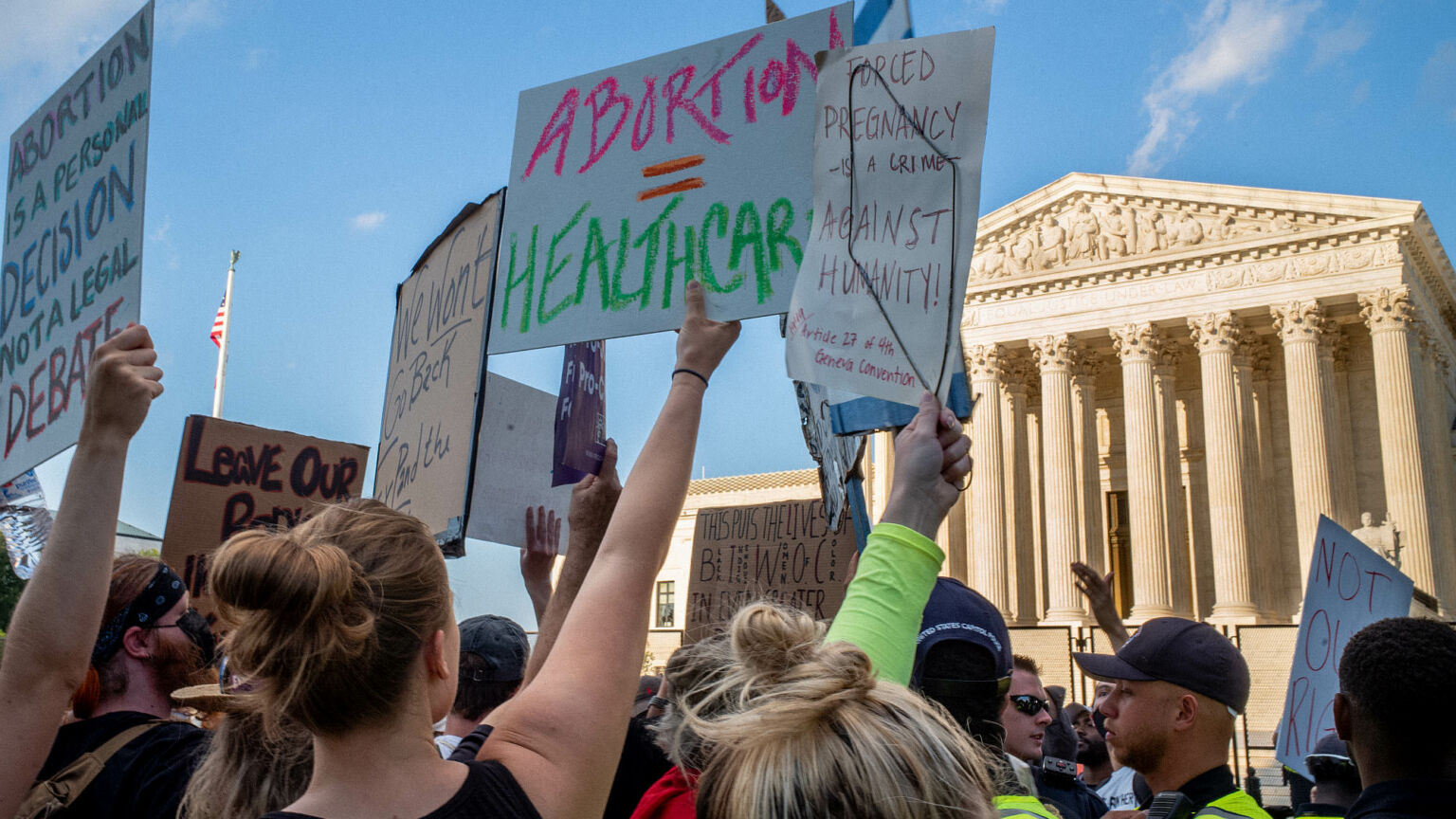 The US Supreme Court's overturning of Roe v Wade has sent shockwaves around the world. A right so fundamental to women's equality – a right that for 50 years was judged to be constitutionally protected – has been declared null and void by an unelected, unaccountable judiciary. And while the judgement in Dobbs v Jackson Women's Health Organisation does not in itself ban abortion, it does open the door to abortion being effectively outlawed or at least severely restricted in numerous US states. Worse, those six justices have acted in defiance of public opinion, which is broadly on the side of legal abortion.
'Don't the courts exist to protect our rights?', you can hear many anguished liberals protest. 'How can the courts defy democracy like this?', come the cries. The Dobbs decision appears all the more shocking and painful precisely because progressives have come to view the judiciary as a key ally of their cause in recent years.
The rise of judicial activism, and the growing power of unelected courts to set laws, has been notable across Western democracies in recent decades. And it has largely been celebrated – so long as the 'correct' decisions are reached, of course. Judges – once seen as fusty old men in wigs and gowns – can now be feisty, feminist cultural icons. In the US, Justice Ruth Bader Ginsburg became a cult figure in her later life, lionised for her pro-equality judgements. In the UK, Supreme Court justice Lady Hale became a hero to anti-Brexit liberals, when she struck down Boris Johnson's prorogation of parliament in 2019. Her diamond-encrusted spider brooch briefly became a quasi-religious icon. And although few people would be able to name any of the judges that sit in the European Court of Human Rights, there is little doubt that British liberals see that court as our last line of defence against an allegedly imminent fascist takeover by the elected government.
Until recently, anyone who questioned the wisdom of these courts and their decisions would be accused of undermining the rule of law, attacking human rights or being a 'populist' enemy of liberal democracy. 'International law' is similarly invoked to ward off dissent, as if it were the judgement of God himself.
The progressive turn towards the judiciary is one reason why the Dobbs decision has been met with such shock and incomprehension. To make sense of it, liberals insist that the US Supreme Court has simply gone 'rogue'. They point to the strange, exceptional circumstances that led to Donald Trump being able to pick three right-wing judges in his short presidency (and they are thus blaming the Dobbs decision on anyone who was less than enthused by Hillary Clinton in 2016). They say the Supreme Court, with its new conservative majority, is now just a vehicle for 'transforming right-wing media tropes into law' without a democratic mandate and 'without fear of public opposition'. They see the current court's indifference to democracy as an aberration, a product of the Trumpist justices who currently sit on the bench, when it is really an intrinsic quality of the court.
Such complaints ignore the way the courts have always acted as a 'check' on democracy, standing over and above it and sometimes acting in outright defiance of it. Past progressives and reformers understood this as something to fear. Abraham Lincoln denounced the power of the Supreme Court in his 1861 inaugural address after it had ruled that blacks could not become full citizens. During the Great Depression, the Supreme Court blocked numerous planks of FDR's New Deal – despite the president having the overwhelming backing of the electorate – and so he threatened to expand the court and pack it with favourable judges in retaliation.
The problem for today's liberals is that they celebrate the courts precisely because they have lost faith in democracy. Lawfare and judicial review are seen as more desirable means to enact social change than democratic engagement. Democracy means having to engage with the supposedly racist, bigoted and uncouth 'deplorables'. Whereas legal activism means important questions can be settled in courtrooms, among like-minded elites.
Indeed, the US's near 50-year dependence on the 1973 Roe decision to guarantee a federal right to abortion in itself speaks to this turn to the judiciary. Just as the failure to pass a federal abortion law in Congress – which would provide a far more robust guarantee of abortion rights – speaks to the turn against democracy. Back in 2008, Barack Obama promised that legislating for abortion rights would be 'the first thing I'd do as president'. But in 2009, following his inauguration, he said it was no longer 'the highest legislative priority'. It wasn't that Obama didn't care about abortion — it was that liberals like him expected to be able to rely on a righteous, right-thinking judiciary to uphold abortion rights, and so they saw no need to defend them or strengthen them through the democratic process.
Explicitly anti-democratic judgements have also been celebrated by liberals in recent years. In the UK, the Supreme Court's two most seismic judgements on Brexit – first to force a parliamentary vote on triggering the Brexit process, and secondly in revoking the prorogation of parliament – both sided with litigants intent on frustrating the democratic outcome of the 2016 EU referendum. Similarly, the European Court of Human Rights has often made explicit that it will challenge government decisions it sees as 'based purely on what might offend public opinion' (and that its own judgements are based on its superior 'tolerance and broadmindedness').
In truth, whether a court's decisions are liberal or conservative, progressive or reactionary should be a secondary concern. What matters is how much power a court has to override or undermine democratic decisions. After all, what could be more reactionary than the belief that a small council of educated elders is better equipped to pass judgement over the lives and rights of millions of people than those people themselves? That is why we need to kick the courts out of politics.
Fraser Myers is deputy editor at spiked and host of the spiked podcast. Follow him on Twitter: @FraserMyers.
To enquire about republishing spiked's content, a right to reply or to request a correction, please contact the managing editor, Viv Regan.