The linguistic war on womankind
How the word 'woman' became verboten in woke society.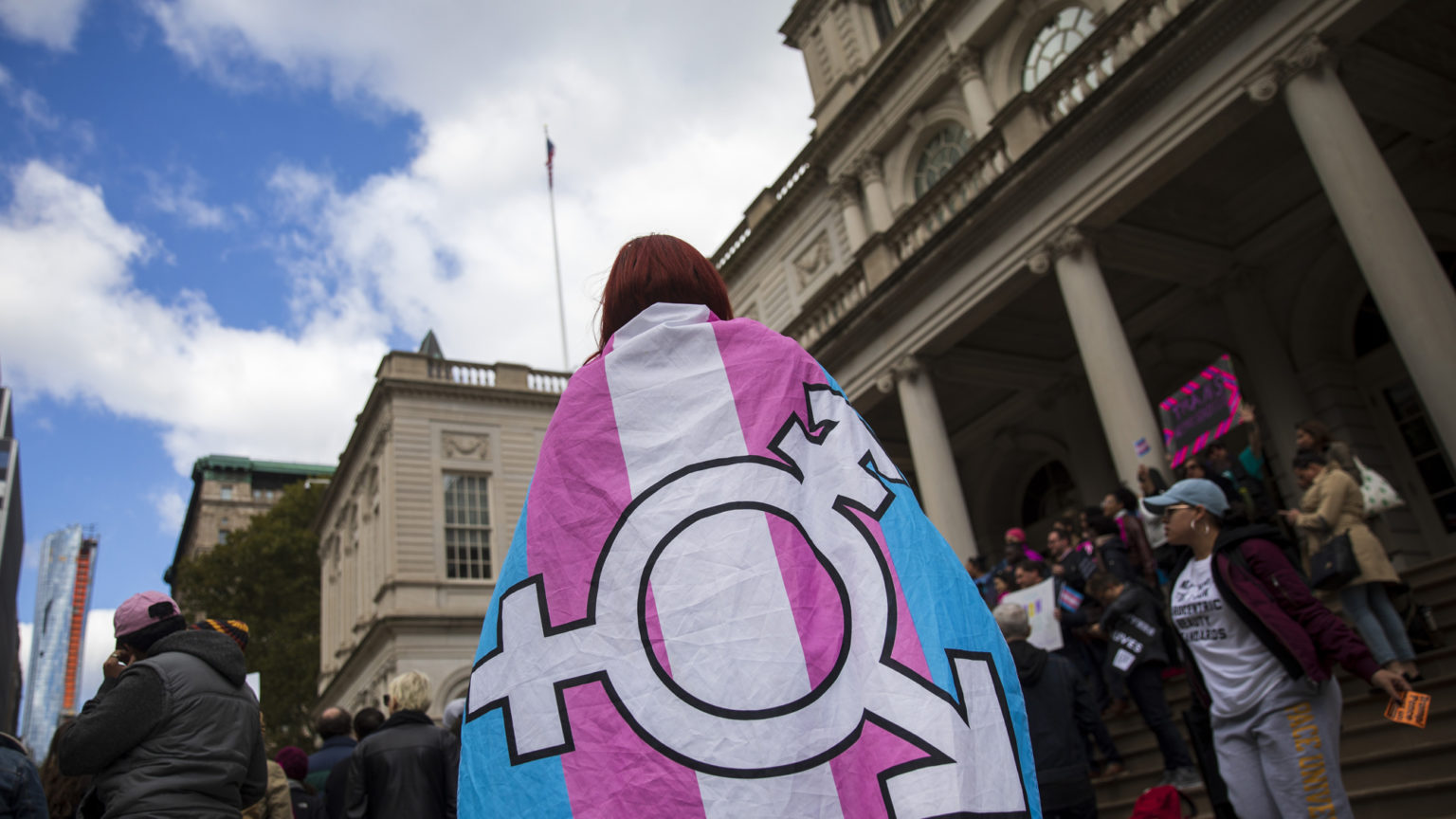 Over the past week we have witnessed two biological males – or men, as we used to call them – winning first and second place in a women's cycling race. We've watched as the Crown Prosecution Service has hired a diversity consultant who is trans and who has previously suggested that the word woman could be replaced with 'womxn'. We've heard that civil servants have received equality training telling them that the phrase 'adult human female' – which is the dictionary definition of a woman – is a transphobic dogwhistle. We've seen the publication of a new study by King's College London which suggests that one way around sex / gender controversies might be to change the wording of questions in official documents like the census. For example, you could ask respondents 'Do you menstruate?' rather than 'Are you a woman?'.
Anyone who doubts that the word woman, and the entire idea of womanhood, is being erased, sacrificed at the altar of the ideology of transgenderism, will surely have had a rude awakening these past few days. When men can claim women's sporting prizes, it is clear that women's sport risks becoming a thing of the past. When powerful institutions like the CPS and the civil service flirt with the idea that it is sinful to utter the words 'adult human female', it is obvious that even talking about women has become a risky business. When even someone as globally influential as Michelle Obama uses the unpronounceable word 'womxn', as she did in a story shared to her Instagram page, you know that it's not just time-rich, purple-haired campus crazies who have tumbled down the rabbit hole of genderfluidity. No, from the sporting world to the political world, from the justice system to the state bureaucracy, the idea that sex can be changed, and that language must be changed to avoid offending the trans minority, is orthodox now.
Strikingly, Mrs Obama's use of the word 'womxn' was related to the Roe v Wade controversy. She shared on Instagram a series of slides created by the nonprofit campaign group When We All Vote. One of them said: 'State lawmakers will have the power to strip womxn of the right to make decisions about their bodies and their healthcare.' There is a dark irony to this comment, and one that exposes just how messed up the war on womanhood has become. That Obama-endorsed IG slide frets about women being stripped of the right to control their bodies and yet it implicitly strips women of the right to use certain words when they talk about themselves and what they need. 'Womxn' is a reprimanding word, used to remind the female masses that their kind includes men now too. As Dictionary.com said of 'womxn' when it added it in 2019, it is designed to be 'inclusive of trans and non-binary' people. That is, blokes. In stripping out the old, supposedly problematic word 'woman', even as it wrings its hands over women – sorry, womxn – being stripped of their bodily autonomy, When We All Vote unwittingly highlights the profound confusions and deep illiberalism behind today's erasure of womanhood.
Barely a day passes without fresh reports about the linguistic war on womankind. So the recent civil-service story involves a group called A:gender, which supports trans and intersex people who work in government departments. The Times got hold of some training videos A:gender has produced, which are shown to thousands of civil servants every year, one of which claims that it is impossible to define a woman and that saying 'adult human female' can be 'transphobic'. Beware, these woke educators warn the civil service, of 'transphobia [that] is increasingly presented as feminism'. To reiterate, this is civil servants we're talking about, the people responsible for the smooth functioning of the nation. And they're being told that if you say out loud what the dictionary says a woman is, then you are a bigot. They're being told that the likes of JK Rowling, whose great thoughtcrime is to understand biology, promote hatred dressed up as feminism.
Then there's the CPS. It has hired Sophie Cook, a trans activist, to fill a key diversity and inclusion post. This is the same Sophie Cook who has previously used the derogatory term 'TERF' to refer to women who think sex is immutable and that women's rights should take precedence over the emotional needs of men who think they're women. Cook has also defended the bloke-inclusive word 'womxn', once asking in a Newsnight discussion why some feminists are 'so offended by it'. Maybe because it expressly limits their ability to speak exclusively about women? (Actual women.) King's College London's The Future of Legal Gender Project captured just how dehumanising the linguistic assault on womankind can be. One of its proposals is that the census could make itself less offensive to trans people if it asked 'Do you menstruate?' rather than 'Are you female?'. Bad news for those women who've been through the menopause. They won't count. Perhaps their existence matters less than the feelings of men who think they're women?
All of this linguistic contortionism has serious real-world consequences. So in sport over the past week, two men – 'trans women' – took first and second place in the ThunderCrit fixed-gear women's cycling race at the Herne Hill Velodrome in London. In response to criticism from women who rightly wondered why there was only one woman on the podium in a supposed female race, ThunderCrit's organisers said it would not speak to anyone who is interested only in 'push[ing] their narrative'. Why is it a 'narrative' when women say women's sports should be for women only, but not a 'narrative' when ThunderCrit decides to embrace and promote the odd ideology that says anyone can be a woman if they want to be?
An even more sinister consequence of the new linguistic misogyny came to light over the past week, too. It was revealed that the BBC, in an article about lesbians who felt pressured into having sex with 'trans women', changed the gender of an alleged sexual assaulter in order not to cause offence. An alleged rape victim spoke to the BBC for its piece and used the word 'he' and 'him' to refer to her attacker. But the BBC replaced every male pronoun with the neutral terms 'they' and 'them'. A BBC insider told The Times, 'I can't think of any other situation where we would change the words of an alleged rape victim'.
This is a very serious matter. If the actual public broadcaster is now more concerned with avoiding giving offence to alleged rapists than with telling the truth – in this case, that a woman said she was raped by a man – then it is clear that today's linguistic hysteria is impacting on our very ability to understand the world around us, to know the truth. The BBC's shameful decision to protect an alleged rapist from offence echoes developments in the justice system, where some UK police forces have said they will record rapes as having been committed by women if the rapist identifies as a woman. Soon, no doubt, the claimant in certain rape trials will be pressured to say 'she' and 'her' about the man who allegedly forced his penis into her. It will be the terrifying but entirely logical conclusion to the Orwellian drift in the discussion of all things woman-related.
All of this happened in the past week in the UK. Women shunted from the podium in a woman's sport. The civil service and the CPS being influenced by people who think there's a problem with the word woman. The BBC exposed as having meddled, for ideological reasons, with the testimony of an alleged rape victim. These are all the baleful consequences of the sacralisation of the trans ideology and of the cancellation of anything and everything that offends the trans sensibility. Language is arrogantly rewritten by the elites, common words are refashioned as expressions of bigotry, women are denied the right to describe themselves as they see fit, and truth itself becomes a distant dream as linguistic accuracy is replaced by Newspeak and correct thought. It isn't Queer Studies millennials who are spearheading all this – it's the BBC, it's the state, it's the courts, and it's the cultural establishment. A counterrevolt against this linguistic terror is an absolute necessity.
To enquire about republishing spiked's content, a right to reply or to request a correction, please contact the managing editor, Viv Regan.