The mad, bad and sad world of gender ideology
Matt Walsh's What is a Woman? exposes the delusions of the trans lobby.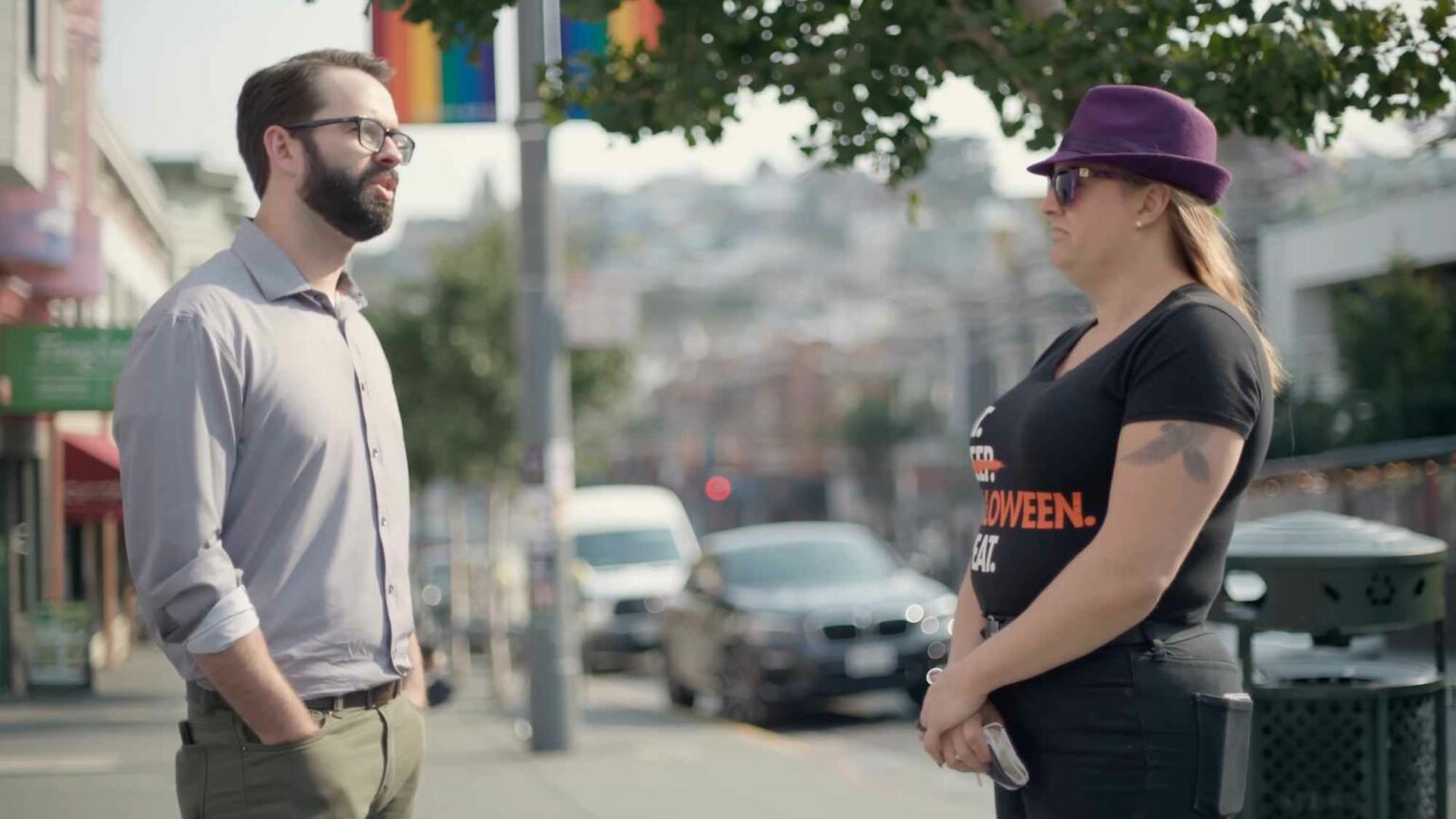 'Does a chicken have a gender identity? Does a chicken cry? Does a chicken commit suicide?', coos Michelle Forcier, a consultant paediatrician at Hasbro Children's Hospital, Rhode Island. These strange questions are not part of some surrealist theatrical performance – they are responses to conservative commentator Matt Walsh, in his new documentary, What is a Woman?.
In the film, Walsh travels the world asking a range of people, from leaders in the field of transgender medicine to members of the Maasai tribe in Kenya, to define the word 'woman'. Tellingly, it is the Western gender experts who are unable to give a straight answer.
Spanning comedy and tragedy, What is a Woman? provides viewers with an insight into those promoting and supporting trans ideas. It makes for a compelling watch.
Walsh's subjects can be broadly divided into three categories: the mad, the bad and the sad. First up is 'gender-affirming' therapist Gert Comfrey (they / them), a young woman with the glassy stare of a true believer in the gender god (he / him). She informs Walsh, who is at this point playing a Louis Theroux-style ingénue, that 'some women have penises, some men have vaginas'. She ends the interview with an awkward feminine giggle, explaining that she isn't herself a woman. This exchange happens while Comfrey is sitting on her vulva, and apparently speaking from her arse. To my mind, Comfrey should be assigned to the 'mad' category. Apparently well-intentioned but batty – she has got high on her own gender supply.
The next recipient of Walsh's faux-naïve questioning is Marci Bowers, the world's preeminent 'gender-reassignment' surgeon. Bowers is a male who describes himself as 'a woman with a trans history'. Bowers makes the claim that male genitals can be remodelled so 'they look and… function like female anatomy'. By 'function' Bowers presumably means that they are capable of being penetrated. After all, a vaginoplasty may be able to create a fleshy hole, but neither menstrual blood nor a baby will ever pass through it, because men do not have female reproductive organs. Bowers' slip reveals a somewhat male-centric idea of both vaginas and indeed womanhood.
The aforementioned Forcier is also given a grilling by Walsh. The linen-clad paediatrician has the studied air of a yoga teacher, but she shifts uncomfortably when asked about the treatment of gender-confused children with the puberty-blocking drug, Lupron. Lupron is a drug used to chemically castrate sex offenders, and has a range of known side-effects, including bone weakening. But Forcier is more concerned by Walsh's use of the word 'drug' to describe Lupron than the consequences of its usage. 'When you use that language', she tells him, 'you are being malignant and harmful'.
In an instant, any delight at seeing Forcier flounder gives way to the horrifying realisation that she and her ideologically aligned peers are pillars of the modern medical establishment in the US. As with Bowers, Forcier's bristling anger at being questioned suggests she is aware that some might deem her actions 'bad'.
Throughout the documentary, the flawed reasoning and defensive attitude of the professionals who promote the theory of gender identity is artfully contrasted with the raw testimony of those misled by it.
The 'sad' interviewed by Walsh include the victims of transgenderism – from female athletes, who have been forced to compete against and alongside males, to the people who regret buying the lie that they could change their sex. Scott Newgent is of the latter group. At the age of 42, she took the decision to have gender-reassignment surgery to resemble a man. She has since had a further six surgeries, 17 rounds of antibiotics and suffered a heart attack and pulmonary embolism. As Newgent explains, 'no one would help me, including the doctor who did this to me… I get infections every three to four months, I am probably not going to live very long'. The juxtaposition of her broken voice with the glib reassurances offered by the surgeon, Marci Bowers, speaks volumes.
What is a Woman? does have its blindspots. It builds upon the work of feminist writers and academics – including Helen Joyce and Kathleen Stock in the UK and Abigail Shrier and Kara Dansky in the US – but Walsh does not reference their contributions. Nor does he mention the groundbreaking work of Janice Raymond, who warned of the threat posed by transgenderism way back in 1979 in her book, The Transsexual Empire. Walsh clearly has a problem with feminists, something a recent tweet of his made clear: 'There really is no creature on Earth more repulsive than a bitter old Boomer pro-abortion feminist.' Arguably, the success of Walsh's film and the ignoring of the women who laid the path for him suggest those bitter old Boomers may have had a point about sexism.
Ideological blindspots aside, What is a Woman? is a must-watch documentary, particularly for those new to the subject of transgenderism. It captures a strange moment in time when politicians, clinicians and the corporate world are gleefully promoting the lie that humans can change sex.
Jo Bartosch is a journalist campaigning for the rights of women and girls.
Watch the trailer for What is a Woman? here:
To enquire about republishing spiked's content, a right to reply or to request a correction, please contact the managing editor, Viv Regan.