The cultural imperialism of taking the knee
Those Hungarian schoolkids were right to boo this paternalistic Western gesture.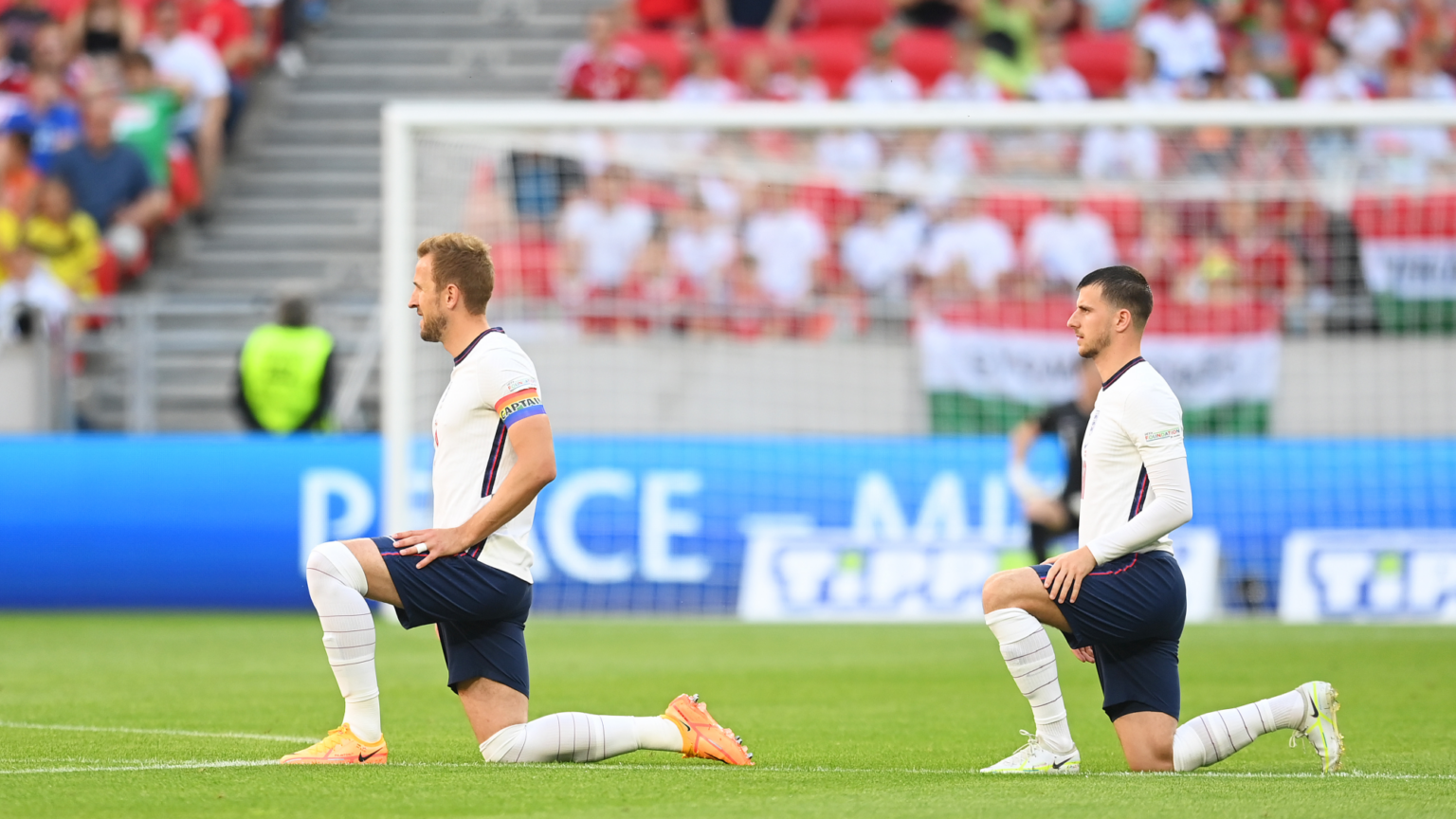 It's only June and already we've had the funniest news story of the year. Following some iffy behaviour by Hungarian football fans during Euro 2020, UEFA instructed Hungary to play its next few games behind closed doors. No crowds, no fans, no noise – this was to be Hungary's punishment. But Hungary, in its clash with England in Budapest on Saturday, exploited a UEFA loophole to allow 30,000 schoolkids to attend the game. After all, what kind of trouble could a few thousand fresh-faced under-14s cause? Well, a lot, it turns out. As soon as the England players took the knee – as they're still robotically doing, more than two years after George Floyd was murdered 4,000 miles away from England – a chorus of boos filled the stadium. It was an extraordinary noise: an army of children registering their disdain for the puffed-up performative virtue of 11 adults from overseas.
It would take a heart of stone not to laugh. The tutting moralists of UEFA who thought that banishing the gruff men of Hungary from football games would make for a safe, sanitised experience clearly hadn't reckoned with the rebellious streak in Hungary's youth. The British sports commentators who had hoped that a largely adult-free game in Budapest meant everything would be hunky dory must have been spitting out their macchiatos at the sight of teens jeering England's hackneyed, prostrated gesture politics. Faye Carruthers of talkSPORT summed up the shock and horror experienced by sensitive Brits in Budapest when the rowdy young'uns booed our genuflecting players. '[H]earing the children singing the Hungarian national anthem made me think maybe it [would be] okay', she said. 'Then they booed the England players taking the knee…' So it was not going to be okay. It was going to be awful. We were going to have to witness the feelings and beliefs of Hungarians. Can you imagine? 'It was horrible to hear', said former England player Dean Ashton.
Since Saturday, Britain's NuFootball bores have been reaching for their smelling salts over the hollering Hungarian schoolkids. They're talking about the booing incident as if it were a mix of Lord of the Flies and 70s-style football hooliganism. It confirms that these kids have adopted the 'same behaviour patterns' as adults, said the anti-discrimination group Fare. The youthful Hungarian booing is only the latest example of 'racism perpetrated in European games by children', Fare said, conjuring up an image of Hungarian kids – kids, remember – as a vile hateful mob. British comedy darling Adil Ray implied that these out-of-control kids may require some external moral correction. Their booing was 'incredibly depressing', he said, and that's why 'anti-racist messages are so important on a global stage, as [these children] are clearly getting the wrong education at school and at home'. The England Footballer's Burden, anyone? Apparently our morally spotless national team must deliver the correct thinking on tolerance to foreign children who have been failed by their families and their schools.
England manager Gareth Southgate made a similar argument. He said the reason his team continues to take the knee is because they want to 'educate people around the world'. 'I have no idea why people would choose to boo that gesture', he continued. Mr Southgate needs to read his comments back. Why would people choose to boo a gesture that is only about educating them not to be such bovine moral illiterates? Hmm, it's a complete mystery. In their rather imperious puzzlement over Hungary's booing kids, Southgate and others in the British cultural elite actually help us to understand why so many people jeer the knee gesture, whether that's Hungarians or fans here in England. It's not because they're racist trash – it's because they don't want to be lectured to by people who fancy themselves as their moral superiors. It's that simple.
The booing of those Hungarian schoolkids was entirely rational, and even quite heartening. It was not a crescendo of racial prejudice. It was a statement of youthful revolt against lofty outsiders who seem to have gone to Budapest as much to educate the rabble as to play some football. Hungarian PM Viktor Orbán has a point when he says the taking of the knee is a 'provocation' and that it has 'no place on the pitch'. For a while now it has been clear that knee-taking is less an anti-racist gesture than a signifier of moral supremacy. It is the means through which politicians, big bankers, sportspeople and other sections of the elite demonstrate their fealty to correct-think – by literally bowing down to it – and their readiness to 'educate', in Southgate's words, the lower-downs who have not yet fallen in line with the diktats of identity politics. Football fans, contrary to the prejudiced delusions of the chattering classes, are not dumb. Neither, it seems, are Hungarian schoolchildren. They know when they are being demeaned, when they are being reduced to problematic creatures requiring neo-colonial correction. And guess what? They don't like it.
This is one of the great ironies of the knee gesture and of the BLM movement that popularised it. BLM presents itself as a radical outfit that is obsessed with decolonising everything. But in truth, it is arguably American capitalism's most successful cultural product of recent times. The BLM phenomenon is fundamentally an exercise of America's 'soft power' to the end of exporting overseas the racial correctness and woke conformism of the contemporary American elites. This is why it is fully backed by huge American corporations, by the global-reaching oligarchy of Silicon Valley, and by an army of Western politicians and celebrity influencers. It is a juggernaut of wokeness, mowing down local dissent wherever it emerges. It deserves to be booed. Those Hungarian kids were not being brattish hooligans – they were simply rebelling against the colonising instincts of the West's woke elites. Good on them. I wish we had more kids like them in the UK.
Brendan O'Neill is spiked's chief political writer and host of the spiked podcast, The Brendan O'Neill Show. Subscribe to the podcast here. And find Brendan on Instagram: @burntoakboy
To enquire about republishing spiked's content, a right to reply or to request a correction, please contact the managing editor, Viv Regan.