Ukraine has showed the world what it's made of
Russia was expected to crush the Ukrainians with ease. 100 days on, they're still fighting valiantly.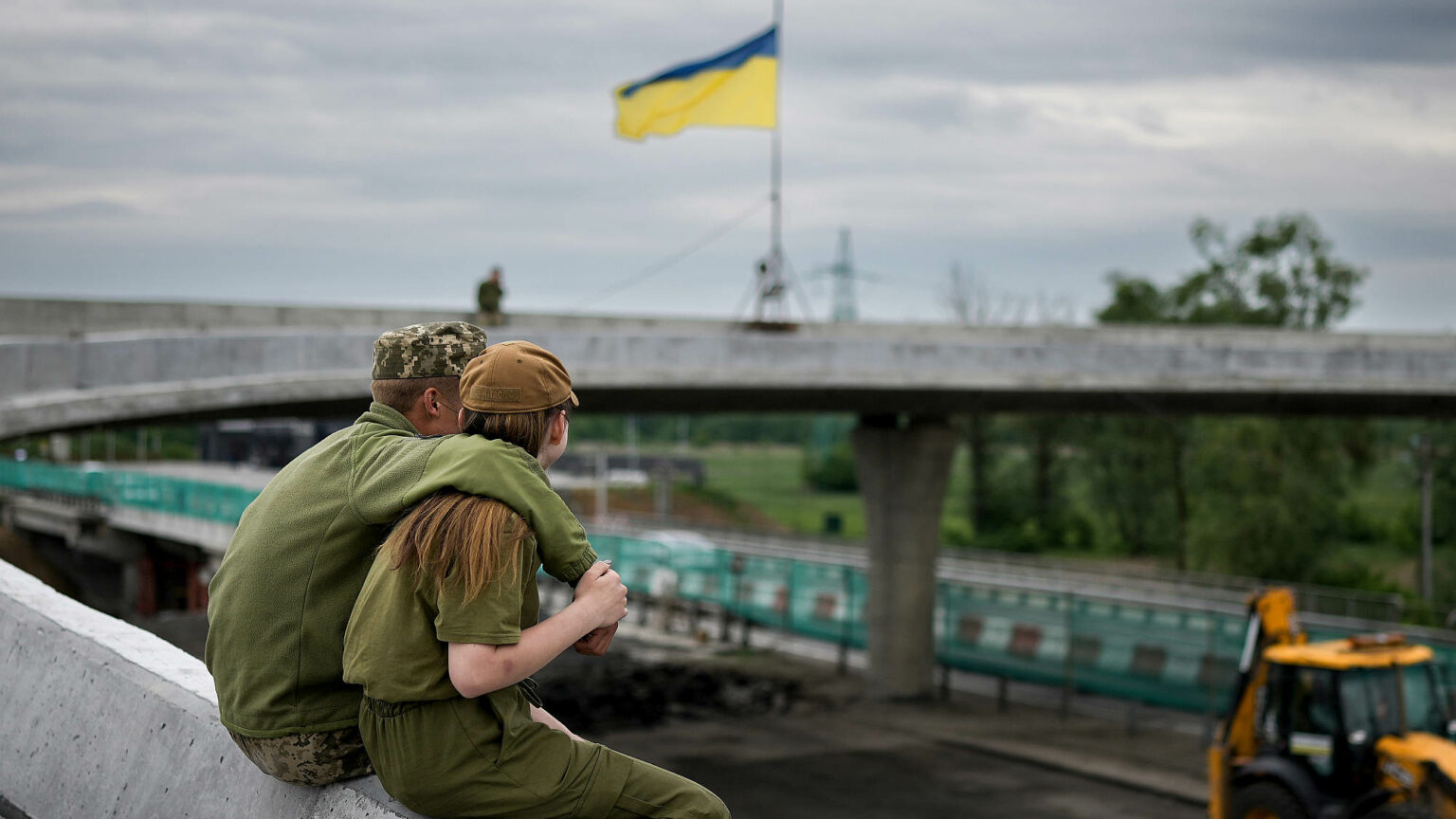 The war in Ukraine has now passed 100 days.
It's a grim milestone. A brutal conflict in which tens of thousands have been killed, towns and cities razed to the ground and hundreds of thousands displaced is hardly cause for celebration.
Yet at the same time, the sheer duration of the war does testify to something admirable – namely, the resilience and bravery of a people thoroughly committed to defending their national freedom.
After all, few outside observers in either the West or indeed Russia thought Ukraine would last more than a few days. When Russian president Vladimir Putin launched the invasion – or, as he called it, 'the special military operation' – on 24 February, it was expected to be a quick, ruthlessly effective intervention.
It was widely believed that the might of the Russian army would be too much for the Ukrainian forces. And many, especially in Moscow, thought the Ukrainian public was unlikely to rally behind the then unpopular president, Volodymyr Zelensky – beset, as he was, by allegations of oligarchic corruption. This, to outsiders, was a militarily and politically weak nation at the mercy of a just-about global superpower.
Little wonder that, just days before Russian troops, artillery and tanks began to cross the border into Ukraine, US general Mark Milley, the chair of the Joint Chiefs of Staff, said it was possible Kyiv could fall within 72 hours.
But the pessimism from the Pentagon proved as misplaced as the arrogance of the Kremlin.
From day one, the Ukrainian resistance has been formidable. The Ukrainian army – much enlarged and better trained than it was in 2014 when Russia annexed Crimea – was quickly supplemented by thousands upon thousands of volunteers desperate to fight for their country. And together they have mounted a fierce defence of Ukrainian territory.
Their successes during the early stages of the conflict were striking. Russian forces, nestled in the outskirts of the capital of Kyiv, were forced to retreat by the beginning of April. Their attempt to take the port of Odessa stalled at Mykolaiv. And then, early last month, they were pushed out of the second-largest city, Kharkiv, in eastern Ukraine.
There's no doubt that Russia has had a considerable hand in its own failures during the first phase of the war. Soldiers' morale has reportedly been low, and the over-ambitious strategy poorly thought out, with stretched-out convoys all too vulnerable to swift counter-attacks.
And there's also little doubt that Western military and financial aid, not just during the conflict but also in the years before it, has given the Ukrainian armed forces the means to resist Russia's aggression. Indeed, Britain has been involved in training the Ukrainian army since 2015.
Yet the crucial component to Ukraine's successful resistance lies not in the help from London or Washington or the weakness in Moscow. It lies in Ukraine – above all, in its citizens' ever growing sense of themselves as members of a sovereign, democratic nation; a sense of themselves as part of a meaningful political entity – indeed, as part of something worth fighting for.
This sense of nationhood, unity and resolve has not always been there. Even less than a decade ago, divisions were still pronounced – between west and east, Unitary Orthodox and Russian Orthodox, Ukrainian-speaking and Russian-speaking.
But no more. Ukraine has forged itself, in the face of its belligerent neighbour, as a coherent political whole. Patriotism, grounded in a sense of Ukraine as a sovereign democracy, is now a widely felt sentiment. That's why Russian-speaking Kharkiv in north-eastern Ukraine has fought back against the Russian military with as much determination as the citizens of Kyiv. Because they're fighting for the same thing – the nation of Ukraine. As former deputy prime minister Ivanna Klympush-Tsintsadze put it in April: 'We are showing the whole world we are a nation, one capable of uniting, capable of fighting; and every single day since 24 February, we have been proving we are something that Putin says doesn't exist – a political nation.'
The war is far from over, of course. And Ukraine's future is as uncertain now as it was back in February. Thanks to Ukraine's early battlefield successes, Russia has changed its tactical approach and downscaled its immediate objective from ousting Ukraine's 'Nazi elements' from power to, as foreign minister Sergei Lavrov put it this week, 'push[ing the Ukrainian army] out of the Donetsk and Luhansk regions'. This strategic shift has led to gradual, grinding successes for Russia in Ukraine's east, as it slowly and relentlessly bombards towns and cities into submission. Should the strategically significant city of Severodonetsk fall in the coming days, as seems likely, Russia would effectively have control over half of the Donbas region.
Right now, the tide of battle does seem to be turning in Russia's favour. Rumours of the increasing scale of Ukrainian losses, long a closely guarded secret, have only reinforced a sense of pessimism among Ukraine's backers. This has prompted growing calls from Western diplomats, leaders in France, Germany and Italy, not to mention many on the Western anti-war left, for Ukraine to be effectively pressured into negotiating a peace with Russia. That, as they all put it, is the only way this bloody war is going to end.
They're right that negotiations will at some point be necessary. But they're wrong to think that Western powers should effectively decide when Ukraine negotiates and what it should concede. These are questions that only Ukraine has the right to answer. For if the past 100 days have proved anything, it's that this is now a proudly sovereign nation, united in defence of its own freedom.
It's more than capable of determining its future for itself.
Tim Black is a spiked columnist.
To enquire about republishing spiked's content, a right to reply or to request a correction, please contact the managing editor, Viv Regan.