Why Sky News' climate show flopped
Climate activism masquerading as journalism is not what people want to watch.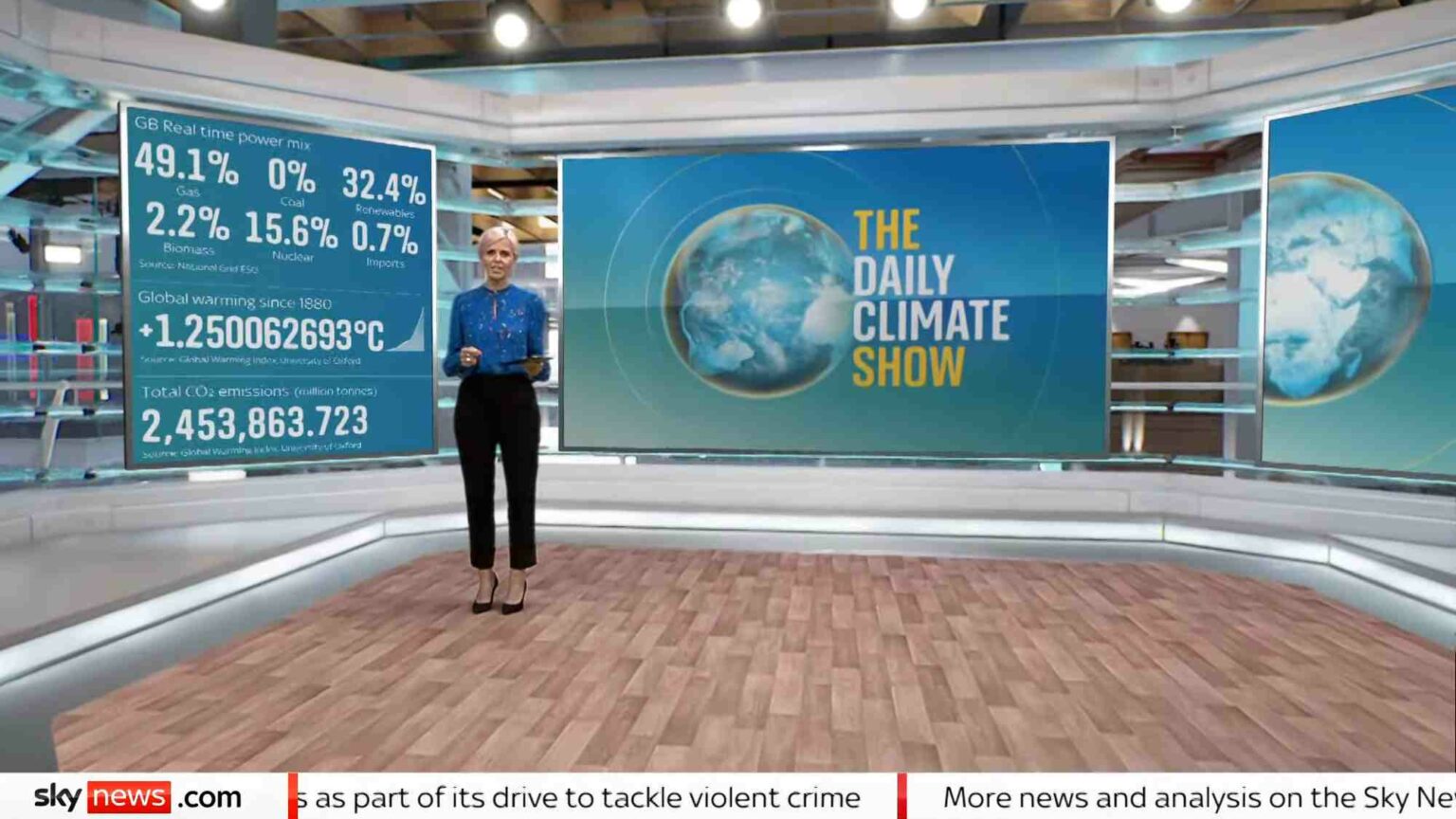 The Daily Climate Show, Sky News' much-hyped 'first daily prime-time news show dedicated to climate change', is to be axed from its prime-time slot and will be cut down from 30 minutes to just 10. Despite the insistence from the Great and Good that climate change is the single most pressing issue of our time, the show prompted tens of thousands of viewers to switch off at the sight of the opening titles.
The demise of The Daily Climate Show should surprise no one. The public do not think climate is the most important issue. An exclusive poll commissioned by Sky News revealed as much last month. As The Daily Climate Show reported through gritted teeth, around a quarter of Brits are unwilling to change 'a single key climate habit'. Two-thirds (quite correctly) don't think that climate change affects them. 'Not everyone is yet on board with the UK's journey to Net Zero', bemoaned correspondent Lisa Holland.
This is a big problem for a TV show whose clear aim has been not just to report on climate change, but also to propagandise in favour of climate action – which is usually a demand for ordinary people to change their supposedly polluting behaviour. 'While the climate crisis is happening, we can slow it', declared host Anna Jones on the show's first episode last year. This is activism, not news. And it shows in the output.
The need to find daily news stories about the so-called climate crisis has led to some truly bizarre editorial judgements. The first episode featured a segment on the General Election in Greenland and the victorious party's pledge for a moratorium on the mining of rare-earth minerals. In other episodes, we learned of the fate of gas projects in Mozambique. However serious these issues might be for the countries affected, they are not exactly subjects worthy of prime-time treatment by a UK broadcaster. No wonder people switched off in droves.
When there was not enough climate news to cover (ie, on most days), The Daily Climate Show simply framed a news issue around the climate. So the German elections became 'the climate elections', and NATO's withdrawal from Afghanistan and the impending takeover by the Taliban became a prompt to ask: 'Is Afghanistan vulnerable to climate change?'
On other occasions, as you might expect, the show strayed into outright alarmism and scaremongering to capture the viewers' attention. To highlight the issue of rising sea levels, The Daily Climate Show produced a graphic showing Buckingham Palace underwater. No matter that many countries and cities are already below sea level and are doing just fine (Amsterdam is 6ft below sea level). Such doom-mongering is now so commonplace and so transparently nonsensical that most people have become inured to it.
Initiatives like The Daily Climate Show are what happen when broadcasters and media institutions lose sight of their core mission – to inform or entertain the viewing public. Instead, broadcasters now see it as their role to agitate for climate action, seemingly at the expense of all other considerations – from journalistic integrity to that plain old-fashioned sense of what's newsworthy.
Sky, like other big businesses and institutions, seems to be totally captured by climate ideology. It has committed itself to a Net Zero target. And last year it partnered with COP26, the UN climate conference hosted in Glasgow. 'We know we have a responsibility to use our reach and our voice to create positive change, with our television content and our products in the homes of millions of customers across Europe', said Jeremy Darroch, then CEO of Sky, when announcing the partnership.
In anticipation of COP26, Sky produced a report in tandem with the Behavioural Insights Team, aka the Nudge Unit. The Nudge Unit was initially set up by the UK government (it is still part-owned by the Cabinet Office) with the aim of using behavioural science to 'nudge' people, subconsciously, to adopt certain behaviours and habits. The Sky / Nudge Unit report argued that broadcasters should try to change the 'attitudes and behaviours of citizens' to make them more eco-friendly. It said that green, 'sustainable' behaviours should be promoted across broadcasting not just in the news, but also 'in the actions of [fictional] characters' and in 'DIY, travel and cookery shows'.
But for such 'nudging' to work, viewers have to tune in first. The demise of The Daily Climate Show is yet more evidence that climate change remains an elite concern. While green ideology has the support of many loud and shrill activists, and of major institutions across the public and private sectors, what it cannot count on is the support of the public.
Fraser Myers is deputy editor at spiked and host of the spiked podcast. Follow him on Twitter: @FraserMyers.
To enquire about republishing spiked's content, a right to reply or to request a correction, please contact the managing editor, Viv Regan.