Beer-swigging Keir only has himself to blame
The Covid rules made criminals of us all – as the Labour leader is now discovering.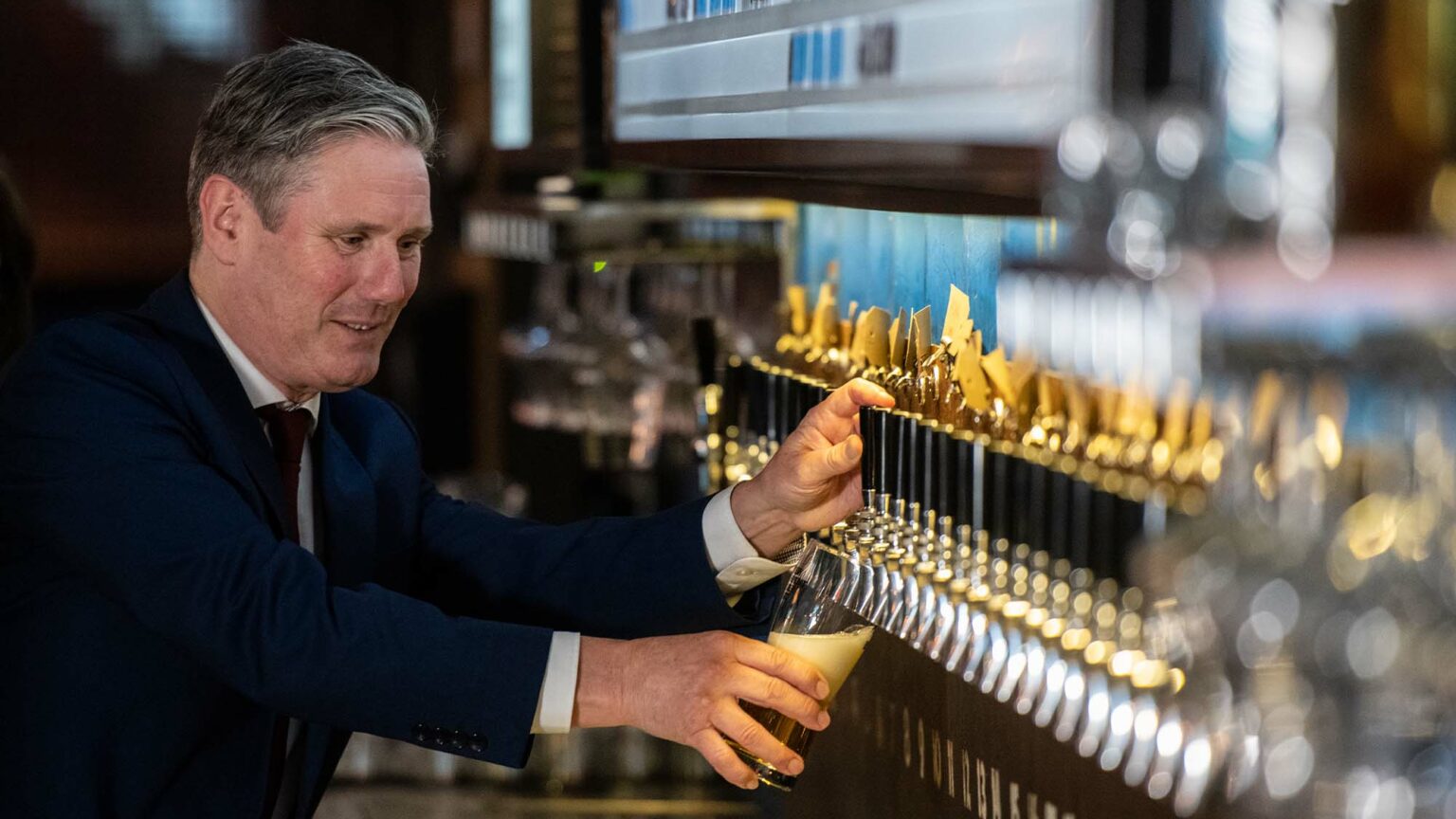 The Partygate whirlwind has finally come for UK Labour leader Keir Starmer. Sir Keir's 'now infamous beer', as the press insists on styling it, could be the subject of a full police probe.
To recap: Starmer was spotted swigging a beer, indoors, in a local Labour Party office in April last year. The Labour leader was in Durham, in the north-east, to campaign ahead of the Hartlepool by-election.
At the time, England was under relatively strict 'Step 2' lockdown rules, prohibiting all indoor social gatherings. When footage of the swig emerged in January this year, Starmer's explanation was straightforward: 'We are in the office, working in the office, and we stopped for a takeaway and then we carried on working. And that is the long and the short of it.' Not long after, the police agreed that no offence had been 'established'.
But Partygate has stepped up a gear since then. The prime minister and the chancellor have been fined for breaching lockdown rules in Downing Street. Time and again, the PM trotted out the 'work event' loophole to swat away every allegation of wrongdoing. Until the excuse became unsustainable.
Could the same now be true of Keir's beer? Police interest has apparently been revived in Starmer's case after a Tory MP wrote to them with evidence that Labour officials hosted a 'quiz and social' event in Durham on the same evening Sir Keir was in town. Labour insists that Keir was not present at the event, that the quiz was hosted in a different building to where Keir drank his beer, and that it was held on Zoom in any case.
A swig of beer here, a Zoom quiz there… the accusations all sound a bit pathetic. But then again, so much of the Downing Street Partygate saga is made up of similarly minor breaches.
Yes, Boris and Co clearly broke the letter and the spirit of the lockdown laws, multiple times, egregiously on some occasions – such as the 'BYOB' garden party during the first lockdown, which took place on the day the rules were relaxed to allow us to meet just one other person outdoors.
But Partygate has been padded out and dragged on by revelations of gatherings as tepid as 'impromptu drinks' to celebrate Rishi Sunak's spending review, a 'cheese and wine' night and a 'Christmas Zoom quiz'.
As has been the case since the Partygate story first broke, it is not so much the offences themselves that grate, but the hypocrisy – the sense of 'do as I say, not as I do' from those who made the rules. And while the government and Boris are responsible for imposing those rules, Sir Keir and his Labour benches cheered them on, urging greater stringency at every turn. The official opposition flat-out refused to oppose or even scrutinise the most wide-reaching restrictions on liberty in British history.
For much of the past two years, the Covid restrictions have given the public next to no leeway. They were used to micromanage our lives to an absurd degree. Even during periods outside of full lockdown, we were subjected to late-night curfews, the scotch-egg rule, a ban on singing, a ban on casual sex, and strict instructions on where we could sit and stand. Starmer never raised a peep of complaint about any of this.
Worse, Covid marshall Keir has staked his moral authority on being a stickler for the lockdown rules, in order to contrast himself with 'party animal' Boris. He has tried to milk the No10 Partygate revelations for everything they're worth – to the point where even his own frontbenchers think he's neglecting more pressing national issues.
Starmer may protest that the rap sheet against him is short compared to the PM's. But if he thinks he is being held to exacting and unreasonable standards when it comes to the Covid rules, he only has himself to blame.
Fraser Myers is deputy editor at spiked and host of the spiked podcast. Follow him on Twitter: @FraserMyers.
To enquire about republishing spiked's content, a right to reply or to request a correction, please contact the managing editor, Viv Regan.