The unholy alliance of Israel haters
Both Islamic fanatics and the Western woke left treat the Jewish State as uniquely wicked.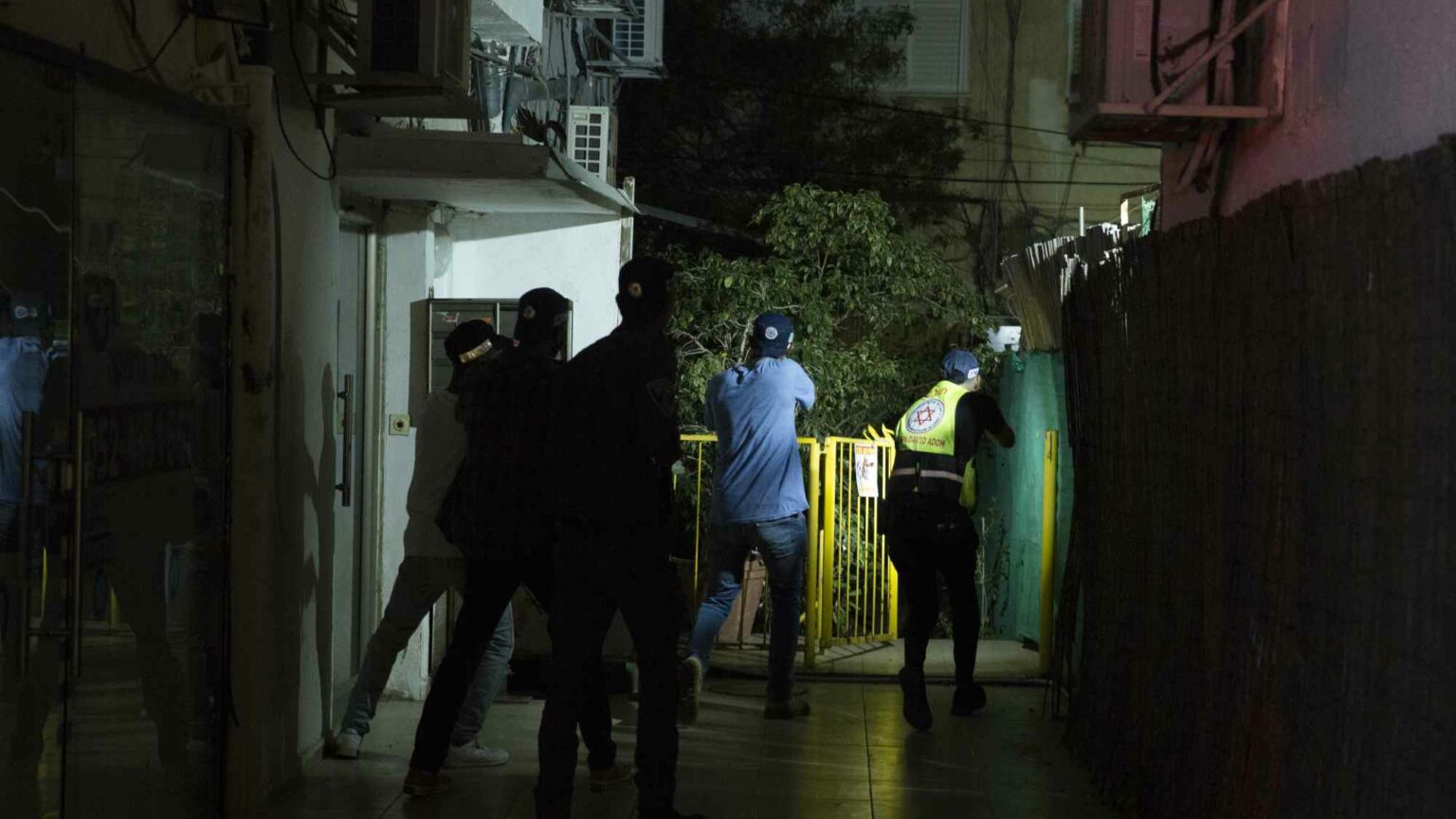 Certain rituals follow every terror attack in the West. People take to social media to express feelings of grief. They post an image of the flag of the nation whose citizens have been slaughtered. 'I Stand With…' France, Belgium, Spain, they say, or whatever unfortunate nation has attracted the bloody attention of ideological mass murderers. They might even take part in a sing-song. They might gather somewhere, flowers in hand, to sing 'Imagine' or hum along to a national anthem. But there's one exception to this custom. One nation for which this never happens. For whom virtue is never signalled, flags never waved, songs never sung, no matter how much terror comes its way. You know which nation it is. Israel.
Israel has been subjected to a wave of terror over the past three weeks and social-media mourners are nowhere to be seen. You'll be searching a long time – forever – to find a blacked-out square on Instagram or an Israeli flag in the Twitter bio of a member of the great and good. Many people I've mentioned the terror wave to hadn't even heard of it. From the mass stabbing carried out by an ISIS-supporting fanatic in the city of Beersheba on 22 March, which left two women and two men dead, to the mass shooting at a crowded bar in Tel Aviv last Thursday, in which three people were murdered, horrific attacks on Israeli citizens have passed many by. Five terror attacks, 14 deaths, and it barely makes a ripple in the Western consciousness.
The individual stories behind the wave of terror are truly grim. In the attack of 29 March – in which a Palestinian terrorist opened fire in the city of Bnei Brak, killing five – two Ukrainian nationals were among the victims. Aged just 23 and 32, they were sitting outside a shop, taking a rest, when they were shot to death. So it isn't only in Ukraine that Ukrainians face murder in the streets right now – they're at risk in Israel, too. One of the other victims in Bnei Brak was an Israeli-Arab police officer, a 32-year-old Christian who was engaged to be married. Two of the victims at the Tel Aviv bar were lifelong friends, both 27, meeting for a post-work drink. These are the human realities behind a wave of indiscriminate slaughter that many in the West can't even be bothered to notice.
Even where there has been media coverage of the terror wave, it has been strikingly subdued, far cooler than the kind of coverage that follows, say, ISIS-inspired killings of Christmas shoppers in Berlin or the Islamist murder of pedestrians in Stockholm. Indeed, the Guardian's coverage of the Tel Aviv shooting twisted the narrative to make it look like an act of Israeli violence. 'Israeli forces kill Palestinian after Tel Aviv shooting leaves two dead', its headline said. Note how soft this is, how badly written, the way it sacrifices journalistic standards to some sub-editor's seeming urge to paint Israel as the problem even when it is Israelis who are under attack. That phrasing – 'after Tel Aviv shooting leaves two dead' – is entirely passive. No mention of who carried out the shooting, far less why they did it. 'Leaves two dead' – do you mean 'murdered two people'? This wasn't a natural disaster, Guardian – it was a conscious act of terror.
Where woke elements in the West have taken notice of the wave of terror in Israel, they've talked about it in borderline sympathetic terms. A writer for the New York Times says the slaughter speaks to 'Palestinian anger over [the] vanishing prospects of a Palestinian state'. As if chasing people through a shopping centre and frantically cutting them with a knife, as happened in Beersheba, is an understandable response to unresolved issues around statehood. As if walking into a crowded bar and opening fire on revellers is a considered political statement on Israel's post-1967 borders. This all brings to mind the way an earlier explosion of terror in Israel in 2015 / 2016, during which there were around 350 attacks on Israeli citizens with knives, machetes and even scissors, was glorified by some Western observers with the political title of 'Knife Intifada'. And so are the random, brutal murders of Israelis simply for being Israelis elevated to the status of political action, of political protest. This suggests an unwillingness among observers to reckon with the increasingly unsettling nature of Palestinian violence, which is now far more inspired by Islamist ideologies – not only Hamas, but ISIS too – than by old, 1980s-style ideas about national liberation.
The truth is that the recent terrorising of Israel, these so-called Knife Intifadas, are driven by prejudice, not politics; by an almost existential loathing of Israel rather than by any reasoned opposition to Israel or any rational longing to construct a viable Palestinian state. And this cuts to the black heart of why the woke set in the West either turns a blind eye to such massacres or 'explains' / excuses them – because they actually share this existential opposition to the Jewish State. They have something in common with Israel's terrorisers. No, not a willingness to use violence, but a view of Israel as a uniquely wicked state. A conviction that the Jewish State is exceptionally problematic, so much so that violence against it is understandable. They share even the belief that the citizens of Israel bear collective responsibility – or guilt – for everything their government does, and thus they are legitimate targets. Only where Palestinian gunmen target ordinary Israelis for violence, Western woke activists target them for boycotts, censorship, sanctions, opprobrium. This is the tragic truth of Israel in the 21st century – it is under violent siege by terrorists and it is under political and moral siege by Western virtue-signallers. It is targeted by a truly unholy alliance of Islamic extremists and the Western chattering class.
Hating Israel is all the rage in woke circles in the West. Israeli militarism agitates the supposedly right-thinking set far more than any other nation's militarism does (except, very recently, Russia's). Radical students rage against Israel, the middle classes march against it, the rich boycott its produce and its culture, lest their pristine moral existences be polluted by the wares of this most problematic of nations. Such anti-Israel sentiment is not only fuelled by an extraordinary double standard, where Israel's counterterrorism comes to be viewed as so much worse, so much more bloodthirsty, so much more evil than anything done by Turkey, Saudi Arabia, China or, for that matter, the United Kingdom – it also implies collective guilt on the part of Israel's inhabitants.
Consider the BDS movement, which demands constant and careful avoidance of Israeli culture, Israeli academia, Israeli food, Israeli books. All Israelis are guilty, this movement implicitly says; all deserve exclusion from global circles of respectability. In a more bloody, less PC fashion, the violent terrorisers of Israel say the same thing – that all Israeli citizens are culpable, bad, evil, from those young friends drinking in a Tel Aviv bar to the women stabbed to death while shopping in Beersheba. All can be punished. All must be punished. We can no longer ignore the link, as informal and chaotic as it might be, between the collective demonisation of Israelis engaged in by the right-on over here and the collective victimisation of Israelis pursued by terrorists over there. Irrational Western hatred for Israel can be seen as at least one source of fuel for the irrational violence visited upon Israel by knife- and gun-wielding extremists. A swirling prejudice against the world's only Jewish State seems to unite both that state's violent assailers and its obsessive critics in the woke West. This regressive alliance needs to be challenged as a matter of urgency.
Brendan O'Neill is spiked's chief political writer and host of the spiked podcast, The Brendan O'Neill Show. Subscribe to the podcast here. And find Brendan on Instagram: @burntoakboy
To enquire about republishing spiked's content, a right to reply or to request a correction, please contact the managing editor, Viv Regan.