Could Macron's arrogance cost him the election?
The French elections have been far more volatile than the president expected.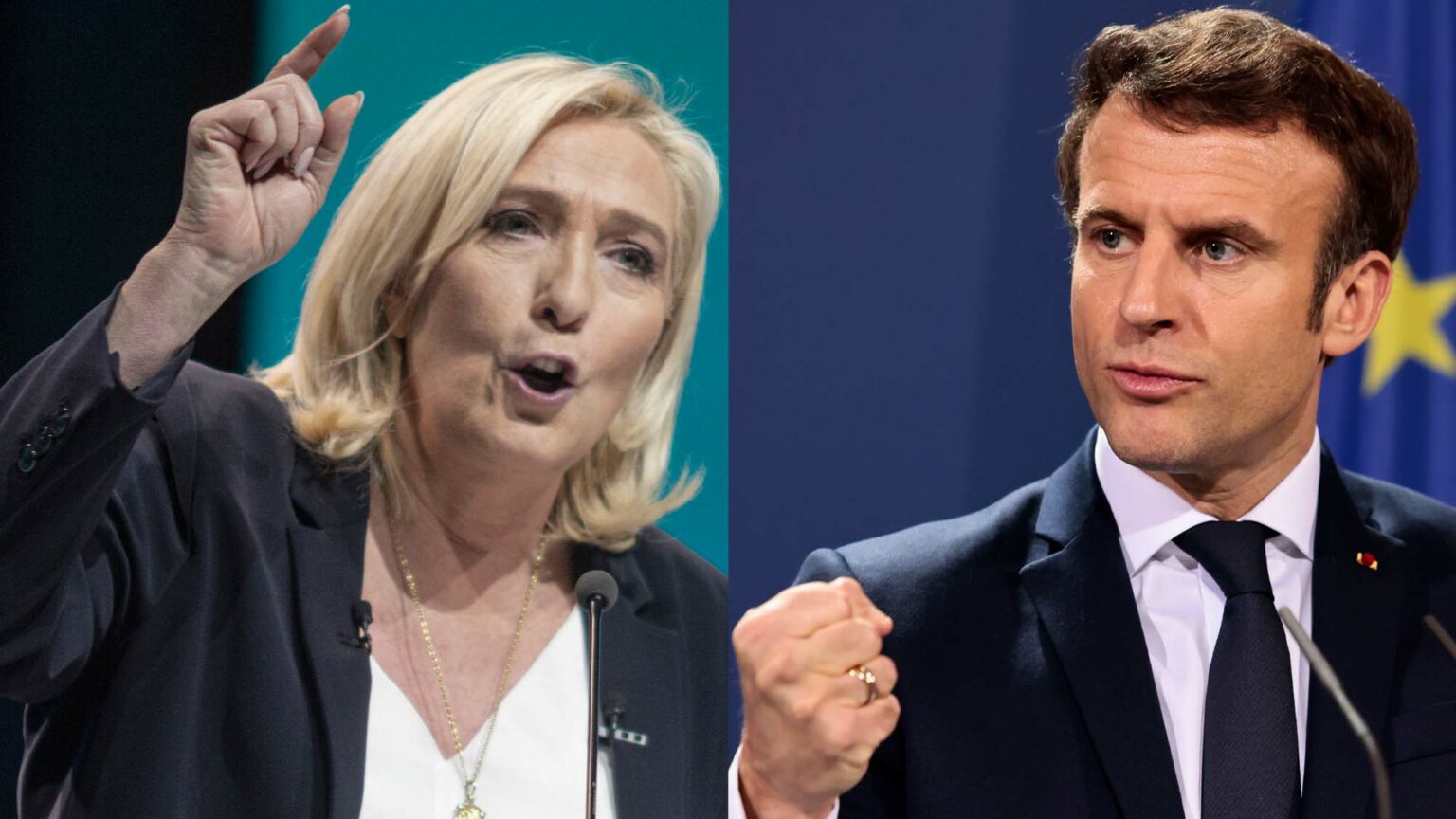 Panic has set in. As the first round of the French presidential election approaches, Emmanuel Macron's re-election has suddenly been thrown into doubt.
A series of recent polls has put the hard-right Marine Le Pen within spitting distance of the Élysée Palace. This has rattled the Macron campaign, spooked the markets and will no doubt have set alarm bells ringing in Brussels, too.
The Le Pen surge feels like it has come from nowhere. A month ago, she was trailing Macron by around 10 percentage points. Now she looks the most likely candidate to face Macron in the second round of voting – and polling on the second round has a Le Pen victory within the margin of error. Le Pen's polling is far more favourable than it was in the run-up to the last election, in 2017, when Macron trounced her by 66 per cent to 34 per cent.
This was not part of the plan. Macron was expected to cruise confidently to victory. So convinced was he of his recoronation, he has barely spent any time on the campaign trail. Macron only officially declared his candidacy for re-election at the beginning of last month. Though there was never any doubt he would run again, the repeated delays were a symptom of his aloofness to the small, inconvenient matter of domestic politics. His first rally of the campaign was held only last Saturday.
A cynic might say that the less time he spends with the public the better. When interacting with voters, he comes across as condescending and high-handed at best – insulting and arrogant at worst. He has little time for the left behind of France (whom he memorably described as 'people who are nothing'), for pensioners (who 'have no right to complain' about cuts), or for striking workers ('illiterates' and 'slackers'). He does not converse with voters, he lectures them.
Macron feels most in his element when dealing with other world leaders. And he had hoped to use the world stage as the backdrop to his campaign. At the beginning of the year, France assumed the rotating presidency of the EU. This was the perfect opportunity for Macron to project an image of himself as Europe's de facto leader – especially now that Germany's Angela Merkel is no longer around. Then came Russia's invasion of Ukraine. Macron positioned himself as the West's chief negotiator with Putin – and he briefly enjoyed a significant poll bounce.
But domestic, bread-and-butter issues are at the forefront of voters' minds. Le Pen's message has concentrated mainly on the cost-of-living crisis and much less on her usual bugbears of Islam and immigration. This is the culmination of a decade of attempts to 'detoxify' her National Rally party. Since Le Pen's poll surge, Macron has sought to remind voters of the NR's roots, by calling her a racist and a right-wing extremist. Campaign posters portray her as an asset of Vladimir Putin, for whom she has openly expressed admiration in the past.
Such is the volatility of French politics that tomorrow's first round of voting could throw up other surprises, too. Some polls suggest that veteran leftist Jean-Luc Mélenchon could stand in the way of a Le Pen / Macron rematch. But while he is the obvious forerunner of the left, the left is now a hugely diminished force in French politics. The six left and centre-left candidates vying for the presidency can barely muster a third of the vote combined. Mélenchon has been candid about his struggles to win working-class voters back from the far right or to persuade them to vote at all. 'Either the quartiers populaires vote in droves on 10 April, or I'm a dead man', he admitted last month.
And what of Éric Zemmour? The far-right former TV pundit, journalist and bestselling author was, until recently, by far the most talked about (and feared) candidate. Zemmour draws huge crowds to his rallies, but his polling has tanked in the run-up to the first round. Some observers say his extremism has made him a useful foil for Le Pen and her attempts at detoxification. Zemmour has twice been convicted of inciting racial hatred, has propagated the far-right Great Replacement Theory and has downplayed the crimes of the fascist Vichy regime – all of which make him too 'brutal' and 'radical' even for the hard-right Le Pen.
The candidates of the old centre-right and centre-left are also nowhere to be seen. Valérie Pécresse of les Républicains was a viable contender at the start of the year, and her party made a modest recovery in the 2021 regional elections. Now she is polling below Zemmour. Faring even worse is Anne Hidalgo, the Parti Socialiste candidate and mayor of Paris. The PS held the presidency as recently as 2017, but this year its candidate is on track to win just two per cent of the vote. The two most historically successful parties of the French Fifth Republic will be lucky to muster a combined vote of more than 10 per cent.
The volatility speaks to a powerful mood of anti-politics in France. Nearly three-quarters of French people think that politicians are 'corrupt' and 87 per cent feel that governments (of the left, right and centre) take no interest in 'people like them'. There is also widespread unease with the direction of modern France, with majorities saying they no longer feel 'at home' in France and that France is a nation in decline.
While this mood may favour an anti-establishment candidate, it could just as easily contribute to France's growing levels of abstention and apathy. The first Macron / Le Pen standoff registered a record number of spoiled ballots. Most of the parliamentary and local elections that followed suffered from record-low turnouts. Many will no doubt rather stay at home than vote with their noses held again.
Until this week, the French elections were seen as a done deal – a mere formality in the process of confirming Macron's second term. But there is little voters dislike more than being taken for granted. Things could be about to get interesting.
To enquire about republishing spiked's content, a right to reply or to request a correction, please contact the managing editor, Viv Regan.