Everyone who has a penis is a man
The idea of 'women with penises' is Orwellian, misogynistic drivel.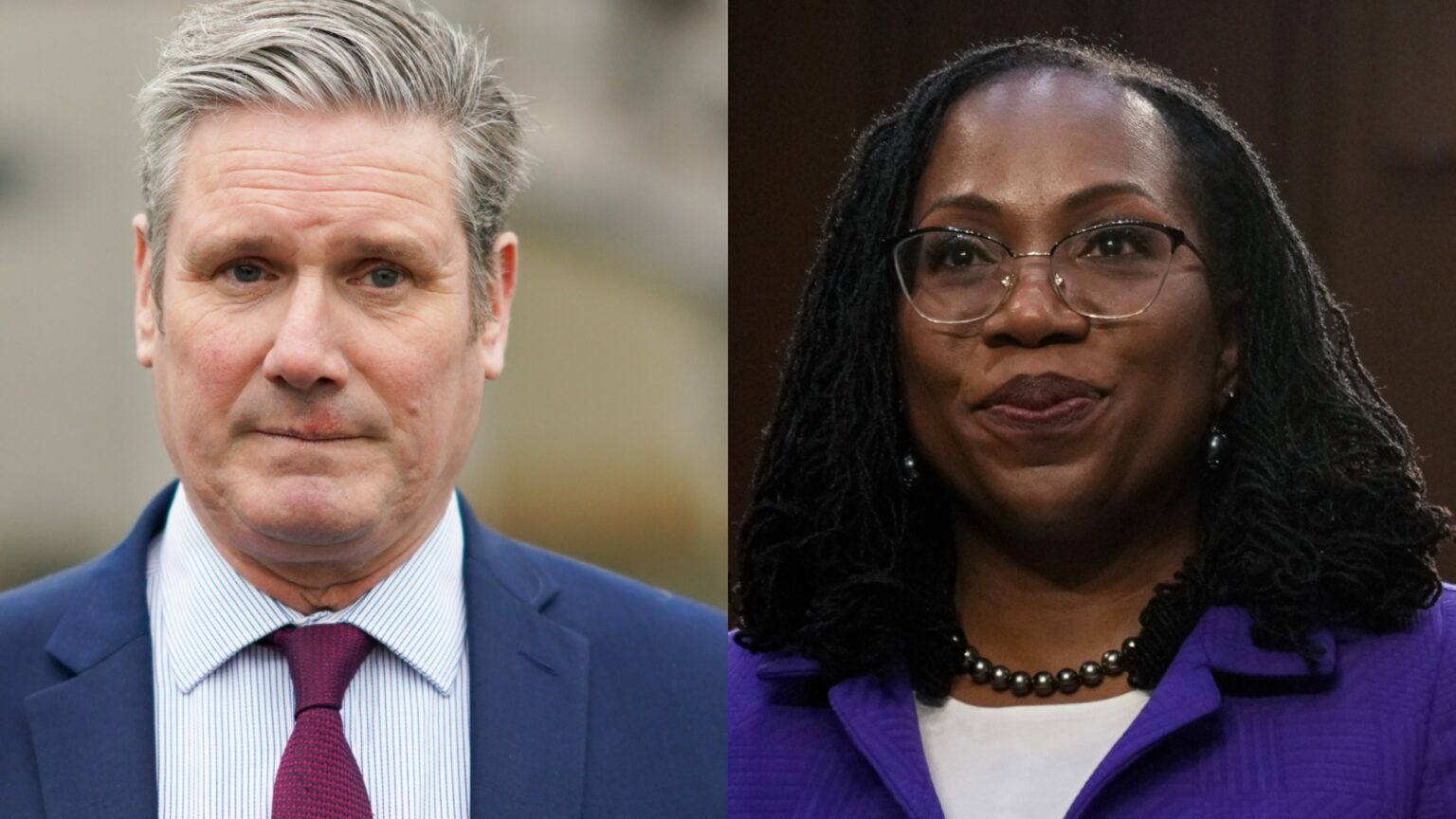 Remember when it would take a probing question about economic policy or whether we should keep or ditch our nukes to stump a politician? Not anymore. Now the political class is flummoxed, struck almost dumb, by a far simpler query: What is a woman? It used to take a 30-minute televisual grilling by Jeremy Paxman or Andrew Neil on failed policies, broken promises and sex scandals to take the wind out of our political leaders – now it just takes a simple question about biology that most five-year-olds could answer. I'm going to try it. Next time my path crosses with a politician I find annoying, I won't badger them about their betrayal of Brexit or their failure to defend free speech. I'll just say 'Hey, what's a woman?' That's kryptonite to the political elite.
This week it was Labour leader Keir Starmer's turn to get bizarrely flustered on the woman question. Having previously refused to confirm what everyone with a basic grip of biology knows to be true – that only women have cervixes – now Sir Keir cannot bring himself to say that only blokes have penises. Back in September, when Labour MP Rosie Duffield was forced to stay away from the Labour conference over her scandalous belief that only women have cervixes, Starmer said it is 'not right' to say such a thing. 'It is something that shouldn't be said', he insisted, which makes you wonder if a Labour government would censor school biology books that contain illustrations of women, and women only, with cervixes. This week, Starmer was asked by LBC host Nick Ferrari if a woman can have a penis. His response? 'Uh. Nick, I'm not, err. I, I don't think we can conduct this debate with, you know, I get this, uh.' And there you have it: the leader of the opposition doesn't know that people with penises are men, not women.
Starmer isn't alone in being unable to answer basic questions about biology. Let's not forget that Boris Johnson also swerved the cervix question. '[B]iology is very important, but' – but! – 'we have a system now in our country for many years in which people can change gender', he said in October. When former shadow chancellor Anneliese Dodds was asked what a woman is, she said: 'Well… there are different definitions legally around what a woman actually is.' Over in the US there's Joe Biden's Supreme Court nominee, Ketanji Brown Jackson, who was asked during her confirmation hearing last week if she could provide a definition for the word 'woman'. 'No, I can't… I'm not a biologist', she said. As virtually everyone on the internet asked: how did human beings know what a woman was before the advent of the science of biology? How did Adam know Eve was a woman? It's a mystery.
We need to step back and contemplate the madness of all this. There are now highly educated party leaders and potential Supreme Court judges who cannot say what a woman is. Labour, the supposed party of the working class, is now led by a man who seems to think a woman can have a penis. This is a species of hysteria. And it's worse online, as is everything. Social-media sites are awash with people barking: 'Some women have penises! Get over it!' Dare to question this deranged mantra and some will say: 'Suck my girldick!' Trans author Shon Faye writes about his cohort of eccentric bourgeois friends that includes 'lesbians with vulvas in relationships with women with penises', breezily stating as a fact what the rest of us know to be lunacy – that someone with a swinging dick and balls can be a woman. Not as a joke, like Les Dawson, but literally, legally and factually a woman. This is cultural delirium.
It's time we pushed back, really firmly, against this denial of reality and manipulation of language by activists, journalists and leading political figures. Here's how Starmer, and everyone else, should answer the question of whether a woman can have a penis: 'Absolutely not. Every single person who has a penis is a man. There has never been a woman with a penis and there never will be.' No more pussyfooting. No more trying to please both sides, not least because one side is barking mad, going on about girldicks and lesbians with bollocks, while the other maintains a perfectly reasoned and correct belief in the reality of womanhood and the importance of women's rights. No, from now on let's just state it clearly: 'People with penises are men. All of them. The End.'
Why is it important to take a stand on this? First, because we must never let fear win. It's as clear as day why so many people are reluctant to state the truth that 'women don't have penises' – because trans activists and their army of allies in the woke set have built a culture of tyranny around this issue. They harass, hound, demonise, censor and threaten anyone who questions their warped ideology. They have successfully stymied debate. They have silenced women – pesky, pain-in-the-arse women – in particular. A Daily Mail headline this morning says top female cyclists are 'too scared to speak out' over the inclusion of male cyclist Emily Bridges in a women's cycling competition this weekend. That's because they know they will be called whores and bitches and will possibly be threatened with rape and death, as JK Rowling and other women have been for questioning the idea that men can be women. Countering this sexist, censorious climate of fear is one of the most essential tasks facing genuinely progressive people today.
Secondly, there's the Orwellianism of it all. 'Women with penises' is Newspeak, plain and simple. It represents a sinister top-down manipulation of language to the end of altering how we speak and even think about sex, gender, family and community. If they win on 'women with penises', they will have established their right to shape reality as they see fit, and to re-engineer the masses, with threats of censure and violence if necessary, to think in the 'correct' way. 'Women don't have penises' is one of the most revolutionary, anti-elite statements a person can make in the 21st-century West.
And thirdly, it is just really misogynistic to say that someone with a penis can be a woman. What this statement really means is that people with penises – men – should be free to define themselves as they see fit, and to do anything they damn well please, and that any woman who gets in their way is a bigoted harridan who deserves the punishment of social ostracism and possibly a touch of violence. You say: 'Of course a woman can have a penis.' We hear: 'Of course men can do anything they want, including pretending to be women, going into women's spaces, taking women's places in sport, and shutting down any person with a vagina who dares to get in their way.' Hysteria, unreason, censorship and prejudice should always be called out. And for that reason, let's say it loud and clear: 'If you were born with a penis, you are not a woman, and you never will be.'
Brendan O'Neill is spiked's chief political writer and host of the spiked podcast, The Brendan O'Neill Show. Subscribe to the podcast here. And find Brendan on Instagram: @burntoakboy
Picture by: Getty Images.
To enquire about republishing spiked's content, a right to reply or to request a correction, please contact the managing editor, Viv Regan.