Why Will Smith slapping Chris Rock proves my point…
…about toxic masculinity, anti-blackness and maybe the war in Ukraine.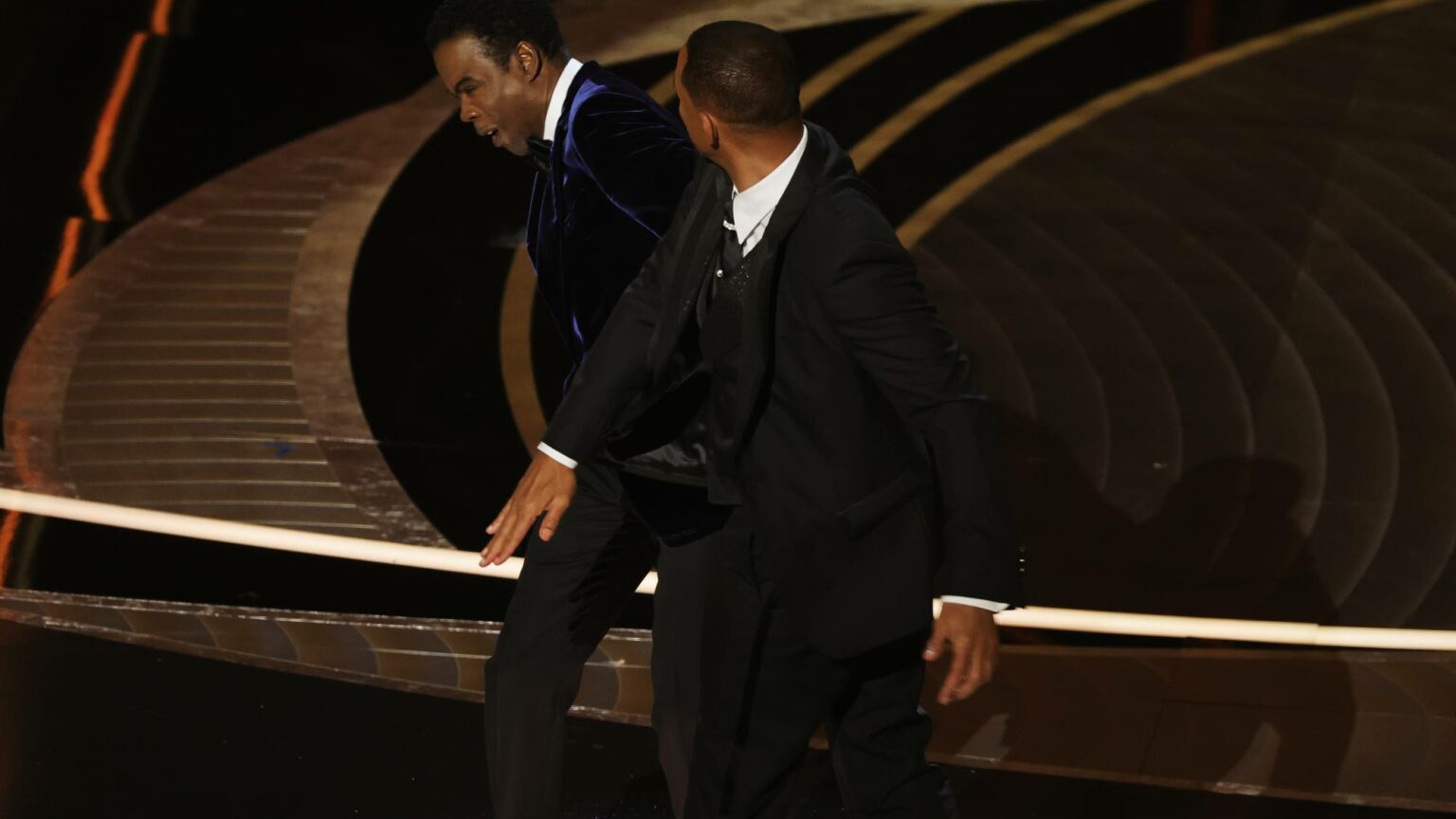 It's kind of sad to see. It's the day after the Academy Awards and instead of talking about what really matters at the Oscars – the speeches, the pledges to dismantle white supremacy, the sassiest takedowns of Vladimir Putin – we're talking about Will Smith slapping Chris Rock. One man's act of light violence and the media circus around it have besmirched this otherwise crucial night for social harmony and geopolitics – all by making it 'entertaining'.
But then the layers of sociopolitical meaning contained within that on-stage scuffle are impossible to ignore. After all, the personal is political – including the bitchslaps. Soon after Oscars host Rock made that joke about Jada Pinkett Smith's bald head making her resemble GI Jane, leading husband Will to smack Rock and shout at him, it became clear this was more than a brief fight over the honour of a rich woman with alopecia. It was a teachable moment – one that speaks deeply to issues of race, gender and perhaps even the war in Ukraine.
I know a lot of people are angry at Will Smith today. And rightly so. Last night he was a marching, swinging advert for the dangers of toxic masculinity. Of course it's fine to occasionally threaten or attack those who tell offensive jokes. Words are violence and sometimes you need to respond in kind. But the way in which he did it was some macho BS, shot through with patriarchal contempt. Couldn't he at least have asked Jada if she wanted to have the first pop? It became all about Smith and his ego, rather than Jada and her ego.
Then there's the big racist elephant in the room. First of all, would anyone in the media have cared about this scrap if it had been two white guys slapping each other? We expect that from them, after all. We'd probably have called it 'banter' and moved on. Then there's the other question that haunts me: would Smith have gotten away with this if Rock was white? I think we all know the answer to that. Smith would have been tackled, cuffed, charged with domestic terrorism. That pasty transphobe Ricky Gervais would never have to put up with this shit.
I know the intersections are a little complicated here. All I'm saying is that if America wasn't so racist, Smith would be in jail by now. But then Rock hardly comes out of all this particularly well, either. He would never have made fun of Jada Pinkett Smith's head if that bald pate had belonged to a white woman. He wouldn't have dared. The considerable professionalism with which Rock received Smith's right hand cannot obscure his internalised anti-blackness and selective ableism.
One more thing. Am I the only one thinking that there would be more sympathy for the Pinkett Smiths today if it wasn't for our society's bigoted disdain for open relationships, polyamory and alternative family structures? All those 'hilarious' tweets about Will Smith saying 'keep my wife's name out your fucking mouth', while being otherwise relaxed about what she and other men and their mouths get up to, reflect our society's dogged refusal to understand that letting younger men shag your wife is what progress looks like in 2022.
So no, this was not just one clearly unstable actor slapping a comedian who made fun of his wife. If only it were that simple. That slap and the reaction to it have served as a chilling reminder of various things I've been saying for years. And it's about time we all woke up to that.
Felix Ponsford-Wise is the founder of Takes magazine and not a real person.
To enquire about republishing spiked's content, a right to reply or to request a correction, please contact the managing editor, Viv Regan.