No, Vladimir Putin is not an ally of JK Rowling
Those who took his cancel-culture comments seriously are the real useful idiots.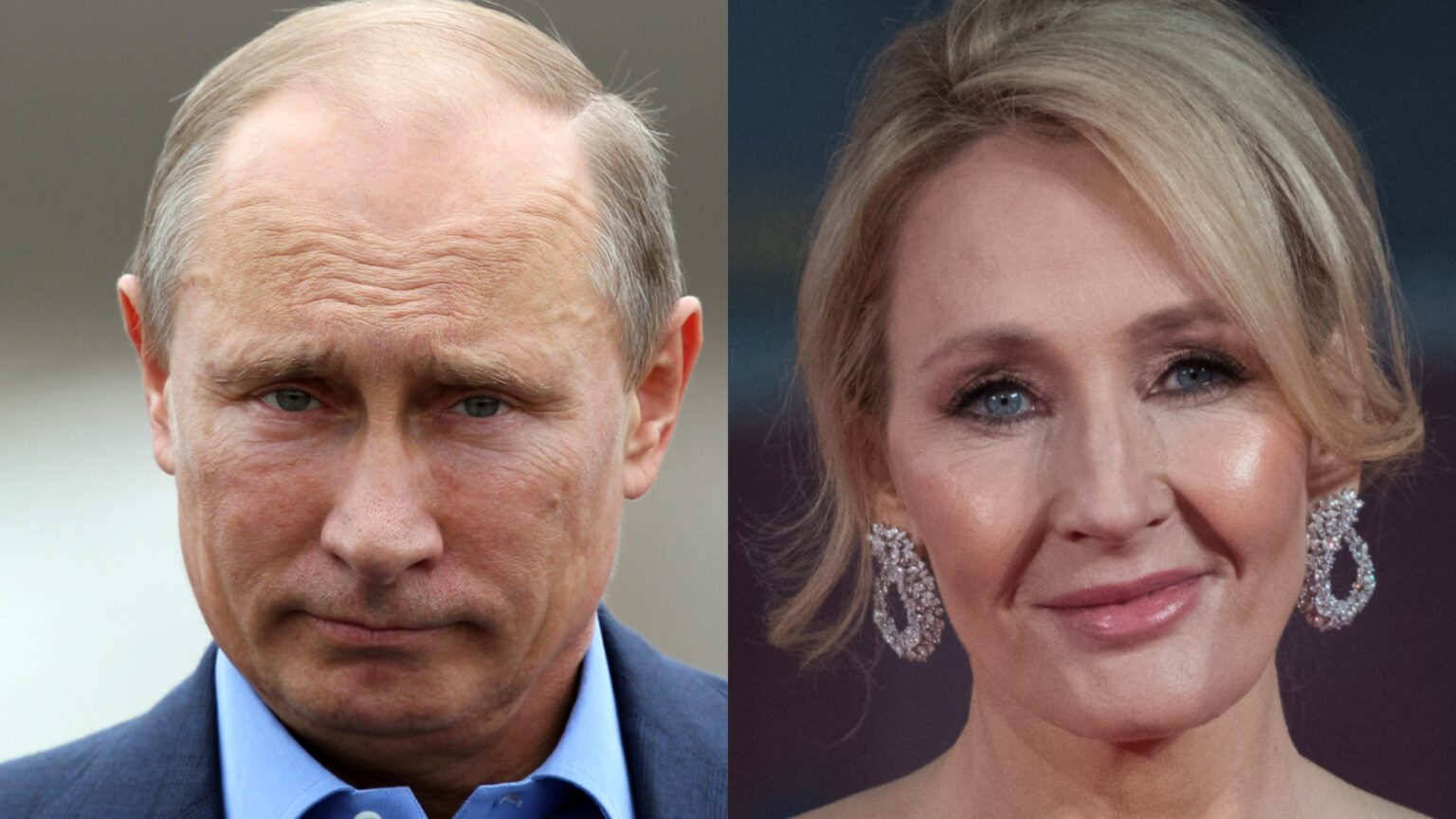 The phrase 'useful idiots' is being thrown around a lot at the moment. As Russia's imperialist war in Ukraine wears on, if you stray for a moment from any number of simplistic scripts you can be accused of being a Putinist stooge or recycling Kremlin talking points.
You can be as pro-Ukraine as the next person – we at spiked certainly are – but if you so much as mouth the words 'NATO expansion', or argue that Russian artists should not be punished for the actions of their government, some freshly minted Russia expert will lose it with you and demand to know who funds you.
That said, it is hard to think of a phrase more fitting than 'useful idiots' to describe the blue-tick wonders who wet themselves with excitement this weekend in response to Putin's comments about JK Rowling and cancel culture.
In a televised address on Friday – from that weird beige room the warmongering Russian leader is apparently held up in – Putin feigned outrage about cancel culture and accused the West of trying to 'cancel' Russia. He likened the knee-jerk censorship of Russian art and artists in the West, in response to his invasion of Ukraine, to the treatment of Rowling for her gender-critical views.
'They cancelled Joanne Rowling recently. The children's author – her books are published all over the world – fell out of favour with fans of so-called gender freedoms, just because she didn't satisfy the demands of gender rights. Today they are trying to cancel a thousand-year-old country.'
To call these comments rich is a colossal understatement. They are grotesque. This authoritarian leader who is currently trying to wipe a sovereign nation off the map, who is locking up his own citizens if they dare to call his war a war, is whining about being cancelled and posing as some defender of artistic and intellectual freedom.
'It is impossible to imagine such a thing in our country', he said. Perhaps he's unaware of Yulia Tsvetkova, the feminist artist facing six years in prison for artwork depicting women's anatomy. Or the Russian artist arrested in January for an offensive sculpture. Or if that was all too long ago, the thousands of anti-war protesters who have so far been arrested for opposing his 'military operation'.
Or perhaps this was an obvious bit of trolling from a leader whose authoritarian rule makes Western cancel culture look quaint by comparison. Anyone with a brain cell could see what he was up to. JK Rowling herself had the perfect response, tweeting an article about jailed Russian opposition leader Alexei Navalny and pointing out that Putin is hardly a credible critic of Western illiberalism.
The commentariat, on the other hand, lost their tiny minds. '[C]ongratulations, you agree with Putin. You are his ideological ally', tweeted DC-based journalist Julia Ioffe, addressing critics of cancel culture. English leftish troubabore Billy Bragg used the story to have a pop at gender-critical feminists. 'Does it not trouble you when you see who is amplifying your signal?', he asked.
That wasn't even the worst of it. 'JK Rowling has one famous fan who's not turning his back on her despite her nosedive into TERFdom over the last few years: Vladimir Putin', reads an article in Out, the LGBTQ magazine. Even various mainstream outlets made a point of highlighting Rowling's allegedly 'anti-trans' beliefs.
Where to start with all this? First off, if you want to convince a sceptical public that cancel culture doesn't actually exist then maybe don't go around branding those you disagree with as would-be allies of a brutal dictator. To suggest that liberal women like Rowling – who have made clear that their concerns lie with extreme trans ideology, not trans people – are on the same page on social issues as Putin is a vile smear, designed to shut these women up.
Plus, if anyone is boosting anyone's 'signal' in this situation it is this cascade of anti-Rowling midwits whose furious quote-tweeting briefly turned Putin's obvious bit of shit-stirring into a front-page story. There's an actual war going on. People are fighting for their lives and freedoms. And yet this lot are quite literally pushing Kremlin talking points in order to dunk on a children's author. It beggars belief.
You also don't have to believe that Putin was playing some genius bit of 3D chess here – purposefully starting Twitterstorms to destabilise the Western powers – to see that all this culture-war froth plays into his hands. At the very least, the mad responses to his comments kind of proved his point for him – that our supposedly liberal elites are censorious hypocrites and batshit crazy to boot.
When war broke out it was tempting to think this would finally be the thing to shake the West out of our woke idiocy – that it would succeed where a deadly pandemic had failed. But while the return of war in Europe has certainly exposed how unprincipled, unserious and mired in woke dogma our elites are, none of it is going anywhere.
There's a simple reason for this. Wokeness is not a passing fad, it is the lens through which our elites now see the world. Even in these serious times, they can't resist its demented embrace. Rising to the intellectual challenge of this new and uncertain era, in which some of the unanswered questions of history have brutally re-emerged, means pushing back wokeness once and for all.
We cannot simply wish it away – or grimly hope that a real war will win the culture war for us.
Tom Slater is editor of spiked. Follow him on Twitter: @Tom_Slater_
To enquire about republishing spiked's content, a right to reply or to request a correction, please contact the managing editor, Viv Regan.