It's not 'Putin apologism' to criticise NATO
The debate over the war in Ukraine is becoming dangerously narrow.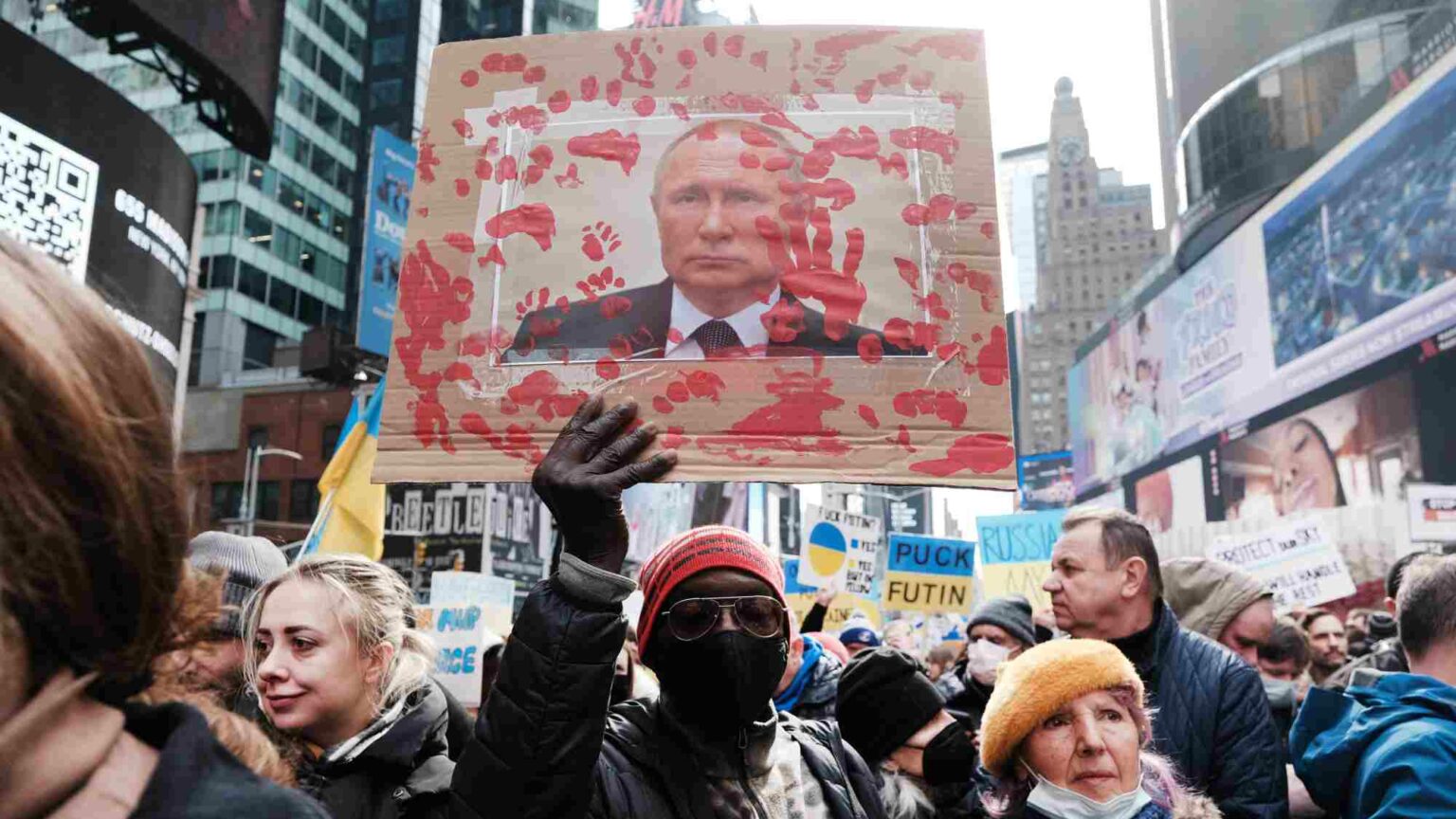 The war in Ukraine is barely two weeks old. But in that brief time the space for debate has already been severely narrowed. Views that were tolerated a matter of days ago are now presented by our political and media classes as something much more sinister – as borderline treacherous forms of Putin apologism.
No view has been as rapidly stigmatised, perhaps, as the argument that NATO's eastward expansion after the end of the Cold War has played a significant role in inflaming tensions between Russia and the Western powers. This is now increasingly framed as the view of the Kremlin shill, the useful idiot, the Putin sycophant. Although it is clearly an attempt to explain the deterioration of post-Cold War relations, it is now seen as an attempt to justify Russia's invasion of Ukraine.
This is absurd for two reasons. First, because criticising NATO's policies in recent decades is in no way a justification of Putin's recent actions. Putin was not forced to launch a full-scale invasion of Ukraine. He decided to. And responsibility for that despicable decision therefore rests with the Kremlin alone.
And second, this critical view of NATO's role is hardly the preserve of Russia's natural bedfellows. It has been articulated, in no particular order, by Jack Matlock, a former US ambassador to the Soviet Union; William Perry, a former US defence secretary; and even current CIA director, William Burns. Indeed, it was Burns who, on a 1995 trip to Moscow, warned that hostility to NATO expansion is 'almost universally felt across the domestic political spectrum here'. He concluded that such a move was 'premature at best, and needlessly provocative at worst'. In 2008, Burns even warned that extending NATO membership to Ukraine would cross Moscow's security 'red lines' and 'could potentially split [Ukraine] in two, leading to violence or even, some claim, civil war'.
It was also the view of the 50 US diplomats, former senators and retired military officers who, in 1997, signed a letter calling NATO expansion 'a policy error of historic proportions', which would 'strengthen the non-democratic opposition [in Russia], undercut those who favour reform and cooperation with the West, [and] bring the Russians to question the entire post-Cold War settlement'.
It was the view, famously, of George Kennan, former US diplomat and architect of the US strategy of containment towards the Soviet Union during the Cold War. Kennan, also in 1997, called NATO enlargement the 'most fateful error of American policy in the entire post-Cold War era'. And of course it was (and still is) the view of American political scientist John Mearsheimer, as expressed in a now infamous 2014 piece in Foreign Affairs – published after Russia annexed Crimea. There he said that 'the US and its European allies share most of the responsibility for the crisis in Ukraine'.
But now this critical view of NATO expansion has, within the space of a fortnight, become near enough unacceptable. To voice it is to be accused of supporting Russia, of excusing its abhorrent invasion.
Mearsheimer himself, thanks to Russia's Ministry of Foreign Affairs tweeting an endorsement of his 2014 article, has now been accused by journalist Anne Applebaum of providing 'the narrative' for Russia's invasion of Ukraine. Before that, UK Labour leader Keir Starmer accused 11 of his own MPs, who signed a Stop the War motion urging NATO to 'call a halt to its eastward expansion', of 'showing solidarity with the aggressor'. And the Democratic Socialists of America, which issued a statement that condemned Putin's invasion and criticised NATO expansion, were said to be 'making excuses for Putin' by the New York Post.
You don't have to support Stop the War, the DSA or Mearsheimer to realise there's a problem here. We are in the midst of potentially the most significant crisis of our lifetimes. We stand teetering on the brink of a continent-wide war, and decisions taken right now could take us over the edge. So at this most pivotal of moments, debate, argument and understanding have never been more vital. That's why every possible light has to be shed on this conflict – not just those cast by the likes of Applebaum or Starmer, but those cast by NATO's critics, too.
Instead, we're seeing lights blocked off. We're seeing views demonised as those of the enemy. We're seeing attempts to understand what has brought us to this crisis point dismissed as aiding and abetting Putin. It leaves us with an increasingly one-sided debate, in which there is one Putin-is-Hitler-style narrative and, potentially therefore, only one possible course of action. We desperately need a more open debate.
Tim Black is a spiked columnist.
To enquire about republishing spiked's content, a right to reply or to request a correction, please contact the managing editor, Viv Regan.