In praise of Russia's brave dissidents
Some Russians are risking everything to speak out against Putin's invasion.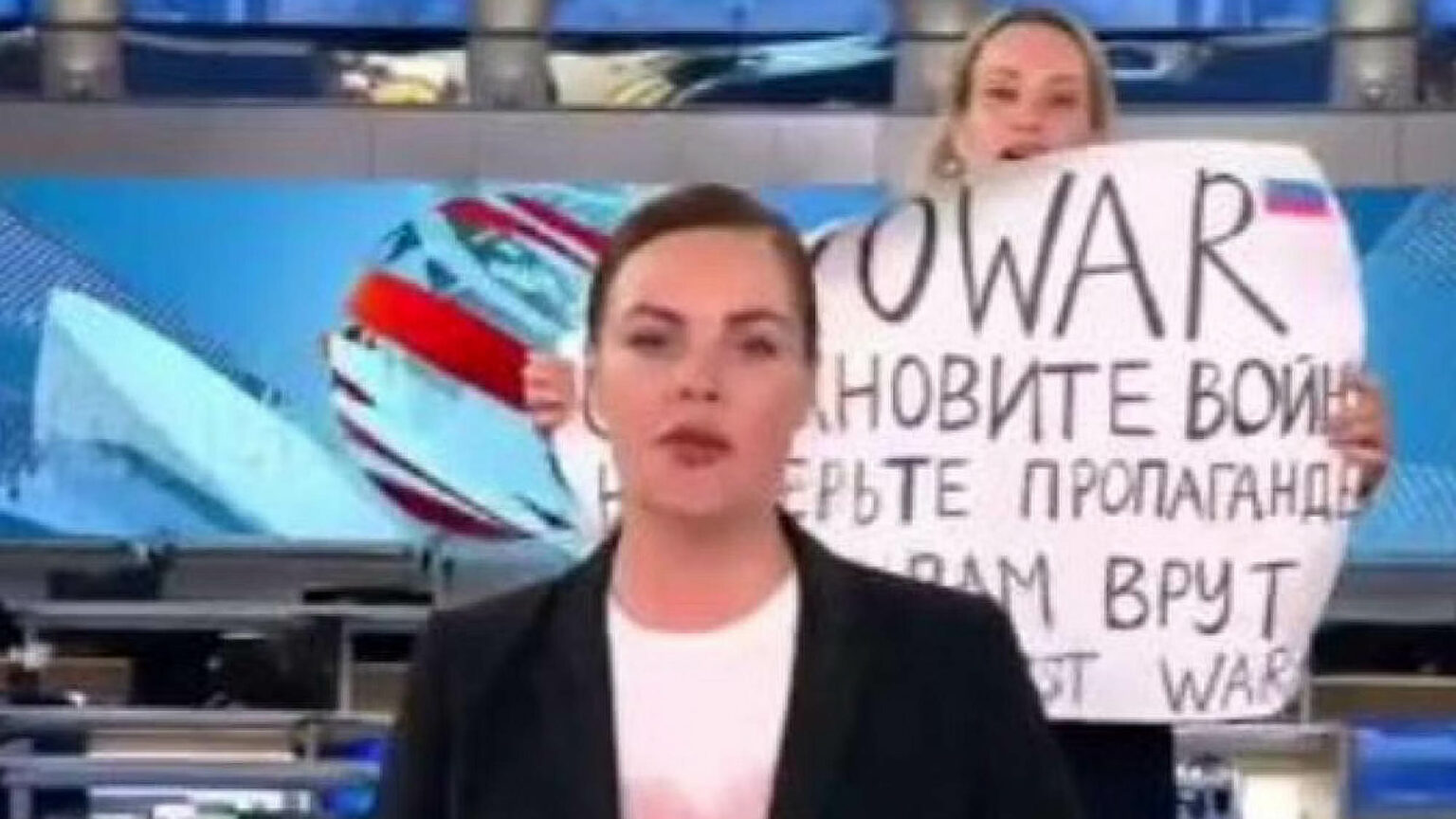 Russia's invasion of Ukraine is facing fierce resistance – not just from the Ukrainian fighters defending their homeland, but on the homefront, too.
Since the invasion, the Putin regime has implemented strict controls on the media and has cracked down heavily on protests. A liberal TV channel and radio station have been forced to shut down. Any journalist caught contradicting the Kremlin line – that Russia has not invaded Ukraine, but rather is conducting a 'special military operation' – can face up to 15 years in prison, for the crime of spreading 'fake' information or disrespecting the military. But none of this has stopped Russians from speaking out. Far from it.
Fifteen years in prison was the potential punishment hanging over the head of Marina Ovsyannikova, who, last night, burst on to the set of Russia's most-watched news programme, shouting anti-war slogans and holding aloft an anti-war banner. 'Stop the war. Don't believe the propaganda. They're lying to you here', the poster read. Ovsyannikova could be seen and heard for a few seconds on the state-controlled Channel One, before the powers-that-be cut to a pre-recorded segment.
Ovsyannikova then disappeared for 14 hours, before appearing in court. The worst, at least for now, did not come to pass. She has since been charged not with a criminal offence but with an administrative offence, for 'organising an unauthorised public event', and fined 30,000 roubles (around £210).
After her TV stunt, Ovsyannikova was quickly identified as an employee of the channel. She mainly translated foreign politicians and other public figures into Russian. She was 'a cog in the machine', as former BBC Russian service journalist Farida Rustamova put it. Her colleagues told Rustamova that they have never heard her talk about politics – 'Mostly about children, dogs and the house'.
But as Mario Savio, the civil-rights and free-speech activist memorably said, there are times 'when the operation of the machine becomes so odious, makes you so sick at heart, that you can't take part… And you've got to put your bodies upon the gears and upon the wheels… upon the levers, upon all the apparatus, and you've got to make it stop.' Ovsyannikova's brave act of sabotage expressed exactly this drive – in which the barbarism of the state forces you to take a stand, even if that means putting yourself in harm's way. For a few seconds at least, thanks to her courage, the propaganda machine faltered.
Ovsyannikova is not alone. A few other chinks of light have made it through the armoury of Russian state propaganda. Guest pundits on Channel One have failed to toe the line, too. Last week a serving army officer said, live on television, that Russian soldiers were dying in Ukraine (the host snapped back that the special operation had been a 'triumph'). An academic warned that the invasion could be worse for Russia than the Soviet occupation of Afghanistan. And filmmaker Karen Shakhnazarov expressed his fears that Russia would become isolated from the world as a result of the conflict.
Others have taken more subtle swipes. The online TV channel Dozhd (TV Rain), which at the start of the conflict was reporting both the Ukrainian and Russian view of the invasion, used its final moments on air before the Kremlin pulled the plug to play the same recorded performance of Swan Lake that Soviet state TV played on a loop during the failed coup against Mikhail Gorbachev in 1991. This was a heavy hint that the Kremlin was up to no good.
Anti-war protesters have continued to defy the state ban on demonstrations, risking police brutality and lengthy jail sentences. An estimated 15,000 arrests have been made according to Ovd Info, a human-rights project. Simply turning up to a demonstration is now enough to get you arrested. At the weekend, a protester was filmed in Nizhny Novgorod, holding aloft a blank sign – and she was still detained by police. Yesterday footage emerged of a woman in Moscow's Manezhnaya Square holding up a small sign that said 'two words', for just a few seconds, before she was grabbed and marched off by armed police.
This bubbling dissent should be a stark reminder not to confuse the Putin regime with the Russian people. In the West, there has been an alarming and frightening tendency to boycott and cancel anything that so much as seems Russian. As Tom Slater outlined on spiked last week, Russian artists working in the West have been forced to swear a kind of reverse loyalty oath, pressured into denouncing Putin and his war, even though this could cause harm to their families back home. Even those brave enough to oppose the war have been cancelled regardless, simply because of their Russian nationality. Surely the sight of those dissidents in Russia, risking everything to speak out against the war, will shatter the Russophobic stereotype that Russians are all unthinking dupes of the regime.
In recent weeks, we have seen so many Russians who are prepared to risk everything to resist Putin's war. We in the West have a duty to encourage and support them. Their protests must not be in vain.
To enquire about republishing spiked's content, a right to reply or to request a correction, please contact the managing editor, Viv Regan.