We told you not to politicise sport
That war-supporting Russian gymnast is only an inversion of Western virtue-signalling.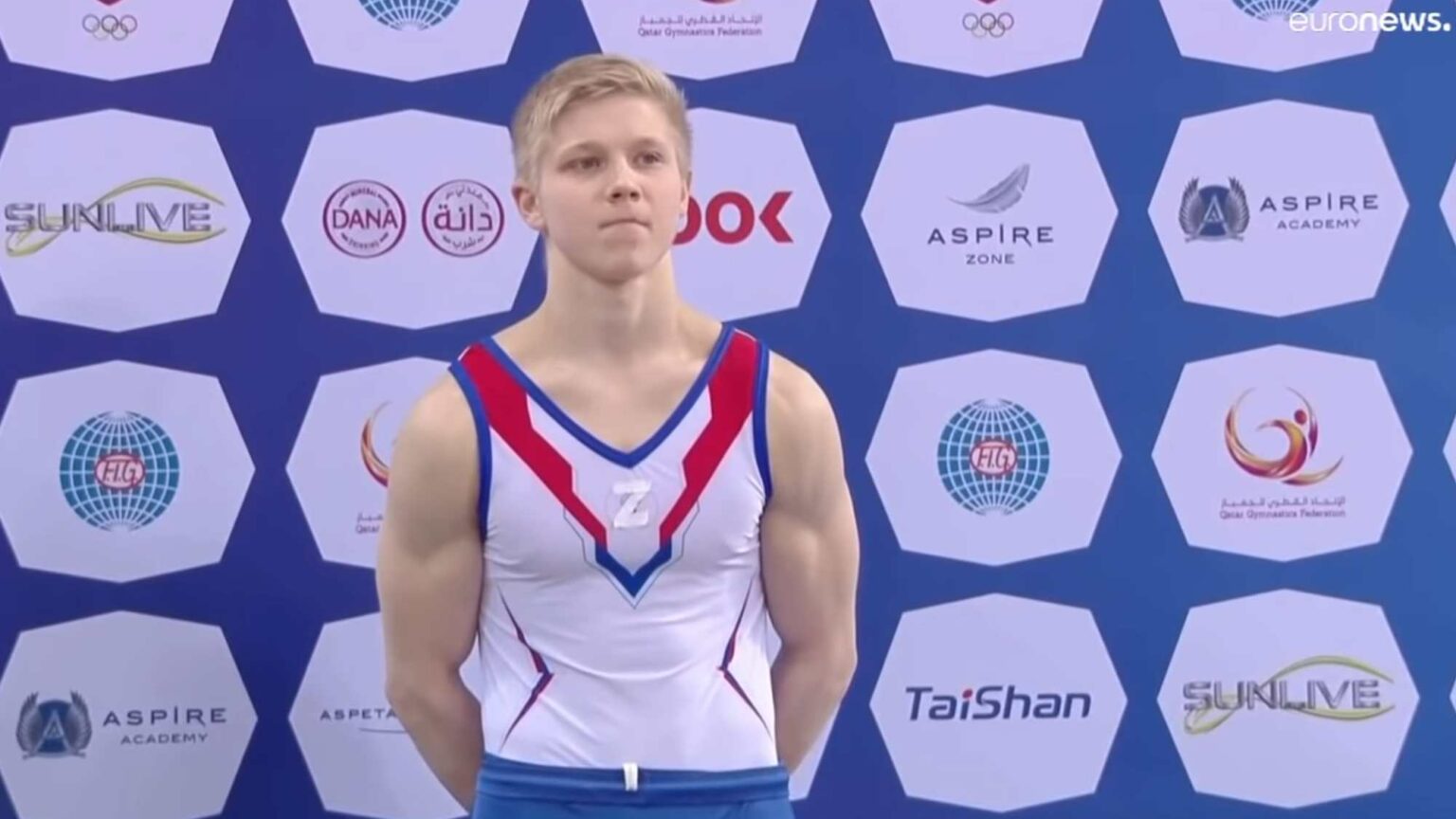 Let's call it vice-signalling. That's essentially what Russian gymnast Ivan Kuliak did at a World Cup event this week when he declared his support for the invasion of Ukraine. The Putin-backing toerag took to the podium to receive his bronze medal for the parallel bars with the letter 'Z' stuck to his vest. In Russia, 'Z' has come to symbolise staunch support for Putin's war. Russian soldiers in Ukraine daub it on their tanks. It has been graffitied on to bus stops in Moscow. Russian motorists attach Zeds to the rear windows of their cars. And now here was Mr Kuliak, all Zedded up, using his moment in the sporting spotlight to signal his beliefs, to advertise to the world what he no doubt considers to be his virtuous support for Russia's gallant suppression of Fascist Ukraine, but which looked to the rest of us like a dweeb dumbly backing a war of imperialist aggression.
We told you not to politicise sport. Young Ivan's idiotic and chauvinistic gesture has caused a storm of condemnation in the West. The International Gymnastics Federation has referred him to the Gymnastics Ethics Foundation 'following his shocking behaviour'. He now faces a lengthy ban from his sport. He 'sparked uproar' by donning this 'national WAR symbol', says the Daily Mail. All of which is fair – supporting the violent subjugation of Ukraine is a repulsive thing to do, deserving of condemnation. But at the same time, what did we expect would happen once we gave a green light to the politicisation of sport? Once we permitted everything from football to athletics to be overrun by incessant displays of virtue and political signalling? Once we okayed knee-taking and Pride football laces and trans visibility and all the other causes that have been so incongruously attached to sport in recent years? You can't make sport political and then be surprised when people use sport to be political.
There was an amusing element to Kuliak's vice-signalling antics. The gold medal for the parallel bars at this World Cup meet in Qatar was won by a gymnast from… Ukraine. Perfect. So there was Mr Kuliak looking very satisfied with his pro-war gesture, having to look up to the superior, gold-adorned Illia Kovtun of Ukraine. It was a sporting snapshot of how many of us hope the war itself finally turns out. But of course there was all the fury too. People seemed genuinely agog that a sportsman would use the podium to promote a message that will have caused offence to a great many viewers. In response to which we must ask: where have you been for the past few years? Sport is now awash with political preening and messaging and sometimes even the purposeful offending of the crowd, to shake them out of their un-PC stupor. Kuliak is merely an inversion of all this, a warped mirror image of our own virtue-signalling.
Sport has been well and truly sullied by politicised gesturing. English footballers are still taking the knee, almost two years after George Floyd was murdered 4,000 miles away. Colin Kaepernick has become a saint of the woke set, widely valourised for his inability to play a game without ostentatiously kneeling down first. Major sports bodies now actively welcome the making of gestures by sportspeople. Prior to last year's Tokyo Olympics, the International Olympic Committee said it would allow participants to 'express a political gesture' prior to their event (but not during their event or on the podium). As for Mr Kuliak pissing people off, which he undoubtedly did, that also seems to be the aim of some of the nicer signalling indulged in by Western sports stars. When England fans booed players for taking the knee during Euro 2020, Gary Lineker said these boo boys were 'part of the reason why players are taking the knee'. In short, wind 'em up.
No, this is not to compare supporting Black Lives Matter to supporting Russia's massacring of Ukrainian people. Even those of us who are not fans of BLM would not engage in such preposterous false equivalence. But it seems undeniable that once you green-light gesture-making in sport, including gestures in support of controversial organisations, you will set in motion a chain of events over which you will eventually lose control. 'Oh, we didn't mean political gestures like that one.' Too late. You've already established that sportsmen are legitimate purveyors of political beliefs, even when those beliefs irritate viewers. Take the BLM example. Nope, backing BLM is nothing like backing Putin's war. But BLM is a controversial group, promoting mad ideas about ending the nuclear family, and under its banner a huge amount of destruction and even loss of life occurred in the US in 2020. If the likes of Ivan Kuliak see sportsmen backing disputed causes and think to themselves 'I'm gonna do a bit of that', can we blame them?
Sport has been colonised by the culture wars. If it now comes to be similarly infused with opinions on actual wars, then the woke set will have to engage in some serious self-reflection. Perhaps they'll finally listen to those of us who said that sport should be a spectacle of excellence – yes, even the excellence of Russian gymnasts with questionable inner beliefs – rather than being a battleground over virtue and meaning and how to correct the attitudes of the problematic plebs. Kick all politics out of sport.
Brendan O'Neill is spiked's chief political writer and host of the spiked podcast, The Brendan O'Neill Show. Subscribe to the podcast here. And find Brendan on Instagram: @burntoakboy
Picture by: Euronews / YouTube.
To enquire about republishing spiked's content, a right to reply or to request a correction, please contact the managing editor, Viv Regan.