Trans privilege
It is an outrage that Lia Thomas is allowed to compete against women.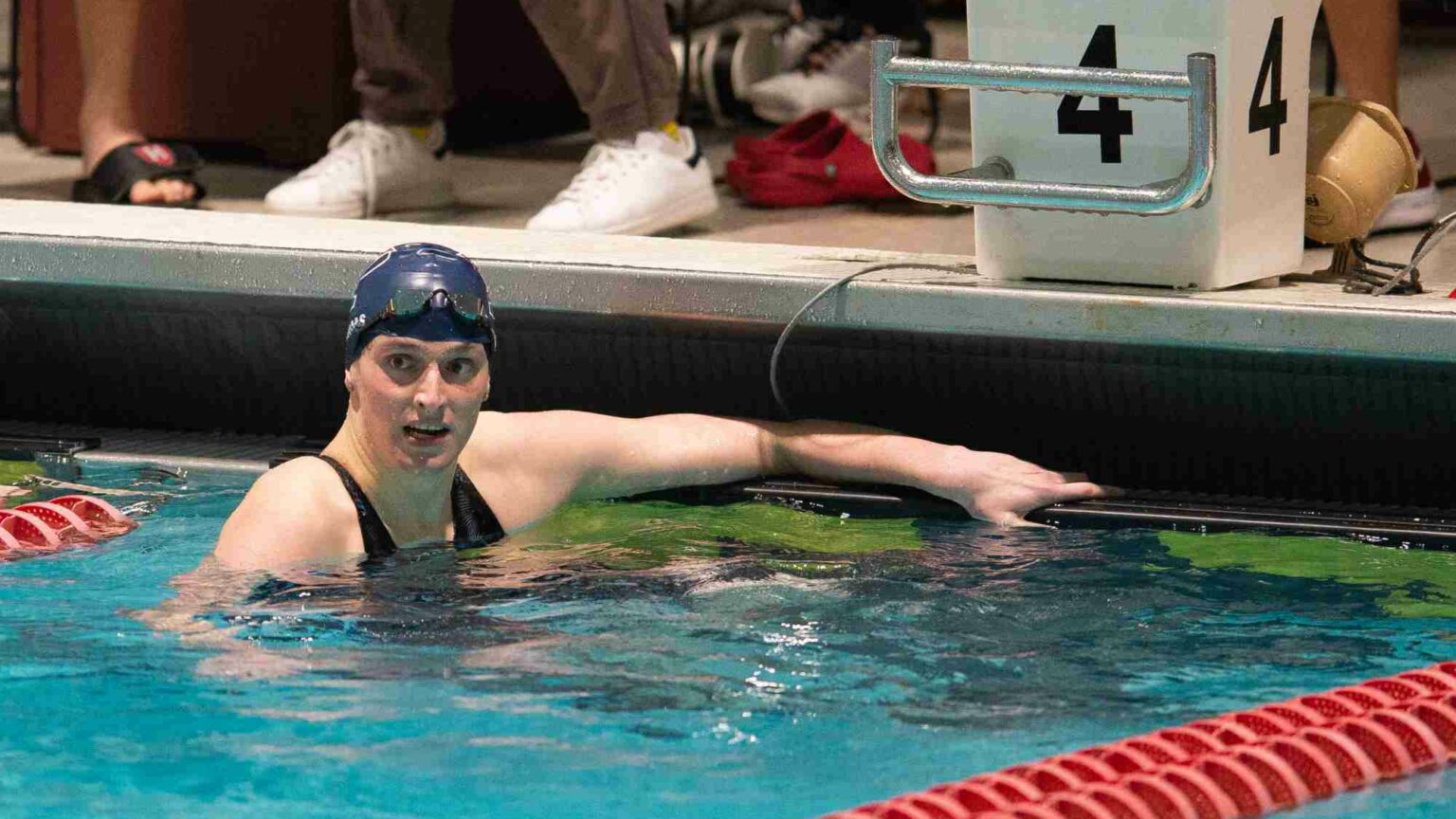 Here's a question: why is it cheating when an athlete ingests a pill that allegedly enhances performance but not cheating when an athlete's body is pumped with more testosterone than his or her opponents could ever dream of experiencing? This is a real-life conundrum. Last week, a 15-year-old female Russian figure skater was subjected to global humiliation during the Beijing Winter Olympics after testing positive for a banned heart drug. At the same time, a 22-year-old born male who identifies as female was widely celebrated for breaking numerous records at the Ivy League Women's Swimming and Diving Championships in the US, despite having experienced a form of performance enhancement that no female swimmer could ever hope to replicate – that is, male puberty.
These are the cases of Kamila Valieva and Lia Thomas. Ms Valieva is an ice-skating prodigy. What happened to her at the Beijing Winter Olympics was tragic. The world media raised hell about the fact that she was being allowed to compete despite failing a doping test in December. She tested positive for the banned angina drug, trimetazidine. Valieva says this is a drug her grandfather takes for a heart condition, and she may have been contaminated by it. The furious focus on young Ms Valieva was so intense – her team were branded 'dirty cheaters' and Valieva was casually referred to by some media outlets as the 'drug cheat Russian figure skater' – that Valieva broke down. She badly fluffed her individual event and collapsed in tears. 'They broke her', said former Russian figure skater Irina Slutskaya. A girl of a tender age made into a media laughing stock for the crime of allegedly taking a tablet that the IOC would rather athletes didn't take.
Contrast Valieva's experience with Lia Thomas's. Thomas is a 'trans woman'. In truth, he is male. One of Thomas's teammates in the University of Pennsylvania swimming team says Thomas has male genitalia. Lia was known as Will until recently. As a male swimmer, Will was ranked No462 by the National Collegiate Athletic Association. As a 'female' swimmer, Lia is ranked No1 by the NCAA. Lia thrashed the women at the Ivy League championships last week, setting numerous new records. What was the liberal media's response to Thomas's use of extreme unfair advantage – in particular the huge muscle mass that builds up during male puberty – in a competition against women? 'Dirty cheat'? 'Testosterone cheat'? Not a bit of it. Indeed, some journalists bristled against the idea that Thomas should be subjected to the same kind of questioning that every other athlete experiences. 'Lia Thomas is just the latest elite athlete… who has been subject to anatomical, chromosomal or hormonal scrutiny', said a sympathetic New York Times writer.
To be clear, there has been a lot of debate about Lia Thomas. And there has been a lot of anger on social media. Women's rights campaigners have kicked up a righteous storm about this born male's ability to compete against women and beat them in every race. And yet the tenor of the mainstream media discussion when it comes to born-male athletes who compete against women is very different to its reportage on 'cheating' Eastern Europeans and Russians. Especially on female 'cheats', those bulky women who always look a tad suspect, as if, you know, they might have knocked back a bit of testosterone… It's surreal: in the 1980s and 90s there frequently was media outrage about Eastern female athletes with suspiciously broad shoulders and five o'clock shadows, yet now there is a chilled-out reaction to actual men competing against women. So, unfairly benefitting from synthetic testosterone is bad, but unfairly benefitting from the natural testosterone of male puberty is fine? Make it make sense.
The Lia Thomas story, the very fact that Thomas is allowed to compete against women, points to a rarely discussed phenomenon: trans privilege. We hear a lot of nonsense these days about cis privilege – and straight privilege and white privilege – which posits that people who still identify as the sex they were born as have far easier lives than trans folk. In truth, as the current women's sports debate ought to make clear, it is trans women who enjoy 'privilege'. They enjoy the physical privileges bestowed by the extraordinary rush of testosterone during male puberty, which massively increases muscle mass and strength. They enjoy the privilege of having their desire to compete as the sex they identify as taking precedence over the desire of women to compete on their own level playing field. And they enjoy the privilege of softer, often more generous media coverage than that experienced by female 'cheats', and even of censorship and cancel culture, which shuts down as a 'bigot' anyone who asks awkward questions like: 'Is this swimmer really a woman?' Trans privilege is a problem we must tackle if we are to protect women's sports.
The truth is this: there is no form of 'doping' that is capable of transforming the human body in the way that male puberty does. Athletes take certain substances for quite limited reasons: to aid recovery from injury or competition, or to increase their endurance during heavy training sessions. What Lia Thomas experienced just a few years ago is of a different order entirely. Thomas went through a biological process during which his testosterone levels increased 30-fold, leading to larger and denser muscle mass and firmer connective tissue, which is associated with the ability to deploy muscular force more speedily and efficiently. No female swimmer has experienced this. There is simply no comparison between Thomas's puberty and Kamila Valieva's alleged swallowing of an angina pill. And there is no comparison between Thomas's physicality and that of the women he thrashed in the pool. Never mind doping – male puberty is the ultimate unfair competitive advantage. This is precisely why sports that rely on speed and strength were divided into male and female in the first place. (Whereas other sports can be unisex. Like horseracing or darts, in which women have excelled recently.)
Sports bodies have rules that trans women must follow. Most sports bodies require born males to take medication to reduce their testosterone to an acceptable level before they are allowed to compete against women. But this makes no sense. The muscular, skeletal impact of male puberty cannot be reversed by a course of estrogen. I hate to get personal, but anyone who has seen Lia Thomas's very impressive shoulders will be aware of this. No, we need to insist that nobody who was born male is permitted to compete in women's sports. In fact, we should go further and argue that reality – in this case, biological reality – should trump identity. Lia Thomas may feel like a woman, but he isn't one, and therefore he has no business, no right, to compete against women. Women's sport will die unless more people take a stand and loudly say: 'No men allowed.'
To enquire about republishing spiked's content, a right to reply or to request a correction, please contact the managing editor, Viv Regan.