The West's dangerous delusions of war
Russia's invasion of Ukraine exists in the heads of Western politicians and media.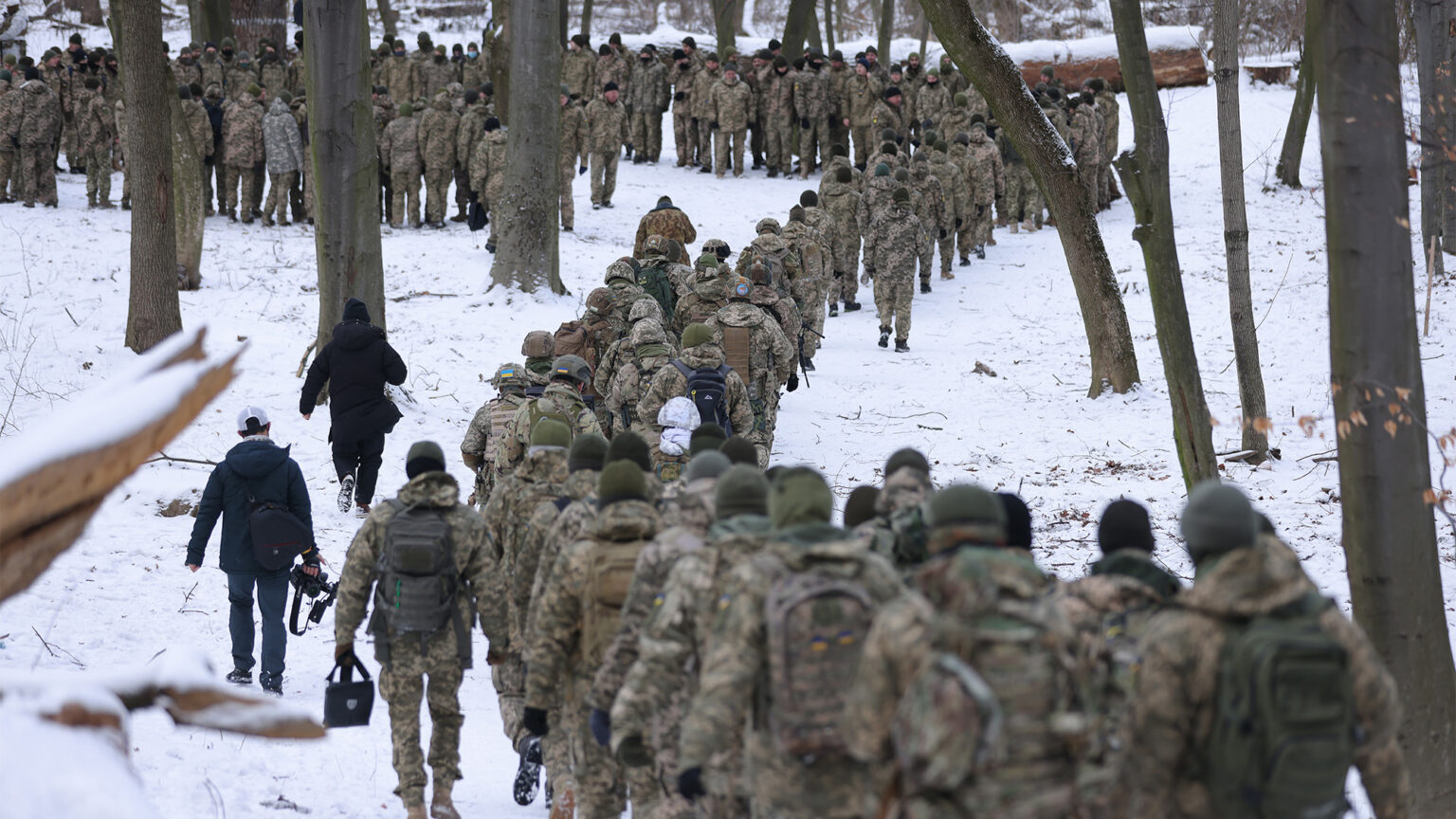 Russia is planning to invade Ukraine. This was the message coming from US intelligence sources, and propagated by Western media, last April. Since that point nearly a year ago, we have endured an increasingly hyperbolic, even absurd, escalation in the war-is-coming rhetoric.
Throughout last summer, Russia was perpetually 'amassing' troops near the Ukrainian border, a border it was always 'planning' to cross. Then as autumn gave way to winter, the prophecies of Western-intelligence sources became even more dire, and the media reporting and commentary even more fearful. A Russian invasion was no longer a mere probability. It was now highly likely. Some even started calling it 'inevitable'.
Over the past fortnight, that 'inevitable' war started being talked up in US and UK press briefings as not just 'inevitable', but also 'imminent' – a claim dutifully propagated as fact by an unquestioning media. By the beginning of this week this imminent invasion even had a date – Wednesday 16 February – and a time of 1am, according to the Sun, and 3am according to the Mirror. Finally, The Russian Invasion, this long trailed Western political-class blockbuster, had a release date. Reuters even set up a livestream of Kiev's Maidan Square in order to capture the Russian attack, while Western pundits and politicos looked on in keen anticipation.
Except, of course, nothing happened. Russian soldiers didn't cross the border. And Kiev was not subjected to aerial bombardment. Reuters live-stream viewers, expecting Putin's shock and awe, were greeted with the to-and-fro of traffic in downtown Kiev.
This moment ought to have finally exposed the massive disjuncture between the fantasies of Western politicians and the media, and the reality of the Ukraine crisis. It ought to have brought all those MPs and commentators, lost for too long in the clouds of a new Cold War, back down to Earth. It ought to have shaken them out of their sabre-rattling delusions.
After all, the Western war hysteria has not only been consistently mocked in Russia – its foreign ministry spokeswoman Maria Zakharova even asked Anglo-American media to 'publish the timetable of our "invasions" for the coming year [because] I'd like to plan my holidays' – it is now being ridiculed in Ukraine, too. 'We are told that 16 February will be the day of the attack', said Ukrainian president Volodymyr Zelensky in a sarcastic video posted on Facebook this week. 'We will make it the Day of Unity', he continued: 'On this day, we will hang national flags, wear blue and yellow ribbons and show the world our unity.'
Zelensky's sardonic response to the West's war-is-nigh crowd was not a surprise. The Ukrainian government has been raising serious concerns for over a month now about the West's panic-mongering over a Russian invasion. At the end of January, Zelensky gave a press conference in which he attacked 'Western alarmism', and rightly pointed out that it is having a deleterious effect on foreign investment in Ukraine. And this month, David Arakhamia, the head of Zelensky's Servant of the People party, said Western media outlets were more of a threat to Ukraine than Russia's state media. Attacking the 'Blatant fakes on CNN, Bloomberg, the Wall Street Journal', he claimed the 'hysteria' about a possible war is now costing the country between $2 billion and $3 billion a month.
But none of this seems to matter to Western elites. Their intelligence-sourced hysteria, their war-is-imminent delusion, does not need to take account of reality. Instead, it proceeds according to its own spectacular logic, as a means for Western politicians and pundits to broadcast their moral authority to a domestic audience. As a means for a Cold War relic, like NATO, to display the moral purpose it has lacked since the liberal interventionist creed died a thousand deaths in the Middle East and Afghanistan. As a means, that is, for Western politicians and institutions, especially in the increasingly disoriented Anglosphere, to show that they are standing up to the bogeyman of our time, Vladimir Putin.
This is warmongering as theatre. Many Western politicians, especially in the UK, are even using it as an opportunity to dress up as 1930s statesmen, standing on the brink of a war against Adolf Hitler and the Nazis. And so they continue to talk darkly of the dangers of 'appeasement', while the media, indulging these cosplay fantasies, splash headlines such as the Daily Mail's 'Frantic 48 hours to save Europe from war'. Or, in the case of the UK's silly foreign secretary, Liz Truss, it's a chance to act like she's Margaret Thatcher, taking on the Red Menace during the Cold War's twilight years, complete with a photo-op-heavy trip to Moscow.
But as divorced as this hysterical fantasy world is from the geopolitical reality of the Ukraine crisis – from Russia's very real grievances over NATO expansionism to the ongoing, barely mentioned conflict in Ukraine's Donbas region – it does impact on it. The alarmism really is scaring investors away from Ukraine, deepening its already severe economic problems. And it really is pushing the possibility of any diplomatic solution ever further away.
What's more, Western powers seem determined to persevere in this unmoored, unreal and increasingly unhinged conflict. After the invasion that wasn't, NATO secretary-general Jens Stoltenberg insisted that Russia has shown it is 'willing to contest some of the fundamental principles for our security'. He said that the threat Russia poses ought to be regarded as the 'new normal'. Which is another way of saying, permanent. Never ending.
It seems that after extricating themselves from one 'forever war' in Afghanistan, Western powers are determined to continue waging another. Right now, they are a far greater threat to peace in Europe than Putin's Russia is.
Tim Black is a spiked columnist.
To enquire about republishing spiked's content, a right to reply or to request a correction, please contact the managing editor, Viv Regan.