No one voted for this woke Sloane Ranger
Carrie Johnson and her woke clique are a menace to democracy.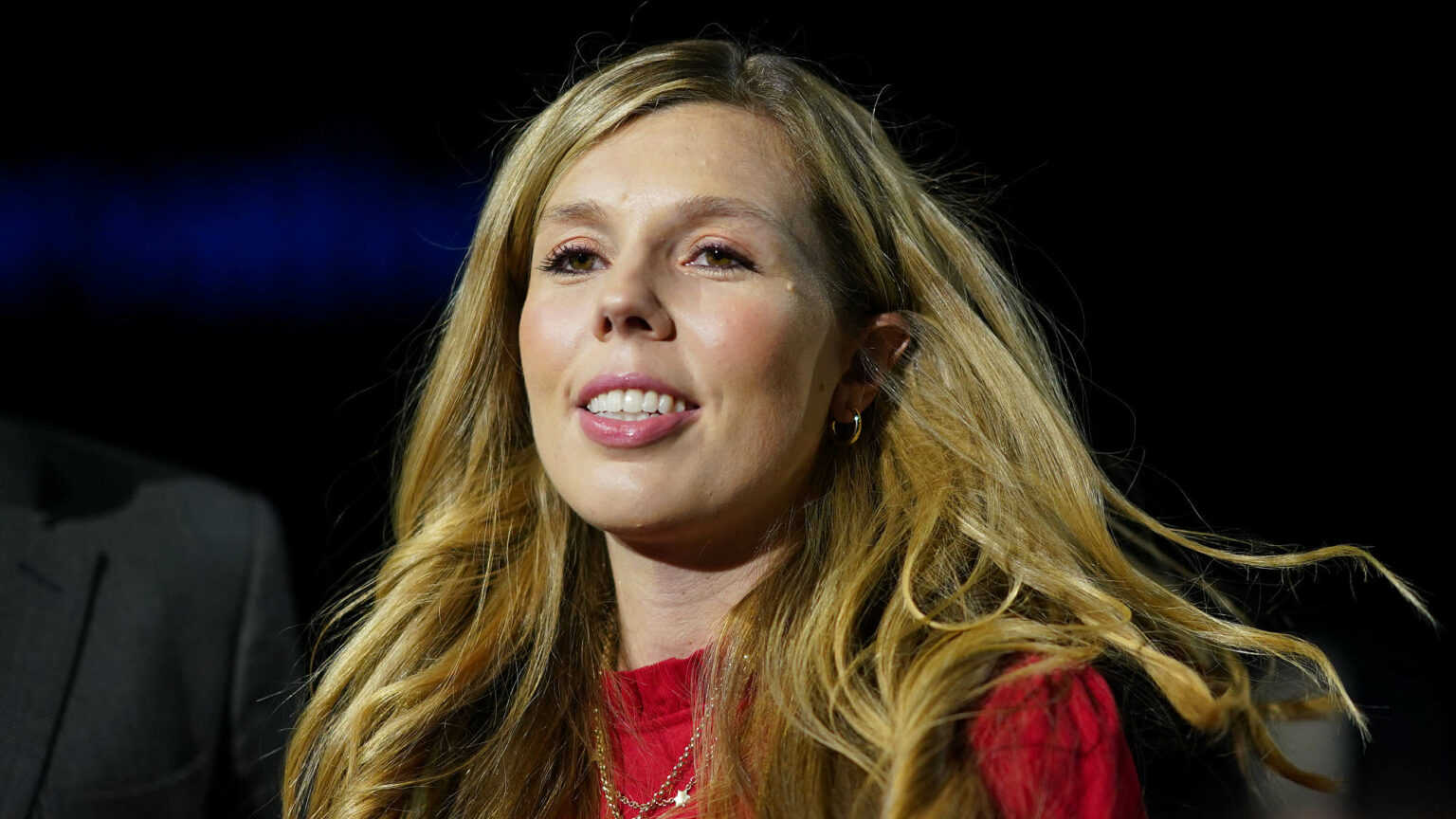 Boris Johnson's government has said a lot of iffy, dissembling things in recent months. On everything from the deranged prioritisation of cats over people during the chaotic withdrawal from Afghanistan to all those lockdown 'work meetings' that looked suspiciously like parties, officials haven't exactly been 100 per cent truthful. But easily the most whacky, implausible claim Boris's crumbling government has made of late is that Carrie Johnson does not wield much influence in Downing Street; that Boris's infamously woke wife is really just a demure consort who keeps her views very much to herself. On the bullshitometer, that's up there with a previous No10 incumbent's blather about '45 minutes'.
The laughable idea that Carrie Antoinette zips her lip on political issues is coming from Cabinet members who have been sent out into the media to push back against a new book – First Lady by Lord Ashcroft. It's an explosive tome. It depicts Carrie as basically a woke Imelda Marcos, stomping through Downing Street in her no doubt rented high-fashion shoes and twisting and shaping the agenda in her own posh SJW image. The book says Carrie exerts a huge influence in Downing Street. Apparently she has even used Boris's phone to text people, essentially 'impersonating' the PM. Officials report having phone chats with Boris and hearing Carrie 'whispering prompts' to him in the background. The Woke Whisperer, if you like, mesmerising the PM into adopting the cranky worldview of the time-rich virtue-signallers who are legion in the Sloane Ranger set.
Who knows if everything in the book is true? A spokesperson for Carrie says it's all 'vile fabrications'. And government high-ups have been busy shooting it down. It's not true that Carrie has 'undue influence' in Downing Street, says Kwasi Kwarteng ('undue' is doing a lot of work there), and it's 'sexist' to suggest otherwise, says Sajid Javid (that old chestnut). Yet the idea that Carrie is just your average Downing Street consort, like a female Denis Thatcher, quiet, hands off and content with pouring a scotch for the stressed-out PM, is clearly bunkum of the highest kind. The Tory leadership really must have a low view of voters if they think we'll buy this BS.
The Carrie set can't have it both ways. They can't one minute imply that Ms Johnson is a shrinking violet who never meddles in her hubby's work and the next big her up as a new kind of girl-boss PM's wife who wants to use her national platform for 'good' (good meaning woke – or, in other words, bad). We mere mortals in the electorate might not have an insider's view of Downing Street but we've seen enough of Carrie out and about in the world to know she isn't shy about wearing her wokeness on her sleeve. We all saw her give a speech for Stonewall at the Tory party conference last October, just months after Liz Truss, the then equalities minister, had a very public tussle with Stonewall over its mental Diversity Champions scheme. Carrie was being brazen. She was signalling to Truss – who, let's remember, is elected, unlike Carrie, who has not once asked the great unwashed for its votes – that not every Tory wants to push back against the woke agenda. It was an act of woke manoeuvres, a warning shot from the undemocratic PC wing of the Downing Street machine, and it made many of us think: 'Wow, if Carrie behaves like this in public, imagine what a pain in the arse she is in No10.'
Everyone knows what Carrie is playing at when she cosies up to Stonewall and bangs on about LGBTQIAA2etc issues and publicly professes her fealty to the high-status religion of genderfluidity. Even the Guardian knows. Her conference love-in with Stonewall was 'significant', said that paper, because it looked like a two-fingered salute to the Tories who are 'trying to initiate a "culture war" against trans people'. In other words, to those, like Munira Mirza, who were charged with waging a 'war on woke' and with restoring reason, normalcy and, erm, scientific truth to public policy. Someone has certainly infused Downing Street with bonkers trans positions. If it wasn't Carrie 'whispering prompts' that turned the once straight-shooting Boris into a bewildered waffler of woke pieties who cannot even bring himself to say that only women have a cervix, then who was it? In that clip of him dodging the cervix question, Boris definitely looked like a bloke worried about getting a bollocking from the missus when he gets home.
Other issues on which Carrie has very publicly signalled her virtue have also come to dominate Downing Street thinking. We know she's an eco-loon. Apparently she has an 'eco-clique' around her. She's an animal-rights activist. She has taken part in 'Save the Whale' protests (now she's more focused on 'Save Big Dog'). She rents her clothes, which is the ultimate virtue play by Sloane Rangers in the 2020s. 'Your Hermes scarf cost £370? Well, mine's rented, dahling.' And Downing Street has definitely been greened. Boris has gone from being a loud and proud sceptic of eco-hysteria to sounding like an overgrown Greta Thunberg when he denounced the Industrial Revolution at COP26. Then there was the awful decision to withdraw a charity's cats and dogs from Afghanistan in place of human beings who were cowering in fear of the vengeful Taliban, and still are. Apparently Boris signed off on this, and some claim Carrie coaxed him to. If this is true – if people's lives were sacrificed to the woke narcissism of Britain's top power couple – it will make partygate look like, well, a tea party in comparison.
Look, we shouldn't let Boris off the hook. Lord Ashcroft's book suggests it is Carrie's fault that Boris has 'squandered' his chance to be a great PM. I'm not buying that. Even if it's entirely true that Carrie 'whispers' Boris into taking lunatic political positions, that speaks as much to Boris's own lack of ideological spine, to his principle-free suggestibility, as it does to Carrie's breathy powers of persuasion. And yet questions must be asked about Carrie's influence. How come a posh green has more influence than the red wall over the prime minister? That isn't how democracy works. Carrie is about as politically and morally far removed from the teeming millions who put Boris into power to get Brexit done and take down woke bollocks as it is possible to be. If Boris has a shred of sense left, he'll dismantle the Court of Carrie and get out into the country.
To enquire about republishing spiked's content, a right to reply or to request a correction, please contact the managing editor, Viv Regan.