Italy's revenge of the technocrats
Sergio Mattarella's re-election as president consolidates the pro-EU status quo.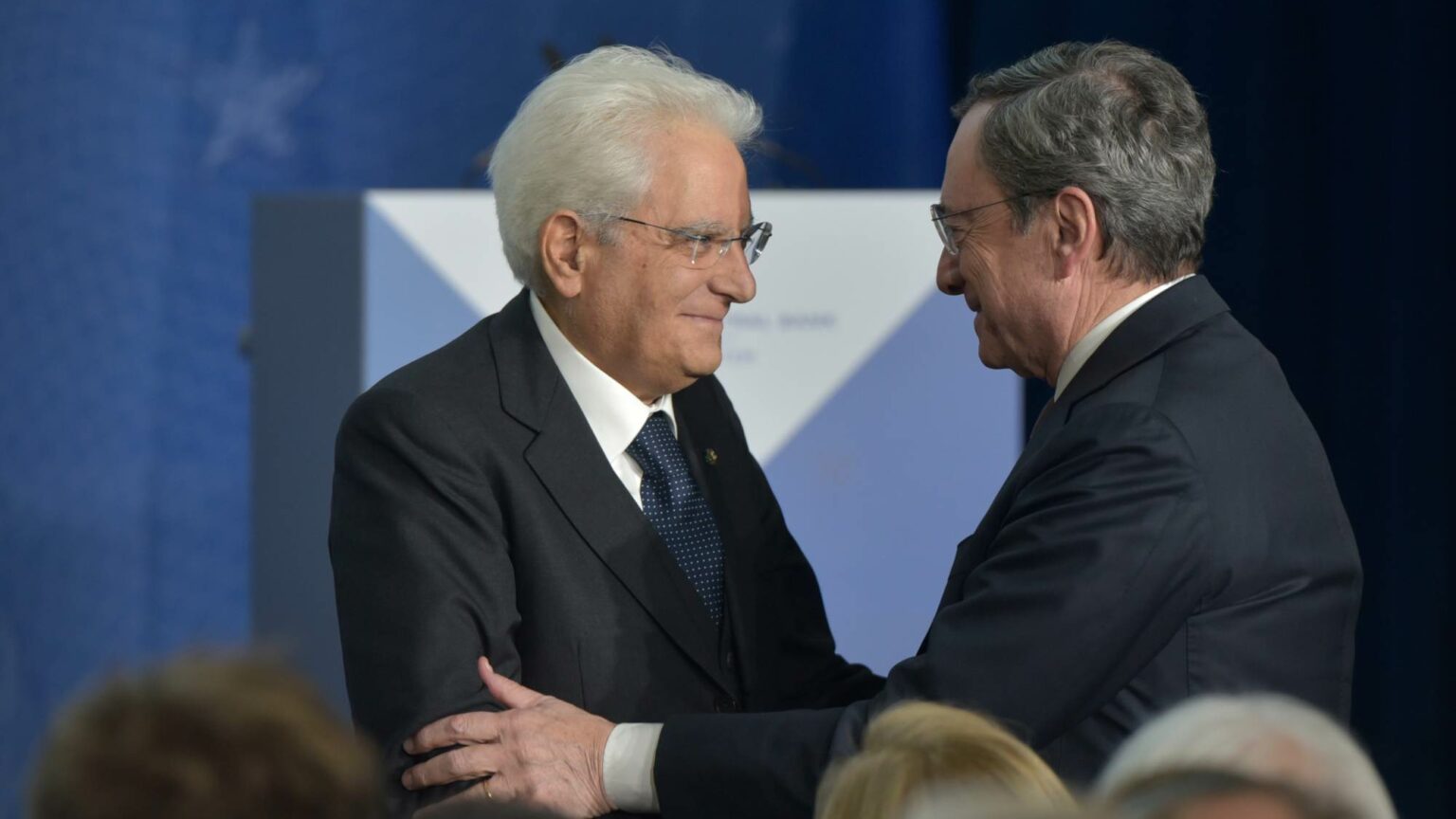 The Italian parliament finally re-elected Sergio Mattarella as president of Italy after a period of political turmoil. The 80-year-old has now started his second seven-year term at Il Quirinale – the president's palace – which means he will be Italy's longest-serving president ever.
In the past it was customary for parliamentarians not to re-elect the incumbent. But recently, Italy's beleaguered parties have developed the habit of venturing down the well-beaten track. So in 2013 they re-elected Giorgio Napolitano – a former Communist turned European socialist – for a second term. This time they stood by Mattarella after MPs were unable to agree on his successor.
Odds-on favourite to replace Mattarella was the current prime minister – and media darling – Mario Draghi. But moving a prime minister from Palazzo Chigi to Il Quirinale would have been an unprecedented move. It would probably have meant the end of the legislature and therefore an early General Election.
An early General Election was the last thing many MPs wanted, because a large proportion would lose their seats. This is due, firstly, to a reduction in the size of the Italian parliament, which is set to come into force at the next election – the Chamber of Deputies is being reduced from 630 to 400 seats, and the Senate from 315 to 200. And secondly, support for several parties has plummeted since the last General Election in 2018. The Five Star Movement, for instance, won 32 per cent of the vote back then, but is now likely to pick up 15 per cent at best. Likewise, Berlusconi's centrist Forza Italia received 14 per cent of the vote in 2018 but is now likely to get around just seven or eight per cent.
Mattarella's re-election reveals much about the state of Italian politics. At the 2018 General Election, most votes went to the populist anti-EU parties, the Five Star Movement and Matteo Salvini's League. Four years later, the pro-EU status quo has arguably never been stronger, with former European Central Bank president Mario Draghi as prime minister and Mattarella, an ancien régime Christian Democrat, as the new president.
What's more, the populist parties are thoroughly complicit in the restoration of the pro-EU status quo. Salvini voted for Mattarella this time round, and in 2021 backed Draghi to become prime minister. Italian foreign secretary and Five Star big beast Luigi Di Maio went so far as to call Mattarella's re-election 'a victory for the country and for ordinary people'. It seems that populists and nationalists are now marching in lockstep with the pro-EU establishment.
In less than four years, Italy's populist revolt has unravelled. Populist parties dominated the 2018 election, but they have subsequently struggled to come up with a credible, pragmatic political plan. The Five Star / League coalition government lasted only one year, before the League's Salvini broke the 'contract of government' in search of an early election in 2019. And since then, the populist parties have adopted entirely status-quo positions on pensions, the economy and the EU.
The Five Star Movement, the big winner in 2018, has really struggled. Its approval rating has plummeted since the General Election, and it has haemorrhaged MPs in both chambers.
The League is faring no better. Salvini's position now looks more and more untenable. He supports Draghi, and the League has three ministers in Draghi's government. Yet Salvini still attacks the government's policies.
Salvini tried to be the kingmaker in parliament and to promote a more centre-right president, but he failed miserably. And he tried to forge an alliance with Berlusconi's Forza Italia, only for Berlusconi to try to create a new centre party without the League.
Salvini's loss is the right-wing Brothers of Italy's gain. The Brothers' leader, Giorgia Meloni, accused Salvini of betrayal after he swore he'd never vote for Mattarella before doing precisely that last month. It's a ploy that is working. Meloni is now able to present herself as Italy's most consistent politician, who, unlike Salvini, is not hell-bent on making backroom deals at the Italian people's expense.
However, one thing is certain in Italian politics right now – populism is not over. Thanks to the cost-of-living crisis, rising inflation and the ill-effects of protracted pandemic restrictions on businesses and people, a wave of anti-establishment sentiment is building. The big question is who will ride it.
Daniele Meloni is a journalist and speech writer who worked for the president of Lombardy.
To enquire about republishing spiked's content, a right to reply or to request a correction, please contact the managing editor, Viv Regan.