Of course Jimmy Carr was joking
The mad backlash to his Holocaust joke will only encourage more comics to self-censor.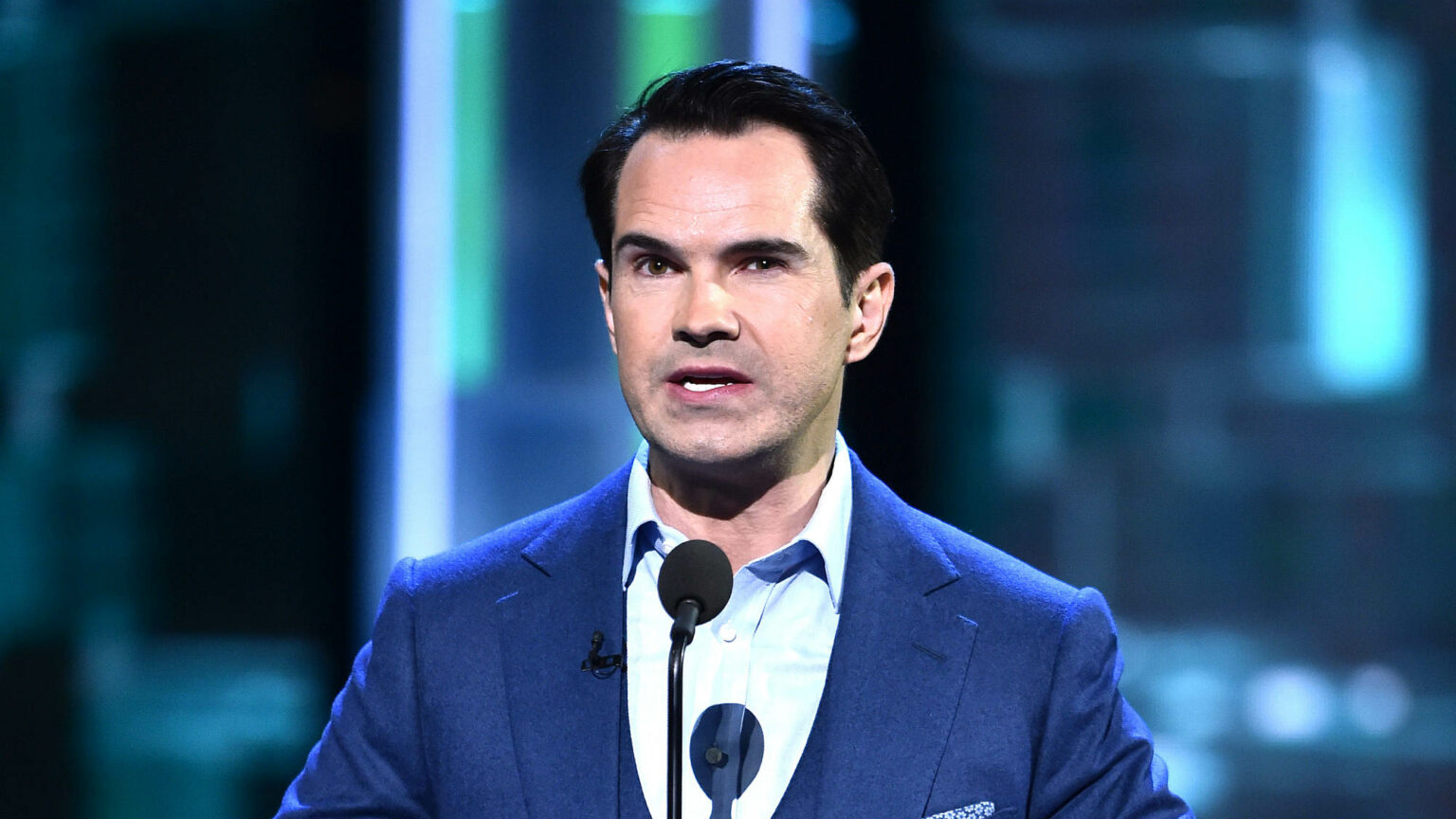 Self-styled 'offensive' comedian Jimmy Carr has landed himself and Netflix in the stocks, thanks to a joke on his latest standup special, His Dark Material.
The joke was as follows:
'When people talk about the Holocaust, they talk about the tragedy and horror of six million Jewish lives being lost to the Nazi war machine. But they never mention the thousands of Gypsies that were killed by the Nazis. No one ever wants to talk about that, because no one ever wants to talk about the positives.'
The stand-up special has been online for over a month, racking up views without drawing any flak. But this week, the perpetually offended brigade found the joke and circulated a clip of it, just to make sure nobody would miss out on the opportunity to be offended.
Politicians and pundits lined up to condemn what they referred to as a 'joke', in scare quotes, as if it is only allegedly a joke.
Labour MP Zarah Sultana, who herself previously came under fire for minimising the Holocaust, accused Carr of 'mocking racist genocide'. Her Labour colleague, Nadia Whittome, ran to teacher, writing a letter to Netflix urging it to 'remove Jimmy Carr's vile anti-GRT [Gpysy, Roma and Traveller] and anti-Semitic material'. Miss, miss, Jimmy said a bad word!
Conservative culture secretary Nadine Dorries also joined in the condemnation. 'Well, that's not comedy', she said. It was 'shocking and abhorrent and unacceptable, not just because he was making fun on the basis of people who died in the most appalling circumstances, but on the pain and suffering of many thousands of families'. Worse still, Dorries raised the prospect of taking legal action over the joke. 'We don't have the ability now, legally, to hold Netflix to account for streaming that, but very shortly we will', she said, referring to her government's proposed Online Safety Bill.
Even some comedians took aim at Carr. For instance, David Baddiel, who has previously defended contentious jokes (such as Count Dankula's Nazi pug video), called Carr's joke 'cruel and inhumane and mean-spirited and racist' (echoing the kind of complaints once made against Baddiel, when he appeared on TV in blackface with a pineapple on his head, in the 1990s).
Most of Carr's critics have tried to argue that this was not a joke at all, but a statement of hate. Are they right? For one thing, it was told by a comedian, in the context of dozens of other similar jokes broadcast in a show billed as a comedy special. It also received a huge laugh from the audience, who had bought tickets to a comedy show by a comedian. As far as we can ascertain, the people in the audience weren't attending a Nazi rally. So we can safely assume it was a joke.
If we break the joke down, as many people have asked me to do (which I have done, with the success rate of someone trying to explain chess to a dolphin), we can see that the joke is based on character and misdirection.
Carr, who is playing the part (as usual) of the worst person in the world, brings up the issue of Gypsies killed by the Nazis as a forgotten sidenote to the six million Jews killed in the Holocaust. We would expect a normal person to say that nobody talks about them because of ongoing societal prejudice against Gypsies, or perhaps because their deaths are simply lost due to the sheer number of Jews who were killed. But Jimmy – being the worst person in the world – says that it's actually because nobody wants to talk about the positives.
This statement is obviously not what the real Jimmy Carr or anyone in the audience actually thinks. And as a joke, it doesn't diminish the Holocaust. In fact, it relies on us recognising the absolute evil of the Holocaust for its impact.
Will Carr be cancelled? Unless he is prosecuted under hate-speech laws as some are agitating for, Carr is too big to be cancelled in any meaningful sense. Netflix might edit or remove his special, but he might also benefit from the publicity and notoriety.
The real danger is that the campaign against Carr's joke will encourage even more comedians to self-censor. The climate this creates makes comics more likely to second guess their material and remove anything that could possibly be contentious. Broadcast execs are likely to do the same, blandifying and homogenising our entertainment.
The backlash could also empower the authorities to apply new authoritarian legislation, notably the upcoming Online Safety Bill and the Scottish Hate Crime and Public Order Act, to jokes. Jokes tend not to hold up very well when picked apart in court. They end up being shorn of the delivery, context, nuance, character and irony that make them special. They end up being taken literally, at face value. As past trials over jokes have shown, the authorities tend to leave no room for the prospect that possibly, just maybe, the comedian might have been joking.
To show what a stultifying world we could be heading towards, I've rewritten Carr's joke so that it might be acceptable to Zarah Sultana and Nadine Dorries:
'When people talk about the Holocaust, they talk about the tragedy and horror of six million Jewish lives being lost to the Nazi war machine. But they never mention the thousands of Gypsies that were killed by the Nazis. This is because of systemic prejudice against Roma people and the Travelling community, and longstanding inequities which have minimised the voices of the Roma people.'
I'm here all week folks, please try the veal (it's vegan).
Leo Kearse is a stand-up comedian. Visit his website here.
To enquire about republishing spiked's content, a right to reply or to request a correction, please contact the managing editor, Viv Regan.