Insulate Britain: protesting against the public
Of course green activists infuriate people. Their ultimate aim is to make all of our lives worse.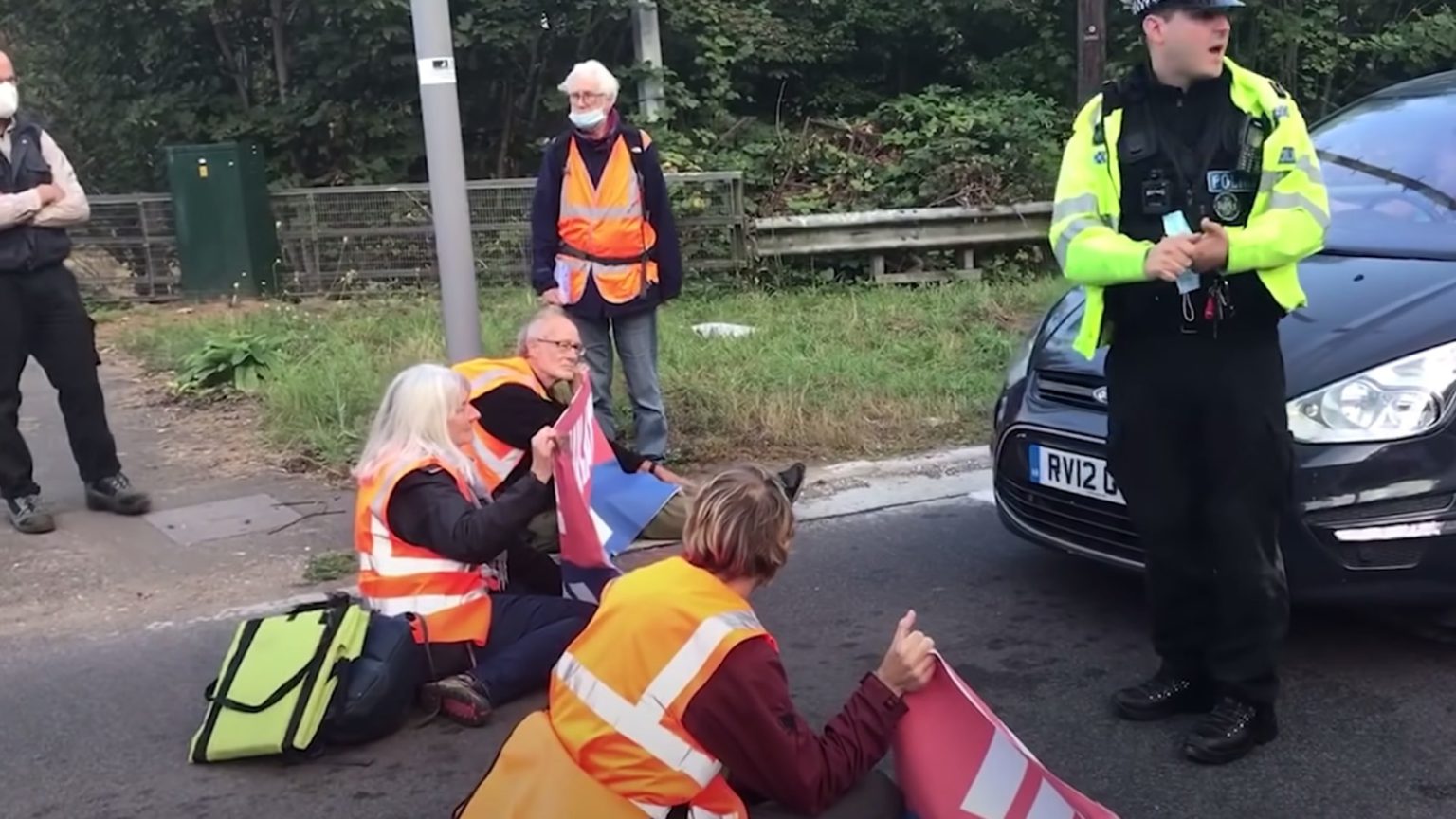 Of all the causes to risk your life for, double-glazing wouldn't be high on my list. Not so for the hardy activists of Insulate Britain, the single-issue Extinction Rebellion off-shoot, who have been toddling out into oncoming traffic on the M25 again this week, blocking the motorway to demand government action on home insulation.
You could see what they were hoping to achieve here. Extinction Rebellion's various protests and stunts in London in recent years were not just disruptive and irritating – they also struck most people as properly weird. The fancy dress, interpretative dance and apocalyptic street theatre made XR look like a carnivalesque cult.
The demands this time around are at least more modest – who could be against home insulation? – and the hi-vis attire is a lot less drama-school. But it is testament to its level of strategic nous that Insulate Britain has arguably run into even more public and media opposition than Extinction Rebellion proper.
When IB began blocking sliproads last week, there were instantly viral clips of infuriated drivers taking matters into their own hands and trying to drag the protesters out of the road. Their frustration was no doubt fuelled by the fact the police seemed at points to be facilitating the protesters. (One officer was filmed telling IB members to let her know if they needed anything.)
From there on the optics only got worse. One man called into LBC saying his mother had tragically been left partially paralysed from a stroke due to a six-hour delay on the M25. One of the more memorable clashes on the roadside was between IB protesters and an insulation fitter, who not only lost money because of their antics, but was also prohibited from doing the job they demanded be done.
Then there was the revelation that Insulate Britain ringleaders Liam Norton and Roger Hallam – Norton had been arrested on previous XR protests, Hallam co-founded XR – have themselves failed to insulate their homes. Norton stormed off the set of Good Morning Britain this morning after clashing with Richard 'and Judy' Madeley over the issue.
It seems the more the public see of Extinction Rebellion and its front groups the more they dislike them. A poll in 2019 found that over half of Brits dislike their tactics. YouGov's ranking of the most popular organisations shows Extinction Rebellion near the bottom, not far ahead of the EDL. This is despite general support in the polls for tackling climate change.
It might sound cheap to say that what we have here are gaggles of largely posh eco-protesters who do not represent or understand ordinary people. But that is undoubtedly the case. Research published last year told us what we already knew – that XR protesters are overwhelmingly middle class. Around 85 per cent are graduates. Even Guardian columnist and XR supporter George Monbiot has said the group is too white and too middle class.
Civil disobedience is not a bad thing in and of itself. But for it to achieve anything other than infuriating people, a group has to enjoy some level of popular support, which Insulate Britain categorically does not. In these protesters most people see wealthy, time-rich hypocrites trying to stop them going about their business. And they're absolutely right to think that.
Then there is the question of if their cause is just enough to justify such disruption, which again it absolutely isn't. These people aren't concerned about climate change – they're hysterical about climate change. And they want to use the spectre of it to usher in eco-austerity of the sort that would make George Osborne summon up his muesli.
Roger Hallam, who was expelled from XR but is helping IB behind the scenes, wants to ban flying, end car use and end 'non-essential consumption'. He calls for a society 'similar to a Covid lockdown scenario', only permanently. These people are ultimately gripped by a distaste for modern society. They don't want to make it more eco-friendly – they want to rein it in altogether.
In Extinction Rebellion et al, it seems, we see a perfect fusion of theory and practice. In their broader aim of impoverishing the country, these people want to make people's lives worse and more difficult. So perhaps it isn't all that surprising that their protests have the immediate effect of making people's lives worse and more difficult.
These people aren't protesting against climate change or the state or the government – they're protesting against the public; against our ability to be free to do as we please and to carve out a more productive and plentiful society.
No wonder the public have had enough.
Tom Slater is deputy editor of spiked. Follow him on Twitter: @Tom_Slater_.
To enquire about republishing spiked's content, a right to reply or to request a correction, please contact the managing editor, Viv Regan.