The European Union's annus horribilis
Even by the EU's dismal standards, 2021 was a bad year.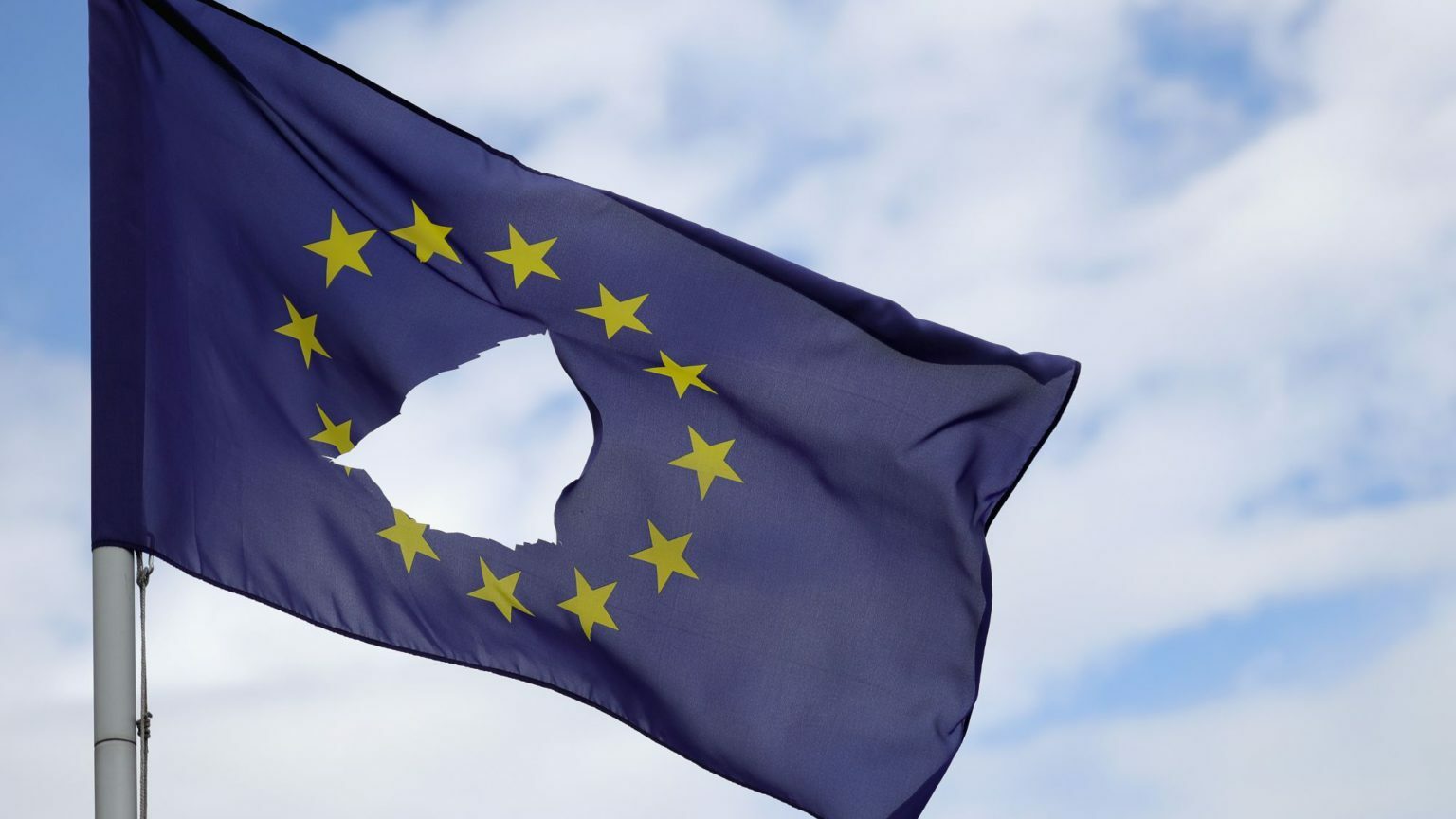 Are you a regular spiked reader? Then please consider making a Christmas donation. You can do so here. Thank you!
Every September, the president of the European Commission delivers a state-of-the-union speech. 'Honourable members', Ursula von der Leyen began this year, 'this has been a sad year in which our precious union lost an eighth of its people and a sixth of its economic activity as our second-largest economy and strongest military power finally departed from the EU. We do not really understand why this happened but we will reflect and learn lessons.'
Only joking. In reality, in this year's speech von der Leyen made no reference at all to the UK's departure, which became official on 1 January.
This says a lot about the EU in 2021. It carries on as if nothing has happened. The state-of-the-union address was instead a list of all the good and great things the EU has done. Much good is, of course, being done within the EU. But von der Leyen's subtext was that these things can only be done on their existing scale because of the EU. Where there are difficulties and challenges, for the likes of von der Leyen, these can only be addressed through deeper integration and, of course, more power and resources for the Commission.
Von der Leyen claimed that the EU was 'deepening our partnership with our closest allies'. The US and the Western Balkans were specifically mentioned, but not the UK, where an unnecessary fishing dispute rages with France and where the dispute over the Northern Ireland Protocol is becoming increasingly bitter. The EU's damagingly one-sided interpretation of the Good Friday Agreement is leading towards the collapse of Northern Ireland's democratic institutions. But this was apparently not worth a mention in the speech. Still, Christmas has brought some cheer to Brussels with the resignation this month of the UK's Brexit minister, Lord Frost, who was always a thorn in the EU's side. Negotiations over the Northern Ireland Protocol will now be handled by the reliably pro-EU Foreign Office, a development that has visibly raised EU spirits.
What worries Brussels more than Brexit is its relations with both its eastern members and its eastern neighbours. The latter include Russia, Belarus, Ukraine and, most recently, Bosnia. The EU's poor record on foreign relations in eastern Europe shows few signs of improving. Russia may be dangerous but the EU's closed mind to Russian-speaking minorities in Ukraine (and, we might add, Latvia) is exacerbating tensions. The EU still dreams of creating an EU army, but it is only developing at a snail's pace. This is because member states are reluctant to sign up to what they recognise would be an important step in the drive to create a federal EU state.
The most pressing problem in what has been an annus horribilis for the EU has been the pandemic. Again, von der Leyen was in a congratulatory mood in her state-of-the-union address. 'We followed the science', she said. 'We did it the right way because we did it the European way. And it worked!' There was, of course, no mention of the slow introduction of the centralised EU vaccination programme, or its contrast with that of the fleet-footed Brits, newly freed to do things faster.
And it wasn't just vaccines. Individual states acting independently of the Commission managed the pandemic much better on the whole. Although 12 member states, including Belgium and Italy, currently have higher Covid death rates than the UK, most of the richer nations have generally lower rates than the UK, including Sweden, which eschewed lockdowns.
Timing is important, however, and early success in holding back the virus creates less immunity for when future waves hit. As a result, infections are currently soaring in much of western Europe, including the Netherlands, which has gone back into full lockdown. And once again, the EU has been slow-footed in organising the booster rollout.
Yet, having impeded the vaccination of Europeans, the Commission still calls for more centralisation. Von der Leyen has even talked of creating a health union. 'When we act together', she said, 'we are able to act fast'.
Brussels rarely wastes a good crisis, and the pandemic has allowed it to push into unprecedented financial territory – a move member states, especially Germany, would have fiercely resisted in normal times. The EU has developed a 'Recovery and Resilience Facility' to support member-state economies over the next few years. An important red line was crossed by funding the facility with bonds issued not by member states, as in the past, but by the EU itself. The Commission is now able to borrow in its own name, breaking the previously tight constraints on its spending ambitions.
While many countries and parties resist further centralisation, the new German 'traffic light' coalition government is calling for more federalism. Its manifesto promises to advance a constitutional process 'leading ultimately to a European federal state'. Outside the Euro elites this is likely the last thing most Europeans want.
Poland and Hungary, for instance, are in more or less open revolt against the EU, and are threatened with daily fines. Both countries are playing a cat-and-mouse game. They want less EU interference in key laws, but need EU funds to keep flowing. Neither country is in the Eurozone, but leaving the EU would still be a difficult option. Both have strong Christian traditions which lead them to want to limit Muslim immigration, to subsidise indigenous childbirth and to oppose liberal social laws, including on abortion and homosexuality. Both claim that the Commission oversteps its legal competence in attempting to impose liberal social values where they are not wanted. Further EU exits will not happen, but this deep cleft leaves the EU increasingly feeling like a loveless marriage.
Like a circus juggler, the EU manages to continually prevent a collapse through frenetic and controversial actions. Few solutions have emerged during 2021 to its manifold problems, but as always it survives by kicking the can down the road.
The EU's biggest long-term problem is arguably its lack of democratic accountability. This year's big initiative to address this was the Conference on the Future of Europe. Chaired by the clownish federalist, Guy Verhofstadt, the conference has been operating this year around four citizens panels, consisting of 800 people drawn by lot from 27 countries, speaking 23 different languages, and advised by outside experts. But if existing EU institutions are able to choose which of the many emerging recommendations they find most congenial, this can hardly be considered democratic.
Despite the EU's many strains and fractures, notably including sluggish economic growth and widening inequalities, it will limp on. Its size enables it to compete on a global scale in key technologies like aerospace and satellites. But after a bad year, even by the EU's standards, the road ahead is hardly a smooth one.
Graham Gudgin was special adviser to the first minister in Northern Ireland from 1998 to 2002. His chapter on 'Discrimination in housing in Northern Ireland' is published in The Idea of the Union, edited by JW Foster and WB Smith, by Belcouver Press, 2021.
To enquire about republishing spiked's content, a right to reply or to request a correction, please contact the managing editor, Viv Regan.