Boris Johnson is a menace to liberty
The PM is stuck in a cycle of Covid panic and authoritarianism.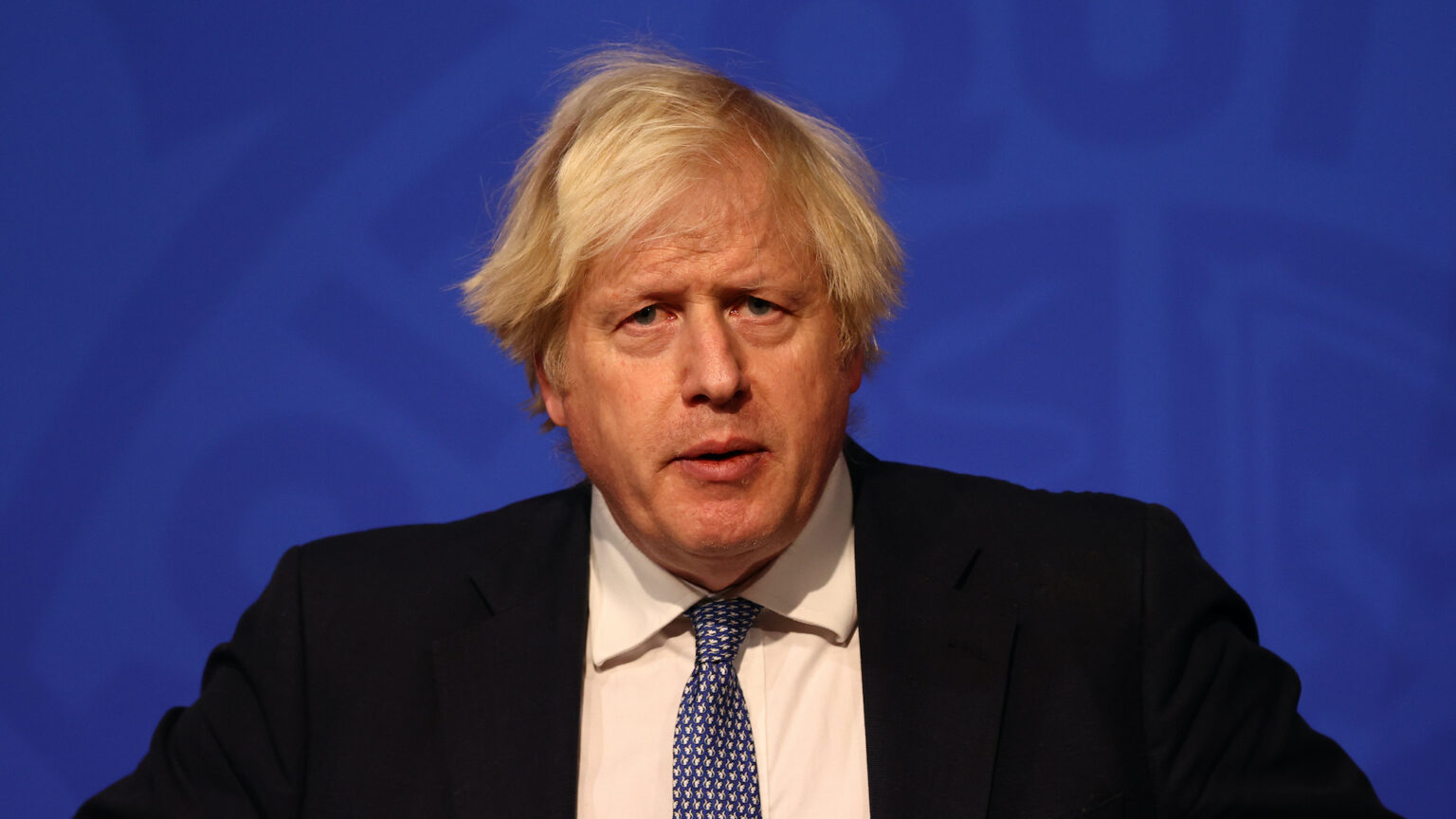 So, Boris Johnson has moved to 'Plan B'. With this, his 'irreversible' roadmap out of lockdown has been sent screeching into reverse. And he's bringing in some brand new draconian measures. Not only has the mask mandate been extended, and the work-from-home guidance reissued, but mandatory vaccine passports are days away from being a reality in England – a policy his government used to decry as discriminatory and un-British at every opportunity. At the press conference last night, Johnson suggested this pattern may repeat itself in future, when he burbled on about the need for a 'national debate' about mandatory vaccination, while expressing his own personal dismay at the prospect of Britain having to follow other European nations down that decidedly dark path. What little comfort that provides now.
Those suggesting we should count our blessings, that these measures are relatively mild in comparison with the heady days of spring 2020, utterly miss the point. Not least because vaccine passports alone are a brave new world. By any reasonable assessment, the Covid emergency is over in this country. Over 95 per cent of people in England have Covid antibodies. Among those most vulnerable to Covid the rate is even higher. As Johnson was solemnly intoning yesterday about the new threat posed by the Omicron variant, medics in South Africa (where it was first detected) were saying yet again that this more transmissible variant was producing only mild cases. The World Health Organisation hasn't attributed a single death to Omicron so far. But social life has been upended once again anyway, to ward off the potential threat posed by a new variant of a virus the vast majority of our citizens have some protection against. The issue here is not the relative severity of the restrictions. What we saw yesterday is that authoritarianism is now no longer a last resort where Covid is concerned. It is to be deployed just in case, on a whim, and perhaps for even more ignoble reasons than that.
No one can say for certain whether Boris Johnson imposed these punishing measures – which one economist believes could cost the economy at least £4 billion a month – purely to distract attention from the No10 Christmas party scandal. But – shamefully – we certainly can't rule it out. The day before yesterday, deputy PM Dominic Raab was saying Plan B was not required, even with Omicron spreading in the community, because the vaccines would protect us. As Christopher Snowdon points out, the evidence only became more encouraging on this front in the day or so between Raab's intervention and Johnson's latest palpitation-inducing press conference. Pfizer announced yesterday morning that three doses of its jab are extremely effective against Omicron. All that changed in between was the release of the leaked clip of former No10 spokeswoman Allegra Stratton appearing to joke about the lockdown-busting 2020 Downing Street Christmas party – a party the government is still trying to deny ever took place.
Still, it is not as if Johnson was possessed of an iron resolve to return England its ancient liberties before this week – and has only now changed tack for opportunistic reasons. This is the man who gave in to the doom-mongers and delayed the full reopening of society in June, despite hospitalisations then being better than the best-case scenario modelled by SAGE. That he has now brought restrictions back in, despite our defences being so much stronger, should hardly surprise us. This alleged libertarian is gripped by the Covid safetyism that is now taken as higher wisdom among our governing and media elites. That the 'opposition' Labour Party is set to back Johnson's measures again, probably while mumbling something about them not going far enough, shows how stiflingly bipartisan this unthinking, kneejerk authoritarianism now is in Westminster.
Putting aside the obvious costs of these restrictions, there is also the small matter of whether they will make the blindest bit of difference. Vaccine passports, aside from creating a two-tier society and all the rest of it, seem not to work all that well. Scottish first minister Nicola Sturgeon was an enthusiastic adopter of the scheme. But a paper recently released by her government quietly admitted it has had no measurable effect. That's without getting into the idea that masks in shops but not pubs, cinemas but not restaurants, will be just the thing to keep the spread of Omicron under control. Boris Johnson seems to be giving the economy and our civil liberties another kicking rely so he can feel that he has done something, to assuage the corona panic that periodically grips his government and the media.
Those in the more conspiratorial corners of the internet, claiming that this week was all part of The Plan, give the prime minister rather too much credit. The man fittingly nicknamed 'the shopping trolley' by spurned aides is genuinely all over the place. Hasty authoritarianism fills the vacuum where a bit of principle and courage and leadership should be. Boris Johnson is clearly not the politician to break us out of this never-ending state of emergency – to return us to the halcyon days of 2019, when civil liberties were not taken and given back at the government's whim and our lives could not be thrown into disarray, at a moment's notice, 'just to be on the safe side'. The question is, who is?
Tom Slater is editor of spiked.
To enquire about republishing spiked's content, a right to reply or to request a correction, please contact the managing editor, Viv Regan.