We must reject this Covid safetyism
A free society cannot live on tenterhooks forever.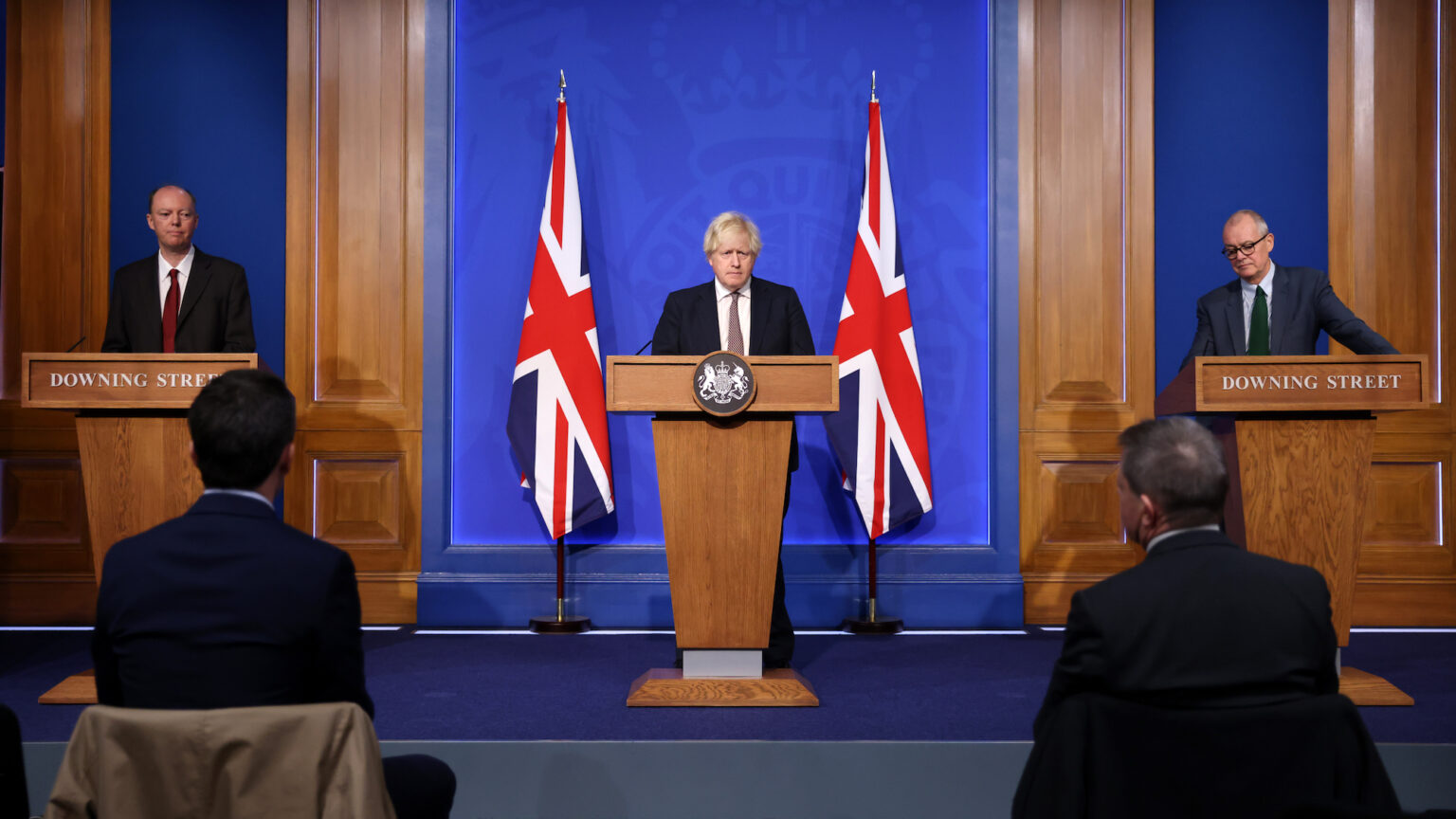 A new Covid variant. Another dreadful Downing Street press conference. More Covid restrictions. Boris Johnson 'refusing to rule anything out'. Journalists demanding to know why martial law hasn't been declared yet. Saturday night was almost nostalgic, in the worst possible way.
In England, from Tuesday, face masks will be mandatory again in shops and on public transport, several southern African nations have been red-listed, and tighter testing and isolation rules for all international travel will soon be brought in following the discovery of the Omicron Covid variant.
At a stroke, those faint but mounting hopes that we, in Britain at least, were edging our way out of this nightmare were dashed – not because of the concrete threat this new variant poses, but because our political and media elites simply cannot let this crisis go.
There is so much we do not know about this variant. Evidence from South Africa – where it was first detected – points towards it being highly transmissible. Analysis of testing samples suggests 90 per cent of recent cases in Gauteng province, which includes Pretoria and Johannesburg, may have been caused by it.
There are also concerns that Omicron might evade the protection of vaccines to a degree, because of its 32 mutations in the spike protein, the bit of the virus that attaches to human cells and the bit of the virus the vaccines are designed to target.
But we still can't say anything for certain. Various experts and clinicians are even urging calm. Calum Semple, a microbiologist and SAGE member, says some of his colleagues are 'hugely overstating the situation' and that vaccines are 'still likely to protect you from severe disease'.
The variant may even be less virulent than previous ones, something experts suspected would happen over time. Dr Angelique Coetzee, the South African doctor who first spotted Omicron, told the BBC yesterday that her patients so far have had 'extremely mild symptoms' and agreed that the UK was 'panicking unnecessarily'.
Time will tell. The virus has surprised us before, of course. But this is not March 2020. Or even Christmas 2020, however much the siren calls to 'save Christmas' by bringing in more miserable measures might put us in mind of last year's grim, draughty, socially distanced yuletide.
More than 90 per cent of the UK population have Covid antibodies, either through injection or infection. The booster programme is moving swiftly down the age groups and is keeping hospitalisations and deaths in check. A new strain we know little about shouldn't rattle us this much.
Some of the measures announced this week are theatrical at best. Even those who support mask-wearing will concede it is only marginally effective. And why masks are apparently essential in supermarkets and on buses, but not in pubs or restaurants, remains a bit of a mystery.
But the government is clearly still willing to mandate and dictate and reorganise social life at a moment's notice, if only to be seen to be doing something. And this will put the wind at the backs of forever lockdowners now demanding more restrictions with fetishistic relish.
When the first lockdown was brought in it was on the understanding that this was a temporary measure taken under extraordinary and uncertain circumstances. The third (and we hope final) national lockdown was supposed to buy us time so that all the vulnerable could be jabbed amid soaring hospitalisations and deaths.
That restrictions are creeping in again now, to tame a variant we know little about, of a virus we now have several safe and effective vaccines against, in a country where Covid deaths and hospitalisations are actually falling, suggests Covid safetyism has become an end in itself.
Covid isn't going anywhere. There will always be new variants. So either we remain on tenterhooks like this forever, or we fight to go back to being something like the society we were just two years ago: in which civil liberties were not considered the property of the government.
A mask mandate and tighter travel rules may not be a lockdown. But they are a reminder that all these months into this pandemic we are still not in control of our own lives, and that the management of even unknown risks is now justification for drastic government interference.
A free society simply cannot function like this. If all this goes on much longer, we will know that we've become a very different kind of society altogether, one in which we can be pushed around forever, 'for our own good'. Enough.
Tom Slater is editor of spiked.
Picture by: Getty.
To enquire about republishing spiked's content, a right to reply or to request a correction, please contact the managing editor, Viv Regan.