The parents' revolt in Virginia
Glenn Youngkin's shock victory shows that parents have had enough of woke education.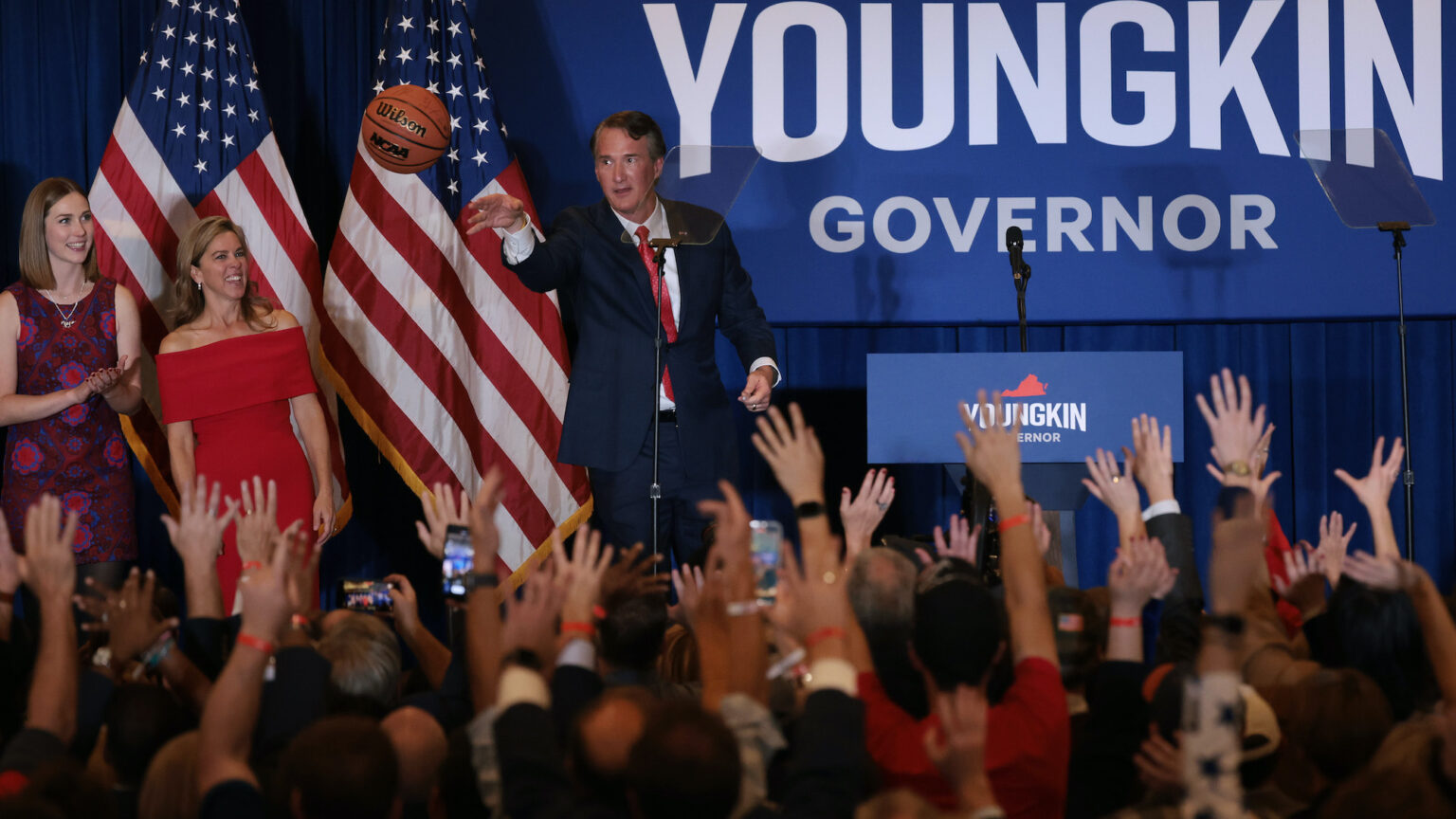 Education, education, education. That was the key issue that produced the stunning upset in the Virginia gubernatorial election on Tuesday. Republican Glenn Youngkin defeated Democratic former governor Terry McCauliffe in a state that delivered Joe Biden a 10-point win in the presidential election only a year ago.
In part this was a political reckoning for the wreckage left by the pandemic. Students in parts of Virginia went for a whole year without in-person teaching. The education losses have not only been devastating for children – they have also wreaked havoc for parents, many of whom were forced to organise childcare, radically reorganise their working lives or simply leave the workforce entirely. The insurgent Youngkin said 'Virginia's schools must never again be closed'.
Across the US the Covid school closures had another significant, unintended consequence. They gave parents a unique insight into what their children were being taught. They could see that children's lessons and schoolwork were increasingly being shaped by some very eccentric and illiberal ideas about race and racism.
A parents' movement against so-called Critical Race Theory began to form and grow. Viral videos showed furious parents attacking their school boards for teaching children that they are oppressors if they are white and oppressed if they are black, that America is forever stained by the original sin of racism, and that the structures of so-called whiteness need to be dismantled.
As the objections to Critical Race Theory grew louder, parents were denounced in the strongest possible terms. Democratic politicians, the media and the education establishment rounded on them. They tried to maintain two contradictory lines: that Critical Race Theory is not being taught in schools, and that it is essential to keep teaching CRT-inspired ideas in schools and anyone who objects is simply racist.
They stonewalled parents with semantics. Parents use the term Critical Race Theory to refer to a whole range of objectionable, identitarian ideas (exemplified by the likes of Robin DiAngelo and Ibram X Kendi), while their opponents insist that CRT can only refer to a very specific academic pursuit (such as the legal scholarship of Derrick Bell). But while the term Critical Race Theory might be clumsy, parents can see with their own eyes that a new racial ideology is being pushed on their kids.
And it's not just about race. Some parents have been staging protests at school-board meetings about Covid restrictions like masks for children and vaccine mandates. A case in Virginia's Loudoun County has opened up a new battleground over trans issues in schools – a case which Youngkin also sought to capitalise on.
Whatever the issue being protested against, parents have been met with the same dismissal and derision. Such is the animosity against parents that the National School Boards Association (NSBA) wrote a letter to President Biden calling for the growing unrest at school-board meetings to be treated as 'domestic terrorism' and for unruly parents to be investigated under the Patriot Act (the NSBA has since apologised and has withdrawn the letter).
In their fights with the education establishment, parents have grown to understand the contempt in which they are held by the woke elites. Educators were trying to impose their ideology on children by bypassing parents, who were either fobbed off, gaslit or shamed for raising objections.
In the Virginia race, Terry McAuliffe appeared to side with that establishment to his great cost. A quarter of Virginia voters said that Critical Race Theory in schools was the single most important factor in their vote.
McAuliffe denounced the campaign against CRT as a 'racist dog whistle' and a 'right-wing conspiracy theory' – something that had 'never been taught in Virginia'. This was despite the fact that when he last held office, as Virginia governor in 2014 and 2018, the Virginia Department of Education instructed schools to 'embrace critical race theory'.
Then, in a debate with Youngkin, McAuliffe made the mistake of saying: 'I don't think parents should be telling schools what they should teach.' He was responding to a controversy from 2013, when a parent tried to have Toni Morrison's book, Beloved, pulled from Virginia schools because it was sexually explicit. Back then, McAuliffe rightly held the line against censorship, defending the teaching of great literature. But the words he used to defend himself, his dismissal of parental concerns, opened up a wound that the Youngkin campaign could easily exploit.
The Democratic reaction to Youngkin's surprise victory has been predictably hysterical. MSNBC's Joy Reid quipped that concerns about 'education' were merely 'code for "white parents don't like the idea of teaching about race"'. Another MSNBC commentator said the 'key ingredient' to Youngkin's victory was a 'contingent of angry, willfully ignorant white people'.
In Virginia at least, the parents' movement has defied the sneering and derision to secure its first big electoral upset. More power to them.
Fraser Myers is deputy editor at spiked and host of the spiked podcast. Follow him on Twitter: @FraserMyers.
Picture by: Getty.
To enquire about republishing spiked's content, a right to reply or to request a correction, please contact the managing editor, Viv Regan.