Justin Welby's climate hysteria
There is no bandwagon the Church of England leadership won't jump on.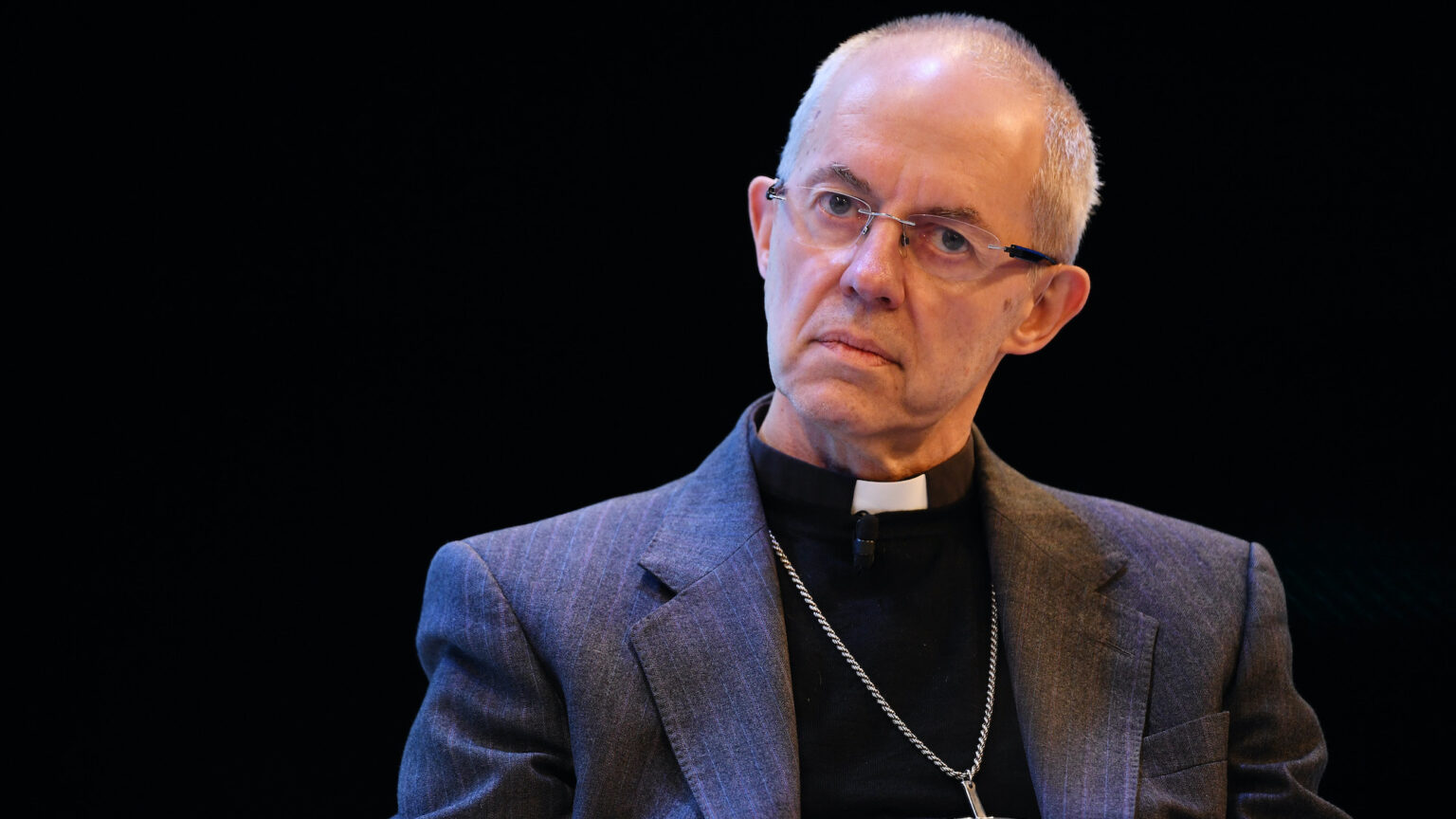 The Archbishop of Canterbury, Justin Welby, has clearly noticed that another, more popular religion is in town – that is, environmentalism. And so, not wanting to be left out, he is attending the COP26 gathering in Glasgow and giving his divine thoughts on the warming planet.
He's not done a particularly good job so far. In an interview with the BBC yesterday, Welby said that a political failure to act on climate change would be comparable to those who ignored the warnings about the rise of the Nazis in the 1930s.
This is an extremely stupid statement. The Nazis threatened us with global fascist dominance and genocide, whereas the main outcome of fossil-fuel-burning industry is the emancipation of the world's poorest from crippling poverty.
Poor old Welby. The one time he has said something more radical than 'bad things are bad', or something to that effect, he has been forced to apologise, no doubt on the orders of an extremely stressed communications manager.
Can you imagine the conversation that took place before the conference? 'Stick to the script, Justin – just tell them that climate change is very nasty and God will be jolly upset if these world leaders get it wrong.' I can picture Welby nodding along, interrupting with a few 'yep, sure' responses, while at the back of his mind thinking, 'I'm going to talk about Hitler'.
The Nazi slip-up isn't the only troubling thing about Welby's ecological interventions. He has also been keen to say that politicians will be 'cursed' if they don't adequately deal with climate change over the next fortnight.
Perhaps there are personal reasons for Welby's overzealous interventions. He may be especially keen to atone for his own sins on climate change, given he spent 11 years in the oil industry before deciding to join the Church of England in 1987. He has told journalists that people didn't really know about climate change when he was in the black-gold trade (which is scarcely believable given the idea of global warming first gained traction in the 1980s). And now we have to endure him assuaging his guilt by threatening us with global catastrophe and politicians with a curse from God.
Welby is far from alone in his apocalyptic visions, of course. Thanks to a shouty Swedish teenager crying over a false vision of imminent destruction, most politicians and commentators now seem to sing from the same catastrophist hymn sheet. But climate alarmism is especially tempting if you are the head of a religious movement that deals in destruction and rebirth as a matter of necessity.
When Welby first applied to join the priesthood, he was rejected by the Bishop of Kensington, who told him 'there is no place for you in the Church of England'. But these days it feels like there is no place in the church or mainstream religious life for anyone who is unlike Welby. They must be political and deal in vapid, faux-progressive platitudes.
Faced with a dwindling flock, Welby is latching on to the latest fads in whatever way he can. It hasn't worked. The Church of Woke has delivered sermons on Black Lives Matter, climate change and gender. But none of this has pulled people back into the church's arms.
Desperate people will do and say desperate things. They might even start talking about the Nazis.
Charlie Peters is a writer. Follow him on Twitter: @CDP1882
Picture by: Getty.
To enquire about republishing spiked's content, a right to reply or to request a correction, please contact the managing editor, Viv Regan.