The catastrophe of NHS Test and Trace
It wasn't just a waste of money – it failed to prevent two more lockdowns.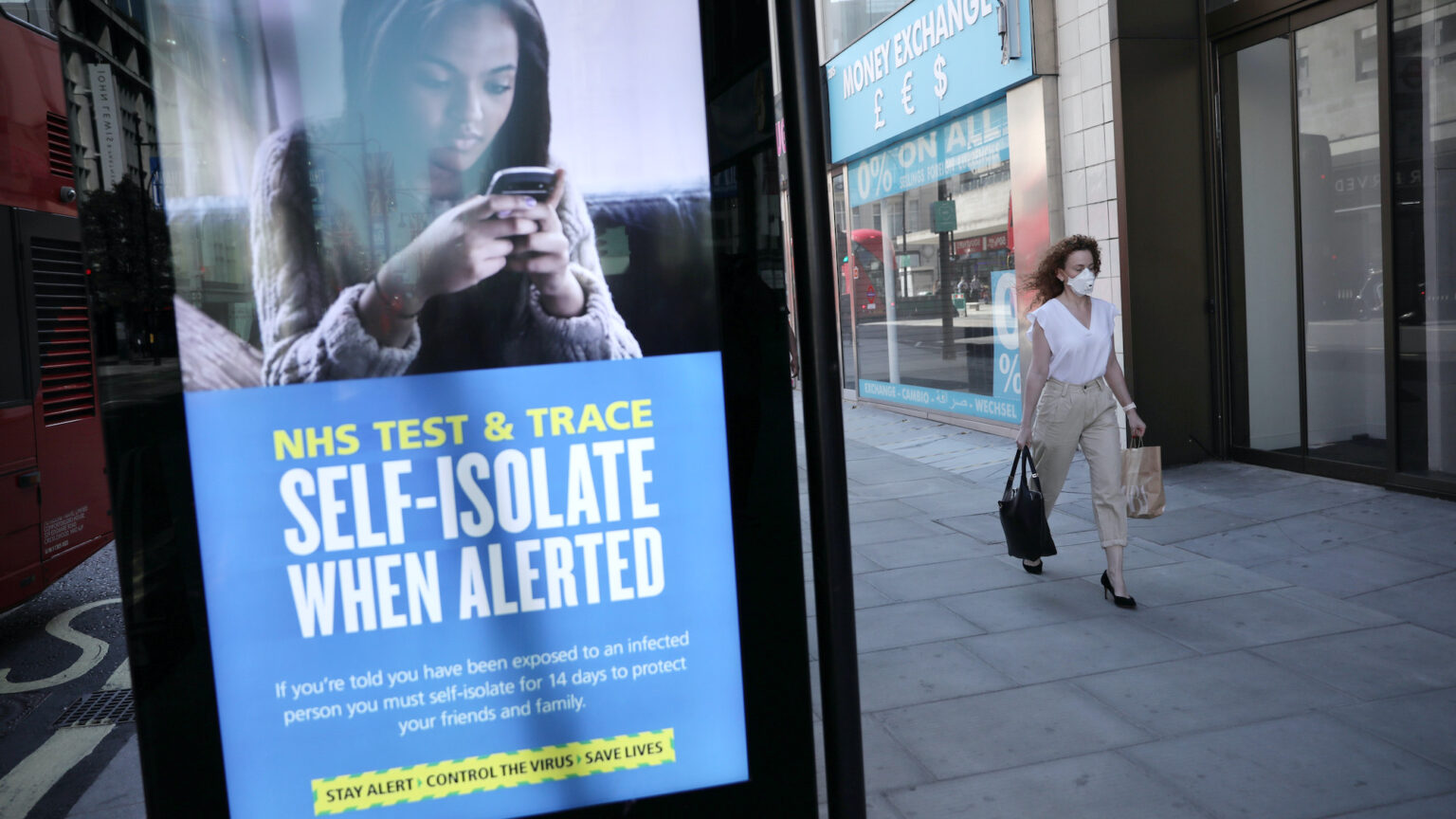 We have become so accustomed in the UK to public-sector system failure that the NHS Test and Trace debacle is in danger of passing with a shrug.
'NHST&T has not achieved its main objective to help break chains of Covid-19 transmission and enable people to return towards a more normal way of life', concluded parliament's spending watchdog, the Public Accounts Committee (PAC), in an interim report this week. This failure has had extraordinary consequences that go well beyond public waste.
Over the past two years lockdowns have become a badge of moral purity. Leaders who are reluctant to shut down society are castigated as weak. Predictably the calls for another lockdown this winter have already begun. And while there are very strong moral, economic and social reasons to oppose lockdown, for much of past year the only thing persuading ministers to keep the country half-open was the prospect of a test-and-trace system keeping the virus at bay.
It seems to have been forgotten now that when the NHS Test and Trace service was announced in May 2020 its explicit aim was to prevent another damaging lockdown. 'We will be able to replace national lockdowns with individual isolation and, if necessary, local action where there are outbreaks', said the then health secretary, Matt Hancock. Given the devastating impact the two lockdowns that followed this announcement had on people and the economy, it is a pity the committee did not judge the government against this promise.
A well-functioning test-and-trace system should, in theory, be able to replace the indiscriminate clunking fist of the state with voluntary individual action. In a perfect system, tests would be 100 per cent reliable and would provide instant results. No shop or cinema would need to close, as the scheme would catch every carrier before they had the opportunity to spread the virus beyond their household. But it isn't hard to see where cracks might appear. The extensiveness of testing, the difficulty of tracking people down, the turnaround speed from test to result and public compliance are all areas where the system could fall down.
Continual testing of everyone, for instance, would be impractical and expensive. (The retail price of lateral-flow tests varies from £18 to £150, and PCR tests can cost between £70 and £300.) And so we have to rely on people getting tested when they have symptoms or when they come into contact with someone with the virus.
The trouble is that the turnaround time for a PCR test result is two days, which modelling suggests is too slow to prevent the spread of the virus. And so any test-and-trace policy that relies on sending tests in the post is going to have a negligible impact on the virus's R rate. Even so, the PAC notes that only just over half of the tests managed by NHS Test and Trace are turned around within 48 hours.
Non-compliance throws another spanner in the works. Although you are supposed to self-isolate as soon as you get Covid symptoms, less than half of people do. And when people are presented with their positive PCR test result, between 14 to 18 per cent of people do not self-isolate. Financial incentives and local support might have fixed this compliance problem, but the support offered has always been negligible.
Not every gap between the ideal test-and-trace system and the reality on the ground can be blamed on NHS Test and Trace. Some gaps are inevitable. But on many key failures, the PAC didn't manage to get any answers.
Astonishingly, the committee couldn't find anyone who was able to even guess how well NHS Test and Trace actually performed. The scheme certainly succeeded in acquiring the tests and the lab-testing capacity, and the bulk of the often-quoted £37 billion price tag remains unspent. But the good news ends there.
Either NHS Test and Trace was only dimly aware of how well it was performing, which is possible, or it didn't want to tell the committee. For instance, we still don't know how useful the digital contact-tracing app was in the end. The committee had only been provided with figures on the active usage of the app until April 2021. Back then we were still in semi-lockdown and the pingdemic hadn't happened yet. So we cannot say how effective the app was when restrictions were lifted or how useful it has been since the pingdemic in July, when people deleted the app en masse.
The project's biggest cost was totally out of control, too. NHS Test and Trace has relied heavily on expensive consultancy firms. The contracts for consultants (worth more than £7 billion up to October 2020) cost more than twice as much as the cost of acquiring the lab capacity for the tests (£3.1 billion). 'NHST&T does not have a firm grip on its overall spending on consultants', the committee said.
On this, the PAC really let the test-and-trace chiefs off the hook. Dido Harding, the former head of NHS Test and Trace, tried to explain these costs by saying that, 'The skills NHST&T was trying to recruit for, in data, digital, and operational and project-delivery roles, were in short supply in the civil service'. NHS Test and Trace was asked to provide a written response to further questions on this, but answers were not forthcoming.
And instead of grilling the civil servants at the Department of Health and Social Care, the committee indulged them. They were invited to agree whether the no-lockdown goal for Test and Trace (as explicitly articulated by Hancock) was 'unrealistic'. MPs let them get away with simply claiming that 'the balance' between the 'tools' used to fight Covid had changed. On Test and Trace's key failure – the failure to prevent further lockdowns – the watchdog did not bark.
Even allowing for the PAC's narrowly defined role in monitoring public expenditure, and the fact that it can't compel witnesses to answer a question, the picture that emerges is a depressing one.
A vast state operation, dependent on a handful of private-sector firms, was set up at great expense and for little gain. Even after the debacle, MPs failed to truly hold those responsible to account.
Here we find a managerial class that feels itself too grand to provide the taxpayer with answers, explain its operational decisions or even say how well it has performed. And the committee supposed to hold it to account was too coy to demand why our only defence against being bludgeoned into two further lockdowns was so badly flawed. We cannot let this failure be forgotten.
Andrew Orlowski is founder of the research network Think of X and a columnist at the Telegraph.
To enquire about republishing spiked's content, a right to reply or to request a correction, please contact the managing editor, Viv Regan.