Why people aren't self-isolating
Those who struggle to make ends meet also struggle to self-isolate. Why not help them rather than punish them?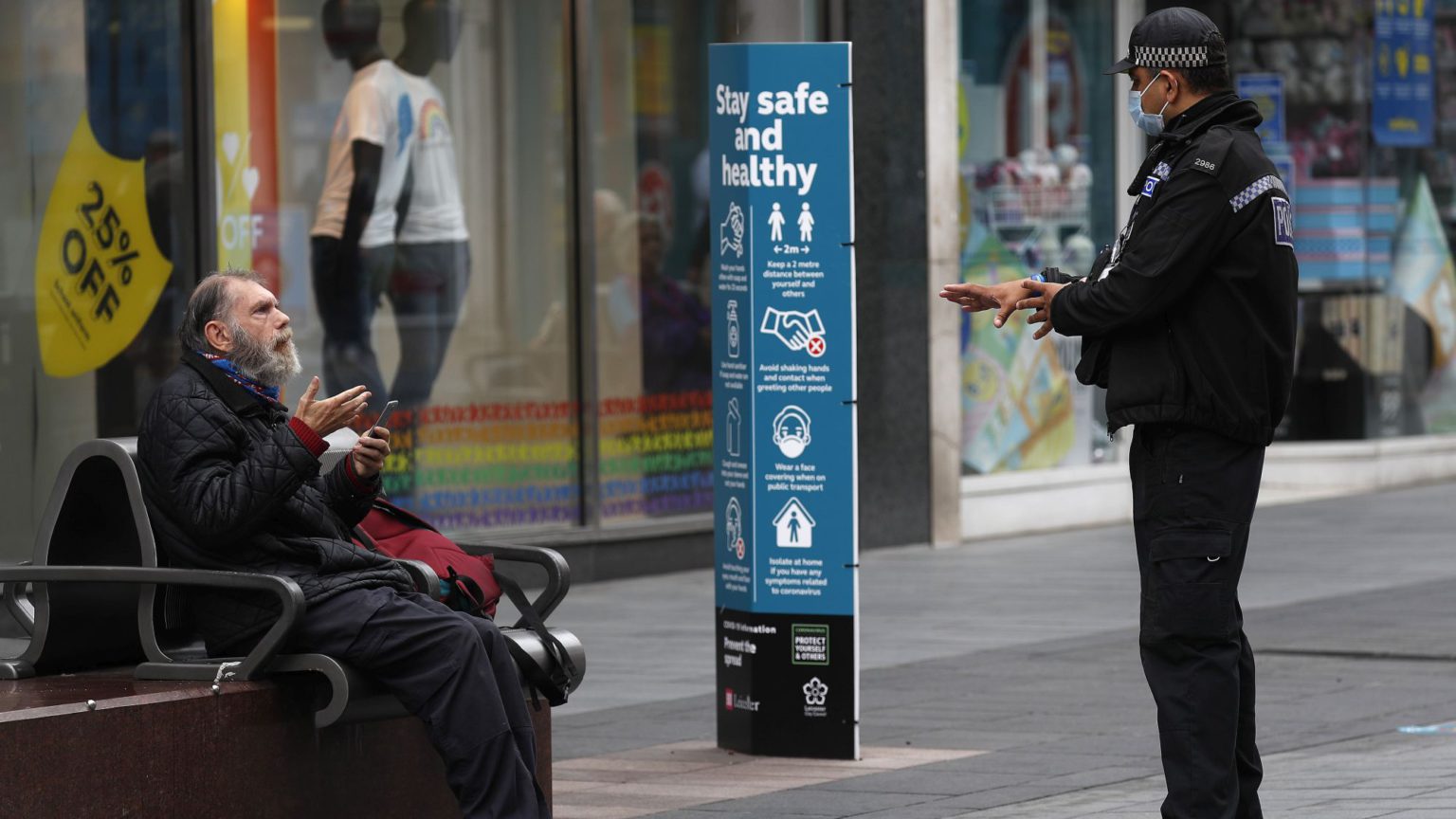 Britain's punitive approach to the coronavirus pandemic has just become a lot more sinister. The Department of Health recently confirmed that the police will have access to the details of the people who have been asked to self-isolate by the NHS Test and Trace scheme. This has the potential to criminalise hundreds of thousands of people.
As the current rules stand, people are expected to self-isolate for 10 days after displaying symptoms for Covid, or 10 days after a positive test if they are asymptomatic (around 86 per cent of those who test positive have no symptoms at all). Anyone who is contacted by NHS Test and Trace has to isolate for 14 days.
For the vast majority of people, such lengthy self-isolation is incredibly difficult to stick to rigidly. When researchers from King's College London surveyed over 30,000 people between March and August they found that just 11 per cent of people who had been in contact with someone who had tested positive for Covid were sticking to these quarantine rules. And only 18 per cent of those who developed symptoms were properly isolating themselves.
The government's answer to this has been to levy ever-increasing fines and threaten more draconian enforcement. The failure to self-isolate now carries an on-the-spot fine of £1,000, which can scale up to £10,000 for repeat offences. You can also be fined £4,000 for a first offence if an 'authorised person' – such as a police officer or 'Covid marshal' – decides you were 'reckless' in coming into contact with others.
I'm sure there are many excitable people who would like to throw the book at these 'Covidiots' who break the rules. But we should consider why so many people are breaking isolation. Some of the most common reasons given to researchers were not knowing the government guidance, not knowing what counts as a Covid symptom, having one or more dependent children in the household, and working in a key sector. Yes, that's right, the 'key workers' we were celebrating back in March and April are heavily represented in the surveys of non-adherence.
And it's not like people broke isolation to go raving, either. Most people only broke to shop for groceries or medication or to attend to medical needs other than Covid (yes, those do exist, Matt Hancock). Some stopped isolating after feeling better. These are not hardened criminals. And yet their names, addresses and contact details can now be passed on to the police, who can issue them with life-ruining fines.
As Laura Dodsworth has pointed out on spiked, before the Covid pandemic the authorities had never held the power to hand out on-the-spot fines of this magnitude – and for good reason. A £4,000 fine represents a staggering 16-weeks' pay for someone in the bottom fifth of earnings.
It's important to focus on those earning less as they are the most likely to have difficulty self-isolating. Many can't afford to lock themselves in their houses, to have shopping or meals delivered or to arrange round-the-clock childcare. Many simply cannot afford to give up work due to illness. Statutory sick pay (SSP) in Britain is a meagre £95.85 per week. If you earn less than £120 per week, then you're not eligible at all. The ONS estimates that there are 1.76million adult jobs in the UK that pay less than this. If you're self-employed you're not eligible, either. Despite the initial generosity of the furlough scheme, the only change to SSP since the Covid crisis began was to allow workers to claim from day one. The measly amount, not enough to cover most people's living costs, has remained unchanged.
A liveable level of SSP would go a long way to helping people isolate when they have symptoms or are contacted by Test and Trace. But it would be naive to expect such a policy to gain any traction at the moment. It would require some rationality, empathy and compassion, every last morsel of which died a painful death on 23 March when the lockdown began.
Lockdown sent the signal that the way to deal with this virus was to punish, harass and shame people into line. In the early days of lockdown, anyone who so much as sat on a park bench during their daily exercise found themselves hounded by the police, the press and a sub-section of the public that fancied itself as a Covid Stasi.
Much like the AIDS pandemic, Covid-19 has been politicised and moralised. Those who aren't even spreading the virus, but are acting in a way deemed insufficiently cautious, are condemned. Non-compliance is seen as 'proof' of a deep moral failing – a failure to stick to what the new state religion has deemed 'essential', a failure to show sufficient deference to its rituals of distancing, mask-wearing and hand-washing.
In this context, it is impossible to summon up the solidarity necessary for a pandemic response that might actually help people to self-isolate and encourage people to engage with Test and Trace. Instead, we can only summon up snarling threats and the strong arm of the state. The failure of this approach speaks for itself.
Fraser Myers is a staff writer at spiked and host of the spiked podcast. Follow him on Twitter: @FraserMyers.
To enquire about republishing spiked's content, a right to reply or to request a correction, please contact the managing editor, Viv Regan.