Who will save Britain from its never-ending slump?
The chancellor has no plan to get us to the 'high-wage, high-productivity' economy he has promised.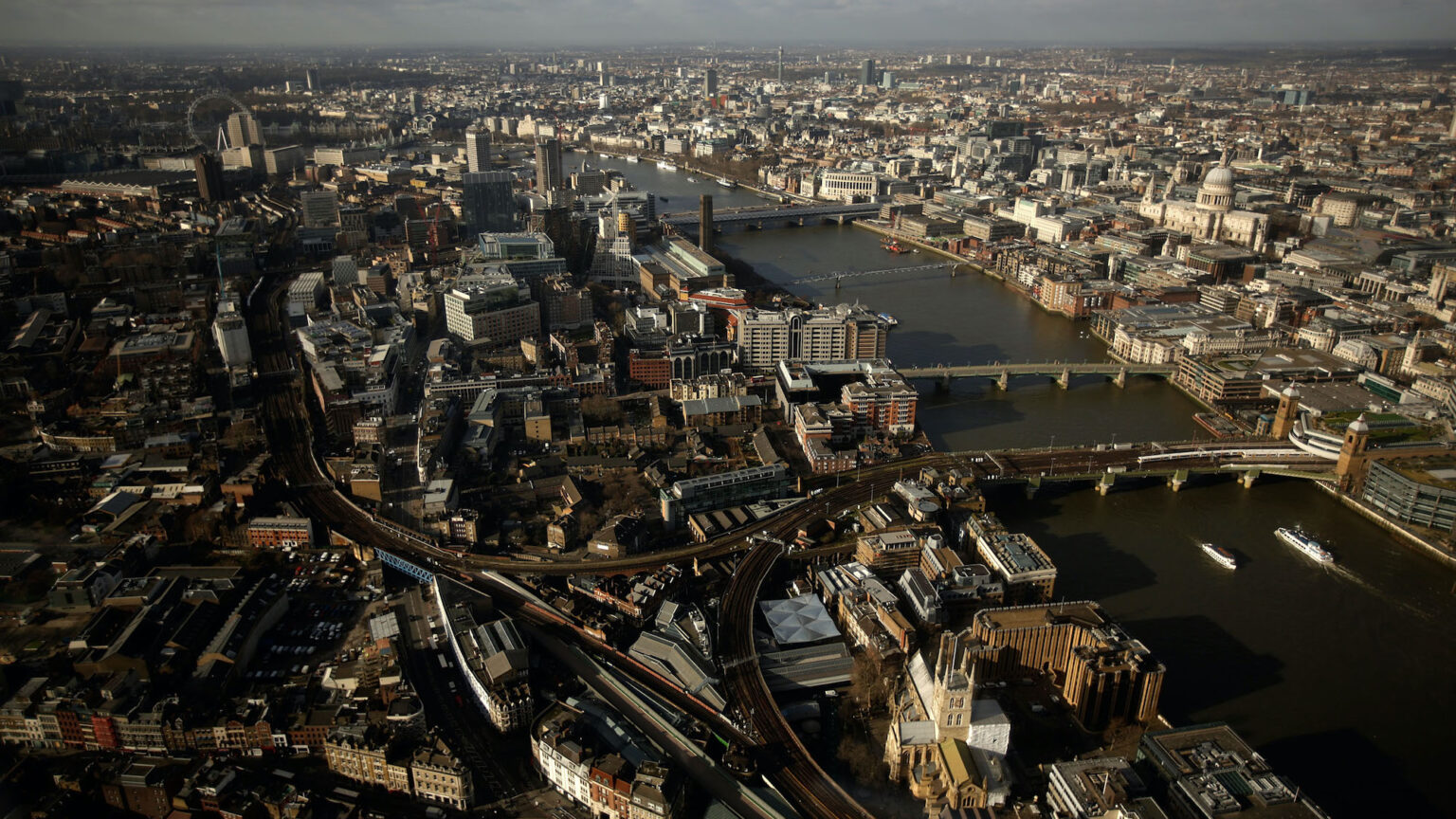 The House of Commons speaker publicly admonished chancellor Rishi Sunak this week for leaking large chunks of his spending plans to the press before making his official budget statement to the House. While the government's spin machine had certainly been active over the previous week, the truth is that a significant chunk of the government's fiscal plans had already been officially announced even earlier in the year.
The 2021 budget was essentially delivered in three parts. Substantial tax rises of about £50 billion a year had already been laid out in part one – the March budget which increased corporation tax and other taxes – and in part two in September, when the health-and-social care statement raised national-insurance contributions. It was those earlier statements that turned the Conservative government into a high-tax government, taking tax rates back to the levels of the early 1950s. This week's budget was part three, when the chancellor, looking like a child given extra pocket money, could start splashing some of this cash.
High public expenditure is nothing new in itself. Britain, under governments of all stripes, has had a big-spending state for decades. However, it is a sign of the times when we hear a Tory chancellor boast that the 'Conservatives are the real party of public services'.
While the Tories have been forced to raise levels of spending by a combination of economic and political circumstances, in the longer term the question of how the money is spent is much more important than how much is spent.
Spending more to underpin demand in the economy will never fix a supply-side problem like low and flatlining productivity. In fact, it can worsen the problem by prolonging the status quo. And however helpful some of this week's spending commitments will be for recipients of hard-pressed public services, they won't resolve the entrenched problem of depressed economic activity. Besides, a persistently languid economy will always struggle to maintain the public services people really deserve.
This points to the huge hole at the centre of this budget that goes beyond any of the fiscal measures announced. The substance of the statement made clear that this government's bold talk about economic renewal does not translate into a serious pro-growth plan that might address the fundamental challenges of low investment and poor productivity.
Following months of promises to 'Build Back Better', to 'level up' and to pursue a 'high-wage, high-skill, high-productivity' economy, this combined budget and three-year spending review was the occasion to add some meat to these aspirational words. The government ducked this fundamental task. The spending announcements made and not made spoke volumes about this government's lack of commitment to serious change.
Sunak was keen to highlight the latest projections from the Office for Budget Responsibility (OBR) of a higher-than-expected growth rebound of 6.5 per cent this year. But he failed to mention that the OBR now sees economic growth slowing next year compared to their previous forecast and falling to 1.3 per cent in 2024. The OBR also expects real household incomes to hardly grow at all this year and next, projecting a very modest 1.3 per cent rise in later years. Moreover, this supposed income 'growth' disguises the fact that higher consumer prices and benefit cuts will result in many non-working and lower-waged households becoming worse off in the next few years. This reality is very far from the 'stronger economy of the future' that Sunak trumpeted in his speech.
Indeed, the aftermath of the pandemic could have provided a unique opportunity for this government to change direction and start shaking up the economy. The experience of lockdown highlighted the fragility of a Britain that has been just about managing for decades. Worse, we have been managing largely by relying on a burgeoning mountain of debt – and not just of public debt, but of expanding corporate and personal borrowing, too. The lockdown strains brought this to the surface. They exposed an over-indebted society that has been operating close to its limits for far too long. The underlying reason is that businesses have for too long been underinvesting in innovation and productivity growth. This has prevented us from creating enough wealth to maintain a flourishing society.
For decades, business and government have been scrimping and cutting. An era of sluggish growth stretching back to the 1970s has fashioned a convention of trying to make do with less. You could see this in the fact that when the pandemic hit, the health service was found wanting – it was short of medical supplies and resources to cope with such a large influx of patients. It may be tempting to blame this on bad policy decisions and institutional complacency (and there is a lot of this going around). But the truth is that the strains and dislocations triggered by the pandemic simply brought Britain's pre-existing precariousness into the open.
A bolder government would have used the budget to launch a national conversation about the big changes we might need to tackle our endemic problems. Instead, the substance of the announcements made clear that the government is happy to be just about managing and to keep muddling through. The chancellor's devotion to his fiscal rules was one hint of this conservatism. But the problem goes deeper. The government is reluctant to risk the kind of disruption that is needed for genuine economic renewal. This reluctance betrays an absence of political confidence rather than a lack of policy imagination.
In his concluding remarks Sunak drew attention to the mismatch between his personal preference to cut taxes with his plan to impose the highest level of taxes since Clement Attlee. In fact, his boss, Boris Johnson, had pointed to the solution in the course of his bumptious party-conference speech earlier in the month. After outlining his 'high-productivity' dream, the prime minister added that this could also be a low-tax economy. An economy that is substantially bigger will also generate more revenues for public spending without needing to resort to never-ending borrowing or to tax increases.
A faster-growing economy would generate the new wealth that governments need to enact solutions to all the social problems we face. And as even Sunak acknowledged, that list of problems is pretty long right now. Not only do we need to resolve all those post-lockdown backlogs – in everything from HGV driving licences to court cases to hospital waiting lists – but we also need to address the longer-term public underfunding of everything from social care to schools and further education, from local-government services to the construction of affordable housing.
Unfortunately, Sunak's budget speech revealed a government that is unwilling or incapable of making the public case for productivity growth and the disruption that would necessarily entail.
First, the budget was sorely lacking in measures to encourage sustained business investment in modern technologies. This would require something like a long-term state investment fund to help existing businesses restructure and to sponsor both new and old firms investing in new tech. This funding should be tied specifically to investment in innovation and in productivity-enhancing processes and technology improvements.
Secondly, there was no plan for how to protect the many individuals and their families who would become unemployed during any transition to a higher-productivity economy. People will need state support to move from today's low-wage, low-productivity jobs to better, more productive jobs in new and expanding sectors. Though this is often underplayed, a key driver of productivity growth is the reallocation of resources and workers out of stagnating businesses and industries and into flourishing ones.
Governments have an essential responsibility to help people through this unsettling process. Instead, this budget continues Britain's miserly levels of unemployment support – some of the lowest in the advanced industrial countries, putting us far behind European neighbours like France, Germany, Portugal, Norway and the Netherlands.
Meanwhile, when it came to spending on research and development (R&D) – a vital component of any comprehensive growth plan – delay was again the order of the day. On the eve of the pandemic, combined public and private R&D spending in the UK was only two-thirds the OECD average. Sunak promised to rectify this by pledging an annual £22 billion in public funding (roughly one per cent of GDP) by 2024-25. This week he pushed back this target by two years, to 2026-27. This deferment is likely to make the government's already modest target for total research spending of 2.4 per cent of GDP by 2027 even more elusive. While the delay is not devastating in itself, its announcement symbolises the government's lack of firm commitment to its pro-growth rhetoric.
In his party conference speech earlier this month, Johnson was correct to say that achieving a high-wage, high-productivity economy 'will take time' and 'will sometimes be difficult'. But just because something takes time does not mean it can continually be put off into the ever-receding future. Indeed, this should impress the urgency of starting immediately. Nor is difficulty a reason for caution – it simply underlines the importance of having enough courage and devoting enough resources to meeting the challenge.
This budget and spending review ducks that challenge entirely. The chancellor has neither the plan nor the willingness to get us to the high-wage, high-productivity economy we so desperately need.
Phil Mullan's Beyond Confrontation: Globalists, Nationalists and Their Discontents is published by Emerald Publishing. Order it from Emerald or Amazon (UK).
Picture by: Getty.
To enquire about republishing spiked's content, a right to reply or to request a correction, please contact the managing editor, Viv Regan.