The ACLU is now siding with the censors
Its advocacy of trans rights has come at the cost of free speech.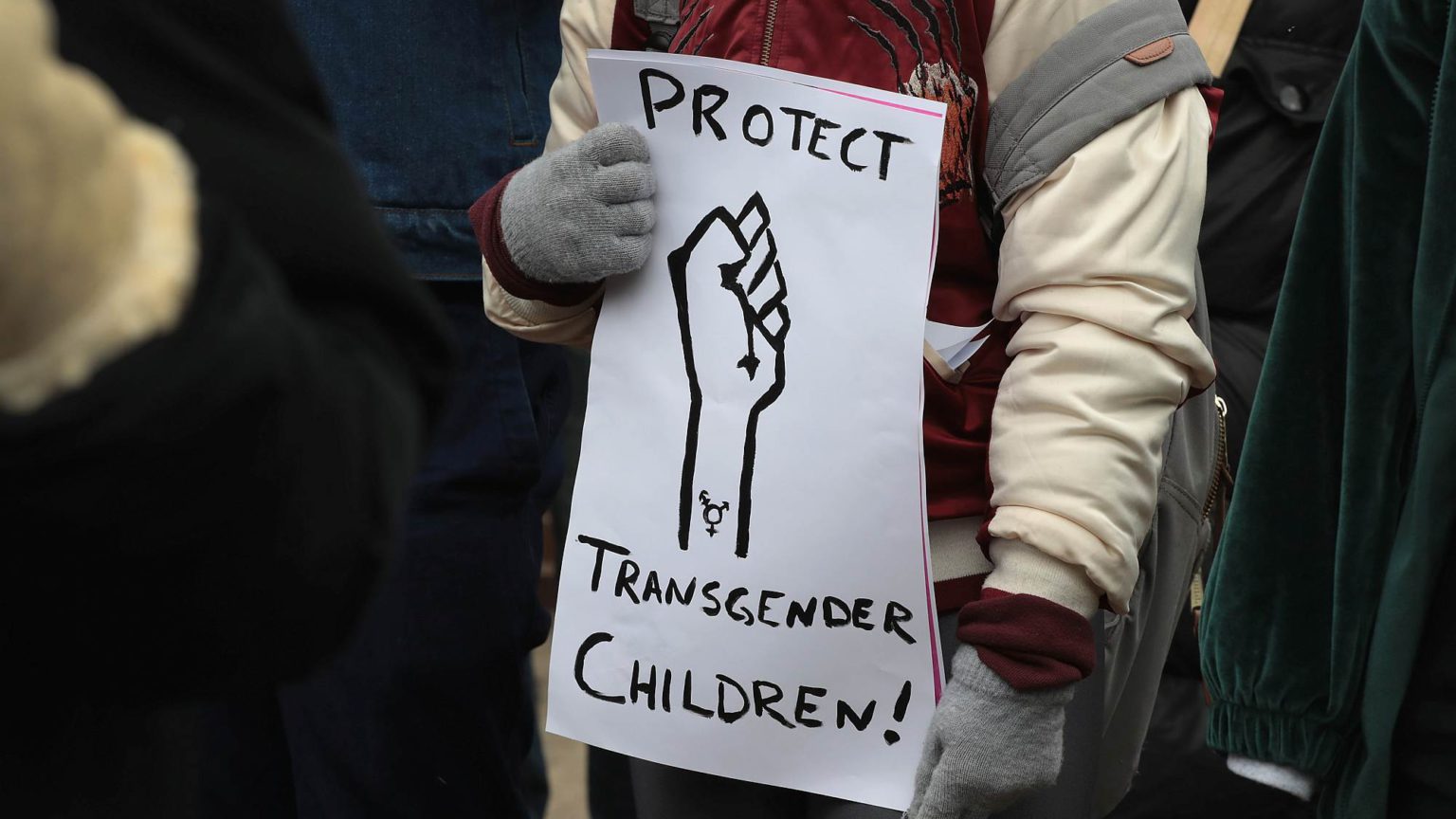 Asserting their First Amendment rights against compelled speech, elementary-school teachers in Loudoun County, Virginia, are challenging a school-board rule requiring them to address transgender and 'gender expansive' students by their preferred pronouns. The teachers claim that the pronouns convey messages about transgenderism that violate their religious beliefs as well as their understanding of biology. As a compromise, in an effort to balance their speech rights with students' interests in being recognised, the teachers have offered to address the students only by their names, eschewing the use of any offending pronouns. The American Civil Liberties Union (ACLU) has sided against them.
Confirming its transformation from a free-speech organisation into a progressive advocacy group, it has submitted a brief in Cross v Loudoun County, advocating restrictions on fundamental First Amendment freedoms. According to the ACLU, public-school teachers should be required to affirm controversial, state-imposed orthodoxies about sex and gender in violation of their conscience, in order to protect students from discrimination.
Sad to say, the ACLU's brief against the First Amendment is neither a shock nor a surprise – it was predictable. Its retreat from defending speech that conflicts with progressive values and ideas dates back at least 15 years. Still, there is a difference between avoiding litigation that requires defending the right to use whatever progressives consider harmful speech and engaging in litigation to suppress it or to compel speech aimed at mitigating its alleged harms. The ACLU has crossed a line, effectively advancing arguments about the direct, indisputable dangers of offensive language and ideas that have long been used to justify bans on 'hate speech'.
This erstwhile free-speech champion now asserts that transgender and non-binary students possess civil rights to be called by their preferred pronouns, while teachers have no civil liberties to refrain from doing so. The ACLU did not even try to balance the respective rights and liberties of students and public-school teachers. It has declared that the teachers have no rights or liberties to consider.
This dismissal of any cognisable First Amendment claims partly reflects the alleged dangers of not using transgender pronouns. The ACLU brief condemns the proposed compromise of addressing transgender and non-binary students by names and never by pronouns as discriminatory, 'disrespectful' and 'discourteous', stressing that it would 'conspicuously single out' the students, marking them out as 'different'. Not using their chosen pronouns would also 'exacerbate gender dysphoria' and harm their 'physical and mental health, safety and wellbeing'. It is a 'discriminatory practice' that 'exposes them to harassment and abuse', and increases 'the risk of anxiety and depression, [and] low self-esteem', as well as 'self-injurious behaviours [such as] suicide, substance abuse, homelessness and eating disorders'.
This recitation of disabling and potentially fatal harms effectively equates persistently refusing to use preferred pronouns with persistently hurling epithets at transgender students (which could, should and likely would constitute harassment). Apparently the ACLU views silence, in the form of not uttering transgender pronouns, as the equivalent of transphobic hate speech (which we should no longer expect it to defend in any context).
Silence on pronouns is also not an option for public-school teachers because when addressing students, with or without pronouns, they engage in 'curricular speech', the ACLU argues. What is 'curricular speech'? It is speech delivered as part of a teacher's duties, in his or her official capacity, which does not enjoy the constitutional protection afforded a teacher's personal comments, addressing matters of public concern.
This distinction between the official and personal or private speech of government employees is settled law that the ACLU has previously criticised or tried to limit. The doctrine was essentially codified in Garcetti v Ceballos, a 2006 Supreme Court decision that the ACLU denounced. Indeed, the ACLU submitted an amicus brief in Garcetti arguing against categorically eliminating constitutional protections for a government employee's job-related speech. Now, in Cross v Loudoun County, it cites Garcetti as authority for forcing teachers to use a student's chosen pronouns.
I don't mean to criticise the ACLU for citing a case it has opposed in other contexts. Lawyers are bound to cite precedents that support their arguments. But I do mean to suggest that the ACLU's opposition to the teachers' speech rights in Cross does not reflect a consistent, principled stance on employee speech so much as a decision to advance the pronoun demands of transgender students.
Does a public-school teacher's principled refusal to use transgender pronouns so obviously qualify as curricula speech, subject to regulation? Not at the university level, according to a recent federal-court decision, involving a similar set of facts. In Meriwether v Hartop, the sixth-circuit court of appeals delineated an academic freedom exception to the Garcetti rule on job-related speech.
As law professor Eugene Volokh explains, the court in Meriwether recognised the First Amendment claims of a college professor who, like the Loudoun County teachers, declined to use transgender pronouns, offering instead to refer to a complaining student only by name. Pronouns embody messages, enhancing their status as protected speech, the court observed, and the Loudoun County teachers stress. Students demanding the use of their chosen pronouns prove the point, given their claims that using no pronouns or pronouns they reject conveys disapproval, contempt or erasure of their identities.
Of course, an academic-freedom claim involving pronoun use is stronger in a college or university than an elementary school, where children need and deserve compassion, understanding and solicitude, especially when they have identified or been identified as transgender or non-binary. The sorry fact that many college and university students today act and expect to be treated like third graders, protected from unwelcome speech and ideas, does not mean that actual children should be treated like young adults. If I were an elementary-school teacher, I would try to call students by their chosen names and pronouns, simply as a courtesy – but I have no religious compunctions about doing so.
And I would not assume that calling students by name and avoiding their pronouns would subject them to harassment and abuse, endanger their physical and mental health, or even contribute to their suicides, as the ACLU hyperbolically insists. The actual harms posed to students by a few teachers who decline to use their preferred pronouns are highly speculative. The assault on the First Amendment rights of teachers compelled to use transgender pronouns in deference to such questionable harms is clear.
Even clearer is the looming threat posed to free speech by transgender extremists who conflate the freedom to choose their identities with the power to suppress debate and police the language we use when discussing sex and gender. Consider the uproar over Dave Chappelle's Netflix special. His scepticism about transgenderism and the temerity to make it a subject of comedy are hysterically characterised by activists as offences barely short of murder, or manslaughter, at least. 'We're here today not because we can't take a joke', one walkout organiser, declared. 'We're here today because the jokes are taking lives.' Dare to question this claim and you might be accused of intent to murder. 'This is not an argument with two sides', an outraged Netflix employee insisted. 'It is an argument with trans people who want to be alive and people who don't want us to be.'
These overwrought accusations – the association of free-speech advocacy with murder, the assumption that in order to deter violence we have to censor speech, and the rhetorical equations of unwelcome speech with violent actions – are depressingly familiar. Late 20th-century anti-porn feminists equated pornography with rape (literally), and campus censors have long framed whatever they deem hateful speech as both a cause and a form of violence. Transgender extremists are reading from a decades-old script.
Now with the ACLU on their side, they seem poised to become a powerful, leading force in this ongoing censorship crusade. In the US they're already cowing politicians on the left and energising those on the right with the promise of another popular front in the culture war. Transgenderism is divisive, difficult for many people to accept and understand, and campaigns to squelch debate and jokes about it will alienate voters who don't live in woke Twittertown. Transgender activists and other progressive censors may win some cultural battles, but they stand to lose the coming electoral wars of 2022 and 2024 – the wars that will matter most.
Wendy Kaminer is an author, a lawyer and a former national board member of the American Civil Liberties Union.
Picture by: Getty.
To enquire about republishing spiked's content, a right to reply or to request a correction, please contact the managing editor, Viv Regan.