Listen, it is not racist to criticise Saudi Arabia
Police are investigating a football fans' banner that mocked the Saudis. This is outrageous.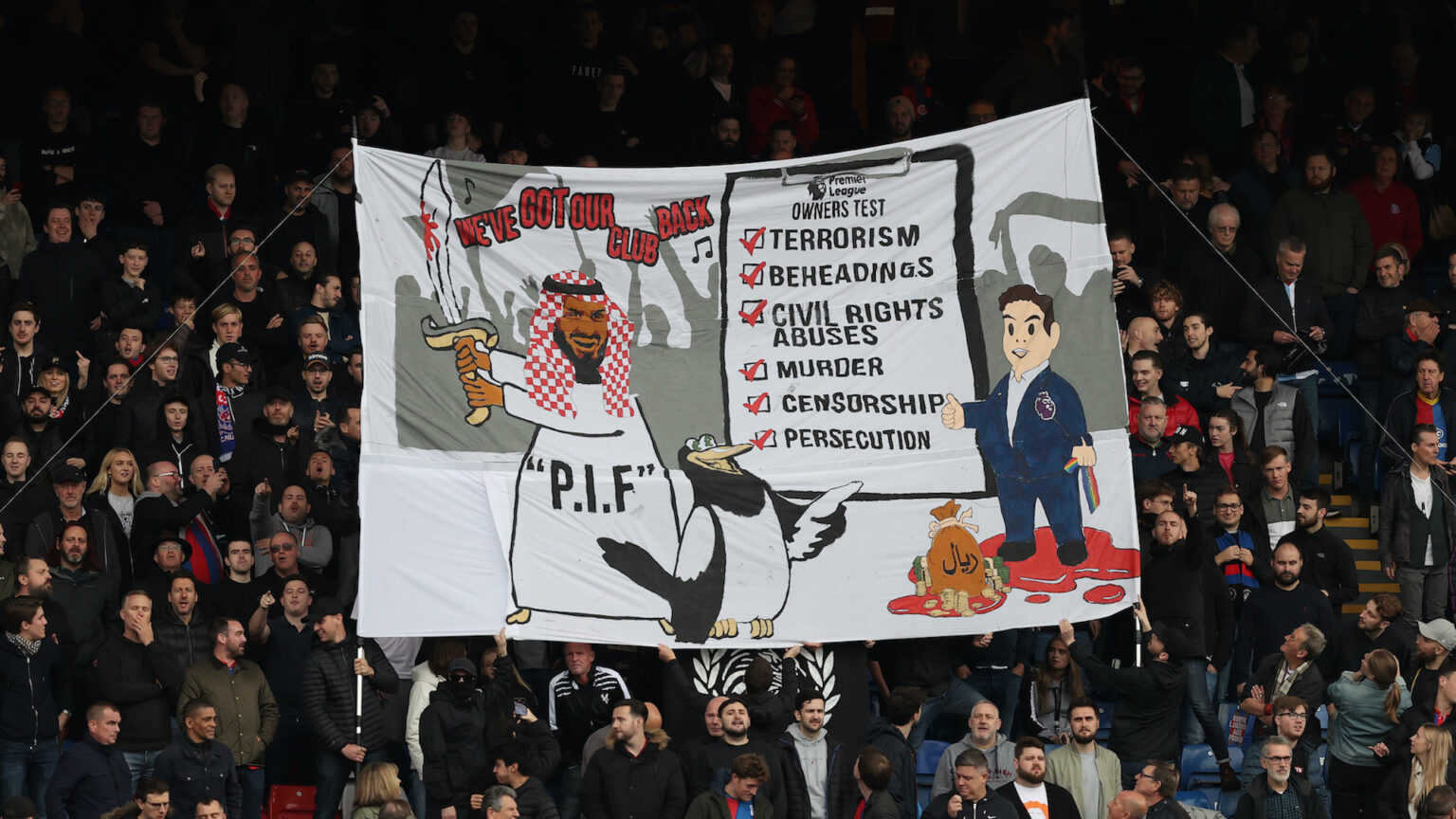 We all know that Saudis who criticise their government often find themselves in a lot of trouble. They might even get a knock on the door from the police. Government critics are 'harassed, arbitrarily detained [and] prosecuted', says Amnesty. But did you know that people in the UK are now being investigated for slamming the Saudi regime? Believe it or not, the police right here in Britain, in this supposedly secular, liberal society, have taken to sniffing around if they see or hear stinging condemnation of the Saudis. At least that's what the truly bonkers decision to investigate a Saudi-bashing banner waved by Crystal Palace fans on Saturday suggests.
Every week you think we've reached peak woke and then something happens that tops all the previous explosions of madness. This weekend it was the news that Croydon Police are looking into a banner displayed at Selhurst Park. In response to the takeover of Newcastle United by a group that includes Saudi Arabia's Public Investment Fund – which is chaired by crown prince Mohammed bin Salman – some Palace fans held aloft a brilliantly designed banner showing a Saudi official waving a sword in the direction of a magpie, the symbol of Newcastle United. The banner accused the Saudis of practising or supporting civil-rights abuses, terrorism, beheadings, murder, censorship and persecution.
The banner was made and held aloft by a Palace fan group called the Holmesdale Fanatics. They said they wanted to echo the 'widespread condemnation and anger' that has greeted 'the Saudi-led takeover of Newcastle'. The Premier League promotes women's football and the wearing of rainbow armbands, the Fanatics say, and yet it lets a regime in which women have few rights and homosexuality is illegal take over a top club – 'total hypocrisy'. They're not wrong. What's more, everything on their banner was factually correct. The Saudi regime really does execute some criminals by beheading. It censors and persecutes. Top officials have been implicated in the murder of Jamal Khashoggi. And Saudis are key funders of Salafi jihadism. So what the hell are the police looking into?
The banner was 'offensive', they say. Worse, it might be racist. 'On Saturday 23 October police received a report of an offensive banner displayed by Crystal Palace fans', the Croydon cops said. 'Officers are assessing the information and carrying out enquiries. Any allegations of racist abuse will be taken very seriously.' This is perverse. I can't believe this needs to be said, but it is not racist to criticise the Saudi regime. And it is not racist to depict a man in Arab clothing wielding a blood-stained sword, given that is what the Saudi theocracy does. It is deeply disturbing that a police force in the UK has launched 'enquiries' into the statement of plain facts about the Islamic theocracy of Saudi Arabia. Apart from anything else this is a grotesque insult to Saudis who are currently in jail for criticising their government. Maybe they were being 'offensive', too? Keep 'em banged up.
What happened at Selhurst Park was an act of political expression. A small group of fans were making a perfectly legitimate political statement. And for the police to 'enquire' into political speech – any kind of political speech – is outrageous. It is a testament to how severe the free-speech crisis in the UK has become. The Holmesdale Fanatics are completely right to highlight the hypocrisy of the footballing authorities. For months and months, football officials and the media elites have cheered players for making the political statement of 'taking the knee', yet they've said alarmingly little about the launch of police enquiries into a political statement about the Saudi regime. It seems that in the world of football, it's cool to bash America and its supposedly racist police force, but woe betide anyone who offends a regime that criminalises homosexuals, persecutes its critics and treats women as an inferior species.
The use of the word 'racist' to describe a banner criticising the Saudi authorities is a sordid sign of the times. It confirms that terms like 'racist' and 'Islamophobia' are increasingly being used to circumscribe everyday political discussion. The brand of 'Islamophobe' has been deployed for years as a means of controlling discussion about Islam and demonising anyone who is concerned about Islamic radicalism. It has been a form of blasphemy by the backdoor, where entirely legit criticisms of a religion and its more extreme expressions come to be slyly denounced as forms of bigotry. Now, in this police enquiry into a fans' banner criticising a ruthless Islamist regime, we can see just how entrenched this Orwellian development has become. Cops in the UK are essentially doing the bidding of Saudi censors, and that really is not on.
Brendan O'Neill is spiked's chief political writer and host of the spiked podcast, The Brendan O'Neill Show. Subscribe to the podcast here. And find Brendan on Instagram: @burntoakboy
To enquire about republishing spiked's content, a right to reply or to request a correction, please contact the managing editor, Viv Regan.