We really don't regret voting for Brexit
Voters made a wise and reasoned choice in the EU referendum, and we're sticking by it.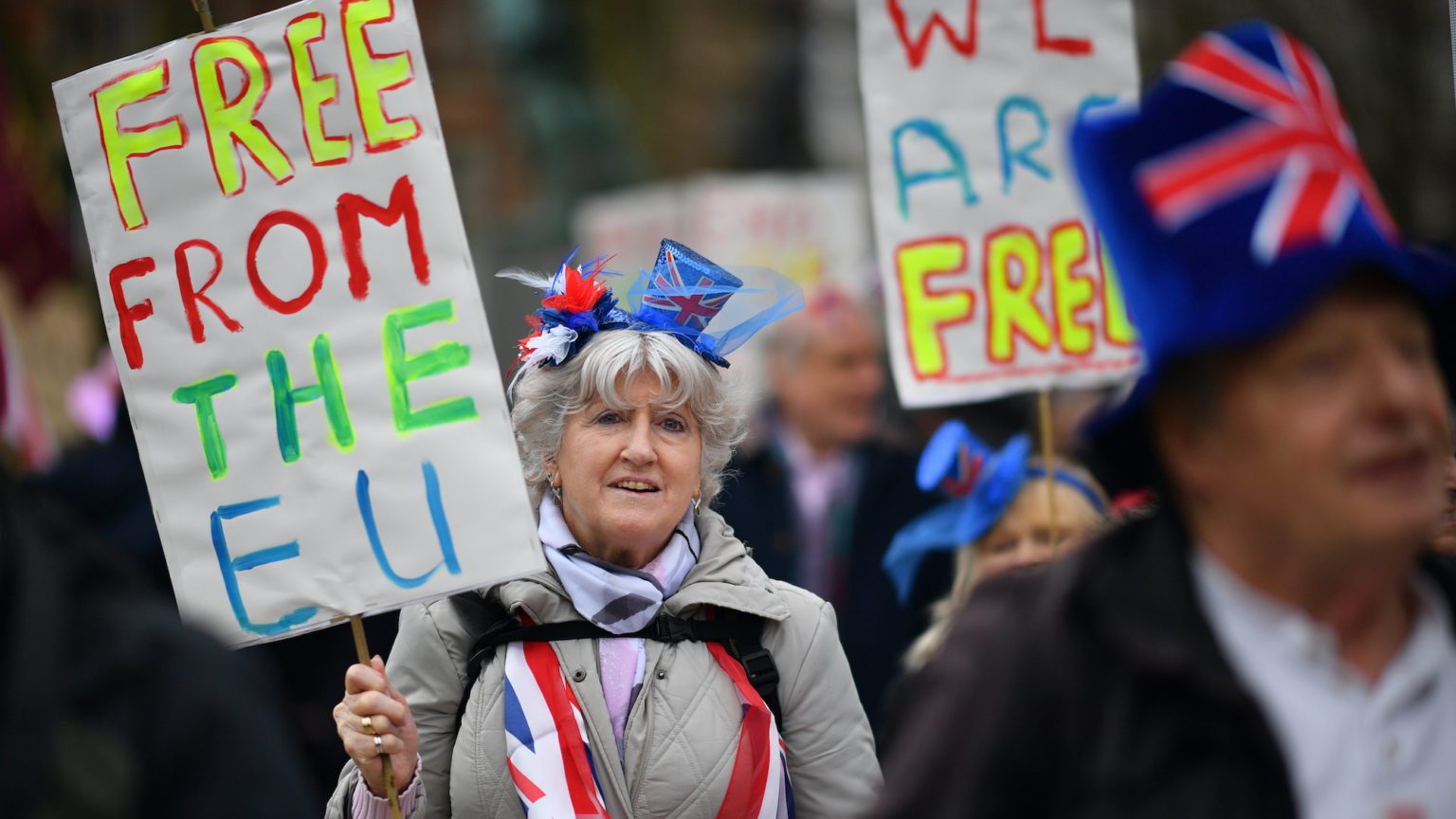 Ever since that magical day in June 2016, when 17.4million of us voted to leave the EU, the hunt has been on for signs of 'Regrexit'. They'll change their minds, Remainer agitators insisted. The 'low-information' throng that voted for the worst thing ever will eventually come to its senses, however depleted those senses might be, Remoaner commentators predicted. Every poll that uncovered the faintest signal of doubt among Leave voters, however thin the poll was, however leading its questions, was waved around as a justification for binning the whole thing and holding a second referendum. And yet the truth is, we really haven't changed our minds. The vast majority of Brexiteers still love Brexit. We'd vote for it again if we could.
The myth of Regrexit has just taken another pounding, this time from the latest British Social Attitudes survey. As the Guardian sums it up, through gritted teeth no doubt, 'Nine in 10 of Leave and Remain voters [say] they would vote the same way again'. There has been no big swing either way. Ninety-two per cent of Remain voters say they'd cast their ballot in the exact same way if the referendum were to be restaged. Just six per cent say they'd switch to Leave. And 85 per cent of Leave voters say they would line up once again behind Brexit – a rise from 82 per cent in the 2019 survey. Ten per cent of Leavers say they'd defect to Remain. (I want a word with those people…) 'In short, it is still the case that relatively few of those who voted in the EU referendum have changed their minds', says the BSA survey.
The survey found that Britain is still 'heavily divided on the issue of Brexit'. A significant section of the population – 46 per cent – say they identify 'very strongly' as either a Remainer or a Leaver. That's pretty remarkable: nearly half of us now feel a strong bond with political identities that have only really existed for five years. Bad news for those who naively hoped the words Leaver and Remainer would disappear from daily chatter once we officially left the EU and instead everyone would sit down and sing 'Kumbaya'. But good news for those of us who find it quite stirring that political life has been so radically shaken up by the 2016 referendum, and who think 'Leaver' and 'Remainer' are far better descriptors for today's clash of values and principles than the exhausted terminology of the 20th century is: left, right, Labour, Tory, etczzz.
Whether you are a Leaver or a Remainer influences how you view the entirety of political life, the BSA survey suggests. So Leave voters are more likely to trust the government than Remain voters are. Between 2016 and 2019, BSA surveys found that Leave voters were more likely than Remain voters to 'almost never' trust the government to put the national interest before party interests. However, the proportion of Leave voters who feel this way has fallen pretty dramatically – from 40 per cent in 2019 to 19 per cent in 2020. Clearly the election of Boris Johnson's government, under the banner of 'Get Brexit Done', has altered many people's view of officialdom's trustworthiness – in today's case, whether it can be trusted to enact a democratic vote. Leavers and Remainers seem to be drifting further apart on the fundamental question of whether politics even works – many of the former now think it does, much of the latter is unconvinced.
I always thought it was a spectacular folly to try to tame the 'polarisation' of the Brexit era. Even some Leavers exhibited an instinct for 'consensus-building' and 'bringing the nation together', as if such platitudes could magic away the deep political, geographical, class and age-based fissures exposed – not made – by the EU referendum. Too many viewed the Brexit war as an offshoot of the culture war. Sure, some people exploited the Brexit phenomenon to wage a cultural crusade – think of the five years' worth of bile sections of the Remainer elites heaped upon the apparently thick, racist electorate. But at root, Leaver vs Remainer is a battle over whether we value democracy more than so-called expertise, and whether we truly trust ordinary people to determine the fate of the nation. Leavers say yes; some Remainers say no. Such a deep national split cannot be wished away. On the contrary, it should be celebrated – it clarifies the political tensions of the 21st century, and lays the ground for the important fights ahead.
Let's end by noting just how remarkable it is that Leave voters remain loyal to leaving. We have been bombarded, day in, day out, for more than five years, with hyped-up horror stories about Brexit. It's a disaster, it's like fascism, it will cause shortages and downturn, you will suffer. We've been told to feel shame over how we voted. It's been relentless. And yet the vast majority of Leave voters have held firm, stood by their principles, and stayed committed to transforming the country in order to make it more democratically accountable to its citizens. Such resolve in the face of hysteria and threats from the elites is to be commended. The wisdom of the crowd is a brilliant and powerful thing.
Brendan O'Neill is spiked's chief political writer and host of the spiked podcast, The Brendan O'Neill Show. Subscribe to the podcast here. And find Brendan on Instagram: @burntoakboy
Picture by: Getty.
To enquire about republishing spiked's content, a right to reply or to request a correction, please contact the managing editor, Viv Regan.