Nasty tweets did not kill David Amess
Nor did Angela Rayner. Or anonymous trolls. The response to this suspected Islamist murder is absurd.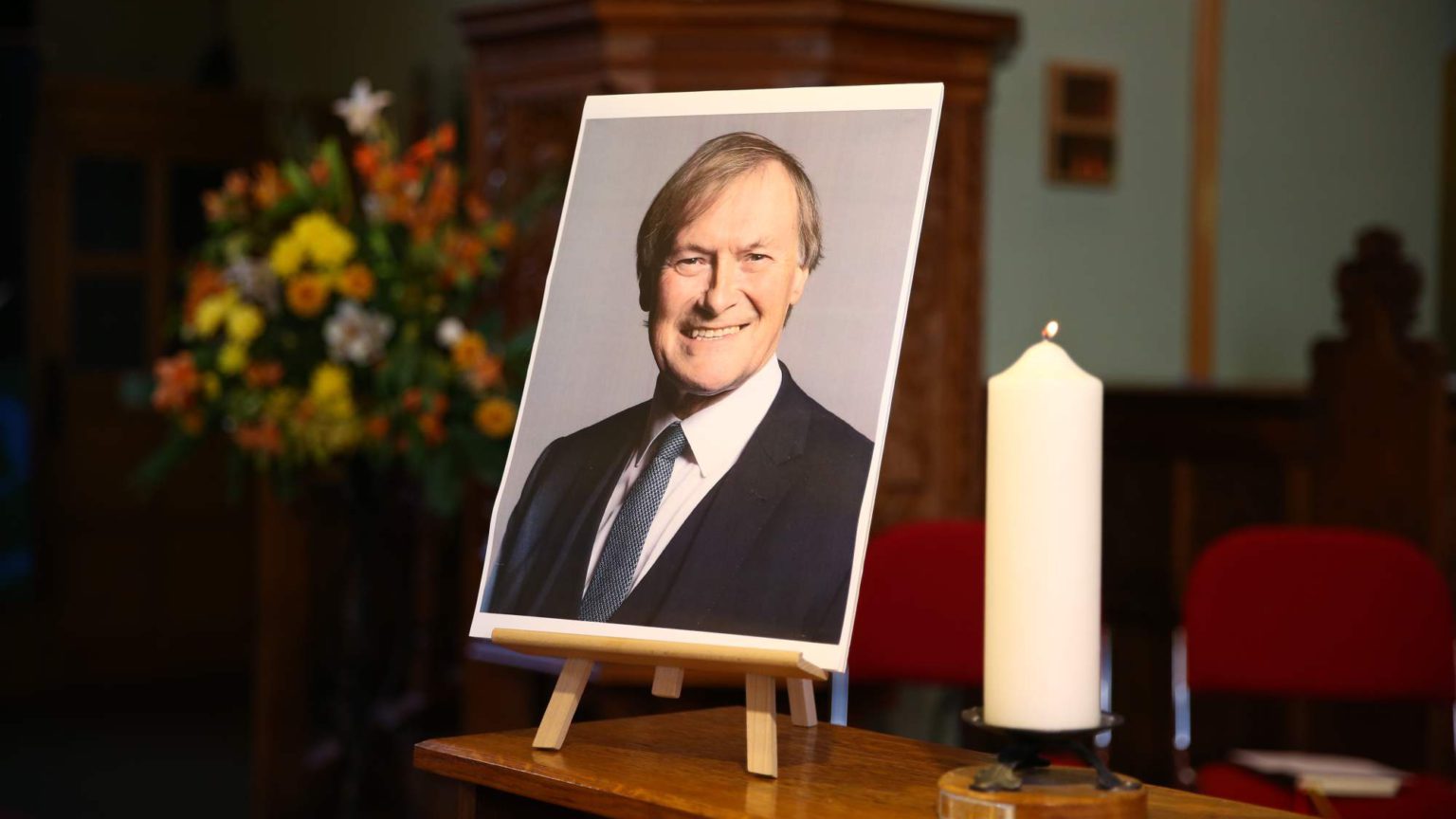 I don't know who needs to hear this, but nasty tweets, the alleged 'coarsening' of political debate, or the salty insults of one Angela Rayner are not responsible for the murder of David Amess. Actually, you know what? I do know who needs to hear this, because in the wake of the barbaric murder of this much-loved Essex MP on Friday, scores of politicians and commentators have been trotting out one or more of the above explanations and pretending that it's meaningful analysis.
Everyone's at it. On the media round this morning, home secretary Priti Patel said she was considering removing the right to anonymity on social media to stop what she called the 'relentless' abuse of MPs online. It was as if Amess was the victim of a particularly nasty Twitterstorm, rather than a deadly knife attack. 'Political debate has coarsened', writes Labour frontbencher Alison McGovern, pointing to 'the social-media norms that have to change'. The occasionally sensible Dan Hodges has an absolute howler in today's Mail on Sunday, under the headline 'I don't know why Sir David Amess was killed but the visceral hatred of Tories at the heart of Labour has to end right now'. Deputy Labour leader Angela Rayner comes in for particular criticism for referring to the Tory government as 'scum' a few weeks back.
Hodges is at least right to say that we do not yet know the full story of why Amess was killed. But what we do know pretty much closes off most of the current philosophical avenues inexplicably being explored on Twitter and in the comment pages at the moment. Police arrested Ali Harbi Ali, a 25-year-old British man of Somali heritage, at the scene. The murder is being treated as a suspected terrorist incident, with a potential Islamist motivation, and Ali is being detained under the Terrorism Act. Reportedly, he was referred to the Prevent programme years ago, though little came of it. He appears to have been 'self-radicalised'.
Ali of course remains innocent until proven guilty, and more details may yet emerge. But if police suspicions turn out to be true, then this looks like an Islamist terrorist attack / assassination of an MP. Unless the investigation turns up an internet history peppered with Angela Rayner YouTube clips, a large collection of those 'Never Kissed a Tory' t-shirts Corbynistas who look like they've never kissed anyone tend to wear, or a bunch of anonymous Twitter accounts he was using for jihadist purposes, much of the chatter in the wake of Amess's murder will look risible in retrospect.
MPs and their loved ones are understandably shaken right now. Many are thinking about the abuse and death threats they have themselves received. Today, they are probably less able than usual to shake off the thought that only one of those threats has to be genuine to result in another tragedy. Security is rightly being discussed again, though hopefully this will not mean erecting more barriers between MPs and their constituents. But to suggest that this suspected Islamist murder is a symptom of a broader nastiness in mainstream politics, that it might never have happened if our 'discourse' wasn't quite so personal and testy, and that we must now clamp down on social-media trolls and all try to be that bit more kind to one another, is absurd.
Worse, it risks deflecting and chilling the discussion we desperately need to have about domestic Islamist terrorism, which has claimed 40 innocent British lives in the past five years alone. Lindsay Hoyle, the speaker of the House of Commons, writes in the Observer today that Amess's murder 'has shown that there is unity across the political divide in support of democracy… disagreements with politicians should be solved at the ballot box, not via threats, intimidation or murder'. A noble sentiment, for sure. But if Amess's killing indeed turns out to be motivated by Islamism, then these words have very little bearing on what happened here. Jihadists want to destroy democracy, and will happily murder and maim in order to do so.
Many appear to be confused, while others are wilfully trying to deflect attention away from Islamism. The Observer's editorial today took a swipe at those who will dare to focus on the fact that this is being treated as a terrorist incident with a suspected Islamist motivation: 'There will be those who seek to deploy these scant details in service of their political agendas; to politicise this tragedy in such a way is abhorrent.' Imagine if in the wake of Jo Cox's murder in 2016 someone tried to suggest that the fact her killer had far-right links and shouted 'Britain first' as he killed her were 'scant details', things only a wrong-un would dare to focus on. Just imagine that.
Alongside distorting the debate we need to have, all this also risks chilling debate in general. No one is against people being nice to one another. But a crusade for civility in politics can easily morph into a crusade for political censorship. Plus, while social media have certainly made it a lot easier for people to abuse their MPs, it stretches credibility to suggest that politics today is somehow more tense and toxic than ever before – as if the Miners' Strike was settled over a gentlemanly, Oxford Union-style to and fro. As for online anonymity, it does regrettably empower losers and bigots who take pleasure in making someone's life a misery. But it is also essential for dissidents around the world. Even here in the UK people have been sacked for expressing pretty mainstream views on sex and gender, meaning anonymity is becoming increasingly, depressingly essential for some.
We seem to be deeply confused as a nation. A committed public servant has been killed in a suspected terrorist attack, but because it appears to be the wrong kind of terrorism, the one that the great and good for some reason feel deeply uncomfortable talking about, even though it is the most prevalent and deadly form of it we face today, we have spent the weekend talking about civility, social media and online anonymity. We desperately need to shake our political and media elites out of the profound moral muddle they are in. Lives depend on it.
Tom Slater is editor of spiked.
Picture by: Getty.
To enquire about republishing spiked's content, a right to reply or to request a correction, please contact the managing editor, Viv Regan.